How to Convert and Transfer DRM Protected Media Files
We see billions of Google search results about DRM, which term is made for copyright protection of digital media, however extremely limits us buyers on the use of what we've paid for at the meantime. You never really own anything that you purchased with DRM. Precisely, the DRM protected songs/videos/audio books in iTunes Store is only accessible on Apple devices. Yes, there is no way of playback on your other platforms or sharing to friends. Worse still, to remove DRM can be tricky and full of twists. That being said, there are ways to unlock your DRM files, like using WinX MediaTrans, for whom killing the DRM for personal use is just child's play.
The 1st iPhone Manager that downloads, converts and transfers iTunes Store purchases.
Unchain iTunes Store Movies. Watch purchased movies/TV shows anywhere. Convert M4V to MP4.
Make All Music DRM Free. Transfer iTunes Store M4P audios to PC without Apple ID signed in.
Release Apple Audio Books. Listen to any M4B MP3 audio books offline also on Kindle, Android, etc.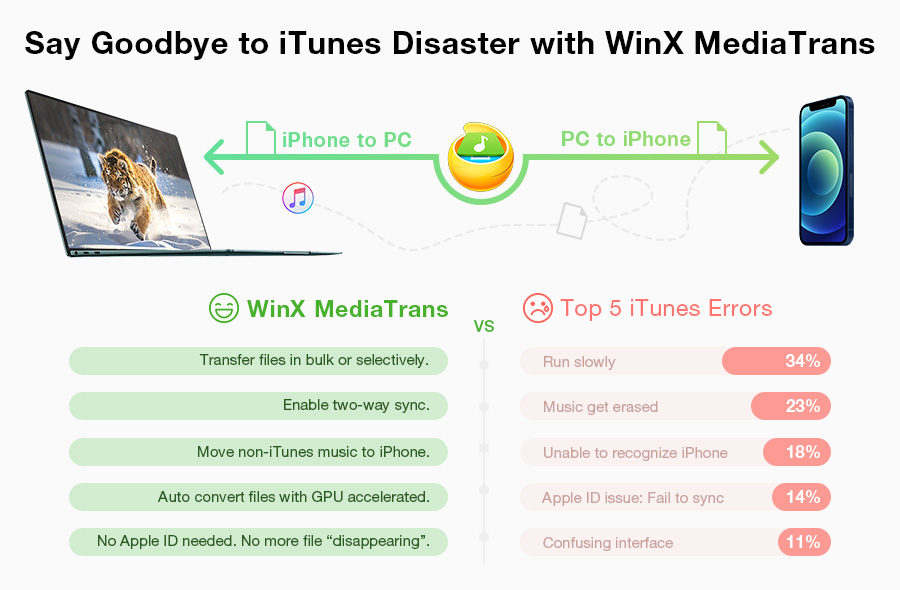 Part 1. How to Free iTunes Movies from DRM?
Currently, the iTunes Store offers more than 85,000 movies. However, subscribers are restricted to play those movies, be them rented or purchased from iTunes, on authorized devices only, because of Apple's FairPlay DRM. This copy protection technology prevents users from playing iTunes films on a non-Apple device, which makes real trouble for those who have devices made by Microsoft, Samsung, Sony, Roku and others. But things get changed when WinX MediaTrans appears.
Step 1. Free download

and install WinX MediaTrans on PC following the wizard. Once finished, open it.
Step 2. Then, you'll be required to connect your Apple device (e.g. iPhone) with PC via a USB cable. Afterwards, check "Prevent iPods, iPads, iPhones from syncing automatically" in iTunes as suggested to avoid data loss, and then click on "Video" module in the main UI. Step 3. On the pop-up screen, move to "Movies" category in the left column, tick target DRM-encrypted iTunes movie in the files list window, and then hit "Export" in the top bar.
Step 4. This brings up a dialog saying that it is encrypted and suggesting you to decode it. Click the green "Decode" button to begin cracking DRM. After a while, a DRM-free movie will be saved in the destination folder.
That way, people will be able to play their purchased or rented iTunes movies on any devices they like, say TV, Android, Windows Phone, and Kindle Fire. No authorization is required. Moreover, getting movies off iPhone iPad will free up much space. After transferring to PC, they can convert file format, edit movie video, burn movie to DVD, and more. Next, let's begin learning how to transfer movies videos between iDevice and computer.
Part 2. How to Remove DRM from iTunes Music?
When we want to get an unprotected version of hundreds of songs purchased from iTunes with digital rights management, how to do? Is it possible to remove DRM from iTunes music? In fact, iTunes music went to DRM-free since 2009. Unlocked MP3/AAC files with better quality (256 kbps) can be upgraded from old DRMed songs (128 kbps) via iTunes Match. But, there still is a huge demand for DRM removal from iTunes music without subscribing iTunes Match.
We will try to make music purchased from iTunes on iPod DRM-free. Download

and install WinX MediaTrans on PC. Next, follow the steps.
Step 1. Plug in iPod with computer and main interface will be shown if the connection succeeds.
Tip: It is suggested to check "Prevent iPods, iPhones and iPads from syncing automatically" option in iTunes in order to prevent some data from being erased accidently.
Step 2. Click Music Manager to enter the music page where all music on iPod will be listed.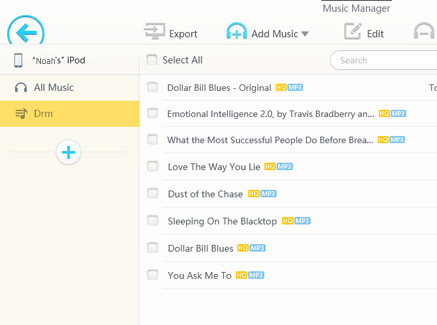 Step 3. Click Purchased option on the left bar to access to purchases. Select any music and click Export button.
Step 4. If the select music is DRMed, a pop-up appears asking us to decode it. Click Decode button. Later, we can get a DRM-free song on our computer.
It is a necessity to manage music on iPhone, iPad and iPod. Sometimes, we'd prefer to back up songs from devices to computer before permanently deleting them for more space or replacing with a new playlist. Sometimes, we add favorite songs from computer to devices for listening on the move. Sometimes, we organize songs by clarifying them into different playlist…Well, how to manage music on iPhone/iPad/iPod, check the how-to guides at the bottom of this post.
Part 3. How to Remove DRM from M4B Audio Books?
Audio books purchased from iBooks/iTunes Store come as DRM-protected and the format is M4B, therefore, the DRM audio books can only be played on certain authorized compatible Apple devices. Is there an easy way to remove the DRM protection from audio books and convert M4B to MP3 for later playback on more devices like Android Samsung? An efficient DRM removal tool & audio book converter is badly needed.
Step 1: Free download

, install and launch WinX MediaTrans, the best iTunes DRM removal software on Windows (10/11), and connect your iPhone (iPad, iPod) with computer via USB cable.
Step 2: Click "Book" button to step into the iBooks managing interface. Select the DRM-protected audio books and hit "Export" button.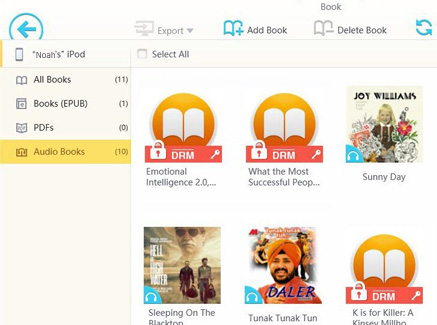 Step 3: Then click "Decode" in the pop-up window. This smart tool will auto convert the purchased DRM-protected audio books to DRM-free, and transfer the converted unprotected iTunes audio books to computer at lightning speed.
Tip: To remove the DRM from old iTunes/iBooks audio books stored on computer, you just need to add the audio books to iPhone first by clicking "Add Book" button and sync them into iPhone. Then follow the 3 steps above to remove the DRM protection from M4B/M4A audio books. Tap the below flag icon if you want to switch to other language: