Best Free DRM Removal Software: Remove DRM from iTunes Movies, TV Shows, Music, and Audio Books
"I'm really a crazy iTunes movies addict. And now, I got a new Android tablet. But to my disappointment, I am refused to play iTunes movies on this portable mobile device. Is there any free DRM removal software to help me solve this problem? Anyway, thanks in advance."
What is DRM[1]? DRM short for Digital Rights Management is a set of access control technologies used to control the use of proprietary hardware and copyrighted works. DRM is employed by Apple's iTunes Store and many other online stores to stop people from using their content on unauthorized devices. This is why we can't play iTunes purchases on Android or other unlicensed non-Apple devices. But if you have an iTunes DRM removal tool, you will fix it hassle free.
Warning: DRM removal software is for private use only! Don't distribute decrypted files to others!
Best Free DRM Removal Software for Decoding iTunes Purchases
It is arduous to get a piece of Apple FairPlay[2] DRM removal freeware in the market. DRM removal tool is always paid. Luckily, we've dug out 3 free ways to unlock DRM from iTunes purchases, namely Requiem, MyFairTunes and WinX MediaTrans, although the first two programs are outdated. The third one - WinX MediaTrans - is designed to be shareware, but now V6.0 full version is being given away unconditionally. Now, let's compare them side by side.
3 Free DRM Removal Tools

WinX MediaTrans

Requiem

MyFairTunes

License

Shareware
Get It for Free

Freeware

Freeware

Compatible OS

Windows 10/8.1/8/7/Vista

Windows; Mac 10.8 or lower

Windows

Is Java required

No

Yes (for Windows)

No

Is Microsoft.NET Framework 2.0 required

No

No

Yes

Supported iTunes version

iTunes 12.8 and lower

iTunes 10.7 or lower

iTunes 7.5.0 or earlier

Current release

6.8/2020

4.1/2012 (Stalled)

7.0.2/Jun-28-2013 (Stalled)

Remove DRM from iTunes music

√

√

√

Remove DRM from iTunes films

Part

√

×

Remove DRM from iTunes TV shows

Part

√

×

Remove DRM from iTunes audio books

√

√

×
After comparing these three products, we can easily conclude that WinX MediaTrans is the best way to remove DRM from iTunes content. Both Requiem and MyFairTunes haven't been updated for years, wherefore there're many disadvantages. Their interfaces are not as modern as WinX MediaTrans. They can't support new computer system, iTunes version, and iOS devices. Just name a few.
However, WinX MediaTrans is updated regularly, making it work well on the latest computer OS, Apple mobile OS, and iTunes version. Users don't need to download Java, Microsoft.NET Framework 2.0 and the like. It is available to take away DRM from iTunes audios (songs and audio books) and part of the videos (movies and TV shows) without degrading quality. And the whole process will be completed speedily.
Now get this DRM removal tool for free and your pain in the ass will be killed immediately.
Warning: You should note that the DRM removal software can't remove DRM from all protected videos.
How to Free Remove DRM from iTunes Music, Audio Books and (some) Videos?
To get started, you should install WinX MediaTrans giveaway version on your computer. Then, launch it and begin DRM removal for free.
Part 1. How to remove DRM of files stored in iTunes Library
Step 1. Click "Remove DRM" option in the main screen.
Then, click "How to set up iTunes" at the bottom left corner to check steps of setting iTunes.
Step 2. Click "Add File" in the top bar and select the DRM-protected files you need. There's a DRM icon following any DRM-ed file to help you figure out target items quickly.
Step 3. Hit "Remove DRM" at the bottom right. If iTunes is launched by yourself, a message will pop up asking you to close iTunes first. Then this free DRM removal tool will open iTunes and begin converting DRM-ed files to DRM-free format in no time. Once done, it will open the folder which stores output files automatically.
If your DRM-restricted files are kept in your iOS devices, you should follow the parts below. Prior to the next steps, please connect your iDevice to computer via a USB cable, thus this free iTunes DRM removal software can detect files on your handsets. Make sure that your computer is authorized by the Apple ID - the account you used to buy the iTunes content, or iTunes DRM removal will be failed.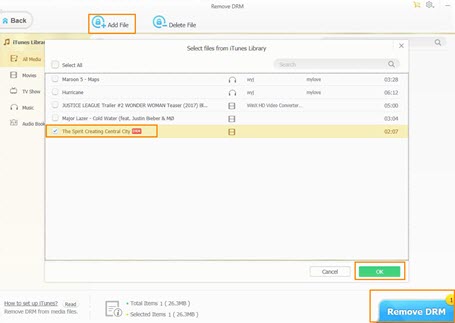 Part 2. How to remove DRM from iTunes movies/TV shows stored in iPhone/iPad (Part only)
Step 1. Click "Video Manager" option.
Step 2. Select the iTunes movies or TV shows that need to be decrypted. Likewise, you'll see DRM icons attached in such files.
Step 3. Hit "Export", and these files will be send to computer and saved to Drm folder. After that a new dialogue will pop up saying that the videos are encrypted. To decrypt them, just hit "Decode" button. Then, WinX MediaTrans will fast convert iTunes movies to DRM-free MP4 and save the resulting files to unDrm folder once completed.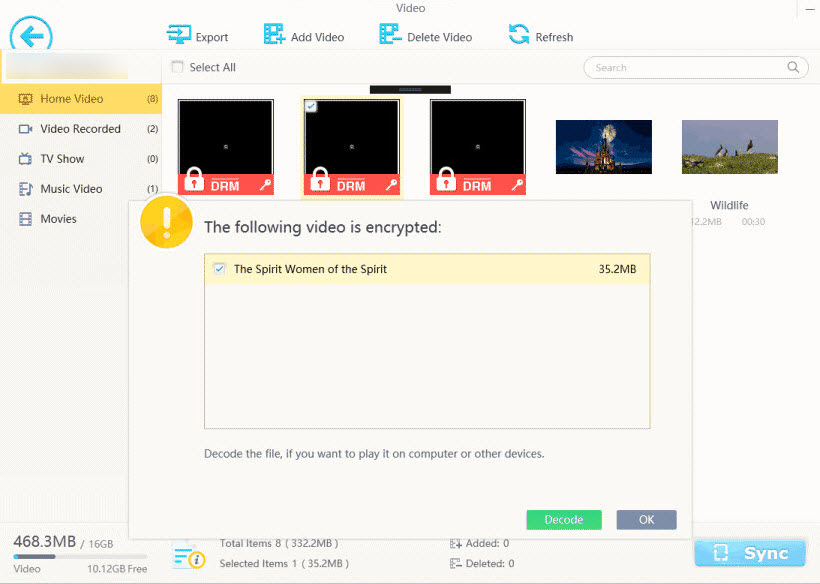 Part 3. How to remove DRM from iTunes music stored in iPhone/iPad/iPod
Step 1. Choose "Music Manager" feature.
Step 2. Select the target iTunes music with DRM copy protection.
Step 3. Click "Export", then this tool will create a copy of original DRM-ed files and save them to computer first. Next, it displays a new panel saying that they are copy-protected. What you need to do is to press "Decode" to kill DRM from iTunes music. However, you will be required to download music to iTunes Library for DRM removal.
This DRM protection removal software will auto convert M4P to M4A on Windows 8.1/8/7/Vista, and convert M4P to MP3 on Windows 10.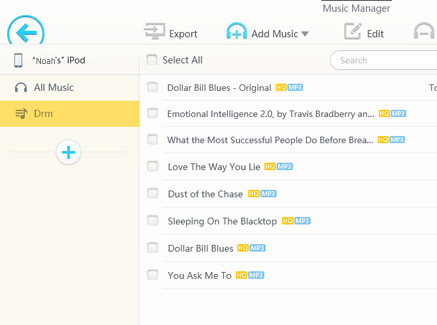 Part 4. How to remove DRM from iTunes audio books stored in iPhone/iPad/iPod
Step 1. Get access to "Book".
Step 2. Choose "Audio Books", and find DRM-ed audio books you purchase from iTunes Store.
Step 3. Transfer them to computer by hitting "Export". When you see a smaller window shows up telling that the audio books are encrypted, clicking "Decode" will initiate DRM removal instantly. It will convert iTunes audio books from DRM-restricted M4B to DRM-free MP3 or M4A in a flash without quality loss.
External wiki resources:
[1] DRM: Digital rights management (DRM) is a set of access control technologies for restricting the use of proprietary hardware and copyrighted works. DRM technologies try to control the use, modification, and distribution of copyrighted works (such as software and multimedia content), as well as systems within devices that enforce these policies...
[2] FairPlay: FairPlay was a digital rights management (DRM) technology developed by Apple Inc. It is built into the MP4 multimedia file format as an encrypted AAC audio layer, and is used by the company to protect copyrighted works sold through iTunes Store, allowing only authorized devices to play the content...