Convert M4P to M4A on Windows or Mac for DRM-Free Music Enjoyment
There're numerous users who have downloaded M4P songs from iTunes Store/Plus over the last few years. And with the advent of brand-new music streaming service - Apple Music, who has attracted over 72 million subscribers up to 2020, M4P file has opportunity again to meet more music fans. Chances are many users are asking for a good .m4p to .m4a converter? Why?
I have a bunch of songs that I have purchased on iTunes over the years that are .m4p format, which I realize can't be played on a USB drive. I tried a couple of websites' advice of trying to get iTunes to convert by exporting to a disc and re-importing as a .mp3 but no dice.
Googling nets many supposed .m4p to .m4a converters that are free. I suspect they are loaded with bloatware (or worse), so I am hesitant to download anything from a website I don't recognize.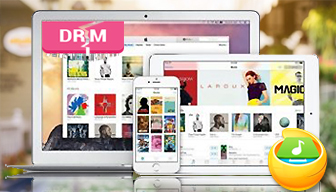 How to Crash the Encryption of M4P and Convert It to M4A?
WinX MediaTrans - The All-sided iPhone Manager with DRM Removal Tool.
Decode M4P songs/videos downloaded from iTunes Store or Apple music;
Auto convert M4P into M4A (AAC) format during the decryption;
Support taking DRM off from iTunes audio books and some videos.
Why You Need to Convert M4P to M4A Audio File?
M4P, encoded with advanced audio codec (AAC), is an MPEG-4 music format sold on iTunes Store or Apple Music encrypted with "Fairplay" Digital Rights Management (DRM). In order to protect the copyright of those purchased music songs, DRM tech only allows Apple users to play M4P files in authorized apps and cannot be converted to other formats.
The DRM, on the other hand, prevents users from playing iTunes music on other smart devices like undelegated Apple products, Android mobiles, music players, or gaming consoles. This gives rise to searching for a iTunes DRM removal tool to remove the DRM from purchased music into M4A. This is because both M4P and M4A are AAC files, the only difference is M4P is embedded with DRM while M4A is DRM-free. But are there any good .m4p to .m4a converters that are safe to download, inexpensive or fred?
How to (Batch) Convert M4P Music to Unprotected M4A with WinX MediaTrans
To convert M4P to M4A or othre format, WinX MediaTrans gives you a leg up. First, we should make it clear that it is a 100% clean, secure and stable paidware ($29.95 for 1 PC). But its trial version also provides users full opportunity to enjoy every functions in a limited file number. To convert M4P to M4A on computer easily, just follow the steps below. We just exemplify how to release M4P from DRM into M4A on Windows, and Mac guide shares the same workflow.
Note: WinX MediaTrans can finish all the file transferring jobs without running iTunes, but you must make sure iTunes is or was installed here. Also the iPhone manager only supports Apple devices running on iOS 7.0 or later.
Step 1 - Install M4P to M4A Converter
Download, install and launch WinX MediaTrans on your Windows (10 or lower) PC or Mac. Here we should make it clear that WinX MediaTrans supports exporting M4P to DRM-free audio format in MP3 or AAC. It auto converts M4P to M4A on Windows 7/Vista, while to MP3 on Windows 8/8.1/10.
Step 2 - Produce M4A from M4P on iDevice or Local iTunes library
● Convert iOS M4P to M4A:
Connect your iDevice like iPhone to computer rightly. After the software recognizes it with detailed information presented, click "Music Manager" module to access to another exclusive dialogue box with all songs listed. Select the source M4P file(s) you'd like to changed into M4A under "DRM" category, and click "Export" button. Soon, a smaller encrypted music list window would pop up, just click "Decode" to start transfer M4P from iOS to computer as M4A (AAC) format.
● Convert iTunes M4P on Computer to M4A:
In this case, you should only launch your iTunes and start up the "Remove DRM" feature of WinX MediaTrans. Select and add iTunes M4P music with DRM protection into it after setting iTunes Library XML as the reminder says. Then click "Remove" to smash DRM from M4P at once.
Step 3 - Play M4A Freely
While the M4P is transformed into unrestricted M4A, you can directly find the output under default path and play the music on computer or move to Android, Windows Phone/tablet, Xbox and PS4 for portable enjoyment.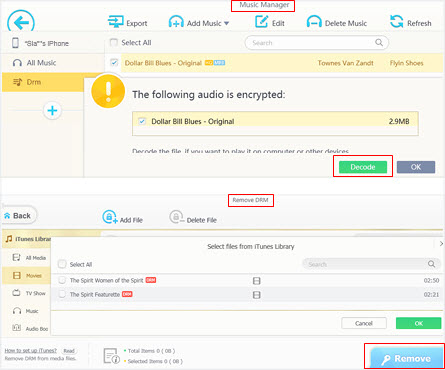 External Knowledge: Should I Convert M4P to M4A or Convert M4P to MP3?
It may be a little bit long quote, but every detail can be encountered by the real M4P music holders. Although the license of MP3 was terminated by its developer and advanced and more compatible AAC is going to supersede MP3, MP3 is still accepted widly currently.
Still have some trouble about how to convert M4P to M4A on Windows or Mac OS X with WinX MediaTrans? Please feel free to Mail Us >>