M4P to MP3 | How to Convert Apple Music M4P to MP3 without iTunes
How to remove DRM from iTunes music and free convert M4P to MP3?
"Can I Really Ever Convert M4P Files to MP3? I have tried numerous programs that claim to be able to convert iTunes files into MP3 from the "protected" M4P files. None of them have worked. Seems like I should be able to do this. It's my music after all. Can anyone refer me to a M4P to MP3 converter that will actually work? Thanks."
"I have .m4p files PURCHASED on iTunes between 2004 and 2017 and would like to create .mp3 version. I know I used to be able to do this on iTunes. But now when I create an .mp3 version, iTunes states protected files cannot be converted to other formats."
Although M4P looks similar to MP4, they are not exactly the same thing. The big difference lies in the encoding. While MP4 mainly refers to video format, M4P is a protected audio codec. Speaking of audio format, it seems that most of you are more familiar with MP3. But is it necessary to convert M4P to MP3? The answer is absolutely yes. Here in this article, we will help you on iTunes music DRM removal and converting MP4 to MP3 without iTunes.
WinX MediaTrans - Best free solution to convert M4P to MP3 format
Convert iTunes purchased music/audiobook M4P/M4B to MP3.
Transfer songs/ringtone between iPhone/iPad/iPod and computer.
Smart iPhone music manager to add/edit/delete songs, playlist, etc.
Note: It can remove DRM from part of iTunes Videos only.
Table of Content
Why Should You Convert M4P to MP3?
Let's do a little work about what is M4P before we get to the M4P to MP3 converting reasons. M4P (MPEG-4 Protected) is a file extension for protected AAC music files, using "Fairplay" DRM, which is specifically used on Apple iTunes purchased songs, while non-protected audio files use M4A.
Just because of the unique protection, it is tough to freely play M4P songs on multi-platforms, and that's why we need to convert M4P to MP3 sometimes. The detailed reasons are as follows.
1. First the playback of M4P is limited to iTunes and Quicktime on computer, which must be authorized by logging in with the same account you used to download the M4P songs.
2. Then, as always, it will be a complicated process for M4P music sharing with friends.
3. And thirdly, even Apple itself is working to provide M4P DMR removal solution, well for a fee. If you prefer free M4P to MP3 converters, try some third-party software like WinX MediaTrans.
Related: Convert iTunes M4V Videos to MP3 for Playing on Any Device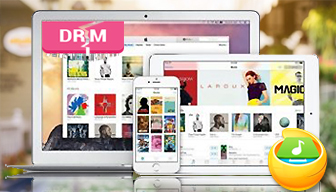 How to Convert M4P to MP3 Using WinX MediaTrans
The guide below is directed to the DRM removal of purchased music files on iPhone. If you have M4P files directly purchased on PC, the conversion of M4P to MP3 would be much easier, with no need of connection between your iPhone and PC.
Preparation:

Download WinX MediaTrans for running on Windows PC, which is fully compatible with Windows 10. Also there is Mac version for Apple users. Double click the .exe file, follow the setup wizard and finish the installment right away.
Step 1. Connect iPhone with PC
• Plug in iPhone to computer through cables and open WinX MediaTrans. Seconds later there pops up the main interface of this WinX M4P to MP3 converter.
• Click the top right gear icon -> choose Settings in the drop down menu -> switch to Options -> select MP3 under "Auto convert music format to" -> OK and then M4P will be auto converted into MP3.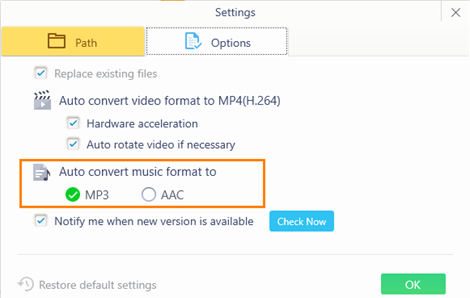 Step 2. Convert M4P to MP3
First, remember the next rules: go into Music Manager to convert M4P to MP3, Video Manager to convert M4V to MP4 and Book to convert M4B to MP3.
To convert M4P to MP3, click "Music Manger" and you will see a list of all your music files. Protected video/book files are marked with DRM symbol, while music part is said to be added with this sweet reminder in its next version.
Choose the M4P file -> click Export and you will see the information "the following music is encrypted" -> hit Decode -> iTunes will show up and requires you to enter your Apple ID and password to authorize the computer (don't close iTunes) -> once the DRM removal is done, your M4P file will be auto saved in MP3.
Moreover, Remove DRM module enables users to convert M4P files in PC iTunes library without connecting PC with iPhone.