Easiest Way to Play Apple Music DRM Free in MP3/AAC
Apple Music DRM Free

M4P to MP3

Posted by Estrella H.| Last Updated: Mar. 13, 2020
Untie Apple Music DRM and convert Apple Music M4P to MP3/AAC for unlimited playback.
Facts about Apple Music
1. Tracks downloaded from Apple Music directly are protected .m4p files.
2. Apple Music will no longer add DRM to songs you upload to the cloud, which means it will now work exactly the same way as the existing iTunes Match feature and you don't need to pay $25/year for the iTunes Match service any more. In other words, all non-Apple Music tracks you upload will display as Matched or Uploaded with no DRM.
3. However, Apple Music's streaming tracks are DRM-locked. The only DRM-encumbered tracks are those downloaded from Apple Music directly.
Not having DRM on personal upload tracks is a great win for users, but how to solve the headache DRM of downloaded/purchased Apple Music files and play Apple Music DRM free in MP3/AAC on other devices? Here's solution.
Remove Apple Music DRM, Convert to MP3/AAC for Unlimited Playback

Tackle Apple Music DRM and Convert Apple Music to MP3/AAC with WinX MediaTrans
1. WinX MediaTrans is a professional DRM removal tool
Capable of exporting Apple Music/iTunes music from iPhone iPad to PC with DRM crack so as to play Apple Music without DRM on other devices.
Transfer iTunes music, audio books, and part of the movies from iPhone iPad to computer and turn them into DRM-free.
2. WinX MediaTrans is a powerful iPhone transfer program
Transfer music, playlists, photos, videos, movies, TV shows, iBooks, ringtones and more from iPhone (iPad) to computer or vise versa at No.1 fast transfer speed. 1GB movie can be transferred in 1 minute. 1000 photos can also be transferred in about 1 minute.
3. WinX MediaTrans is a top audio to AAC/MP3 converter
Its built-in audio conversion mechanism can auto convert music format to MP3/AAC when transferred to iPhone iPad, thus making almost any audio file like AC3, FLAC, OGG, WMA and more playable on iPhone iPad with ease. Converting Apple Music/iTunes music M4P/M4A to AAC/MP3 is a piece of cake with it.
4. WinX MediaTrans is a smart video to MP4 converter With a video conversion function, you can easily convert almost any imported video to MP4 (H.264) and play MKV, AVCHD, AVI and more on iPhone iPad with no hassle. Auto rotate video 90 degrees is also available.
5. WinX MediaTrans is a free iPhone ringtone maker, eBook converter, etc.
Powerful all-in-one WinX MediaTrans definitely can do more. You can also use it to make free iPhone ringtones from any favorite songs; convert EPUB to PDF, TXT or HTML; even turn your iPhone iPad into a flash drive to temporarily store files, etc.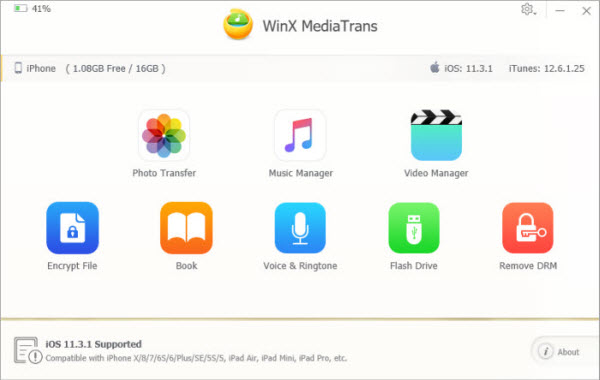 Guide: How to Remove Apple Music DRM along with M4P to MP3/AAC Conversion
Free download and install WinX MediaTrans on your Windows 10/8/7 computer in a few seconds, and then follow the step-by-step guide below to easily unlock Apple Music DRM and convert Apple Music M4P to DRM-free MP3/AAC.
Step 1
Open WinX MediaTrans and connect iPhone with computer via USB cable.
Tip: Please make sure you've made this setting in advance in iTunes in case iTunes erases your iPhone original data. iTunes Preferences --> Devices --> Prevent iPods, iPhones and iPads from syncing automatically.
Step 2
Click Music Manager to step into next music transfer interface. You can see all iPhone music/songs are displayed in this window, with protected Apple Music/iTunes music marked as Red DRM.
Step 3
Choose the DRM Apple Music files you'd like to decode and click Export button to transfer Apple Music to computer.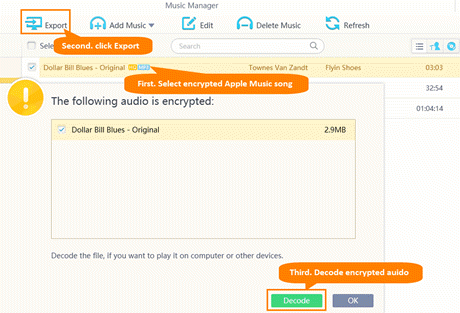 If the computer detects the exported Apple Music files are with DRM, then it will pop up a window indicating that the songs are encrypted. You can click Decode icon to remove Apple Music DRM and the software will auto convert Apple Music M4P files to DRM-free MP3 stored into computer folder.
Thus you can play converted DRM-free Apple Music in MP3 format on more devices like Android.
Note:
1) After you click Decode button, iTunes may pop up and ask you to input Apple ID and password which you use to purchase iTunes media. Do it. You will then get converted non-DRM files in seconds.
2) For Windows 10 and Windows 8, the exported and converted Apple Music files are DRM-free MP3, for Windows 7, it will be DRM-free M4A.
If you'd like to convert M4A or other audio files to MP3/AAC, you can add music to iPhone and set AAC/MP3 as the output. Then hit Sync button to transfer music to iPhone iPad and convert them to AAC/MP3 at one go. If you like, you can export the AAC/MP3 files back to computer for later transfer to other non-Apple devices for playback.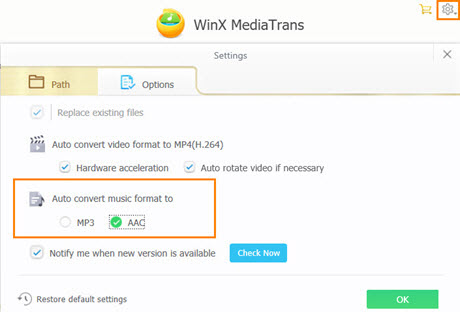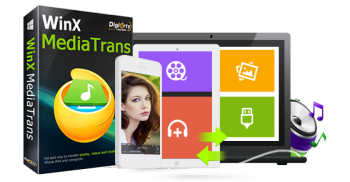 • Transfer music/videos/photos/iBooks/ringtones between computer and iPhone iPad iPod without iTunes at No.1 fast speed, with no data loss.
• Auto convert music files to AAC/MP3. Auto convert video files to MP4 when adding videos to iPhone iPad as well as rotate video from vertical to horizontal.
• Transfer iTunes movies/music/audio books and convert them to DRM-free MP4/MP3 for playback.
Attention: We do suggest you respect the copyright content online and abide by the copyright laws in your country. Disabling DRM of purchased music, movies is big no-no. We do not advocate any piracy or dissemination.
Still have some trouble about how to convert Apple Music to regular AAC/MP3? Please feel free to Mail Us >>