Convert DRM Protected M4A/M4P/M4B Audiobooks to DRM-free MP3
Convert DRM Audiobooks to MP3

Convert Protected Audiobooks to MP3

Posted by Estrella H.| Last Updated: March 13, 2020
[Solution] How to remove DRM from M4B/M4A audiobooks and convert DRM-protected audiobooks to DRM-free MP3?
Q 1: I purchased some audiobooks from iBooks/iTunes Stores. Is there any simple way to transfer iBooks to my Android Galaxy S8 for reading?
Q 2: Any suggestion for a good audiobook converter to help me convert DRM protected audiobooks to DRM-free MP3 for playback on more devices?
Easily Convert DRM Protected Audiobooks to DRM-free MP3
As we all know, the purchased/rental/downloaded audiobooks from iTunes/iBooks, etc. are with DRM protection which aims to prevent piracy. And this limits people to play the DRM audiobooks only on certain devices. People can't listen to the DRM audiobooks on other unauthorized devices unless they figure out a way to crack the audiobook DRM protection and convert the protected M4P/M4A/M4B to MP3. Here is a detailed guide on how to easily convert DRM protected audiobooks to DRM-free MP3, by using a powerful audiobook DRM remover & converter.
Convert DRM Protected Audiobooks to DRM-free MP3

Best Tool for Converting DRM Protected Audiobooks to DRM-free MP3
WinX MediaTrans is now more powerful with a newly-added DRM removal function. Users can use it to release DRM protection from audiobooks purchased/rented from iTunes, iBooks, etc. without losing quality, as well as convert the DRM protected audiobooks to DRM-free MP3, for instance, convert M4B to MP3, or convert most other audio formats like M4A/M4P/AAC to MP3.
Not only supporting converting DRM iTunes/iBooks audiobooks to MP3, WinX MediaTrans also enables users to strip DRM from iTunes M4V movies, M4P/M4A music, etc. flawlessly, and auto convert M4V or part of the video files to DRM-free MP4.
Besides, as the best mobile transfer software, it provides good assistance in transferring iBooks (Audio books, PDF, EPUB, etc.) between computer and iPhone/iPad/iPod, syncing music between computer and iPhone without iTunes, transferring 4K/HD videos between PC and iPhone, transfer iPhone photos from/to computer, etc. at world's No.1 fast transfer speed. 1GB video can be transferred within 1 minute.
For more information about this top-rated DRM removal software, please visit: https://www.winxdvd.com/mediatrans/
Get WinX MediaTrans with zero cost now from its official giveaway website: https://www.winxdvd.com/giveaway/iphone-ios-manager.htm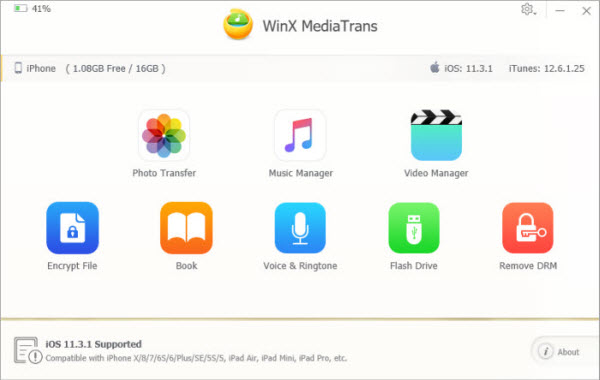 Guide on How to Convert DRM Protected M4B/M4A Audiobooks to MP3
Now let's come to the DRM audiobook convert solution. Many of you may purchase or download a lot of audio books from different resources, incl. iTunes, iBooks, etc. Below is the detailed step-by-step guide on how to convert iTunes/iBooks DRM protected audiobooks to regular MP3.
Preparation: Free download and install WinX MediaTrans on your computer, Windows 10/8/7, etc., or free download its Mac version.
Step 1: Launch the best audiobook converter – WinX MediaTrans, and connect your iPhone (iPad, iPod) with computer via USB cable.
Step 2: Click "Book" button on the main interface to enter into the Book manager window. Then click "Audio Books" icon in the left column. This DRM file converter will auto load all your iPhone audio books into the plate and the protected audio books are remarked as red DRM.
Step 3: Select the DRM-protected audiobooks and click "Export" button to transfer the DRM-free audiobooks to computer.
Step 4: Then hit "Decode" to remove the DRM from protected audiobooks in the pop-up window. And you'll get MP3 files of the protected audiobooks onto computer.
>> Detailed Guide: https://www.winxdvd.com/mediatrans/transfer-drm-protected-itunes-music-movies.htm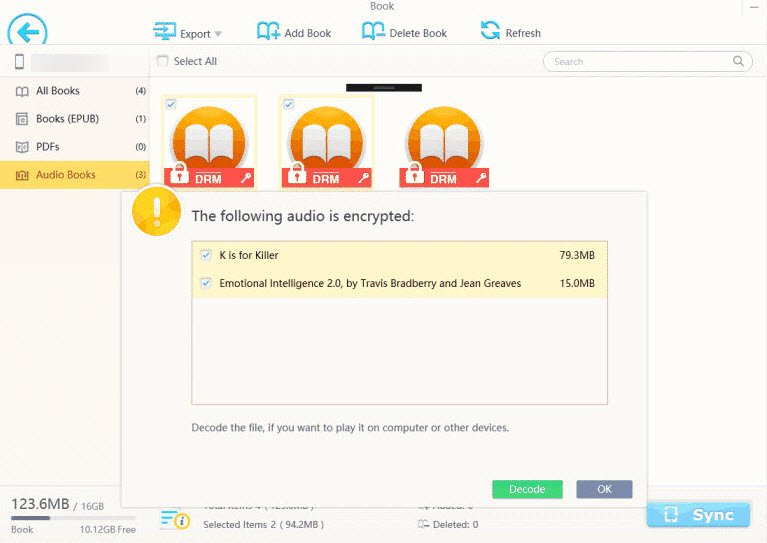 Convert Protected M4B Audiobooks to DRM-free MP3 with WinX MediaTrans
- Support releasing DRM from protected M4B audiobooks from iTunes/iBooks, and auto converting most audio files (incl. DRM M4P, M4B, M4A, etc.) to MP3. Also help disable DRM from part of the purchased/rental iTunes movies, TV shows and convert any video (incl. M4V) to MP4 without quality loss.
- Transfer videos/ringtones/music/photos/iBooks between computer and iPhone iPad iPod without iTunes at No.1 fast speed with no data loss. 100 4K photos can be transferred in 8 seconds.
Attention: We do suggest you respect the copyright content online and abide by the copyright laws in your country. Disabling DRM of purchased movies, music is a big no-no. We do not advocate any piracy or dissemination.
If you think the post useful, please kindly share it!
If you still have problems about how to convert DRM protected audiobooks to DRM-free MP3, feel free to Email us >>