How to Convert iTunes Music to MP3: Two Ways Provided Here
Convert DRM-free and DRM-protected iTunes music to MP3 for playback on any music player you like.
As of January 2017, iTunes Store possesses 35 - 40 million songs in total. Music downloaded/purchased from iTunes Store is in AAC format. A piece of iTunes music could be an unprotected AAC file with .m4a file extension or a protected AAC file with .m4p file extension. Owing to the poor compatibility of iTunes music format and the possible utilization of DRM copy protection, you're restricted to play your iTunes songs on very limited devices. You're not allowed to play them on a PC without iTunes installed, an Apple device without authorized Apple ID signed in, an Android or other non-Apple devices. Luckily, we can break the limit through converting iTunes to MP3 - an audio format supported by virtually all media player software and hardware. Besides, it makes it possible to edit the music, import it into a video, or do anything you like. So, how to convert iTunes songs to MP3? That depends on whether your iTunes music is DRM-free or not.
If your iTunes music is copy protected, you should
Download WinX MediaTrans, and then use its DRM removal option to unchain the DRM of iTunes music and convert it to a DRM-free and well-supported MP3. It's easy to use for any level users.
For DRM-free iTunes Music: Convert iTunes to MP3 with iTunes Itself
iTunes can read, write and convert between MP3, AIFF, WAV, MPEG-4, AAC and Apple Lossless (.m4a). To convert iTunes library to MP3, simply set iTunes conversion preferences following below steps. This operation is free of charge.
Step 1. Launch iTunes and choose "Preferences".
• For Mac users, click "iTunes" from the top menu bar, and then you will see "Preferences" option;
• For Windows users, click "Edit" and then you will see the last option is "Preferences".
Step 2. Click "General" tab and then "Import Settings".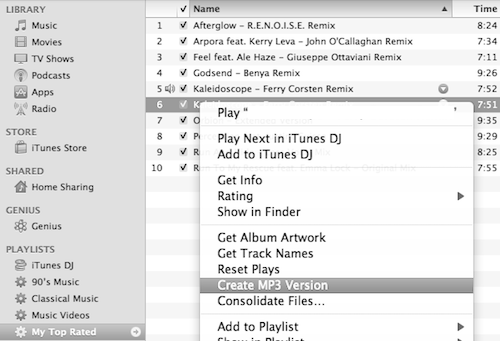 Step 3. From the pop-up "Import Settings" window, click the drop-down button of "Import Using" and choose "MP3 Encoder". Next, click OK.
Step 4. Go back to your music, highlight the one you want to convert to MP3, right click on it, and then select "Create MP3 Version". Seconds later, a MP3 copy will be presented under the original.
This method is only available to convert DRM-free iTunes WAV, M4A, AAC and other music format to MP3. To convert DRM-ed iTunes songs to MP3, you have to switch to a third-party iTunes to MP3 converter. The following section will introduce a top-notch one and explain how to use it to get a DRM-free MP3 copy.
For DRM-protected iTunes Music: Convert iTunes to MP3 with WinX MediaTrans
WinX MediaTrans is the best iTunes alternative for Windows 10 and lower version (XP isn't supported), capable of transferring files between iOS device and PC as well as removing DRM from iTunes music, movies and audio books. So if you want to convert DRM-protected iTunes music to MP3, this program can do you a favor.
To perform this task, firstly you should

download and install it on your computer. The steps are easy to follow.
Step 1. Open WinX MediaTrans and click "Remove DRM" option in the main interface. (Important tip: under "Music Manager", you can also convert iTunes purchased music to MP3 with DRM killed.)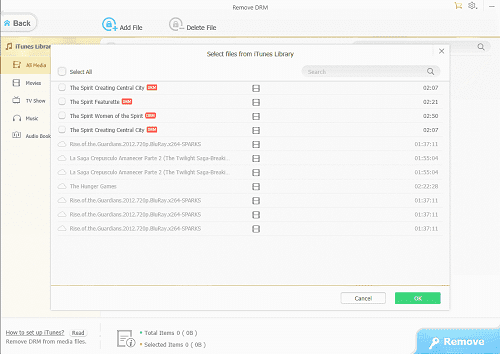 Step 2. Click "Add File" at the top menu bar, and then follow the instructions to load the iTunes music files you need to convert to MP3.
Step 3. Select target files, click OK, and then click "Remove" button to convert copy-protected iTunes music to DRM-free MP3.
Warning: You're not advocated to remove DRM from iTunes purchases for any illegal use!