5 Best Mobile Photo Manager/Management App & Software Review
Photo Manager

Photo App

Posted by Estrella H.| Last Updated: December 29, 2018
To cater for various users on photo management & backup, we will list 5 hand-picked photo managers, both app and software included.
Q: I have about 3,000 photos stored on my smartphone, and an easy-to-use photo manager is so much needed for me to transfer them to computer, spacing up the storage of phone. Who has this mobile photo organizing principle to recommend? Much appreciated!
Eveyone must have taken piles of photos on his/her mobile phone, no lack of many private ones, so managing photos regurlarly is really necessary. This post will round up 5 best mobile photo manager app/software for your reference.
What's the best mobile photo manager for iPhone?

- Sync a single, multiple or all photos between iDevices and computer;
- Create photo album on iPhone or iPad to store images of one kind;
- Deliver much faster transferring speed than other tools;
- Also support managing videos, music, e-books etc.
Why Photo Manager Is Needed and Important?
Mobile phones all tend to take photos with higher quality and resolution (up to 4K). Although the biggest ROM storage can reach up to 128G, and some Android mobiles also support expanding storage with MicroSD card, thousands of photos still make it too crowded together with other (HD or 4K) video clips and music files. As media files pile up, the phone will be running slower and slower. The most important is if the phone get upgraded or crashes all of a sudden, photos may be damaged or lost.
As a result, photo manager app/software is a must-have for all mobile users, be it iOS powered iPhone iPad or Android based phones and tablets. In the following part, we will provide you top 5 incredibly useful programs to help manage and backup all of your memorable photos.
Here we will briefly show you how to transfer iOS mobile photos to computer using WinX MediaTrans, just free download it and install it now, then connect iOS mobile device to computer via a USB cable.
Step 1: Run WinX MediaTrans. When your iOS mobile is connected to PC successfully, WinX MediaTrans photo manager app will automatically recognize and access the iOS device.
Step 2: Click "Photo Manager" to jump into its main interface, view and select photos you'd like to transfer by date or at will.
Step 3: Tap "Export" to backup photos (HEIC/HEIF photos are supported as well) from iOS mobile to computer at fast speed. You can also click the dropdown menu beside "Export" and choose "Export HEIC to JPG" to change image file format for wider compatibility.
To movie photos from PC or external devices to iPhone or iPad, you should click "Add Photo" and then click "Sync" botton to make the photo transferring done.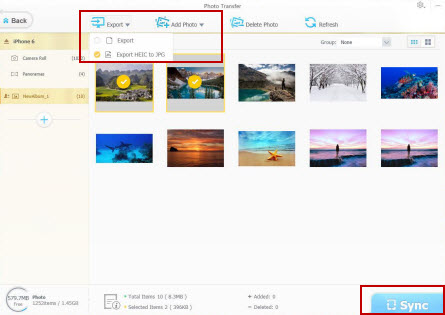 So Long, and Thanks for All the Rips
These are top 5 mobile photo manager apps and software to recommend for those with high demand. Each tool has its own special field. If you're a newbie, choose one according to your actual needs is quite advisable.
If you think the post useful, please kindly share it!
If you still have problems about best mobile photo manager app software, feel free to Email us >>