How to View AVIF Image Files on Windows 10/11 PC?
AVIF image format had been introduced in 2019 closely after the release of its video format AV1. Now, it comes into notice again as Apple says Safari 16 will start supporting AVIF image format on macOS Ventura and iOS 16. What is AVIF? Is it possible to open AVIF on Windows PC? To make things easier, we provide you the answers here.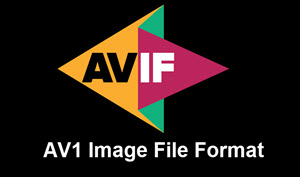 WinX MediaTrans – Transfer AVIF Images from iPhone iPad to PC
If you have downloaded many AVIF images on your iPhone or iPad and want to view them on Windows 10/11 PC, you can use WinX MediTrans to batch transfer them from iPhone/iPad to computer easily.
Part 1. What is AVIF?
AVIF, the AV1 Image File Format, is a next-gen image format to replace WebP and compete with HEIC. It is developed based on AV1 by AOMedia as an open and royalty-free image format which has been proved to has better compression efficiency and detail preservation than WebP, JPEG and PNG image formats.
So far, Chrome and Firefox web browsers have full supports for the new image format that you can directly open it online. Safari falls a little behind but it will be a history when the release of iOS 16 and macOS Ventura. Starting from Windows 10 May 2019 Update, Windows 10/11 is also on the list to support AVIF image format as long as there is AV1 Video Extension installed.
To just name a few, there are already browsers, AVIF file openers, image editors, operating systems, websites, etc. supporting AVIF image format. And as a future plan and promising project, you can find more and more AVIF pictures and accessories in the near future. Here, we only focus on how to view AVIF files on Windows 10/11 PC.
Part 2. How to Open AVIF Images on Windows 10/11?
Ways are diverse, but we only give you 3 easiest methods if you just need to view AVIF files on Windows PC offline.
Way 1. Download AV1 Video Extension
AV1 video extension is prepared to solve AV1 video playback issue on both Windows 10 and Windows 11 PC. It is also a necessary component as of now to open AVIF image files on Windows 10 and Windows 11. Once installed, Windows File Explorer can show AVIF thumnails, display the Exif data, and preview AVIF images. You can also use the native Photos app, Paint app and Windows Media Player on Windows 10/11 to display the AVIF images.
Step 1. Double click the AVIF image you want to open on your Windows 10 or 11 PC.
Step 2. If the AVIF image can't be previewed or opened, you will see an error message asking you to download the AV1 Video Extension. Simply click the download button on the screen to open Microsoft Store.
Step 3. When access the Microsoft Store, you can download and install the AV1 Video Extension on your Windows PC.
Step 4. After installation, you can view AVIF images on your Windows 10 or 11 PC with the Photos app.
Suggested Reading => How to Convert AVIF to JPG/JPG Free in Bulk?

Way 2. Install Third-party AVIF Image Viewer
There are a few AVIF image viewers including XnView, gThumb, ImageMagick, Gwenview and digiKam for you to choose from. Among them, we choose digiKam as an example. digiKam 7.7.0 adds the support for the modern AVIF and JPEG-XL images and also improves the support for the HEIF image format.
Step 1. Go to digiKam official website to download and install digiKam 7.7.0 on your PC.
Step 2. Launch the software, and let it scans your folders.
Step 3. Now, put all your AVIF images in a folder.
Step 4. On the main UI of this tool, navigate to Import and choose Add Images to import the folder.
Step 5. After importing, digiKam will show the AVIF image preview for you. And you can also double click an image to have a look on your PC.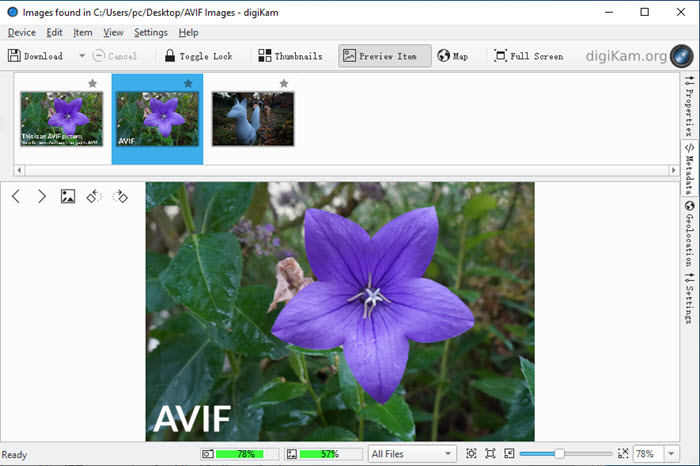 Way 3. Install AVIF Image Editor
You can also use the AVIF image editor to view AVIF image files on PC and have some editing if necessary. GIMP is a free and open-source image editor that you can choose to open and edit AVIF files on Windows.
Step 1. Go to GIMP official website to download and install the image editor on your Windows 10/11 PC.
Step 1. Launch the GIMP image editor and then drag and drop your AVIF images to it to view.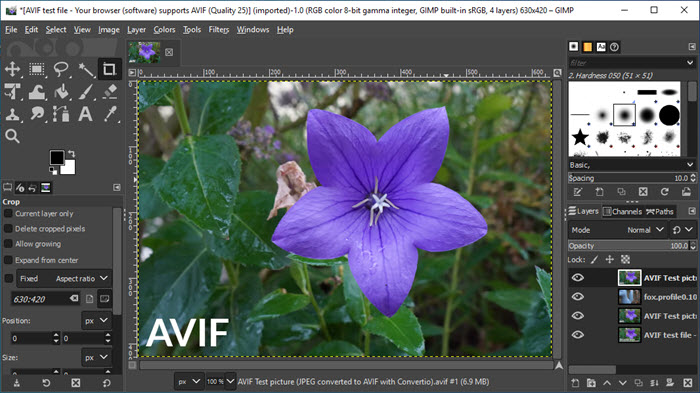 Part 3. Frequently Asked Questions
1. What program opens AVIF files?
Though AVIF is a quite new image format, there are already programs support it. For example, you can open online AVIF images directly in Chrome and Firefox web browsers, and with Safari 16 on macOS Ventura and iOS 16 devices. AVIF image viewers include XnView, gThumb, ImageMagick, Gwenview and digiKam, and AVIF image editors include Paint.net, GIMP, Krita and Adobe IIlustrator. On Windows 10/11, the native Photos app can open AVIF images on PC if AV1 Video Extension is pre-installed.
2. Is AVIF better than WebP?
Yes. AVIF is better than WebP in terms of quality and compression. In detail, WebP only support a maximum bit depth of 8 bits and does support wide color range/HDR images, while AVIF has a maximum bit depth of 10, supports 4:4:4, and interactive supports HDR images. As for the compression, AVIF is 30% smaller.
3. How do I convert AVIF to JPG?
There are many AVIF to JPG converters out the market like CloudConvert, Convertio, Ezgif, Freeconvert, etc. You can choose one of them to that end.
4. Can Photoshop open AVIF?
No. Unfortunately Photoshop can't currently support AVIF image format. But you can install an AVIF plugin for Photoshop to load and save AVIF images.