> Resource > Convert Videos > Compress Video for Email
How to Compress Video Files For Email | Convert HD/4K Video (MKV, M2TS, H.265/HEVC etc,) for Email on PC/Mac
Answer seekers who eager to obtain the fastest way to compress large (GoPro/Sony/iPhone) video for email will be satisfied with the following guide.
• I have a trouble in attaching a video to Email. It either times out the attaching process or says the file is too big. How can I compress the video file to send via email?
• I have a GoPro video that is too large to email to a friend. How do I compress it that can be emailed?
• I take a video with my HD camcorder and I want to send it to my friends via Email. My video is more than 100 MB but Yahoo email only allows to attaching 25MB or less file. Anyone help me compress the video for email?
Two main problems usually happen during sending a video with email, failing to attach large video file and taking too long time to attach. It is necessary to reduce video file into smaller size or convert HD/4K video like MKV, M2TS, H.265/HEVC to a more compressed video format for solving email video attaching errors. And this article will lead you to compress video for email on Windows PC/Mac with an easy-to-use video compressor.
What Are The Best Video Formats for Email?
Email servers are not captious to limit video formats you upload, but strict on file size requiring you to pick out the best video formats for email to make process of attachment and transmission more efficiently.
MP4 (MPEG4/H.264) is the most compatible video format supported by almost all players and portable devices with compact file size and lower data rates but retaining a level of quality becoming the perfect format for uploading to email which limits size of attachment. And, H.264 is a preferred choice for it is more efficient and delivers crisper images than MPEG4.
>>MPEG4 vs MP4, MP4 vs H.264, MKV vs MP4, H.264 vs H.265, Best MP4 Compressor for Windows 10
AVI (DivX) and WMV are the better choice for Windows users because of native support by Microsoft Windows available to directly play by opening video attached in email. AVI (Divx) offers faster compression speed, support for multiple languages and high image quality, while WMV video has smaller size and can be made in a simpler way.
Related: Best YouTube Upload Video Formats, Best Format for Facebook Video, 4K Video File Format, Windows 10 Media Format, Mac Video Formats, 4K to MP3
The best way to compress video for email is to convert videos, especially HD/4K videos (MKV, M2TS, H.265/HEVC) which have large sizes far beyond limitation of email attachment, to best video formats for email with the most appropriate size. WinX HD Video Converter Deluxe is a perfectly useful video compression software to compress or convert 4K/HD/SD videos to MP4, AVI, WMV for email reading 83x real-time conversion speed and keeping possible highest video/audio quality.
The following guide will lead you to compress a 45MB 720p HD MKV video to MP4 for email on Windows PC. For compressing email on Mac, please turn to WinX HD Video Converter for Mac.
Step 1. Import MKV Video
Launch WinX HD Video Converter Deluxe and import MKV video file by clicking "+ Video" button.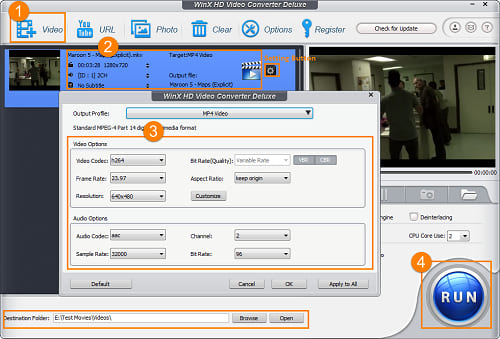 Step 2. Compress MKV Video to MP4
The output profile dialogue pops up the moment video is added into convert list. Select General Profiles category and tap MP4 Video with codec h264+aac because H.264 and AAC can output a quite small size but deliver good quality.
Step 3. Adjust Parameters to Get Smallest Possible Video Size for Email
Click setting icon to access the dialogue for parameter adjustment. Besides video format, resolution and frame rate are two primary elements affecting video size. Change resolution from 1280x720 HD to standard definition 640x480 which is the most common resolution of video for iPhone, iPad, Android, Windows Phone, YouTube, Facebook and more. Then, Cut frame rate to 23.97 or 25 (general 30/29.97 fps). You can also set lower bit rate, sample rate for audio to get a smaller size if it needn't to deliver a pretty good quality.
Step 4. Run to Compress Video for Email
Click Browse button to save the compressed video to destination folder and tap RUN button to start compressing video for email.
Compression Result:
After compression, you can find that the video size has reduced to about 20 MB (about 45% of original MKV video) with zero quality loss, which can be uploaded to email more quickly and easily.
Still have trouble on how to compress video for email, just Mail Us >>
All-sided Video Compressor/Converter - WinX HD Video Converter Deluxe
Convert/compress SD/HD/4K videos for email, YouTube, Facebook, Twitter, WhatsApp etc, for sharing videos over internet successfully.
Convert/compress videos to iPhone, iPad, Samsung Galaxy S/Note series, Google Nexus, Sony Xperia, Windows 10 Mobile, Surface Pro, PS3/4, Xbox One/360 etc, for a better playbak without large space occupying.