How to Convert MKV to MP4 Quickly without Quality Loss
MKV is just a container to store video, audio, subtitle tracks in a variey of codecs, such as HEVC, H.264, DTS and Dolby Digital audio etc. This means you may encounter MKV not playing error owing to the codec issue. And MKV always saves large-sized video in HD or 4K UHD resolution, which requires high of hardware, leading in MKV playback error on general computers.
For example, you may find 4K HEVC MKV files not playing on Windows, MKV plays pixelated/blocky, no sound, black screen or large 4K MKV stutters on computers, mobiles, TVs, Xbox, PS4 etc. To fix it, you absolutely need to convert video files from MKV to MP4 with a free MKV video converter!
WinX HD Video Converter Deluxe Is the Best Way to Go!
WinX HD Video Converter Deluxe - built-in "Auto Copy" mode lets you convert MKV to MP4 without re-encoding, fast and ZERO quality loss!
Equipped with Full Hardware Acceleration, High Quality Engine and more cutting-edge technologies, it can also transcode MKV to MP4, or MKV to iPhone, iPad, Apple TV, iMovie, QuickTime, Android phone/tablets, Surface Pro, game consoles, etc. with optimum parameter settings.
Strapped for time? Click one of the links below to jump straight to your most interested part.
Part 1: Why Should You Convert MKV to MP4?
1. Incompatibility.
There is a great possibility that your MKV player fails to support your MKV files as MKV can be encoded with various codecs like VP9, HEVC, MPEG4, H.264, VP8, Xvid, AAC, MP3, DTS audio codec etc. You may find your MKV files no sound, black screen or absolutely not playing.
2. Substandard hardware configurations.
4K (HEVC) MKV videos ripped from 4K UHD Blu-ray discs or downloaded from online sites cannot be opened in the under-powered computer, causing errors like pixelated 4K MKV playback, or dropping frames. Learn More: Minimum specs configuration for 4K HEVC MKV playback >>
3. Large File Size.
MKV is publicly known as an ideal file format for HD/4K videos, which would occupy several or even dozens of gigabytes. But most media players have no access for such a large size video, and it's hard to save it. For that, converting MKV to MP4 can partly reduce 4K MKV file size.
4. MP4 owns better quality and compatibility.
On the contrary, MP4 is widely supported by a range of devices and it reserves high audio & video quality. You don't have to worry that the original MKV elements are missing as MP4 is able to retain the multiple audio tracks, multilingual subtitles, chapter points etc. after MKV to MP4 conversion. Of course, you can selectively remove some unwanted tracks to get a smaller size video in MP4.
Part 2: WinX - Convert MKV to MP4 without Re-encoding
To change video from MKV to MP4, WinX HD Video Converter Deluxe should be at the top of your priority list.
Convert MKV to MP4 without re-encoding, 100% quality reserved, thanks to its "Auto Copy" mode to transform MKV to MP4 container format with the codec unchanged. For instance, change MKV H264 to MP4 H264, MKV HEVC to MP4 HEVC.
Transcode any videos to 420+ preset profiles, including MP4, MOV, FLV, HEVC, H.264, iPhone iPad, Android, HDTV, Xbox, PS5 and more.
Compress MKV videos smaller up to 90% file size reduction, by downscaling resolution, changing codec, tweaking bit rate, frame rate, aspect ratio, cropping frame size, or trimming the video length and so on.
Boast the world's No.1 fast conversion speed. It makes full use of CPU and GPU, accelerating video conversion 47X real-time faster on machines configured with both QSV-allowed Intel processor (2-6th generation) and CUDA/NVENC-enabled NVIDIA GPU.

Average User Rating: ★★★★☆
WinX HD Video Converter Deluxe Advantages Over Online MKV Converters
For the lure of no download and installation, many users may choose free online video converters for MKV-to-MP4 conversion. It does help to transcode single and relatively small MKV files to MP4. While comparing with WinX HD Video Converter Deluxe, it's far backward from for converting 4K UHD, high frame rate HD MKV files.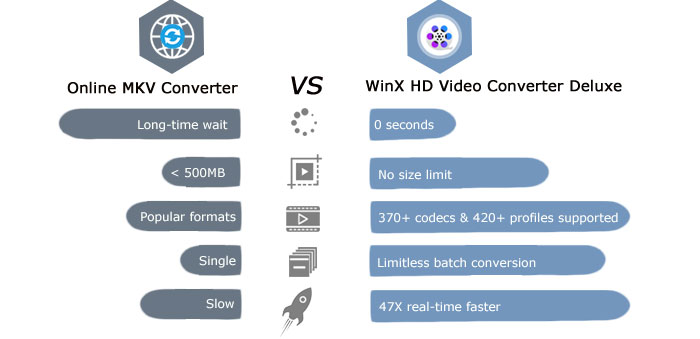 WinX HD Video Converter Deluxe is a simple-to-use program which comes with advanced features for encoding video files. - Editor's Review from Softpedia)
Part 3: How to Convert MKV to MP4 on PC/Mac - 3 Simple Steps
After downloading and installing WinX HD Video Converter Deluxe onto your computer, you only need 3 simple steps to get MKV converted to MP4.

Free Download WinX HD Video Converter for Windows 10/8/7


Free Download WinX HD Video Converter for macOS Big Sur and lower
Step 1: Load target MKV files.
Open the program and load the source MKV file: Click + Video button, and then browse and open target items. If you need to transcode multiple MKV files, simply choose all of them for batch conversion. It will save you much time and energy.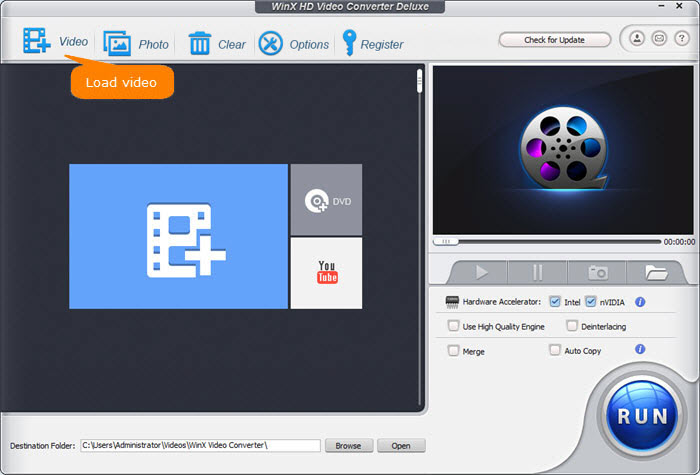 Step 2: Select MP4 in output profile.
After loaded, an Output Profile panel will pop up automatically. In this screen, you will find many preset MP4 output profiles. Choose one based on your own needs. Here let's select MP4 Video (codec: H.264+ AAC) under General Profiles category for a balance of quality and size.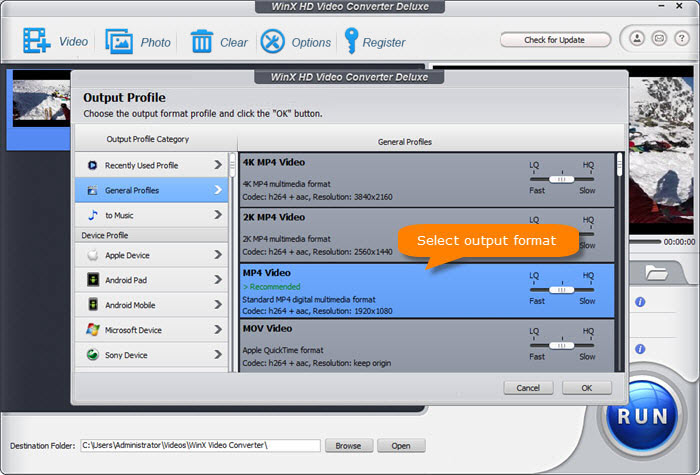 Optional: Tick "Auto Copy"
Tick "Auto Copy" on the lower right corner of the home screen if your input MKV is encoded by H264 or H265 codec and you wanna keep the codec. Thus, the whole MKV to MP4 conversion will be done without decoding or re-encoding. Just copy media file data from MKV to MP4 container format and the speed will be expedited up to 10X faster than transcoding. Step 3: Get It Started Now.
Before any further, you can change the destination folder. By default, output files will be stored in C:\Users\admin\Videos\WinXVideos\. Choose another one by clicking Browse button if you like.
Once in place, just click RUN button - a blue round one - to start the conversion instantly. After then, you're able to play output MP4 video on desktop, HDTVs, PS4, Xbox, Plex, mobiles and more.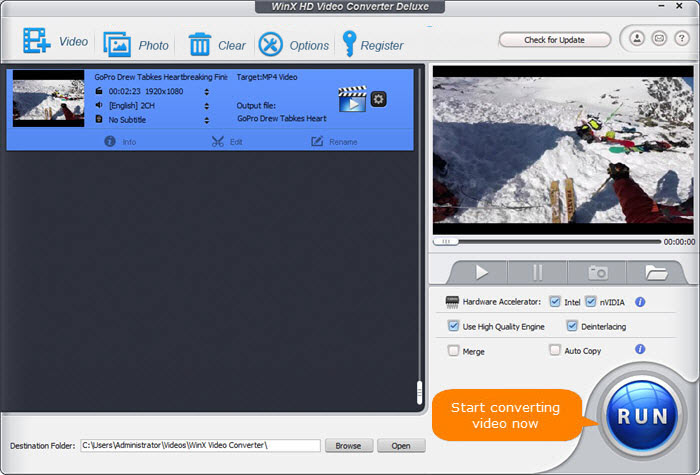 Optionally, if you want do more with WinX HD Video Converter Deluxe, try the following advanced settings:
Resize MKV video file size: Click gear-shaped setting icon to open up a window where you can compress 4K MKV to 1080p/720p, tweak the bitrate and frame rate to be matchable with the resolution, change aspect ratio to 16:9 for black bars removal.
Trim/crop MKV video: Click Edit, then go to Trim tab and Enable Trim to set the start/end time to cut MKV video length. Or go to Crop & Expand tab and Enable Crop to crop the MKV frame size on the screen. BTW, you can also add external subtitle to MKV below Subtitle tab.
Select the target track or disable unwanted tracks: Back to the main interface, MKV video/audio/subtitle tracks are listed ahead an up-and-down arrow. Click the corresponding arrow, you can select your target video/audio/subtitle track or disable multitracks at all.
Enhance output quality: Go Output profile window, move the slider to HQ/Slow, which will make slow down the converting speed slightly yet with higher quality. Meanwhile, you're always suggested to tick on the box of Use High Quality Engine.
Speed up MKV to MP4 conversion: Make sure you have tick on the Intel/nIVDIA Hardware Accelerator box if your computer is configured with a qualified graphic card. It will accelerate MKV to MP4 conversion speed up to 47X real-time faster.
Video Tutorial: How to Convert Your MKV Files to MP4 without Losing Quality
Part 4: FAQs on MKV to MP4 Conversion
Q1: Audio gets out of sync after converting from MKV to MP4.
You can press "j" or "k" on your keyboard to reduce or add delay in VLC player to fix it temporarily. To permanently fix it, you can re-encode MKV to MP4 with a video converter.
Q2: Isn't there a program to change MKV to MP4 format with no remuxing, no quality loss?!?!
WinX Video Converter is a choice. It allows you to convert MKV to MP4 with or without re-encoding but high quality reserved.

Get it free now!
Q3: HandBrake doesn't compress my file after conversion, but makes it bigger!
Your video might have lots of grain that balloon file size tremendously. To fix it, tweak RF to 22 in quality or use Denoise Filter in picture settings.
Q4: MKV to MP4 process completed successfully in DVDFab, but no output file!
It looks like DVDFab is not able to detect a GPU, while it should detect Intel QuickSync. Reinstall DVDFab to see whether it's fixed. If not, maybe it's time to consider another Windows 10 video converter.
Q5: Subtitles get messed after converting MKV to MP4 with HandBrake...
You can delete the unnecessary subtitles and kepp your desired one only. Also, burning your desired foriegn subtitle to the video is a good option.
Q6: HandBrake gets really slow (1-2 frames per second) even with a new fast core i3-8100 CPU with 16 GB of RAM.
Handbrake is always going to transcode the contents of the file you give it, leading in slow Handbrake encoding without hardware acceleration. Check whether the Handbrake hardware acceleration is enabled. Actually, HandBrake always re-encode video files during conversion. It will take more time than repackaging the existing audio and video of MKV into MP4 container.
Part 5: MKV vs. MP4: What's the Difference
Both MKV and MP4 are multimedia container format to save data like video, audio, subtitle tracks. But they're quite different and have pros and cons in terms of individual needs.
| | | |
| --- | --- | --- |
| | MKV | MP4 |
| Video Supported | H.264, H.265, MPEG1, MPEG2, MPEG4 … | H.264, H.265, Xvid, MPEG4, … |
| Audio Supported | FLAC, ALAC, AC3, AAC, DTS … | ALAC, MP3, AAC, … |
| Bit-depth | 8bit, 10bit | 8bit, 10bit |
| Closed Caption Supported | ASS, SSA, … | Not available |
| Quality | Same high | Same high |
| File Size | Relatively large | Relatively small |
| Platform Compatibility | Not so good on mobile devices | Very good on both PCs and mobile devices |
Related external sources:
[1] MKV: MKV is an open standard container format, which can hold an unlimited number of video, audio, picture, or subtitle tracks in one file...
[2] MP4: MPEG-4 Part 14 or MP4 is a digital container format commonly used to store video and audio, as well as other data such as subtitles and still images...