Why MKV File Is Heavily Pixelated/Blocky & How to Fix It?
You may have a huge backlog of MKV files at hand, maybe ripped from DVD collection, or downloaded from online etc. But it's frastrated that MKV file pixelated playback when playing in VLC, Windows Media Player, Media Player Classic and more.
- Playing MKV HD material is looking awful on my setup. I notice heavy pixelation/blocks and MKV stuttering regardless of player. My system should be up for the task (i7, 8GB RAM, ATI 5870, Windows 7). Could it be a codec issue, and if so, what codec should I install to play back MKV-files?
Why your MKV video looks grainy and pixelated? How to fix pixelated image when playing MKV files? This article will get the root of the matter and go the easiest solution to fix it.
MKV File Pixelated Playback? Transcode It to Be More Compatible
When MKV file playback is pixelated or blurry, the cause may be unsupported or missing codecs. In this case, you should convert MKV file to be more compatible for playback with Windows Media Player, VLC, QuickTime, and so on. And WinX HD Video Converter Deluxe can help.
Part 1. Why Is MKV File Playback Pixelated and Choppy?
MKV files can be pixelated and blocky owing to a variety of reasons, from your computer hardware build, codec, MKV player etc. Read on to find more details.
The MKV file look fine, but it's corrupted internally. Or the MKV video source is bad.
Computer hardware is not good enough to play your MKV files. For example, 4K MKV plays choppy on i7, 8GB RAM, ATI 5870 workstation.
Video pixelated in MKV since it's encoded in HEVC codec, which is not compatible and cannot be decoded in your video players.

Part 2. How to Fix MKV Files Pixelated and Crazy Looking with VLC, WMP and More?
Best Solution: Convert MKV to MP4 or Transcode HEVC MKV to H.264 MKV to get better compatibility.
From the above, MKV pixelation comes down to the fact that the MKV isn't compatible with the video player, or the computer hardware is insuffient to decode the MKV. If you don't plan to replace your hardware, making MKV files comptible could be the best choice. For that, you need a video converter like WinX HD Video Converter Deluxe to convert MKV to MP4 to fit any video players or transcode HEVC MKV to H.264 for better comptibility in your old computer system.
Convert MKV to MP4, H.264, AVI, WMV, iPhone iPad, Android, HDTV, Kodi and 420+ profiles.
Adjust MKV codec, bitrate, frame rate, resolution, aspect ratio to fit different screens.
Reduce MKV video size to the hilt, by up to 90% without losing quality visually.
47X real time faster to convert MKV videos when hardware acceleration is enabled.
Download and install the MKV converter in accordance with your computer system, then go over the following steps to convert MKV videos.
Step 1. Open the program and click +Video button to add the MKV file which plays pixelated/blocky, or with dropping frames.
Step 2. Choose an output format from the automatically popped up window, where more than 420 preset profiles are available for your choice. You're recommended to convert MKV to MP4 through General Profiles > MP4 Video (codec: h264+aac) > OK.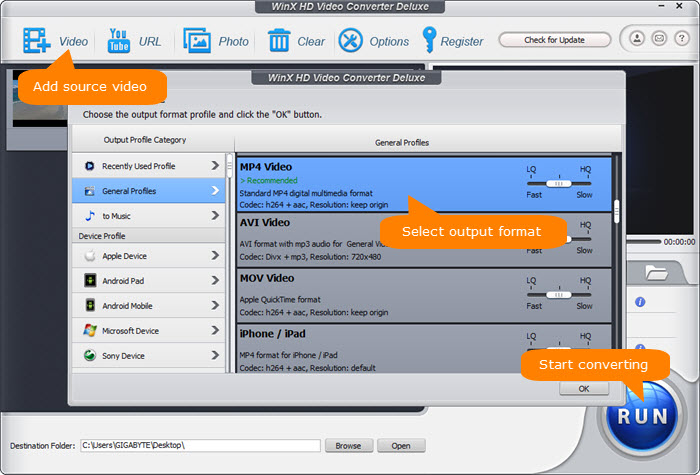 Step 3. Choose output folder destination by clicking Browse button. Then hit RUN button to activate MKV video conversion. What is worth mentioning is that this MKV video converter will automatically detect your GPUs and invoke them to boost speed up to 47x real time faster, if your computer is configured with hardware accelerated graphic cards.