What is Subtitle (Open/Closed Sub & Forced Sub/CC/SDH)?
Subtitles refers to text, originated from either a transcript or screenplay of the dialogue or commentary in films, broadcast, anime, and the like, usually located at the bottom (center) of the screen. The intention of searching "subtitle" or "what is subtitle" is not merely about subtitle definition (I guess), but the specific meanings of soft subtitle, hardcoded subtitle, forced subtitle, closed caption, SDH and their differences.
This post comes into being for that purpose, alongside with practical tutorials on how to add subtitles to DVD/video or extract/remove subtitles from MP4/MKV/YouTube video permanently easy as pie.
Part 1. Subtitle Types
You might find different subtitle types mostly in the playback of DVD disc, HD DVD and Blu-ray disc. And you heard of some subtitle types mentioned on varied types of forums or answer websites like soft subtitles, hardcoded subtitles, embedded subtitles, forced subtitles, closed caption, SDH, pre-rendered subtitle, external subtitle, etc. Yet, you can make nothing of what they explained online. What are differences among these subtitle types on earth? Here this part will elaborate the differences and nitty-gritty.
1. What is hardcoded subtitle?
Hardcoded subtitle, also known as open subtitle, embedded subtitle or burned-in subtitle, is integrated with video image (on video frame) and essentially being "image", not text any more. Put it in another words, it's open to all, always there and you can't turn it on or off. Nor can you change its font, color, size, etc. The die has been cast.
The process of embed hardcoded subtitle to video is called hardcode and usually it will cost you at least 30 minutes for 1-hr video hardcode. 2. What is soft subtitle?
Soft subtitle, aka. closed subtitle, is opposite to hardcoded subtitle and usually a separate subtitle track out of video track. You can turn it on or off at your willing. You're able to choose from multiple soft subtitle tracks when you download and play such a video file via a specific video player. The subtitle settings are adjustable, including sync video subtitle tracks, subtitle font, bold, color, subtitle display place, etc.
The process of add soft subtitle to video is named as encapsulation, which consumes you less than 1 minute for 1-hr video encapsulation. 3. What is forced subtitle?
Forced subtitles exist in many movies and only show up subtitles when the characters speak a foreign or fictitious language, or a sign, board, flag, or other text in a scene is not translated to audiences' local language. In VHS and early DVD movies, the forced subtitles were graphic images that were merged into the film. At that time, forced subtitle is one of the hardcoded subtitles. Later DVD and all modern Blu-ray discs adopts an overlay on top of the movie itself. In this case, forced subtitle is not exactly equal to hardcoded subtitle. 4. What is prerendered subtitle?
Pre-rendered subtitles (one form of closed subtitles) are detached video frames overlaid on the original video stream while playing DVD or Blu-ray disc movies. They can be enabled or disabled and offer you with multiple language subtitles to switch among them. Unlike hardcoded subtitle with no chance to edit subtitles, it's possible to edit pre-rendered subtitle, but it's tough.
5. What is external subtitle?
External subtitle is easy to understand, which is suitable for those films without burned-in subtitles or soft subtitles. You can download free external subtitles for movies from subtitle websites like opensubtitles, Addic7ed, YIFY Subtitles, DIVX subtitles in .srt, .ssa, .ass, etc. common text subtitle formats. Or you can DIY subtitle to customize your video and then add external (.srt) subtitle to DVD/video. Jump to part 4 to check how to add external subtitle to DVD movie or video just a click away.
There are mainly 5 subtitle types. Please read the below open-and-shut comparison table if you still feel confused about these 5 sub types.
Subtitle Types Comparison Table

Sub Types

Can be turned on/off

Multiple sub tracks

Editable

Text or image

Hardcoded subtitle

No

Yes, all displayed at the same time

No

image

Soft subtitle

Yes

Yes

Yes

text

Forced subtitle

No

No

No

seperate image, an overlay on top of the film itself

Pre-rendered subtitle

Yes

Yes

Yes, but difficult

seperate image, an overlay on top of the film itself

External subtitle

Yes

Yes

Yes

text
Part 2. Hearing Impaired Subtitles: SDH & Closed Caption
The first part concentrates on the general subtitle types. Now this part mainly focuses on subtitles for hearing impaired audiences: SDH (aka. HI) and closed caption.
SDH, short for subtitles for the deaf or hard-of-hearing, is an American term introduced by the DVD industry, referring to regular subtitles in the original language to explain non-dialogue information (like wind sound, phone ring, door knocking, barking sound...), as well as speaker identification (like women, men, kid...). This would be useful for the audiences who cannot otherwise visually tell who is saying what. Closed caption is the American term for closed subtitles specifically developed for hearing impaired people. It's a transcription rather than a translation, and usually covers descriptions of significant non-conversational sound as well, such as piano playing, sigh, lyrics, kisses, sound of an engine starting up.
The differences between SDH (HI) and closed captions mainly lie in 3 aspects:
Display place. SDH displays all of the text centered while closed captions can show up centered, left align, right align, top, bottom, etc.
Appearance. SDH subtitles are generally made with the same proportional font used for the translation subtitles on the DVD; however, closed captions are present with white text on a black band, a large portion of the video image being blocked.
Usage scale. Both SDH and closed captions are applied by DVD while only SDH is the sole method for HD DVD and Blu-ray disc.
Indeed, their distinctions are minor. Both are friendly to hearing impaired audiences. Well, no matter the subtitles for not deaf people or HI audiences, the subtitle formats they use are common. What are the common subtitle formats used today? Read on:
Part 3. Subtitle Formats
The most commonly used subtitle formats for video player software contains 3 types: text, image, HTML and XML. The specific subtitle file extensions are sorted below:
Text format: .srt, .ssa, .ass, .sub, .ttml, .pjs, .psb, .stl, .sbv, .aqt, .jss, .pgs, etc.
Image format: .sub + .idx
HTML: .gsub, .rt, .smi, .vtt
XML: .ttxt, .ssf, .usf, .gsub
Certainly, there are still many more inactive subtitle formats and majority of them are encoded by the extension of .txt (text-based format). Plus, deeply subdivided subtitle formats for media (e.g., cinema, TV broadcast, internet delivery) are a large quantity. But you don't have such need to get closer to them. So here we just pass them. After all, the subtitle format you use personally at highest frequency goes to .srt, .ssa or .ttml. Check here if you desire to know more about these three text subtitle formats (helpful for your later subtitle adding task).
Part 4. How to Add/Remove Subtitles
Some movies, if not all, might lack subtitles or your mother language subtitle track. In such case, you need to add subtitles to DVD or video. Here this part shares with you the most simple way to add external subtitle (.srt) to DVD at a click away using WinX DVD Ripper Platinum.
WinX enables you to easily rip homemade and commercial copy-protected DVDs with desired subtitle track (English sub track, Spanish sub, French/German/Italian sub, Forced only...) saved as DVD as MP4, MKV, MOV, AVI, VOB, SWF format, or to hard drive, NAS, Plex server, cloud service, etc. You can DIY subtitle or download movie subtitles from Moviesubtitles.org, OpenSubtitles.org, and then add external srt subtitle to DVD movies before ripping or backing up. Select multiple subtitle tracks or just tick your added sub as sole sub for ripped DVD movie!
To embed external subtitle to DVD movie, check the following detailed instructions:
Step 1: Load Target DVD Source and Select Output Format.
Check your DVD drive if it works and insert the DVD disc you want to burn subtitles into. Tap DVD Disc button to load it into the ripper. (Tip: if you wanna add sub file to DVD VIDEO_TS folder, simply click Folder button to import the DVD folder and follow steps below.)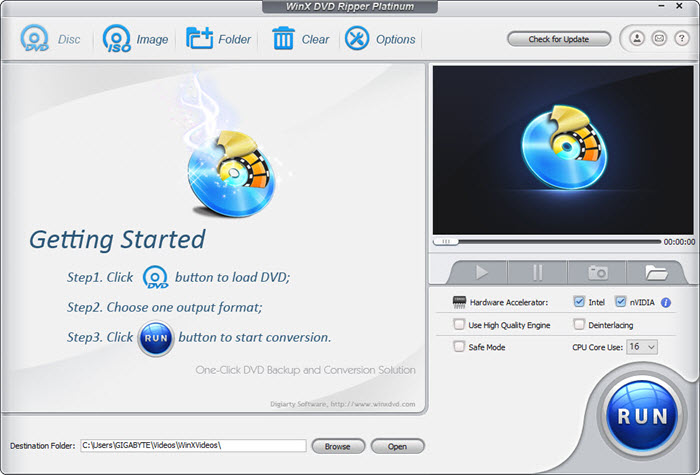 After the DVD correct title is auto detected, the output profile window will automatically pop up, where you're allowed to rip DVD to MP4, MOV, AVI, WMV, VOB, H264, H265, etc. digital formats. Choose General Profiles > MP4 Video and hit OK. Or directly select the device profile from Apple device (iPhone iPad, Apple TV, iMovie), Android (Samsung, Huawei, Xiaomi...), Microsoft device, PS5, Xbox, web profile (YouTube), etc.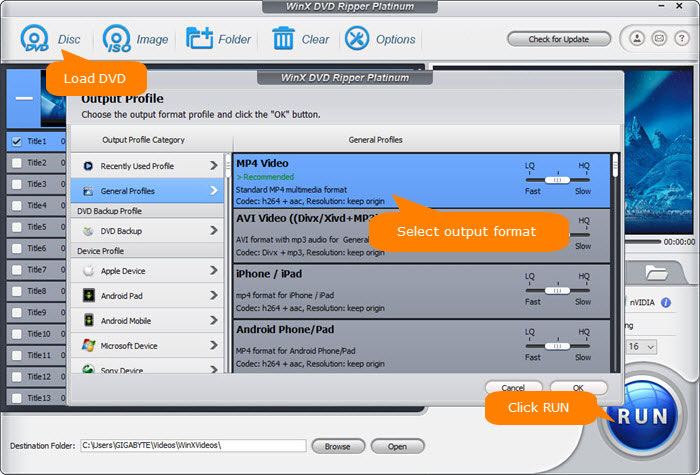 Step 2: Add External SRT Subtitles to DVD Movie.
On the right title line, the subtitle is disabled by default. Click this drop-down list, you can easily get the Add External SRT option. Alternatively, you can hit Edit button to access the subtitle adding window. Tick "Enable Subtitle" > click Add button to import your downloaded movie SRT subtitles. Next, choose position and language and hit Done.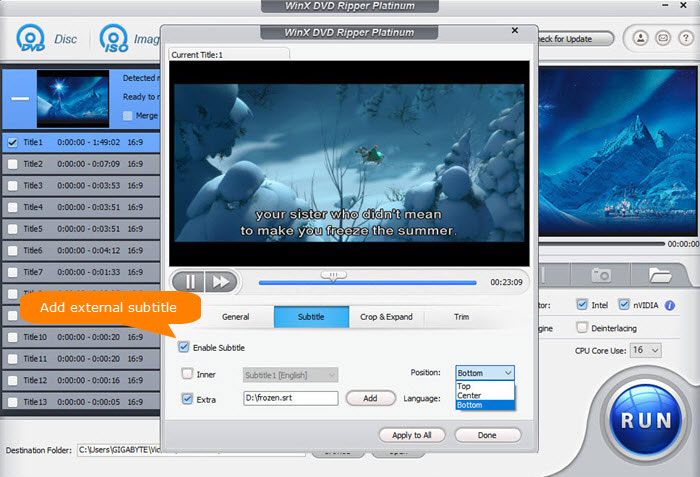 Step 3: Start to Rip DVD with Added Subtitles.
Tap RUN button. WinX DVD Ripper will start ripping DVD and encoding the added subtitles to the DVD rip file. Don't worry about the ripping speed; the built-in level-3 GPU (Intel QSV/Nvidia/AMD) hardware acceleration will handle the compute-intensive DVD ripping task mainly on the graphics expert GPU, 5X faster than any other rivals without such powerful GP HW accel tech.
To temporarily remove subtitles from DVD movies, just disable the unwanted subtitle tracks before DVD ripping, easy peasy. Since the process of adding subtitle to video is much of muchness to DVD, there is needless to repeat the process (just change your program to WinX Video Converter). Check the detailed guide if necessary. Meanwhile, the tutorial to remove subtitles from MP4 is still here. Help yourself!