Free MPEG to MP4 Converter - Decode & Re-encode MPEG to MP4
Both MPEG1 and MPEG2 videos will be ended in .mpg file extensions. MPG file can be played back on PS3, Xbox, Wii and TVs from USB flash drive, even further edited in Windows Media Center. But if you have some MPEG video files on your computer that you want to put onto your iPhone/iPod/iPad and other devices and players that only accept or have better compatibility with MP4 formats, you will have to convert MPEG files to MP4 files with a MPEG to MP4 video converter program. In this article, we will share with you the smart approach to convert MPEG to MP4 with a professional free MP4 video converter, as well as the basic knowledge about MPEG and MP4.
Download free video converter to convert MPEG to MP4
WinX Video Converter is a free, safe and clean video converting software, letting you bulk convert MPEG videos to MP4 (H264, HEVC), as well as MOV, AVI, MKV, FLV, WMV, iPhone iPad, Android, etc. with 420+ profiles provided. No limits on input file size, load MPEG 500MB or 100GB, it offers 300%-500% real time converting speed to finish the converting task as fast as possible! No half crash or CPU overuse errors!
How to Transcode Video Footage from MPEG to MP4
The only thing you need is to

download a free video converter, which can easily help you to convert MP4 video to FLV format. WinX Video Converter is your best choice. With this program, it is pretty handy when you need to convert a large MP4 file into a much smaller FLV file so that you can quickly post it on your blog or share on sites like Youtube.
Step 1: Import the MPEG videos file by clicking "Add" button. You can also load several videos at a time if you need. The "Remove" button beside it allows you to remove the incorrectly imported MPEG file easily.
Step 2: If you wish to convert only a segment of the MPEG video to MP4, you can trim the video clip by dragging the handle of the bar under the video preview windows.
Step 3: Click "to MP4" button, then the MPEG will be converted to MP4 file.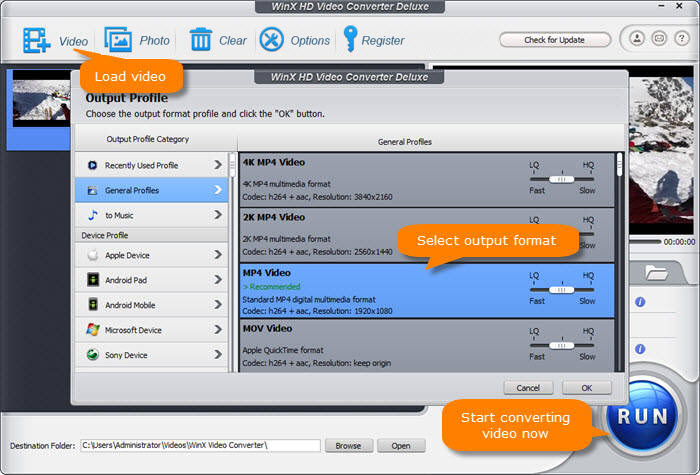 Step 4: Select the output folder to save the MP4 video converted from MPEG on your computer.
Step 5: Click "RUN" button to start MPEG to MP4 conversion.
For advanced users, you can set the detailed parameters of output format to control video quality or image size in the parameter setting area.
External Knowledge
What is MPEG: MPEG stands for Moving Pictures Expert Group. MPEG-1 is the video format that has had some extremely popular spin-offs and side products, most notably MP3 and Video CD. MPEG-2 is not a successor for MPEG-1, but an addition instead. MPEG-2 is used in digital TVs, DVD-Videos and in SVCDs.
What is MP4: An ISO/IEC standard 14496 developed by the Moving Picture Experts Group (MPEG).MP4 is a new container format, a container format allows you to combine different multimedia streams into one single file. MP4 is streamable and supports all kinds of multimedia content. Virtually all playing hardware, software, devices and tools, including iPhone/iPod/iPad, support MP4 container and MP4 format videos.