Download MP4 Codec for Windows 11/10/8/7 and Mac
You may wonder why some of your MP4 videos play successfully but others fail to play. It's all because of the MP4 codec. As MP4 is a container format that can pack kinds of video and audio codec, like H.264, MPEG-4, HEVC, VP9, AV1, AAC, MP3 etc., you may encounter MP4 not playing issue if your MP4 video is encoded with a codec that's not compatible with your media player or device.
So, this article will help you find the best MP4 codec for Windows or Mac and tell what to do when there is still issues after downloading MP4 codec pack. Then, your MP4 file will be played, edited, or uploaded without errors.
Best MP4 Video Converter with MP4 Codec Included to Transcode MP4 Files
WinX HD Video Converter Deluxe is your master key if your MP4 codec is not compatible with your device. It's able to transcode whatever incompatible videos to that with proper MP4 codec so as to perfectly fit with any media player, video editor, device, etc. on Windows and Mac for playback, editing, sharing, or uploading purpose.
Part 1. What is MP4 Codec?
The MP4, short for MPEG-4 Part 14, is a digital multimedia container format used for storing audio and video files. It was developed by the Moving Picture Experts Group (MPEG) and is recognized as one of the most versatile and widely supported codecs in existence. The MP4 allows for efficient compression of audio and video data say MP4 codec while maintaining high quality, making it suitable for various applications, including streaming, broadcasting, and digital distribution.
The advantages of MP4 codec:
Cross-platform Compatibility: The MP4 codec is compatible with a wide range of devices, operating systems, and media players, ensuring seamless playback across different platforms.
High Compression Efficiency: The MP4 codec utilizes advanced compression algorithms to reduce file size without significant loss of quality, making it ideal for streaming over the internet and optimizing storage space.
Online Video Streaming: MP4 is widely used for streaming video content on popular platforms like YouTube, Netflix, and Vimeo.
Mobile Devices: The MP4 codec is extensively used in mobile devices due to its efficient compression and compatibility with popular operating systems like Android and iOS.
Part 2. Download and Install MP4 Codec on Windows 11/10/8/7
Besides the popular MP4 codec like H.264, HEVC and MPEG-4, there are many other codecs can also be packed in MP4 video, such as DivX/XivD, VP9, VP8, AV1, MPEG-2 and so on. Thus, it's a common occurrence that your MP4 video not playing on Windows 10/8/7 or Mac owing to missing codec issue. For that, you can get a MP4 codec pack on Windows 10/8/7 or Mac to fix your MP4 file not supported error.
MP4 codec types: AV1, AV01.
Supported OS: Windows 11, 10 AV1 Video Extension is released by Microsoft to help Windows 11 and 10 users to play latest AV1-encoded files including MP4 videos. As of now, this is the only MP4 codec to decoing AV1-encoded MP4 videos. However, it is not preinstalled by default, you have to download this codec manually.
Step 1. Go to Microsoft Store and search for AV1 Video Extension.
Step 2. Click on the Get button to download and install it on your Windows 11 or 10 PC.
Step 3. Now, you can play MP4 videos with Windows Media Player or Movies & TV App.
MP4 codec types: x264 | x265 | h.265 | HEVC | 10bit x265 | 10bit x264 and many more.
Supported OS: Windows 11, 10, 8.1, 8.0, 7, XP, Server 2022/2019/2016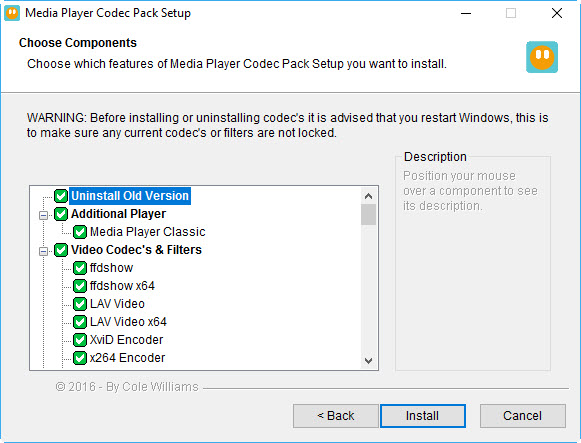 Media Player Codec Pack is one of the most famous codec pack found on Internet. It includes kinds of compression types, enabling you to play video in x264, x265, h.265, HEVC, 10bit x265, 10bit x264, AVCHD, AVC DivX, XviD, MP4, MPEG4, MPEG2 and many more. You can navigate to it official site to download MP4 codec for Windows 11, 10, 8, and 7 for Windows Media Player or VLC to play MP4 files on Windows smoothly.
Step 1. Go to the official website of Media Player Codec Pack.
Step 2. There are three different builds of the pack, including Standard Edition, Plus Edition, and Lite Edition, each suited to different users. Standard Edition is suggested for most Windows PC and laptop users to download. So, simply click on the READ MORE button to go further.
Step 3. Find the version you need and click DOWNLOAD button to download the MP4 codec pack.
Step 4. After downloading, install it on your computer.
Step 5. Now, click "Settings" in the start menu, choose "System" in the "Windows Settings". Then choose "Default apps", and click on "Windows Media Player" on the "Choose an application" pop-up menu to set Windows Media Player as the default player to play MP4 files on Windows.
MP4 codec types: h.263, h.264, h.265, DivX, Xvid, MPEG4, MPEG2, VP8, VP9, and more
Supported OS: Windows XP/Vista/7/8/8.1/10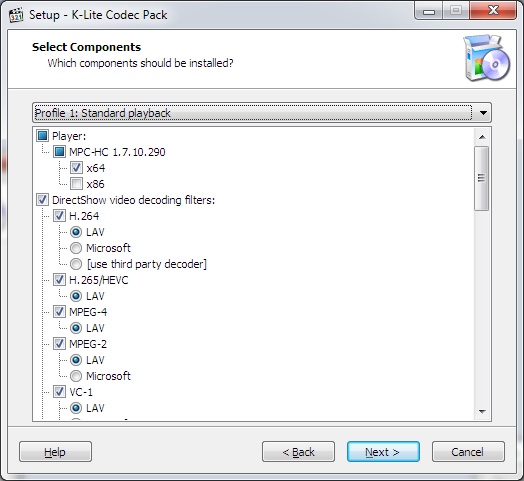 K-Lite Codec Pack have four different variants, including Basic, Stand, Full, and Mega versions. For common MP4 video player, the Basic and Standard versions are best choices. If you already have Windows Media Player installed, use the Basic version. If you need an extra media player, the Standard version will give you MPC-HC.
Step 1. Go to the website of this MP4 codec pack.
Step 2. Click Download button to download and install it on your Windows PC.
Step 3. Play your MP4 videos at will.
MP4 codec types: x265 | h.265 | HEVC | 10bit x264 | x264| h.264 and many more.
Supported OS: 11, 10, 8.1, 8, 7, Server 2022, 2019, 2016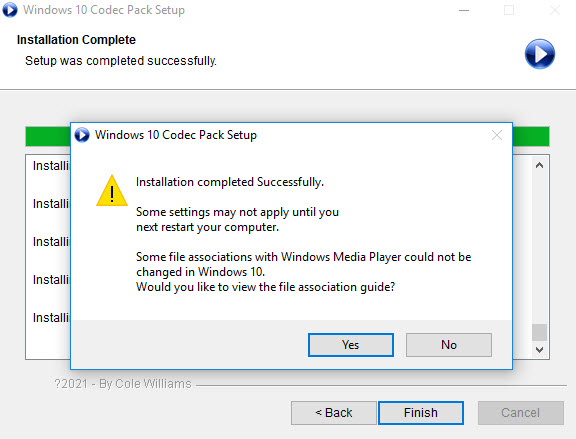 If you want to use this MP4 codec pack on Windows PC to play MP4 video files, you should make sure you have Windows Media Player 10+ or any player compatible with DirectShow. The Windows 10 Codec Pack supports almost every compression and file type used by modern video and audio files, like MP4, MKV, AVI, WebM, etc. And also it allows users to play any video up to 4K and beyond.
Step 1. On the website, click the Download button to download installation file.
Step 2. Double click the .exe file to start installation. For simple installation select "Easy Installation", and for advanced installation please select "Detailed Installation".
Step 3. After installation, you can play MP4 files on Windows 10/7 without issues.
MP4 codec types: H.262/MPEG-2 Part 2, Generic MPEG-4 ASP (3ivx, lavc, etc.), DivX, XviD, H.264/MPEG-4 AVC, etc.
Supported OS: Windows XP/Vista/7/8/10 Actually, CCCP is a discontinued MP4 codec pack and its official website is no longer available. In sipte of that, you can still download it from the third-party site and install it on your Windows 10 or earlier computer to make MP4 files playable.
Step 1. Go to https://download.cnet.com/Combined-Community-Codec-Pack/3000-2139_4-10966585.html to download this MP4 codec pack.
Step 2. Follow the on-screen guide to install the MP4 codec and then play your MP4 files.
FYI:
The MP4 codec downloaded online may do harm to your computer as they may contain virus, malware or adware.
The MP4 codec may conflict with other programs on your computer, and even corrupt the system.
Some MP4 codec packs haven't updated for a long time, so they probably can't solve the MP4 not playing issue.
After ransacking the internet, we didn't find any official MP4 codec for Mac. To play MP4 on Mac without error, you may need some other helps.
Part 3. How to Play MP4 Videos without MP4 Codec?
The key: Using an MP4 player or transcoding MP4 file with compatible MP4 codecs.
Considering the drawbacks of MP4 codec packs from unauthorized sites, these MP4 codecs are not the best choices. To play MP4 videos on Windows 10/8/7 or Mac without codec issues, all you need to do is to get a qualified and powerful MP4 player like 5KPlayer, which has built-in MP4 codecs to let you play all MP4 videos and other format files ideally. Installing MP4 codec pack of course is an effective way to make MP4 playable on PCs/Macs. While things are different for mobiles, tablets or HDTVs. If your MP4 videos fail to play on portable devices or HDTVs owing to codec issue, the best solution comes to transcoding incompatible MP4 codec with an MP4 video converter to compatible MP4 codec, which can also solve the MP4 not importing, not editing and not uploading issues.
WinX HD Video Converter Deluxe is what you're looking for. Built with 320+ codecs, you're able to transcode VP9, AV1, HEVC to H.264, MPEG-4 in MP4, AVI, WMV, MOV or whatever formats your devices supported. Or you can also directly convert your incompatible MP4 video to iPhone, iPad, Android, PS4, Xbox, HDTV etc. Besides, with the support for High Quality engine and Hardware acceleration, WinX HD Video Converter Deluxe can convert your MP4 videos 47x real-time faster with a good balance on quality and size.
Step 1: Download, install and launch WinX HD Video Converter Deluxe, then click "Video" button at the top banner of the main interface to load your incompatible MP4 video.
Step 2: Go "General Profiles" and choose MP4 Video (h.264+aac) as output format. Or you can directly select your device module, which is presetted in H.264 + AAC MP4 video.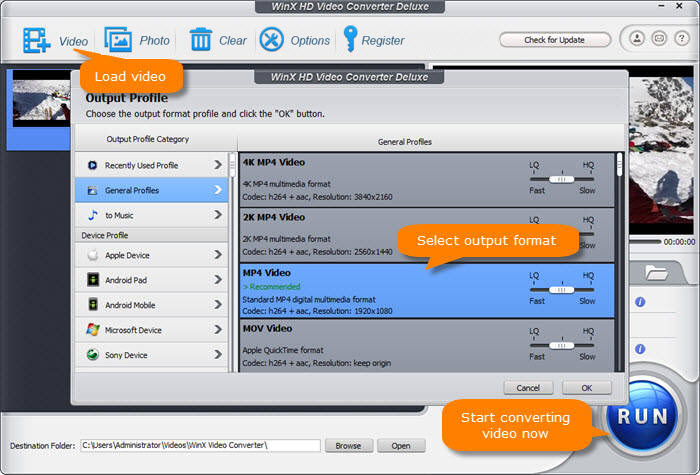 Step 3: Tap "RUN" button to start converting your MP4 video. It won't take you much time. If your computer is configurated with qualified graphic cards, it will convert videos in 47x real-time faster.
Step 4: Now, your MP4 video should has the proper MP4 codec, and you can play the MP4 video smoothly with your media player.
In conclusion:
The MP4 codec has revolutionized the way we consume and distribute multimedia content. Its versatility, cross-platform compatibility, and efficient compression make it an essential format in today's digital landscape. Understanding the intricacies of the MP4 codec empowers content creators, video enthusiasts, and consumers to make informed decisions regarding video encoding, streaming, and distribution. Whether you're a professional in the field or simply a curious individual, exploring the MP4 codec opens up a world of possibilities in the realm of digital multimedia.
Part 4. FAQs
1. What is codec for MP4?
Based on Wikipedia: A video codec is software or hardware that compresses and decompresses digital video. In the context of video compression, codec is a portmanteau of encoder and decoder, while a device that only compresses is typically called an encoder, and one that only decompresses is a decoder.
So, MP4 codec is simply the software that can encode or decode MP4 videos so they can be played, edited, uploaded or shared. As of now, MP4 videos can be encoded with various codecs. So, you will see types of MP4 codec in the market.
2. Which is best MP4 codec?
So far, the best MP4 codecs are MPEG-4, H.264, and HEVC.
MPEG-4 is one of the most common codecs for MP4 video and it consists of many parts, of which only MPEG-4 Part II is used for video coding. MPEG-4 Part II calls on video encoders like DivX/XviD to encode the video, while audio is typically carried in MP3 format. But as the development of codecs, more and more MPEG-4 users are now using H.264 as well.
H.264 is the most used MP4 codec currently owing to its high quality and better compatibility compared with other MP4 codecs. It utilizes both lossy and lossless compression depending on the settings on frame rate, quality, and target file size etc. And H.264 video codec is usually assorted with AAC and MP3 audio codec depending on your settings.
HEVC is a rising MP4 codec especially for 4K/8K ultra resolution. Likewise, it adopts both lossy and lossless compression method, making it able to maintain the same high quality, but half size of H.264. Therefore, an increasing number of users turn to HEVC codec for half bitrate with same high quality or better quality with the same bitrate.
3. How do I find my MP4 codec?
To find what codec was used with your MP4 file, you can play the file in a media player. While the file is playing, right-click the file and select Properties. Then, you can see the Audio codec and Video codec sections.
4. What are the types of MP4 codec?
MP4 codecs include AV1, AVC (H.264), HEVC (H.265), MP4V-ES, MPEG-2, VP9, VP8, DivX/XivD, etc.