What's the Codec for MP4? Download MP4 Codec for Windows 10/8/7
You may think it strange that why some of your MP4 videos fail to play, but some play. It's all because of the MP4 codec.
MP4 is a container format that can pack kinds of video and audio codecs, like H.264, MPEG-4, HEVC, VP9, AV1, AAC, MP3 etc. If your MP4 video is encoded with a codec that's not compatibile with your devices, it fails to play fatefully. This article will introduce you best MP4 codec and what to do if your MP4 codec not comptible with your devices.
What If Your MP4 Codec is Not Compatible with Your Device?
WinX HD Video Converter Deluxe is your master key. It's able to transcode whatever incompatible MP4 codec to perfect fit with your device, like VP9, AV1, HEVC to H.264, MPEG-4 to make your MP4 video playable on PCs/Macs, iPhone iPad, Android, TV, PS4 and more.
It'll cost you about 4 mins to read through this post, you can skip to:
Part 1: What Codec Your MP4 Video Is Encoded with?
You know, MP4 video can be encoded with various codecs. What are the most popular codec for MP4 video?
1. MPEG-4
MPEG-4 is one of the most common codecs for MP4 video and it consists of many parts, of which only MPEG-4 Part II is used for video coding. MPEG-4 Part II calls on video encoders like DivX/XviD to encode the video, while audio is typically carried in MP3 format. But as the development of codecs, more and more MPEG-4 users are now using H.264 as well.
2. H.264
H.264 is the most used MP4 codec currently owing to its high quality and better compatibility compared with other MP4 codecs. It utilizes both lossy and lossless compression depending on the settings on frame rate, quality, and target file size etc. And H.264 video codec is usually assorted with AAC and MP3 audio codec depending on your settings.
3. HEVC
HEVC is a rising MP4 codec especially for 4K/8K ultra resolution. Likewise, it adopts both lossy and lossless compression method, making it able to maintain the same high quality, but half size of H.264. Therefore, an increasing number of users turn to HEVC codec for half bitrate with same high quality or better quality with the same bitrate.
Learn More about MP4 Codec:
Part 2: How to Get MP4 Codec on Windows 10/8/7
Besides the above mentioned popular MP4 codec, there are many other codecs can also be packed in MP4 video, such as DivX/XivD, VP9, VP8, AV1, MPEG-2 and so on. Thus, it's a common occurrence that your MP4 not playing on Windows 10/8/7 owing to codec issue. For that, you can get MP4 codec on Windows 10/8/7 to fix it.
Media Player Codec Pack is one of the most famous codecs found on Internet. It includes kinds of compression types, enabling you to play video in x264, x265, h.265, HEVC, 10bit x265, 10bit x264, AVCHD, AVC DivX, XviD, MP4, MPEG4, MPEG2 and many more. You can navigate to it official site to download it and set file associations in Microsoft Windows 10/8/7. Take Windows 10 as an example:
1. Free download Media Player Codec Pack and install it on your PC.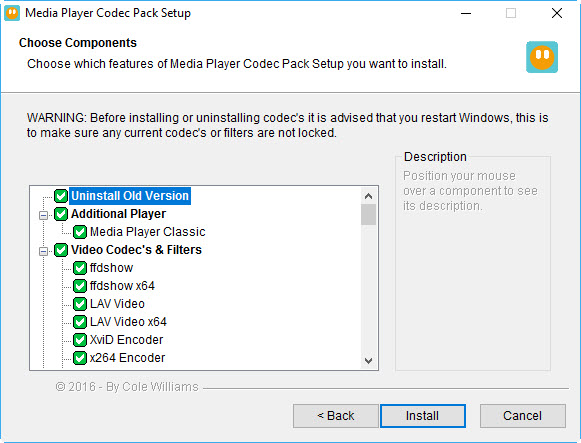 2. Click "Settings" in the start menu, choose "System" in the "Windows Settings". Then choose "Default apps", in this panel click on "Films & TV" under "Video Player", and click on "Windows Media Player" on the "Choose an application" pop up menu to set Windows Media Player as the default player for video files.
Part 3: How to Make Your MP4 Playable without Codec Issue
Installing MP4 codec pack of course is an effective way to make MP4 playable on PCs/Macs. While things are different for mobiles, tablets or HDTVs. If your MP4 videos fail to play on portable devices or HDTVs owing to codec issue, the best solution comes to transcode incompatible MP4 codec with a MP4 video converter.
WinX HD Video Converter Deluxe is what you're looking for. Built with 320+ codecs, you 're able to transcode VP9, AV1, HEVC to H.264, MPEG-4 in MP4, AVI, WMV, MOV or whatever formats your devices supported. Or you can also directly convert your incompatible MP4 video to iPhone, iPad, Android, PS4, Xbox, HDTV etc. Besides, with the support of High Quality engine and Hardware acceleration, WinX Video Converter can convert your MP4 videos 47x real-time faster with a good balance on quality and size.
Tutorial: How to Convert Your Incompatibile MP4 Video (AV1, DivX, HEVC etc.) to H.264 MP4
Step 1: Launch WinX HD Video Converter Deluxe, then click "Video" button at the top banner of the main interface to load your incompatible MP4 video.
Step 2: Go "General Profiles" and choose MP4 Video (h.264+aac) as output format. Or you can directly select your device module, which is presetted in H.264 + AAC MP4 video.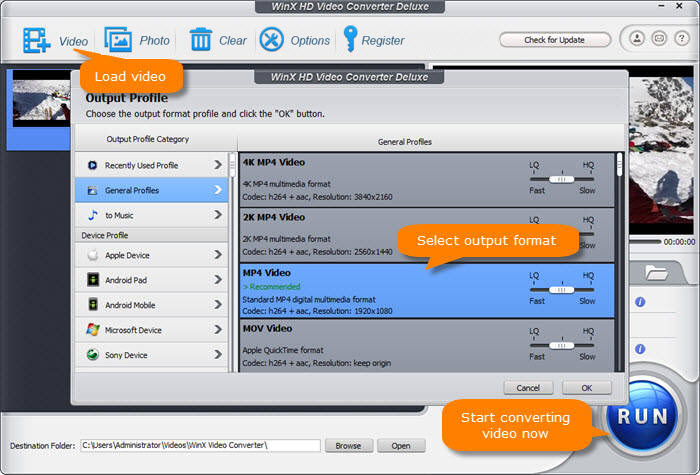 Step 3: Tap "RUN" button to start converting your MP4 video. It won't take you much time. If your computer is configurated with qualified graphic cards, it will convert videos in 47x real-time faster.