10 Ways to Fix MP4 Not Uploading to Facebook
Facebook allows users to upload videos. However, some users reported that they met errors while uploading a video, even if it is in MP4 – the most popular video format. Does Facebook accept MP4 files? Yes, Facebook supports MP4 and many other formats like MOV and MKV. That brings another question, "why my MP4 video won't upload to Facebook?" There are many causes. It could be a problem with Facebook's server. It could be because your MP4 video is encoded with a format that Facebook doesn't support. It could be caused by slow internet connection. In this article, we'll show you how to fix MP4 video not uploading to Facebook.
How to Troubleshoot MP4 Not Uploading to Facebook?
1. Check if there's a problem with Facebook.
You can go to Downdetector and the like to check if there are Facebook outages reported. If there are, you can wait and try uploading your MP4 video after Facebook server's problem is solved. If there are no problems at Facebook currently, move to the next step.
2. Check if your MP4 video meets Facebook requirements.
Although we already know that Facebook supports MP4, we also need to check if your MP4 video exceeds the length and size limit that Facebook sets. You're not allowed to upload a video longer than 240 minutes and larger than 4 GB. If your MP4 video is too long to upload, you need to trim or split it. If it is too large to upload, you can reduce its file size. To make MP4 video shorter and smaller, you can give HD Video Converter Deluxe a try.
If your video neither exceeds maximum length limit nor exceeds maximum file size limit, you need to check your MP4's encoding format using MediaInfo or something you like. MP4 is a container format, so it could be encoded with any format, such as MPEG4, H.264, and HEVC. Not all encoding formats are supported by Facebook. For all we know, Facebook supports MPEG4, H.264, and DivX. If your video is using other formats, you may need to re-encode it. Re-encoding can also be done with HD Video Converter Deluxe we mentioned in the last paragraph.
Now let me show you how to trim, compress, and re-encode video to meet Facebook video upload requirements.
Step 1. Download and install HD Video Converter Deluxe on your computer.
Step 2. Launch HD Video Converter Deluxe and click + Video button to load the MP4 video you cannot upload to Facebook.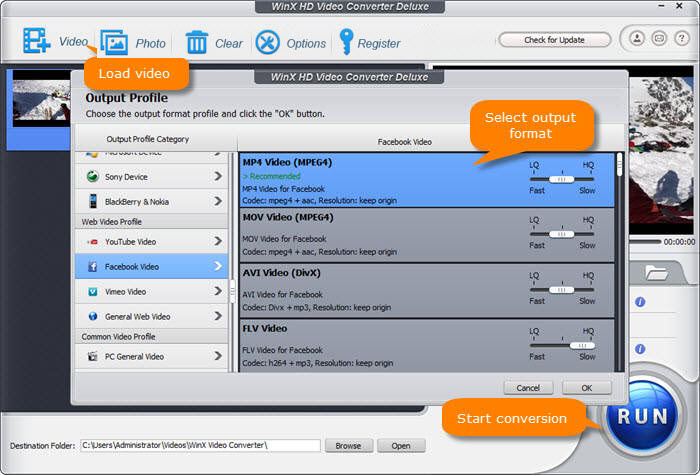 Step 3. When the Output Profile window appears, scroll down to Facebook Video, and choose an output profile. There are four premade profiles, including MP4 Video (MPEG4), MOV Video (MPEG4), AVI Video (DivX), and FLV Video. Among them, MP4 Video (MPEG4) is recommended. After choosing output format, click OK to confirm.
Step 4. If you need to trim your video, click the Edit button, hit the Trim tab, check the box of Enable Trim, and then drag the sliders under the preview window to move to desired start and end positions.
Step 5. If you need to shrink video, you should click the setting icon to lower resolution and bitrate.
Step 6. When you finish all settings, just click the RUN button. Then HD Video Converter Deluxe will start processing your video and deliver a new video that should be uploaded to Facebook successfully.
If you still can't upload video to Facebook, try the following fixes.
3. Re-login Facebook.
Sometimes you can solve video upload failure simply by logging out and logging back in. After doing this, your device will refresh the connection with Facebook's servers and reload your account data.
4. Use the latest version of your browser.
If you upload MP4 video to Facebook through a web browser, make sure the browser is the latest version. Take Google Chrome as an example. Click the three-dot icon on the top right corner of Chrome, click Help and then hit About Google Chrome. Then, it will check whether you're using the newest version.
5. Clear browser cache and cookies.
If you already have the latest version but still cannot upload MP4 to Facebook, try clearing browser cache and cookies. To do this on Chrome, click the three-dot icon, scroll down to More Tools, and choose Clear browsing data. Then, tick the boxes of Cookies and other site data and Cached images and files, and then click Clear data.
6. Disable add-ons in browser.
This is another measure you can take. For Chrome users, click the three-dot icon at the top right, scroll down to More Tools, click Extensions, and now disable all the extensions.
7. Try a different browser.
When all the fixes on your current browser still don't work, trying a different browser may be a way out. There are so many web browsers to choose, such as Chrome, Firefox, Opera, Microsoft Edge, and Safari.
8. Update Facebook app
If you cannot upload MP4 video through Facebook app, check if you're using the latest version. If not, update it. Once done, try uploading your video again.
9. Reinstall Facebook app
Sometimes video upload failure is because installation files of Facebook app get corrupted. So we can try deleting Facebook app and installing a new copy of it.
10. Check network connection.
In most cases, MP4 not uploading to Facebook is due to slow internet connection. You can use an internet speed test tool to check if you have a fast internet speed. If it is slow, restarting your router may work. If you can't fix it, you can contact your ISP for help.
Tips: You'd better turn off VPN when you upload video to Facebook. Enabling VPN may stop you from establishing a proper connection with Facebook's servers.
If you have tried all the methods above but still can't upload MP4 files to Facebook, you can report this issue to Facebook.