How to Convert HEVC to MP4 with Best Quality?
Have some 4K and HD HEVC videos but fail to play them on PC or TV? HEVC videos play with endless stutters? You can just convert HEVC/h.265 videos to the more friendly MP4 format. In this post, we'll share the best ways in 2023 to convert H.265/HEVC to MP4 on Windows (11/10) and Mac.
Best HEVC to MP4 Converter to Convert HEVC to MP4 with High Quality & Fast Speed
WinX Video Converter is a HEVC to MP4 expert to convert videos among 4K/HD HEVC, MP4, H.264, MOV, MKV, Prores, AV1, VP9/8, AVCHD, MTS, etc. It's able to convert HEVC x265 to MP4 with the best balance among quality, size, and speed.
5x faster converting speed thanks to Nvidia, Intel, and AMD hardware acceleration.
No visual quality loss because of High Quality Engine mode.
Smallest output size due to the special video compression algorithm.
3 easy clicks only: Simply import the HEVC videos > select MP4 output > click Start and enjoy.
Part 1. Why Convert HEVC/x265/H.265 to MP4?
HEVC (x265, H.265, MPEG-H Part 2) is the most popular successor to the widely used AVC (H.264 or MPEG-4 Part 10). HEVC is able to maintain the same video quality at half the bitrate as AVC MP4. Therefore, it's widely used in ultra HD video compressions up to 8K UHD. You may get videos labeled with H.265, HEVC, and x265(x265 is an open-source HEVC encoder designed to encode videos into H.265/HEVC).
While HEVC files are twice compressed as MP4 videos, H.265 is far less compatible than AVC. Many popular devices still don't support the HEVC codec yet or have trouble handling HEVC videos. For example, Adobe Premiere Pro won't import HEVC from iPhone properly and Microsoft doesn't provide support for HEVC codec. HEVC also requires significant computational resources, making it hard to open HEVC videos on older devices. So it is necessary to convert HEVC/x265 to MP4.
Part 2. Top 6 Ways to Convert HEVC to MP4
#1. Convert HEVC to MP4 with WinX Video Converter
* Supported platforms: Windows 11/10 (32 & 64 bit) and earlier, macOS Ventura and earlier
If you hate ads, slow speed, and quality loss, WinX Video Converter would be the best choice. As converting HEVC, especially H.265 videos at 4K or higher resolutions requires massive computing resources, many HEVC to MP4 video converters encounter problems during the conversion, such as stutters, laptop lagging issues, 100% CPU usage, overheating, etc. This converter solves the errors with the support of Intel QSV, Nvidia CUDA/NVENC, and AMD acceleration. The overall HEVC x265 to MP4 converting speed is about 47x faster than others.
It features a High Quality Engine and special compression algorithm. These features help it keep the output MP4 small with high quality, making it the top way to convert 4K HEVC to MP4. It will also transcode HEVC video to MP4 (H.264/H.265/MPEG-4), AVI, MOV, WMV, WebM, mobiles, TVs, social media, and 350+ profiles. You can find options to adjust x265 video resolution, bit rate, parameters, trim, crop, add subtitles, etc.
How to Convert x265/HEVC Videos to MP4 in Clicks?
Step 1: Launch the HEVC/x265 to MP4 converter. Click the "+ Video" button to select and add source x.265/HEVC/H.265 videos to the program. You can add and select multiple HEVC videos for batch conversion.
Step 2: The output format window will automatically pop up. To convert HEVC x265 to MP4, select General Profiles from the left column and choose "MP4 video" as the output in the output profile.
If the source HEVC video is encoded at 4K or higher resolution, you can choose to convert 4K HEVC to 4K MP4 or 2K MP4. It also allows you to simply change the container of the HEVC files to MP4 without converting the h.265 codec to keep 100% quality, such as MKV h.265 to MP4 h.265. The output will be in the MP4 file format encoded with HEVC.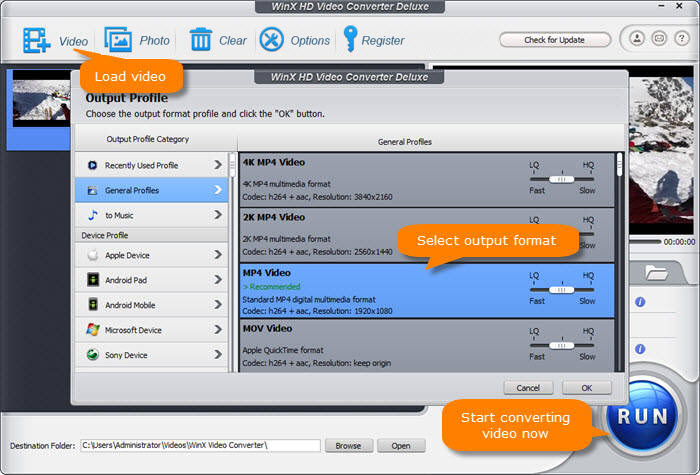 Step 3: Back on the main interface, you can click the scissors-shaped Edit icon to open the video editing window to trim, crop, subtitle videos, or click the wheel icon to open the video settings window to customize video resolution, frame rate, ratio, etc. before converting x.265 (H.265/HEVC) to MP4.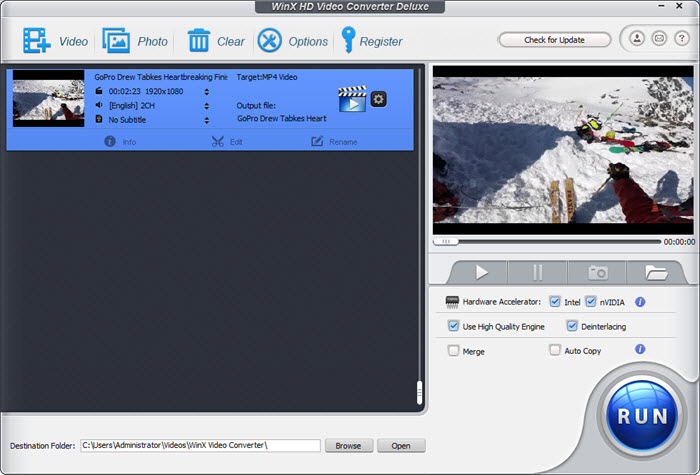 Step 4: Save the converted video file to a target folder by clicking the Browse button. Rightly click "RUN" to fast convert x265 (H.265/HEVC) to MP4 H.264 on Windows or Mac.
Don't forget to make sure you've checked the Hardware Accelerator box before you start. It will use GPU to speed up the conversion if possible.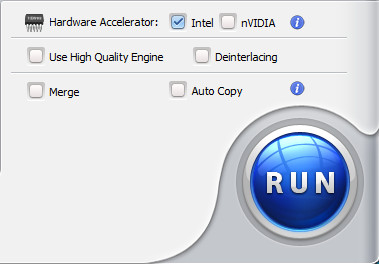 #2. Convert HEVC to MP4 Free with HandBrake
* Supported platforms: Windows 11/10 (32 & 64 bit) and earlier, macOS 12 and earlier, Linux
HandBrake is a popular free and open-source video converter that improves over time and gradually incorporates new codecs. It supports converting HEVC H.265 videos to H.264, H.265, MPEG4, MPEG-2, VP9, VP8, and Theora in MP4, MKV, and WebM. Both software and hardware encoders are available, such as x264, x265, and hardware encoders (AMD VCE, Intel QSV, NVIDIA NVENC). Therefore, users can convert a HEVC/H.265 video to MP4 H.264 at different speeds and with different file sizes.
It's packed with basic and advanced features to let users convert videos to almost all presets for all types of platforms, crop, add filters (deinterlace, denoise, sharpen, etc.), customize encoding quality and speed, and do more. The most common handbrake complaint is the sacrifice in user-friendliness, which makes it hard to get started for beginners.

Free download Handbrake
How to Convert HEVC/x265 Videos to MP4 with HandBrake?
Step 1: Download, install, and open Handbrake HEVC to MP4 transcoder. Then click File or Folder to import the source H.265 MKV file.
Step 2: Under Presets, open the dropdown menu > choose a profile. Handbrake will select Generally Fast 1080p30 by default. If the source HEVC is in 4K or higher resolutions, you can go to Web or Devices to convert the 4K HEVC/X265 video in MP4 at 4K. Then under the Summary tab, choose the "MP4" container at the output setting area.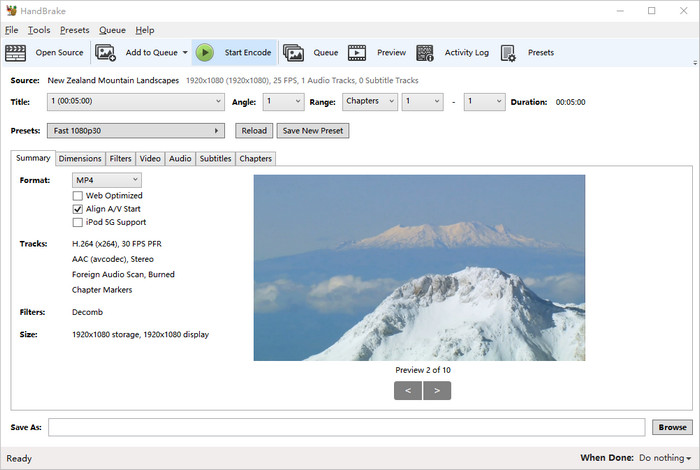 Step 3: Under the Video tab, you can further customize the conversion. First, select an encoder for MP4. You can convert HEVC to MP4 in H.264, H.265, and MPEG4. The VCE and NVENC hardware encoders are faster than the x265/x264 software encoder. However, the VCE and NVENC hardware encoders only support 1-pass mode. AMD VCE, Intel QSV, and Nvidia NVENC are good choices on less powerful computers when dealing with HEVC/H.265 encoding and decoding.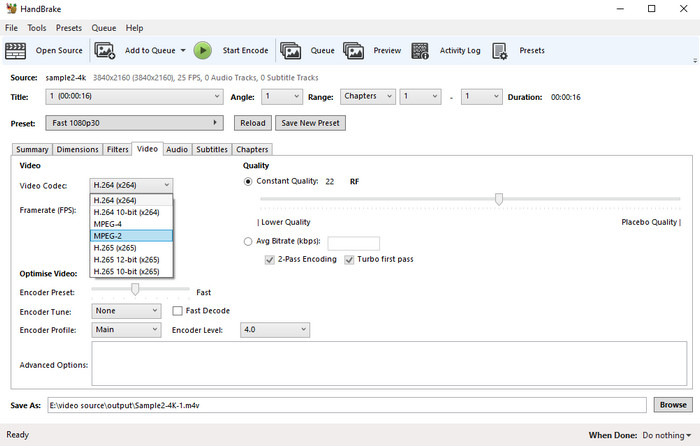 Step 4: Click the "Browse" button to select a destination folder to save the transcoded MP4 file. Press the "Start Encode" icon to begin the H.265/HEVC to MP4 (H.264) transcoding process.
Also, check Handrake X265 settings to get a better result in converting HEVC to MP4 format and learn more about Handbrake limitations in encoding x265/HEVC videos.
#3. Convert HEVC to MP4 Free with VLC Media Player
* Supported platforms: Windows, macOS, Linux, Android, Chrome OS, iOS, iPadOS, etc.
The popular free media player VLC also works as an HEVC x265 to MP4 video converter. If you have VLC installed on your computer, you can try transcoding HEVC to MP4 format using VLC without the need to purchase or download any additional tools. It has its own set of codecs for many video and audio formats, allowing users to videos from MKV/MOV/MP4 H.265 to MP4, TS, OGG, WMV, DIV3, AVI, Webm. There are some basic options to adjust the audio/ video parameters and add filters.
However, don't expect too much, it's a media player not a video transcoder program. Some users complained about its lagging performance and limited format options. And it's also agreeable that the quality and speed aren't the topmost when compared to professional H.265 to MP4 converters. But it can have the basic conversion done, which is adequate for a basic user.

Free download VLC
How to Convert x265 Videos to MP4 with VLC?
Step 1: Download, install, and open VLC free HEVC to MP4 converter. Open VLC and from the top menu bar, open the "Media" dropdown list, then find and select "Convert/Save…"
Step 2: On the Open Media window, click "Add…" to locate and import the HEVC videos you'd like to convert from the local computer, then click "Convert / Save."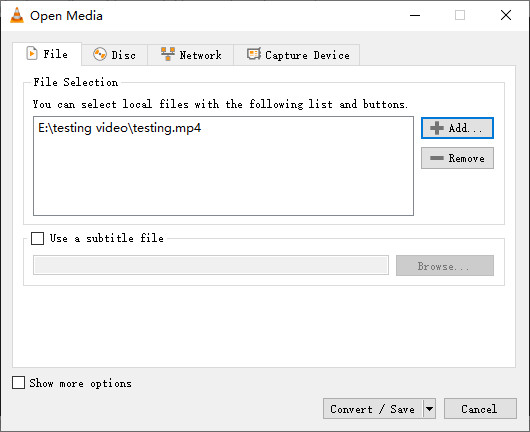 Step 3: Next to "Profile", click the dropdown menu. You are allowed to convert the H.265/x265 video into MP4 in "Video - H.264 + MP3 (MP4)" or "Video - H.265 + MP3 (MP4)". Choose H.264 or H.265 based on your needs.
Step 4: In the "Destination" selection, click the "Browse" button to select the directory and file name for the converted MP4 file. Then click "Start" to begin processing the conversion.
The time VLC takes to convert the video will correlate with its size, so if you're converting a lengthy video file into MP4, you'll have to wait a while. For more detailed steps, follow the guide to converting videos to MP4 format with VLC media player.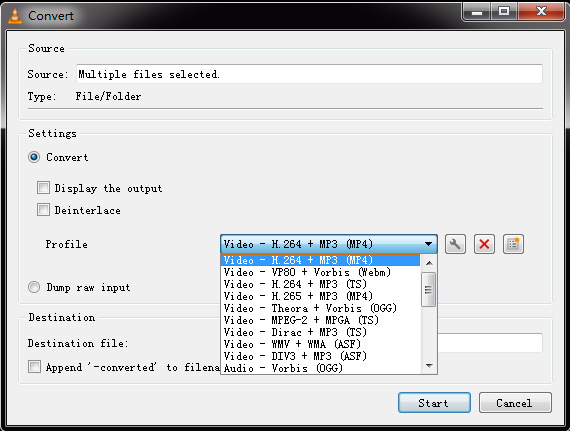 #4. Convert HEVC to MP4 Free with FFmpeg
* Supported platforms: Linux, Microsoft Windows, macOS
Maybe you have already heard of the powerful command-line tool FFmpeg. Many programs use the free libraries and programs of FFmpeg for handling video and audio, including Handbrake, Avidemux, VLC, MPlayer, and XmediaRecode, to name a few. It's able to convert videos among MP4, H.264, H.265, WebM, QuickTime, AVI, WMV, 3GP, FLV, and many more. AMD, Intel, Nvidia, Qualcomm, Broadcom, and BlackMagic hardware is supported for decoding/encoding, so don't worry about the speed.
As FFmpeg doesn't provide a GUI, there is a steep learning curve to get started. FFmpeg command line parameters are also sensitive to the order in which they are given and it can be hard to figure out what's going wrong.

Free download FFmpeg
How to Convert x265 Videos to MP4 with FFmpeg?
Step 1: Download and install FFmpeg on your computer. Installing FFmpeg seems to be the most complicated part for a new user. Don't worry, we've shared a detailed guide to installing and setting FFmpeg in the article "FFmpeg HEVC Guide". The most important is, make sure the FFmpeg .exe file is in the same folder as the source HEVC videos.
Step 2: Open FFmpeg. You can open the Command Prompt or PowerShell window, type ffmpeg, and press Enter. Or simply hold down Shift and right-click empty space and click on open command window.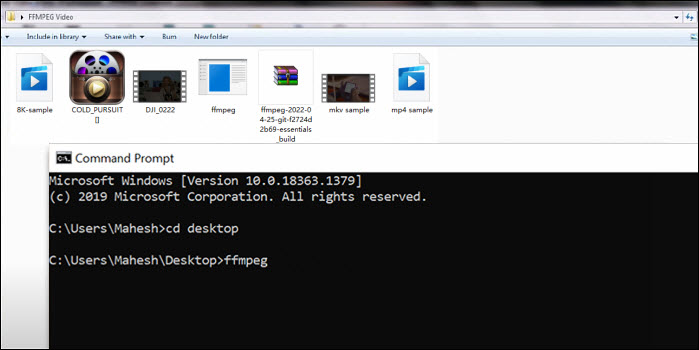 Step 3: Next, enter the command to convert HEVC to MP4 and hit Enter. For example, for a source MKV video encoded in HEVC, here are some basic commands to convert HEVC to MP4 in H.264, H.265, different resolutions:
ffmpeg -i input.mkv output.mp4
ffmpeg -i input.mkv-c:v libx264 -crf 23 output.mp4
ffmpeg -i input.mkv -c:av copy output.mp4
ffmpeg -i input.mkv -c:a copy -s 1280x720 output.mp4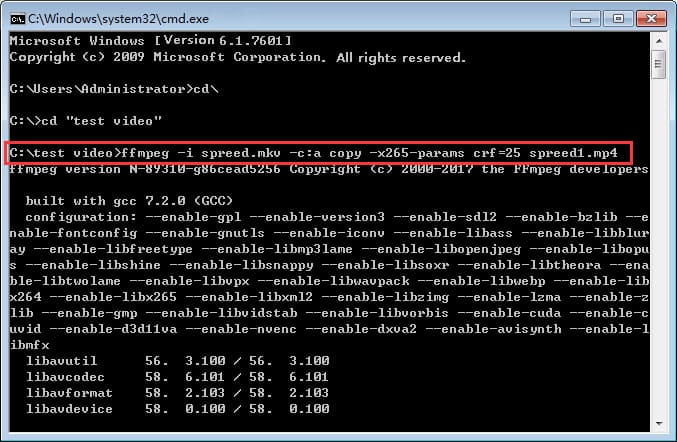 #5. Convert HEVC to MP4 Free with Vidcoder
* Supported platforms: Windows
Vidcoder is an open-source video transcoding application for Windows that is based on HandBrake. Therefore, both the interface and features are quite similar to that of Handbrake. It's able to convert HEVC videos into MP4/MKV in H.264, H.265, MPEG-4, MPEG-2, VP8, and Theora video. Hardware-accelerated encoding with AMD VCE, Nvidia NVENC, and Intel QuickSync is supported to offer fast HEVC to MP4 converting speed.
Compared to Handbrake, Vidcoder features a simpler UI but more functions. For example, it allows Blu-ray ripping and audio conversion. It will be very useful when you convert a 4K HEVC x265 video into MP4 as there is a target file size option to let you encode H.265 to a specific size or simply as a bit rate calculator. If Handbrake is too complicated for you, get started with Vidcoder.

Free download Vidcoder
How to Convert HEVC to MP4 with VidCoder?
Step 1: After installation, launch the software and click the Video File button to add your HEVC video.
Step 2: In the new window, click the Settings next to Encoding option.
Step 3: In the preset cutom window, select MP4 as the output format.
Step 4: Now, choose a destination folder by clicking the Browse button and hit Encode button to start HEVC to MP4 conversion.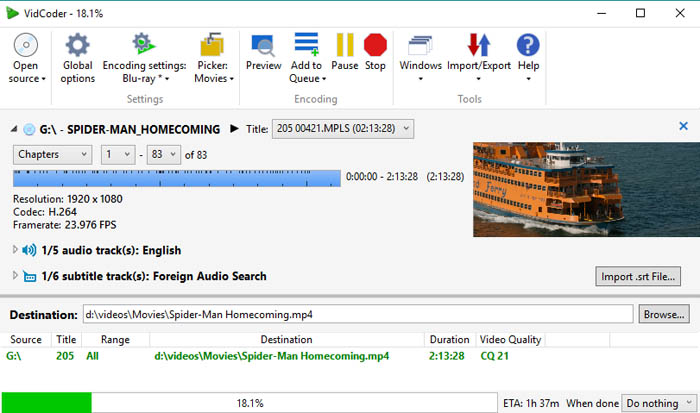 #6. Convert HEVC to MP4 Free Using Online Services
* Supported platforms: All web browsers
Searching for "HEVC to MP4", you'll find the first page on Google is dominated by online services, such as anyconv.com, onlineconverter, FreeFileConvert, convertio, onlineconverterfree, etc. Online X265 to MP4 video converters are mostly free and easy to use, requiring no software installation.
If you're a casual video converter user and the file you want to process has a small size (less than 200-500MB), it's fine. Otherwise, don't bother yourself with online video converters, they are a waste of time. Most if not all such online services have strict file size limits (max 200MB or 500MB for free users), ads, redirects, and slow processing speed.
How to Convert HEVC/H.265 to MP4 Online Free with AnyConv?
Step 1: Go to AnyCon official website in your web browser.
Step 2: Click on the CHOOSE FILE button to upload your HEVC video.
Step 3: After uploading, choose MP4 as the output format.
Step 4: Click the Convert button to starting converting HEVC/H.265 to MP4.
Step 5: After conversion, download the MP4 file.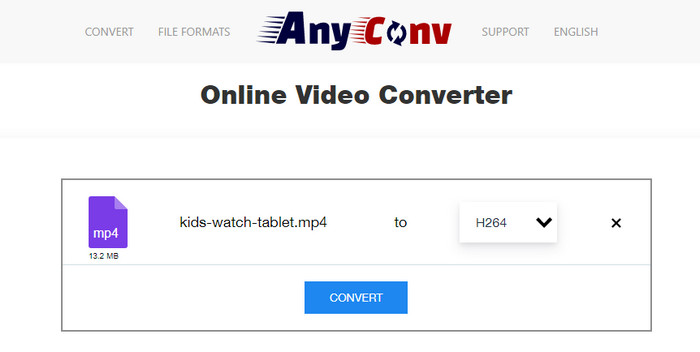 Note: HEVC video decoding is CPU intensive. Online services always crash and fail to handle the HEVC codec. We highly recommend you use a desktop program to transcode HEVC video files.
Warm Prompt: Someone is searching for an HEVC video converter for mobiles to decode and re-encode x265 to MP4 H.264 on Android or iDevices. Forget this. If your tablet or phone is too old for decoding and playing back x265 HEVC footage, it will perform even worse in decoding and re-encoding x265 files. Your energy and time will be badly saved only when you conduct x265 to MP4 conversion tasks on a more powerful PC using a GPU hardware accelerated HEVC video converter!
Part 3. FAQs
1. Is HEVC MP4 or MP4?
HEVC aka. H.265 is a video codec to encode and decode digital video. While MP4 is a video container format most commonly used to store video and audio data, codecs, and other metadata. HEVC can be encoded in MP4 container format as well as other container formats. In addition to HEVC, MP4 can also be packaged with MPEG4, H.264, MPEG2, etc. By saying converting HEVC to MP4, we usually refer to change the container format encoded in HEVC to MP4, or re-encode MP4 HEVC to MP4 encoded in other video codecs.
2. How can I convert HEVC to MP4 on Windows?
There are many Windows comaptible HEVC to MP4 converters that can make this job done, like WinX Video Converter, HandBrake, CloudConvert, VLC and more. Take WinX Video Converter as an example:
Free download WinX Video Converter on your Windows PC.
Drag and drop to import your source MKV video into the program.
Choose MP4 Video (h264+aac) as the output format.
Tap the RUN button to start converting HEVC to MP4 immediately.
3. How do I open HEVC videos for free?
HEVC codec in Microsoft store is charged. Thus, installing HEVC codec on your Windows PC is not the good choice for opening videos for free. Never mind. You can turn on third-party media players like 5KPlayer and VLC. The former has no need to install extra HEVC codec packs, and the later allows to install HEVC codec without a fee.
Related External Sources:
x265: x265 is a library for encoding video into the High Efficiency Video Coding (HEVC/H.265) video compression format that was developed and standardized by the ISO/IEC MPEG and ITU-T VCEG. x265 is offered under either version 2 of the GNU General Public License (GPL) or a commercial license, similar to the x264 project...
H265/HEVC: High Efficiency Video Coding (HEVC), also known as H.265 and MPEG-H Part 2, is a video compression standard, one of several potential successors to the widely used AVC (H.264 or MPEG-4 Part 10)...
MP4/H.264/AVC: Advanced Video Coding (AVC), also referred to as H.264 or MPEG-4 Part 10, is by far the most commonly used format for the recording, compression, and distribution of video content. It supports high resolutions up to 8K UHD...