Top Ways to Convert H.264 to MP4 with Best Quality

"Is H.264 the same as MP4? Is it necessary to convert H.264 to MP4 for saving space on my Phone?"


"Is there any way I can fast convert HD H.264 videos to MP4 and take the raw footage?"
H.264 (MPEG-4 AVC) and MP4 (MPEG-4 Part 14) are the most common video formats used in various fields, for web videos, portable devices, television broadcast and so on. Sharing the same extension of .mp4, there are several differences between H.264 and MP4, which refer to reason for H.264 to MP4 conversion. Well, this article will discuss how to convert H.264 to MP4 on Windows (10).
Table of Content
Part 1: Free Transcode H.264 to MP4 with WinX Video Converter
WinX Video Converter - the best free H.264 to MP4 converter for Windows (10)/Mac, will free transcode H.264 to MP4 at a superfast speed by making full use of hardware encoders (Intel QSV & Nvidia NVENC), Hyper-threading technology and Multi-core Utility. Its High Quality Engine and De-interlacing Engine can ensure vivid images and hi-fi audios. In addition to H.264 to MP4, WinX Video Converter also changes videos among HEVC, AVI, WMV, MOV, FLV, 3GP, 420+ formats and devices. It is 100% clean and safe without any "extras" like adware, spyware, virus or other malicious stuffs.
How to Free Convert H.264 to MP4 on Windows (10)?
Free download the 100% safe and free H.264 to MP4 video converter and start to convert H.264 to MP4 as follows.

Free Download: https://www.winxdvd.com/download/winx-free-video-converter.exe [Windows 10 32&64 bit or lower]


Free Download: https://www.winxdvd.com/download/winx-video-converter-for-mac-free-edition.dmg [macOS Big Sur or lower]
Step 1. Add Source Video
Launch WinX Video Converter and hit "+ Video" button to import H.264 video. Otherwise, directly drag and drop the source video into its window.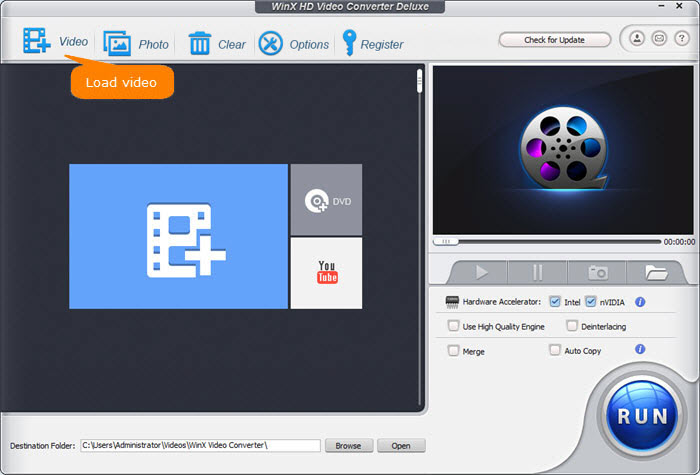 Step 2. Select MP4 as output format
The moment video is loaded, Output Profile window will automatically pop up. Go to General Profiles category and select MP4 Video (AAC) as output format.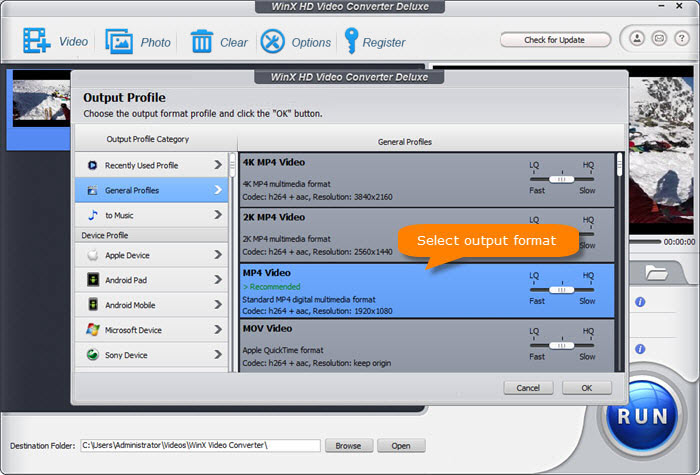 Step 3. Run to Convert H.264 to MP4
Click Browse button to set destination folder for saving converted MP4 video and hit RUN button to free decode H.264 to MP4. After the process is finished, the destination folder will pop up showing you the resulting MP4 file.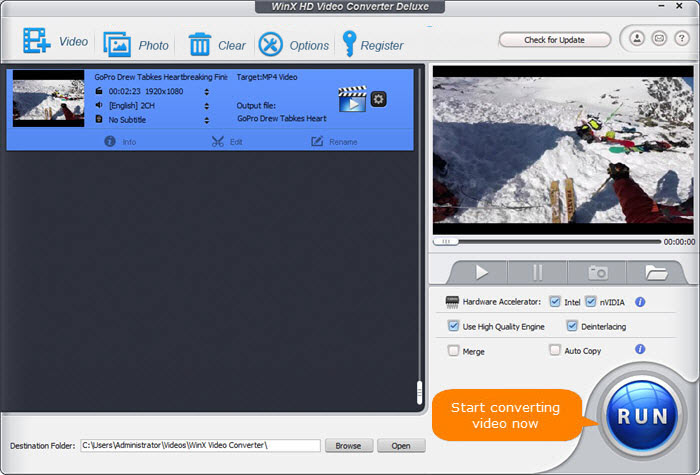 After the conversion process is finished, destination folder which stores resulting video file will pop up. You can play/edit it immediately or transfer to iPhone, iPad, Android for movable watching. Still have some trouble about how to convert H.264 to MP4? Please feel free to Email Us >>
Part 2: Convert H264 to MP4 Online with AnyConv
AnyConv is a free online website for you to batch convert H264 files to MP4 on any platform. You're only required to choose file, click convert and download resulting MP4 file after the conversion is completed. It's friendly to anyone with whatever skill level. And its supported output formats never end up with only MP4 format. Instead, the most widely used digital formats like MOV, MKV, DIVX, H265, MPEG-4, AVCHD, AV1 are all selectable, as well. Thus, if your input H264 file size doen't exceed 100MB, this online video converter is your bullet silver. For 4K MP4 input file over 100MB, go back to WinX Video Converter (no limit on file size).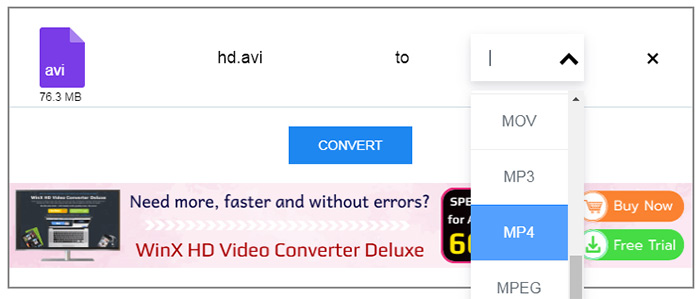 You'd better exit other running programs while converting H264 to MP4 online on AnyConv, for its speed is highly related with the network speed. And normally, the progress bar is not so fast as you imagine though you shut down all the running apps or websites.
Part 3: Convert Video from H264 to MP4 with File Converter Online
File Converter Online claims that it has converted more than 70 million files since 2013. No exaggeration! Cuz it supports you to free convert office files (PDF, DOC, PPTX, DOCX...), image files, audio files, as well as video files (almost all the modern formats supported). Therefore, when it comes to convert the normal H264 to MP4, that's child's play.
What gives this online H264 to MP4 converter a respectable showing is that it protects your privacy (uploaded video content) via 256 bit encryption. And the conversion history will be auto deleted after certain time according to its announcement.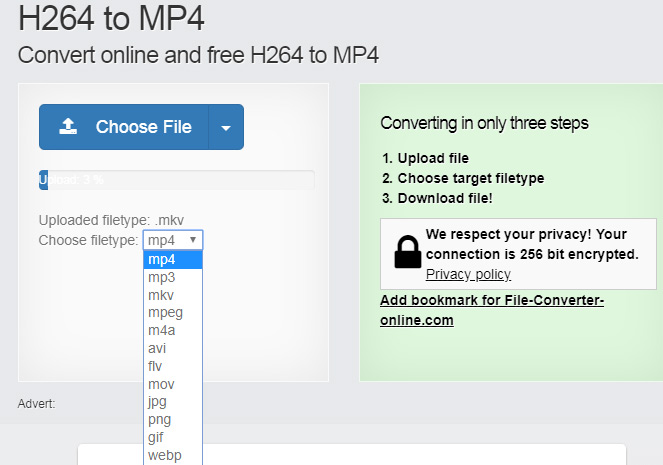 Part 4: What's the Differences Between H.264 and MP4?
Basically, H.264 and MP4 are two different things. H.264 is a video coding format for video recording, compression and distribution, while MP4 is a video container format to store video and audio and other multimedia data like subtitles, which can host a video encoded with H.264.
File Extension

MP4

H.264

File Type

MPEG-4 Video File

H.264 Encoded Video File

Description

MP4 is currently the most popular video format, commonly used for sharing video files on the Internet and can be played on most devices. The MPEG-4 video is compressed with MPEG-4 video encoding. Audio is compressed using AAC compression.

Video file encoded with H.264 compression, which is a popular format for high definition video; often taken as HD video format for camcorders, HDTV, Blu-ray, and HD DVD; generally refers to a video file that is actually an .MP4 file.

Developed By

Moving Picture Experts Group

N/A

Difference

MP4 is a file container format, while H.264 is actually a video compression codec that requires a video container to host the encoded video. And besides MP4, H.264 codec can be encoded in other container file format like AVI, MOV or MKV.
Is It Necessary to Convert H.264 to MP4?
Yes, of course. Nowadays, more and more people tend to watch movies, TV shows, music videos and more on devices featuring widescreen and high quality. For that, playing HD H.264 videos becomes a popular choice owing to its high compression rate.
However, not all H.264 videos are packaged in MP4 format, some of them in AVI, MKV, MOV, AVCHD etc. fail to play on portable devices, HDTVs or media players. Besides, H.264 video files in MKV, AVI, MOV etc. would occupy more space and consume more power comapring with the ones in MP4 format. Thus, even with the same H.264 encoding, you still need to convert MKV to MP4, AVI to MP4, or MOV to MP4 for better compatibility and smaller file size.
Related External Sources:

[1] H.264: H.264 is a block-oriented motion-compensation-based video compression standard. As of 2014 it is one of the most commonly used formats for the recording, compression, and distribution of video content. It supports resolutions up to 4096×2304, including 4K UHD...
[2] MP4: MPEG-4 Part 14 or MP4 is a digital multimedia container format most commonly used to store video and audio, but it can also be used to store other data such as subtitles and still images...