Top 10 Free 4K Video Players for Windows 10 and Mac [Latest]
As 4K content is going viral, more and more people climb on the bandwagon, picking up their GoPro, DJI, Canon, iPhone, or any other camera to shoot high-quality 4K video. While at the same time, there's a rising demand for 4k video player meant to help view crystal clear 4k clips or movies without ruining your viewing experience.
If you're looking for a 4K media player that's free to use yet powerful, just stop here. In the article, we will present the roundup of Top 10 free best five 4K 2160p video players for Windows PC and Mac. Prior to the roundup, there is one thing to be aware of.
4k footage features a 3840x2160 or 4096x2160 resolution, higher bitrate and frame rate, which lead to bulky file size. It's often encoded with HEVC/H.265 codec. All these makes watching 4k videos troublesome, e.g. the video cannot be imported, the video plays but without audio, or playing 4k is choppy especially when the PC is underpowered. So before downloading a 4k video player for Windows 10/8/7, make sure you are armed with powerful hardware capable of 4k HEVC video playback. Click here to check if your computer configurations meet the basic requirements for 4K (h265) video playback.
Top 10 Free 4K UHD Video Players You Shouldn't Miss
Part 1: Top 10 Best Free 4K Video Player Software | Free Download and Reviews
Rating: ★★★★★ | Platform: Windows & Mac | License: Free
The 1st 4K media player we want to introduce is 5KPlayer. Free as it is, it is clean and safe to use without any malicious stuff. It is able to play 4K/5K/8K video and audio in almost all formats, e.g. H.265, AVC, AV1, MKV, MP4, MOV, MP3. It is also a good 4K HDR player for Windows 10. In addition to playing 4k UHD videos movies, you can also free download 4K content from video sharing sites, and stream videos from computer to smart TV wirelessly.
On top of that, 5KPlayer especially utilizes NVIDIA CUDA®, AMD, Intel® QSV, & DXVA 2.0 hardware acceleration, purpose built to deal with the data-intensive UHD 4K HEVC video files and minimize CPU usage. Thanks to its assist, you're free from computer overheating and choppy or lagging issues and play 4K 60fps videos flawlessly.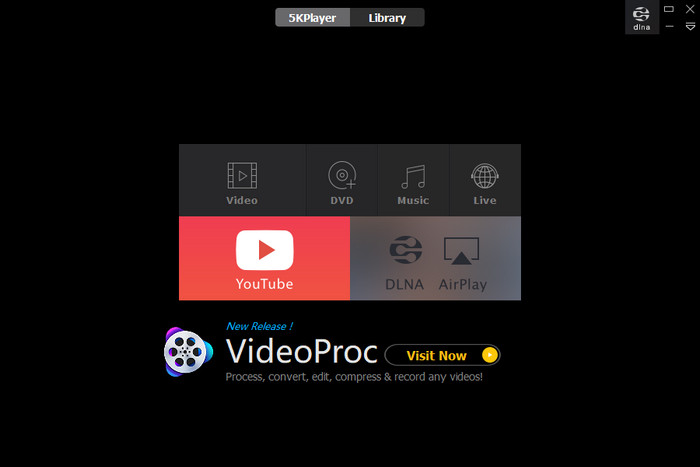 Note: Hardware configuration matters when it comes to playing 4K HEVC videos. If it isn't up for 4k video playing and you have no plan to upgrade your hardware, you can turn to a GPU accelerated 4K video converter, such as WinX Video Converter to convert 4K HEVC to 1080p H.264 in high quality and good compatibility with your aging devices.
Rating: ★★★★☆ | Platform: Windows, Mac, Linux | License: Free
As one of the most popular free media players, VLC is capable of playing almost all video and audio formats without installing additional codecs, be it HEVC, H.264, Xvid or VP9. Besides serving as a free 4k video player for Windows (10), Mac, Linux, Android and iOS, it can also play DVDs, 4K Blu ray discs, videos such as MKV, audios, and transcode multimedia files. Just like 5KPlayer, it stays far away from spyware, ads and doesn't track users.
VLC offers hardware-accelerated 4K playback initially with the release of version 3.0.0. You are guaranteed a seamless experience to import and play virtually all 4K videos from UHD bluray disc, DSLRs, webcams, and streaming platforms. However, some VLC users complained 4K video playback was choppy or lagging and returned a "close unexpectedly" error. In spite of this, it is still a good option.
Related: Why 4k is choppy and lagging in VLC >>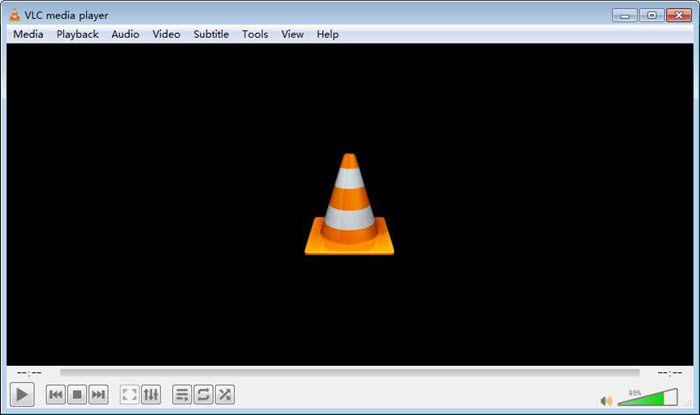 Rating: ★★★★☆ | Platform: Windows & Mac | License: free
DivX Player is another award-winning HD video player for 4K 60fps videos, which offers impressive high-definition video playback up to 4K 2160p 60fps. It gives you full access to HEVC (H.265), MKV, AVI, MP4, DIVX and other high quality video files.
This video player permits you to fast forward or rewind to your favorite scenes quickly, choose a chapter, create a playlist based on your own needs, and switch seamlessly among soundtracks to hear other languages. And you can even cast videos, music and photos to big screen. But the speed of installation is slow and if you want more features or free from ads, you need to pay for the pro version.
Note:
1. There's an open candy in the DivX 4K player download package. Make sure to clean it while installing.
2. If you don't need DivX Converter and DivX Web Player, make sure to uncheck the boxes while installing.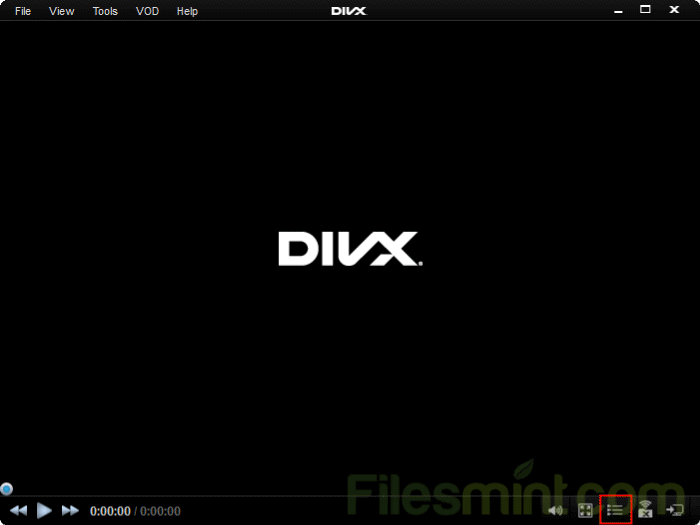 rating: ★★★☆☆ | Platform: Windows | License: Free
Media Player Classic, aka. MPC, is an open source free media player for windows PC. It mimics the look and feel of Windows Media Player 6.4. MPC is also a completely clean yet free 4K video player for Windows 10/8/7. No ads and no toolbars. You may feel relieved by the use greatly.
In fact, MPC cannot play 4K Ultra HD videos on its own. It needs the help from K-Lite Codec Pack. To make things easier, you are suggested to download the K-Lite Codec Pack full package which has Media Player Classic covered. MPC can work on even the oldest computers, but you still need a more powerful system to play HEVC x265 video in 4K resolution. Despite MPC is not underdevelopment since 2017, you can have a try to view 4k UHD content.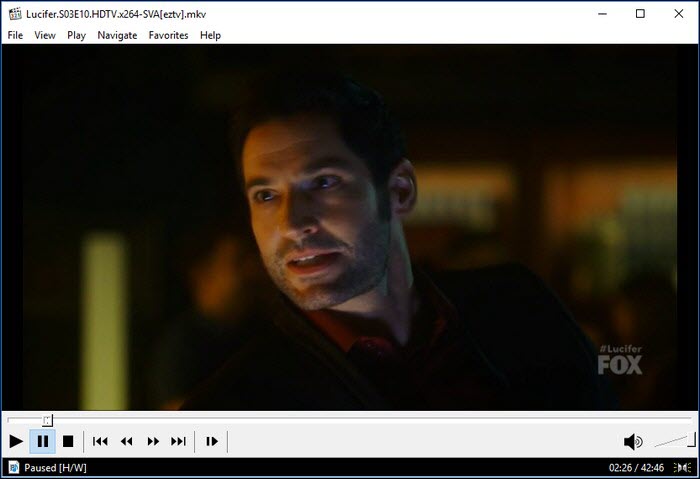 Rating: ★★★☆☆ | Platform: Windows & Mac | License: Free
The final best 4K media player is the famous KMPlayer. Originally served for Windows users, now KMPlayer has been evolved and works perfectly with PC, Mac, and Mobile. It supports a wide range of video formats, including AVI, MPEG, TS, MKV, MP4, 3GP, WMV, etc, and offers a slew of settings for zooming in/out video, customizing video playback speed, audio, subtitle, and more.
Please note that the ultra-high quality playback is available only on the PC 64x version, where you can play all high quality media files including 4k, 8k, UHD, 60fps on Windows 10. Playback speed of the high quality 4k content in HEVC (h.265), H.264, VP9 is dramatically improved on your high-end PC, too.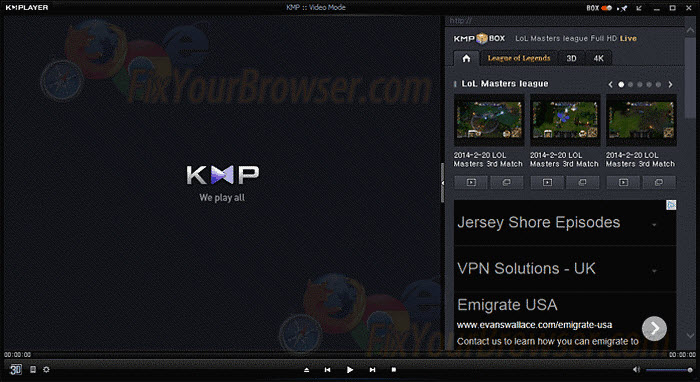 Rating: ★★★☆☆ | Platform: Windows, Mac, Android, iOS | License: Free
CnX Player is a reliable 4k UHD media player working with Windows 10, Android, and iOS. Powered by Intel, Nvidia, and AMD based hardware decoding engine, it ensures a silky-smooth video playback of 4K/UHD/Full HD/1080p/720p resolution file in any codec, be it HEVC, H.264, AV1, VP9, VC1, WMV, MPEG4, or MPEG2. The tool is available for you to cast or stream videos from your Windows 10 computer to Google Chromecast, Roku TV, Apple TV, and DLNA Smart TV with ease.
As a powerful 4k player software, CnX Player is highly optimized for 4K 10bit HEVC, H.264, AV1 and VP9, so that you can play 4K HDR video with wider color spectrum, TRUE HDR color. There is no grey issue or jittering error.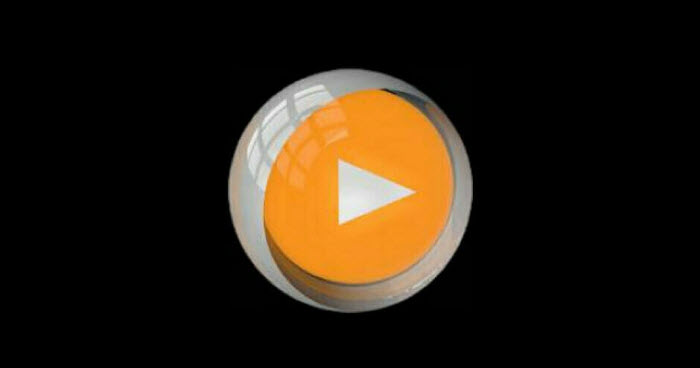 Rating: ★★★★☆ | Platform: Windows | price: $79.99
PowerDVD is a perfect solution for media format, which received great award from leading tech sites like Softpedia and PCmag. You can play all kinds of CD, DVD, video and audio, store your movies, music and photos by taking advantages of its Cloud storage, and cast your video and audio to external device such as HDTV, wired or wirelessly, or through DLNA. With the 4k player for pc, you are able to play 360-degree and VR video from Samsung Gear 360 and Nikon KeyMission 360, or from online sources.
On top of that, With TrueTheater HDR10 support, you are able to play 4k video encoded in either HEVC, AVC, or XAVC-S format with crisper, more balanced sound. This feature sharpen, deepen color, and brings your favorite movies and videos to life. However, Cyberlink PowerDVD doesn't have Mac version. If you are running a Mac computer or laptop, you need to seek for another 4k video player. Meanwhile,it is not cost-effective since you have to spend $79.99 for the 4k video playback feature.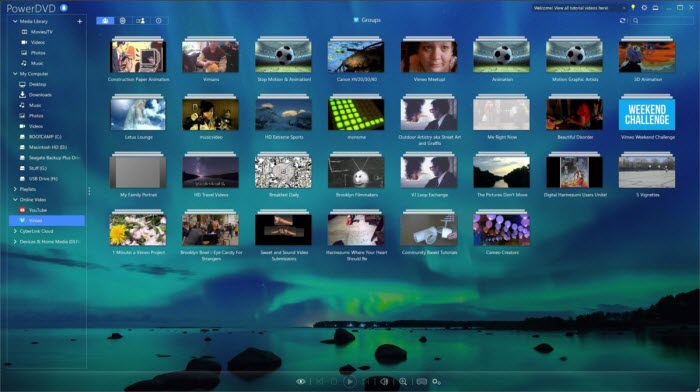 Rating: ★★★☆☆ | Platform: Windows/Vista/XP | license: free
PotPlayer is a feature-focused multimedia player which build in the enhanced H/W-Acceleration technology provides the maximum performance with the minimum resource using DXVA, CUDA, QuickSync while playing 4K videos. The interface looks simple and clear, but once you need to find the features you want, that is another story.
Other Key Features: 3D and 360-degree video support. Choose which one when you have 2 sound cards. Supports various devices such as DVD, TV, HDTV.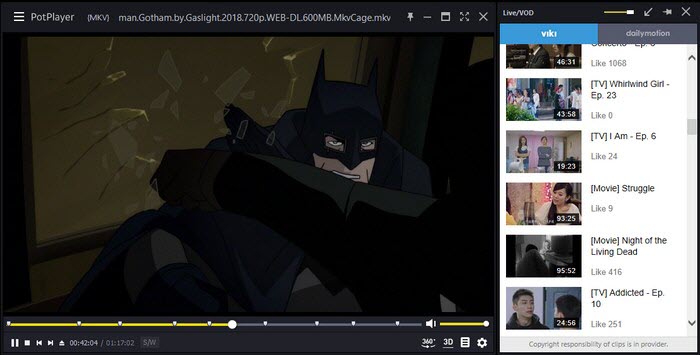 Rating: ★★★☆☆ | Platform: Windows | license: free
RealPlayer is a free multifunctional media player not only plays video and music but also contains a number of advanced features and performs as a video downloader, converter and CDs Burner. But if you want some features like high quality playback, recording, and burn DVDs, you need to pay $49.99 for the RealPlayer Plus version.
Other Key Features: Some simple video editing functions like trim video and music. Display photos. Bookmark videos from websites. Free up your desktop and multitask while listening to music.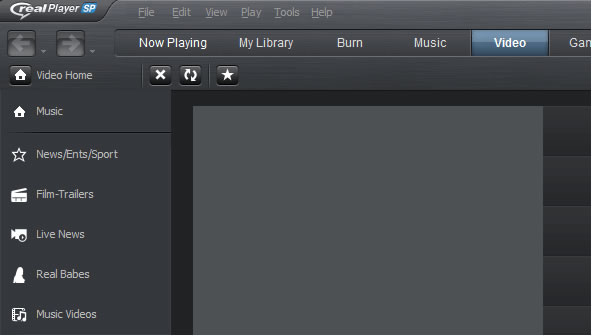 No.10: mpv
Rating: ★★★☆☆ | Platform: Windows, macOS, Linux, Android | license: free
mpv is a free (as in freedom), open-source, and cross-platform media player. If you don't want a multi-featured media player and believe in the less the better, mpv is the wonderful choice with a clear interface, simple function but powerful enough to play 4K video with its GPU video decoding technology. However, the 4k player software does not support playing DVDs and Blu-ray discs.  
Other Key Features: On screen controller. Video scaling with popular high quality algorithms, color management, frame timing, interpolation, HDR, and so on.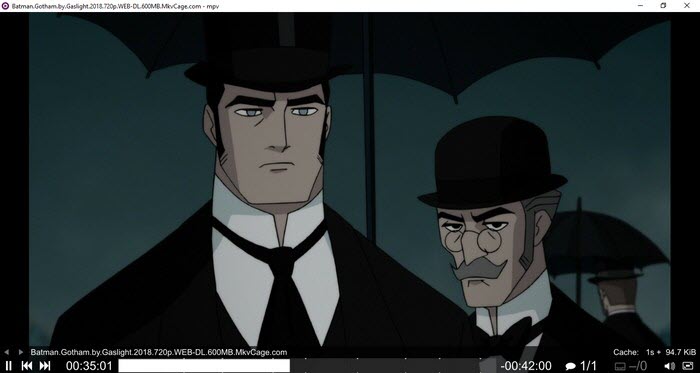 Part 3: FAQs about Playing 4K Video Footage
Q1. Which video player is best for 4k videos?
To filter out the best 4K video player, there are 4 criteria for your reference.
Check the video player is compatible with Windows 10/11 and macOS Big Sur/Monterey. Some features are restricted if the media player is incompatible with the OS. Go to the official page of the player or its help center and check the OS and even if there are restrictions.
Make sure the 4K video player supports Hardware acceleration. 4K videos brings us a better watching experience, but also ask for heavy processing power required for playing. To watch large 4K video with CPU only, you are likely to run into 4K choppy or laggy playback error. But pushing part of the decoding task to the GPU, CPU has burden eased and the processing speed will be faster.
A good video player supports 4K video codec. Nowadays, 4K (2160p) videos are mainly encoded into 4 codecs – H.265/HEVC, H.264/MEPG-4, AV1, and VP9 (Youtube 4K video). Players unable to handle the codecs of 4K video is a big reason of video playback error. Therefore, the most important point when downloading a 4K video player is to ensure it supports the video codecs.
Check if the video player has basic customize settings and editing fuctions. Customizing the video while playing like change aspect ratio, track, speed, subtitles, etc, are very basic yet, without those functions you will find that this player is not that competitive. It is the same as the simple edit features. You are most likely to cut, trim or put together the clips when you are working with the large 4k video.
There is a caveat: Don't download 4K video player from suspicious website. Some sites may be filled with ads that are likely to make you misclick or jump to other pages or even download files unconsciously. Make sure to check software reviews or download well-known media player.
Q2. Can VLC play 4k?
Yes. Any user of VLC media player can update to the version 3.0 "vetinari", which gets 4K and 8K playback with hardware decoding by default and supports 10bits and HDR. However, it is a true case many users report error such as "codec not supported", "File reading failed", etc. This is because of the video codec encoded in 4K VLC video player cannot read, such as AV1. To cope with the issue, you can install the codec extension beforehand, or transcode the 4K video to a file that VLC recognizes.
Q3. Why does my 4K video lag and stutter?
Playing 4k videos can be glichy, such as choppiness, stuttering, to name a few. It makes your computer overheating, even freezing with 100% CPU usage. It has to do with both software and hardware. The easiest way is to upgrade your hardware (incl. CPU, graphic card, storage, etc) if possible. But you can try some tips to see whether it works. Here are some tips:
Update your Windows and graphics driver to the latest version.
Move the 4K video source to local hard disk.
Ensure nothing else is using up resources on your computer.
Change power plan to High Performance.
Except for the 4k video stuttering error, some people also argued why 4k videos not playing and are constantly informed of "file format not supported", "codec missing" and alike. The reason behind this is that most 4k recordings are encoded in XAVC HS/HEVC codec, which many media players or computers aren't preconfigured with the codec. So make sure your media player is packed with HEVC before playing 4k video. Click to see the complete 4K video playing and uploading errors >>
Q4. What laptop can play 4K video?
There are many choices: Dell XPS 15 (2019), Alienware m17 R3, Gigabyte Aero 17 HDR, Dell XPS 17, HP Spectre x360 (OLED), Razer Blade 15 (OLED) and so on...
Q5. Is it possible to play a 4K video clip on a 1080p TV?
Yes and no. If you just want to play a 4K video on HD TV, you can connect your laptop to TV with a HDMI cable. The 4K video will be displayed, but in 1080p. If you want to see the real 4K resolution on 1080p TV, it's impossible. You can upgrade to 4K TV with a 4k-capable HDMI 2.0 or DP 1.2 for immersive 4k video viewing experience.
Q6. How to play a 4k video on my Windows 10?
Please make sure a 64-bit windows 10 computer with a 4k-capable monitor or screen and HDMI 2.0 cable is armed for smooth 4k video playback. Then follow the steps below to play 4k UHD videos on Windows 10 using 5KPlayer.
Just download a free 4k video player on Windows 10 computer such as 5kplayer . Install and launch it.
Simple drag and drop your 4k UHD content to it, or click the Video icon on the interface to load 4k file.
Optionally, you can pause, fast-forward/backward the progress bar, adjust volume, choose the audio or subtitle track as per your needs.
Q7. How to change default video player in Windows 10??
It is pretty annoying to change the unwanted video player every time when you want to play a 4K video. The best way to solve the problem once is to change the Settings. If your computer system is Windows 10, following the steps to change the default 4K video player setting.
Click on the Windows icon on the lower left conner of your computer desktop, click on "settings" or type "settings" in cortana search box to open the app.
In Settings App, select "System" to display System Settings screen.
Open system option box and select "Default apps".
Then go to find "Video player", and click on its option box to choose an app (choose a wanted video player).
Optionally, you can pause, fast-forward/backward the progress bar, adjust volume, choose the audio or subtitle track as per your needs.
Q8. What's the minimum system requirements to play 4K HEVC video?
4k video playback performance varies depending on not only your 4k video player software itself but also OS version, hardware configuration, and more. Generally, computers manufactured after 2017 may handle 4K HEVC files well. If you need more specific recommendations, check the recommended specifications and enjoy a stutter-free 4k video playing experience.
Monitor: Make sure to equip yourself with a monitor screen that supports 4K resolution, either the PC monitor or a TV.
GPU: Resort to a high-end NVIDIA graphics card that is compatible with the codec and depth of color bits for your 4K video. Generally, GeForce GTX 970 is the minimum requirement for 4k video playback.
CPU: Make sure you have i5 or higher. To handle 4k 8bit video, Skylake is enough. To play 4k 10bit video, please make sure you have Apollo Lake, Kaby, Gemini, Coffee Lake.
HDMI cable: HDMI is capable of playing 4k 30fps since version 1.4. To watch 4k video at 60fps, make sure you get an HDMI 2.0 cable.
RAM: You will need minimally 4GB of RAM, and 8GB is preferred.
Operating system: Update to the latest OS (Windows 10 or macOS Big Sur). Now, Windows 11 and macOS Monterey are to be released this fall, just keep an eye on Microsoft and Apple news.
Additionally, make sure you have enough hard disk space, e.g. 6000MHz video memory, 100GB for 2-hour 4k movie.
If your computer hardware is too aging to cope with the computing-intensive 4K HEVC 10bit video files, and playing 4k videos goes to be choppy, stuttering, or glitchy, why not downconverting 4k HEVC video to 1080p H.264 first? To do the task, Free Video Converter is your best solution. It manages to convert 4k to 1080p, re-encode HEVC to H.264 without losing quality at all. In such way, you can play the converted 4K UHD videos on windows or Mac computer.