Why 1080p HD and 4K Video Can't Play on PC or Mac? How to Fix?
720p/1080p HD and 4K videos are not playing properly on your computer? Don't worry. Solutions are provided below.
To enjoy super clear image quality, people tend to play videos in HD and even 4K on their devices. However, HD or 4K video not playing, lagging, choppy, and stutterring problem might happen. Here is an example.
"I tried to play a 4K video I downloaded, but it won't play in VLC on my laptop perfectly. It was choppy. Anyone can help me play 4K video on PC smoothly?"
Why can't you play 4K videos? How to fix 4K video playback choppy, lagging, or stutterring problem? All possible reasons and feasible solutions will be introduced in the following part.
Part 1 HD/4K Video Won't Play due to Unsupported File Format
If you attempt to play a HD or 4K video but get errors like unrecognized file, video playing without sound, and sound seems ok but no image, etc, then it is probably because your encoding format is not supported by your media player.
Solutions:
1) Update your media player to the latest version to see if it can support the video and audio format for your 4K video.
2) Adjust your settings in your player.
If you have troubles with 4K video playback in VLC, you can turn off hardware-accelerated decoding in VLC, change the caching value in VLC, etc. For more details, check our post "Why 4K Videos Are Choppy/Lagging on VLC and How to Fix".
3) Download and install K-Lite Codec Pack (only available for Windows XP and later OS).
If you still face video playback problem after upgrading to the latest version, another solution is necessary. For example, install K-Lite Codec Pack which is a collection of audio and video codecs for Microsoft Windows. It enables the OS and its software to play various audio and video formats generally not supported by the operating system itself. Obviously, this method seems to be a little technical for beginners. Meanwhile, it is not fit for Mac users. Therefore, the third method comes out.
4) Try a different HD/4K video player.
A host of video players are available in the market. Besides VLC, 5KPlayer is also an absolutely remarkable video player supporting 4K videos. It is 100% clean and free. It runs well on both Windows and Mac computers.
Play any videos at any resolution, including 720p HD, 1080p HD, 4K 2160P UHD and 8K 4320P Full UHD;
Support all popular and obscure video formats, such as, MKV, HEVC (H.265), AVCHD, MTS, MOD and TOD;
Support all common and rare audio formats, such as, MP3, AAC, AC3, FLAC, APE, M4A and WMA;
Bonus features: play DVD disc/folder/ISO file; download (HD/4K/8K) videos from 1000+ sites; act as AirPlay sender/receiver
5) Convert video to your player accepted format.
This is also a very common solution to fix 4K video not playing due to incompatible file format. To change file format, we recommend you to try WinX HD Video Converter Deluxe.
Support HD and 4K videos from iPhone, iPad, Android, GoPro, DJI, camera and camcorder from Canon, Sony, etc.
Accept more than 320 video formats and 50 audio formats as input, such as MP4, MOV, MKV, AVCHD, H264, HEVC, XAVC, etc.
Provide 420+ output profiles, so it can convert 4K for playback on PC, Mac, iPhone, Android, YouTube, etc.
47x real-time fast speed thanks to the support for hardware acceleration. High quality preserved.
Click to see the complete 4K UHD video errors and solutions >>
Part 2 4K Video Can't Play Because of Low-end Hardware
If 4K video is choppy, lagging, frame skipping audio out of sync, grainy, stuttering, or screen tearing, it usually means that your device is not advanced enough to play 4K video. Playing a 4K video requires a computer with a good muscle. So when you encounter those 4K video playback problems, firstly you need to verify if your computer meets the minimum requirements to play HD/4K videos.
Minimum requirements to play 1080p HD videos on PC
Processor: 2.4Ghz (dual core) or 3.5Ghz (single Core) processor.
Graphics: Nvidia/ATi having bare minimum 256MB Video RAM and core clock 600Mhz.
Requirements to play 4K 2160P UHD videos on PC/Mac
Integrated Graphics solutions that support 4K external displays. Playing 4K HDR requires a display that supports HDR;
Discrete Graphics cards that support 4K external displays; Related Article: Best Graphics Cards for 4K Movies Playback
A monitor which is capable of playing back 4K Ultra HD video properly;
RAM with minimum 4GB
In addition, you need to make sure you have enough hard drive space, and video memory & GPU frequencies (6000MHz and approx. 1100MHz respectively).
Sometimes 4K video not playing issue could also be related to the display drivers and other updates. So, you can also try:
Install Windows updates if available. You can enable Automatic Updates.
Update the display drivers.
Change the power plan to High Performance: open Run dialog -> enter powercfg.cpl to open Power Options window -> under Choose or customize a power plan, click the down arrow next to Show additional plans and click High Performance.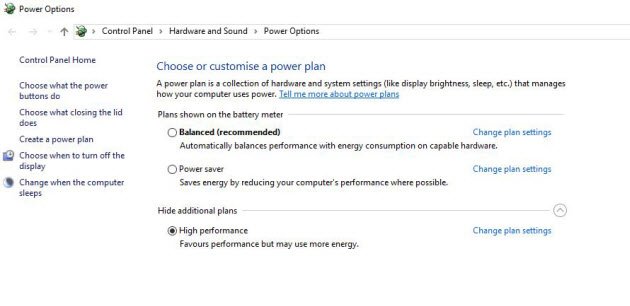 Sometimes even if your computer meets the requirements, you may find that HD/4K video plays back choppy. This is due to the immense processing power required.
Upgrading your computer configurations to play HD/UHD videos is a pricey proposition. The cost-effective way is to compress 4K or 1080p HD video to lower video resolution with WinX HD Video Converter Deluxe.
The only Level-3 hardware accelerated tool that maximizes 4K video conversion speed with QSV, CUDA, NVENC.
Available to fast convert/compress 4K UHD to 1080p HD video, convert 1080p to 720p HD video, etc;
Capable of converting various video file formats, such as, MKV, HEVC (H.265), TS HD, MTS, MOV HD, AVC HD, MKV HD, MPEG HD, AVI HD and WMV HD;
With built-in preset device profiles, it enables users to convert 8K/4K/HD videos to iPhone, iPad, Samsung, Huawei, Kindle Fire, Sony Xperia, PS4, and other fashionable smartphones, tablets and game consoles;
Also designed to convert HD/UHD/FUHD videos to popular file formats like MP4, H.264, AVI, WMV, 3GP, MOV, FLV, MPEG1 and MPEG2;
Free download 720p/1080p HD/4K UHD/8K online videos from 1000+ sites, for playing HD/UHD videos offline smoothly.
Watch video tutorial on how to downscale 4K to 1080p
Part 3 HD/4K Video Playback Error Shows up Owing to Corrupted File
Playing a HD video but unexpectedly the frame becomes fuzzy? Can't play the video on any player? If so, the video file is probably damaged.
Solution:
Find a powerful video repair tool to repair HD MP4 file, fix damaged HD MKV file, or others.