What is 4K HEVC/H.265? How to Play & Convert It?
With movies, TV shows, game plays, recordings and streams over the Internet look impeccably sharper and more detailed than ever before, you may wonder why the media contents' quality can become so high today. The quick answer is the video is a 4K file encoded with HEVC/H.265.
4K is the highest video definition most of us can get in touch with in our daily life as of now, and so we can avoid blurry, color washed out, milky, etc. images of bygone years, but see bright hues and lively details more smoothly. All of that should give thanks to H.265/HEVC (High Efficiency Video Coding) coding format, and thus here we will talk about 4K HEVC/H.265 in simple words to help you grasp it better and more easily.
Part 1. What Is HEVC/H.265 Coding Format?
Becoming a video encoding and decoding standard in 2013, HEVC format is mainly designed for 4K videos and if possible for 8K contents in the near future. Though the mainstream standard now for formatting videos is H.264/AVC, H.264/AVC really struggles with anything higher than SD. H.264/AVC mainly designed for 720p/1080p videos is not ideal to the heavy 4K/8K videos. Compared to AVC/H.264 video coding format, HEVC/H.265 as the successor to AVC/H.264 has double compression rate under ideal conditions which means your video can be compressed 50% smaller at the same quality level. Simply put, if you have two same size videos, the HEVC encoded video will have more details, and in other words, the H.264 video will be larger in size if the two videos have same video information. Namely, HEVC/H.265 gives your video same size but better quality compared to H.264 video.
H.264 vs H.265
| | | |
| --- | --- | --- |
| | H.264/AVC | H.265/HEVC |
| Macroblocks | 16×16 pixels | 64×64 pixels |
| Video resolution | 720p/1080p, 4K is possible | 4K, 8K |
| Data compression | 50% better than MPEG-2 | 50% better than H.264/AVC |
| Quality | Good | Better than H.264/AVC at the same bit rate |
| File size | | 50% smaller than H.264/AVC |
| Container formats | MP4, MOV, F4V, 3GP, TS | TS, MP4, 3GP, MKV |
| Bandwidth | A mbps | Nearly A/2 mbps |
Benefits of HEVC/H.265 coding format are obvious when you need to collect more videos in local storage space of PC and smoothly live stream contents on TV, YouTube or Netflix with lower bit rate. However, as 4K videos encoded in H.265/HEVC own better image quality, it also means the files require customers to get better hardware, say 4K monitor and HEVC hardware acceleration enabled graphic cards to decode such highly-compressed and high resolution videos.
Part 2. Why HEVC/H.265 Is So Important to 4K Videos?
So far, the coding video formats we know can be used for 4K videos include the patent H.264, H.265, H.266, and free VP9, VP10, AV1. What makes HEVC/H.265 better than other 4K codec formats is HEVC/H.265 is more sophisticated to be already widely used in video capture systems and media streaming platforms. At present, H.265/HEVC is the only 4K video codec to let widespread 4K videos become new normal.
As a matter of fact, there will be more 4K codec formats coming out to satisfy our growing needs for even higher definition videos, say 8K and 16K. AV1 and H.266 are the two existed ones making HEVC/H.265 not the only one 4K videos codec, but they are quite new and still have a long way to go.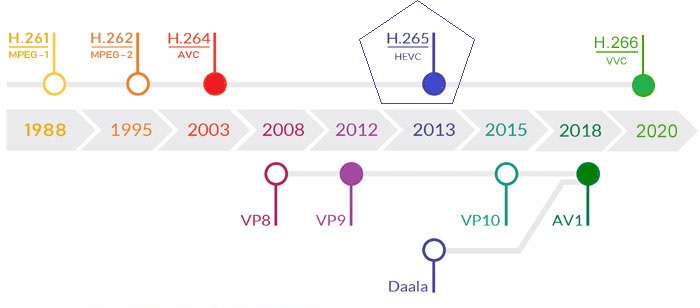 As is known, 4K videos will take up a lot of space and bandwidth making it hard to collect, download and stream in the best quality possible. Thanks to HEVC/H.265 4K codec, 4K videos now can be compressed 50% smaller than the original files with the same quality remained. Despite the fact we will have more 4K video encoding and decoding choices, HEVC/H.265 is as of now the best one we can choose. Both the media companies and the end users will benefit from it, including broadcasters, IPTV companies, satellite and cable companies, pay TV operators, video streaming services like YouTube and Netflix, customers, etc.
Save storage space: If you convert your H.264/AVC video to H.265/HEVC, it will occupy less storage space on your PC or external hard drive to store more 4K files.
Less bandwidth, smooth live stream and download: Lower bit rates means lower bandwidth. You can make full use of the current internet connection to have high quality data transmission with stutters, stalls and buffering issues. No worry about the inferior video quality when live streaming, communication, video conferencing, broadcasting or even downloading.
High quality: With same bit rate compared to H.264/AVC, the HEVC/H.265 coding way will sacrifice less image quality which is very important to 4K movies.
Save money: No matter the software developers or individual contents providers or who come from medium-sized and small enterprises will reduce their budgets. And customers have no need to upgrade their storage and bandwidth plan as well. Everybody can spend less but have better experience.
Part 3. What Do 4K HEVC/H.265 Videos Look Like?
By seeing the video information in a 4K video player, you can identify if your video is in 4K (3840x2160 or 4096x2160) encoded with HEVC/H.265. The video information will show you the certain codec and resolution as the picture shows below. If there is 4K video not playing error, turning on the HEVC hardware acceleration could help you out. Besides, the container format for HEVC/H.265 4K videos are often TS, MP4, 3GP and MKV.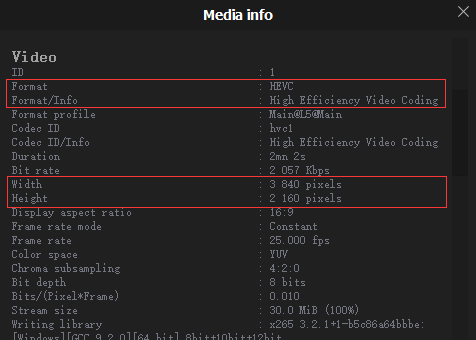 Part 4. What Support HEVC/H.265 up to 4K?
As of today, there have been over 1 billion smart phones and tablets capable of playing HEVC videos. The support to HEVC/H.265 4K videos has been varied from hardware to software like Windows, 10, macOS High Sierra, iPhone, etc., to just name a few. But the majority of devices, programs and services still don't support HEVC/H.265 videos.
Streaming services: Netflix, Amzon, Hulu, etc. supports for 4K HEVC streams and some 1080p HEVC streams. For example, Netflix series "House of Cards" is one of the first 4K programs encoded in HEVC. YouTube said it could support HEVC videos but it will automatically transcode the H.265/HEVC to VP9 when uploading videos.
Mobile phones: iPhone 7 or newer, Samsung Galaxy S7/S7 Plus and newer, Galaxy Note 8 and newer, Huawei P9 and newer, HTC U10 and newer, Sony Xperia X and newer, OnePlus 3 and newer, Xiaomi Mi 5 and newer, etc.
Cameras/camcorder: Sony NEW Alpha 7S III, Canon EOS-1D X Mark III, Fujifilm X-T4, Sony α7S III, Fujifilm GFX100S, Sony FX3, etc.
Drones: DJI FPV, DJI Mavic Air 2, DJI Mavic 2 Pro / Zoom, DJI Phantom 4 Pro V2.0, Phantom 4 Advanced, Phantom 4 Pro, GoPro HERO9 Black, GoPro Max, GoPro HERO8 Black, GoPro HERO7 Black, etc.
Smart TVs: What come in 2014 or later from LG, Samsung, Sony and Vizio. Apple TV 4K.
Media players: VLC, 5KPlayer, DivX Player, PotPlayer, etc.
OS: Windows 10 and macOS High Sierra, or later.
Web browsers: Chrome, Firefox, IE, Edge, etc.
Part 5. How to Play 4K HEVC/x265 UHD Files on PC/Mac?
A 4K HEVC video player, 4K monitor, Windows 10/macOS High Sierra or later, and HEVC hardware decoding capable graphic card, none is dispensable. For smooth 4K HEVC video playback, hardware decoding is much more efficient as long as it has built-in support for the HEVC codec of the 4K video. So, there are basic requirements to your hardware as shown below:
Intel 6th generation "Skylake" or newer CPUs
AMD 6th generation "Carizzo" or newer APUs
NVIDIA GeForce GTX 950, 960, or newer graphics cards
AMD Radeon R9 Fury, R9 Fury X, R9 Nano, or newer graphics cards
Otherwise, you'd better convert HEVC/H.265 to H.264/AVC for smooth playback.
Part 6. How to Decode 4K HEVC/H.265 Videos to Solve Playback Error?
Despite that HEVC is more efficient than H.264, it isn't as universal as H.264. The majority of devices and programs still don't support 4K HEVC videos because of format incompatibility issue. To solve this kind of problem, you can decode your 4K HEVC videos and encode them to H.264 or other accepted format to be widely supported.
Likewise, download and install the 4K HEVC decoder software - WinX HD Video Converter Deluxe or its Mac version (choose one based on your computer OS) before any further.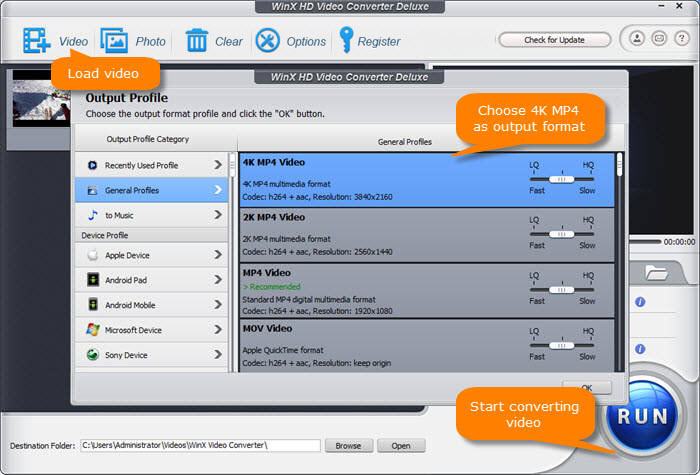 Step 1. Insert your HEVC/H.265 encoded 4K videos (both 4K 60fps and 4K 30fps supported) captured by iPhone or other devices into the newly-installed tool by clicking "+ Video" button.
>Step 2. Choose output profile, say 4K MP4 Video.
There're 420+ output profiles in total to satisfy different user needs. If you want to convert HEVC to a widely accepted format without degrading video resolution, you can choose 4K MP4 Video (codec: H.264+AAC) belong to General Profiles category.
Also, you can modify video audio parameters such as compress 4K to 1080P, execute basic editing like splitting video, and do what you want as needed.
Additionally, don't forget to enable Intel QSV or NVIDIA NVENC/CUDA hardware acceleration to boost speed.
Step 3. Decode HEVC/H.265 4K videos instantly.
This operation will be carried out immediately after you clicking RUN button.
Part 7. How to Encode 4K HEVC/H.265 Videos?
Above all, free download and install the edition compatible with your computer. It is a lightweight program free from extra stuff. Then open it, and follow the steps I write below.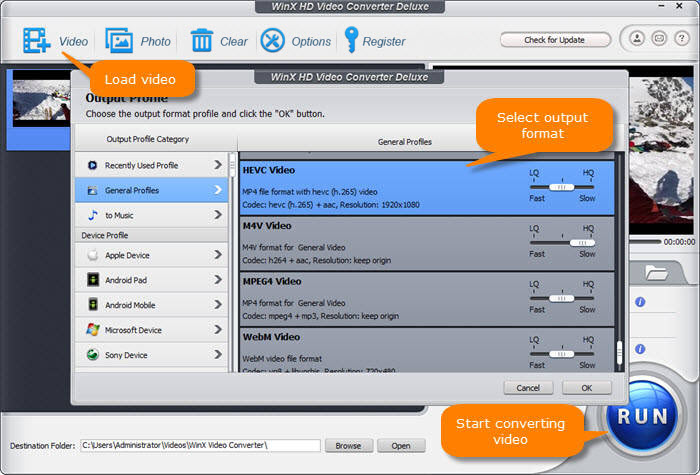 Step 1. Load the videos you want to encode to HEVC 4K.
You have two ways to load source files: click "+ Video" to browse and select target items; directly drag and drop them into main UI of this 4K HEVC encoder.
Step 2. Define 4K HEVC as output.
There're two output profiles for HEVC: General Profiles > HEVC Video; PC General Video > HEVC Video. If you choose the first one, your resulting file will be saved in MP4 file format. Picking the second will give you a MKV output. Specify one as needed and click OK.
By default, it will keep original resolution. Click gear icon, and you'll be directed to a new panel to tweak output resolution, frame rate and other parameters. For video editing, you're supposed to tap the scissor-like icon.
Important: To speed up video encoding, check Intel/NVIDIA options under the preview window of the main screen to activate its unparalleled level-3 hardware acceleration technology.
Step 3. Begin encoding 4K HEVC.
After finishing setting, simply click RUN button and this 4K HEVC encoder will begin working.
Then, you can rely on a critically acclaimed free HEVC video player like VLC and 5KPlayer to play 4K HEVC content on high-end computer.
Encode 4K H.264 videos to 4K HEVC with .mp4 or .mkv file extension.
Decode 4K HEVC videos to MP4, H.264, MPEG4, AVI, WMV, Xvid, DviX, MOV, etc.
Compress 4K HEVC to 2K, 1080P, 720P or other resolution in desirable format.
Free download 4K HEVC content from 1000+ sites.
With this tool, 4K HEVC/H.265 transcoding isn't a complicated and time-consuming process. Designed with straightforward layout, users will understand how to encode and decode 4K HEVC videos without guesswork. Armed with multiple speed-boosting technologies, Intel QSV, MMX-SSE, Nvidia CUDA/NVENC, Hyper-threading and AMD 3DNow! respectively, it becomes the fastest video converter. Since updated to version 5.11.0, QSV and NVENC hardware acceleration is available for transcoding both H.264 and H.265. More to the point, it is the only 4K HEVC converter that supporting level-3 hardware acceleration which means that hardware acceleration is utilized in decoding, encoding and also processing. Therefore, it keeps a good balance among conversion speed, video quality and output file size.