What Is 4k 60fps? Everything You Should Know
The age of 4K 60FPS is here. In March 2015, YouTube tested a handful of 4k videos and increased the frame rate cap to 60 frames per second in a bit to bring viewers a far smoother streaming experience. And taking 4k footages at 60fps feature has become a new norm, which is especially true in the latest flagships, e.g. iPhone 12, GoPro Hero 9, DJI FPV, Sony A7S III, etc. So in this post, you will be led to learn all about 4K@60fps video, incl. the best cameras for taking 4k footage at up to 60fps, minimum hardware system required for playing 4K@60fps video, common errors with 4k 60fps videos, and more.
Change 4K Video Frame Rate from 60FPS to 30FPS or Vice Versa
If you're planning to change 4K video frame rate, from 60fps to 30fps, 30fps to 60fps, or even 24fps and more, WinX HD Video Converter Deluxe could be a nice option. It's not only able to change 4K video frame rate freely among 60fps, 50fps, 30fps, 24fps etc., but also convert video format, resolution, aspect ratio and more.
Part 1. What is 4k at 60fps?
4K refers to the number of pixels, 4 times the overall pixel count of Full HD 1080p. FPS refers to the frequency at which consecutive images or frames appear on a display per second. The 4k@60fps means an image with a resolution of 3840x2160 or 4096x2160 pixels is displayed 60 times per second. Frankly, there are some other types of frame rates, e.g. 24fps, 30fps, 120fps, except for 60fps. Which is better, 4k 60fps or 4k 30fps? Why is 4k 60fps important to play 4k UHD content? Here are specific usages and reasons why 60fps is the best frame rate for 4K 2160p video.
24fps – It is the global standard for cinematic viewing and is also widely used by filmmakers.
30fps – It is widely used in TV broadcasts and for soap operas. A lot of apps such as Instagram uses 30fps.
60fps – It delivers a smoother picture look. It is widely used in HD/4K TV, games, sports, and slow motion. Typically, a video recorded in 60fps is slowed down to 30/24fps in post-product to create that smooth slow-mo effect.
120fps – Used in very slow motion.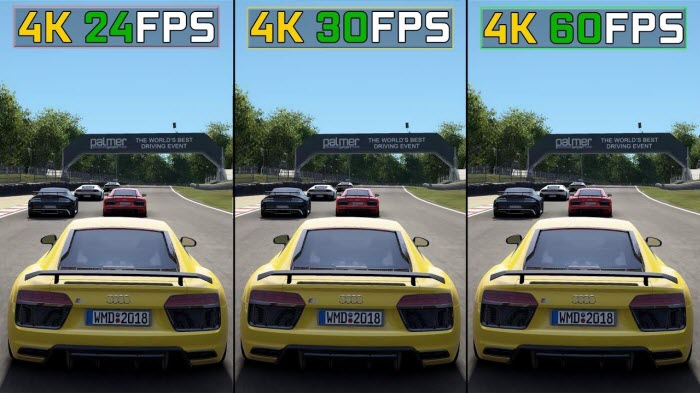 Dispute of the compatibility between 4k content and frame rates has never been stopped. In fact, 4k videos at regular 24 or 30fps deliver detailed imagery only when they don't move. The truth is creating 4k at 24 or 30 fps can result in less fluid but jolty or stuttering footage, especially in moving scenes, because of the heavy amount of motion blur. So making a frame rate up to 60fps is a necessity for 4K ultra HD footage because it can capture far more detail in greater clarity and the movement appears far smoother than that of 24 and 30fps. That's why 4K videos with a lot of motion, such as games and sports will benefit from the 60fps rather than 30fps or 24fps.
Part 2. Which Cameras shoot 4k video at 60 fps?
Filming at 4k 60fps makes your footage look crisper, smoother and boost your post-production plans. But which camera shoots 4k video at 60fps? We've rounded up the best 4k 60fps cameras, including action cams, drones, vlogging cameras, smartphones, and more.
Click here to learn more about the best 4k cameras to buy >>
# Best 4k 60fps action cam: GoPro Hero 9 Black
This is the best action cam you can shoot not only 4k 60fps footage but also record at 5k 30 frames per second. You can choose to schedule the specific duration, from 15 seconds to 3 hours. On top of that, Hero 9 Black edging over other 4k 60fps cameras is its ability to accommodate a bigger and powerful battery and new Max Lens Mod to give you SuperView and max stabilization. Below are the detailed specs:
Media format: MP4 (h.264/AVC), MP4 (H.265/HEVC)
Max video bitrate: 100Mbps
Memory storage support: up to 256GB
Still Image Resolution: 20 MP
Resolution/Frame rate: 5k 30/24fps, 4k 60/30/24fps, 2.7k 120/60fps, 1080p 240/120/60/30/24fps.
Battery: 1720mAh
Connectivity: WiFi and Bluetooth, GPS, auto offload to phone, connects to GoPro app.
# Best 4k 60fps drone: DJI Air 2S
It is easily the best mid-range 4k 60fps drone for most uses who dream of updating to DJI Mavic Air 2. It is equipped with a new 1-inch image sensor and large 2.4um pixels, the drone can take 5.4k/30fps and 4k/60fps video. It's important to note that the video bitrate of the Air 2S is 150Mbps, 30Mbps more than the predecessors. Mastershots is specifically designed for beginner flyers. This is a little caveat that slight cropping in 4k 60fps mode will be noticed on the Air 2S.
Media format: MP4/MOV (H.264/MPEG-4 AVC, H.265/HEVC)
Max video bitrate: 150Mbps
Memory storage support: FAT32/exFAT, up to 256GB
Still Image Resolution: 20 MP, 1" CMOS sensor
Resolution/Frame rate: 5.4K/30p, 4K/60p, and 1080p/120p video
Battery: 3500 mAh, 6 hours (4 hours when charging a mobile device)
Connectivity: Lightning, Micro USB, USB-C
# Best 4k 60fps cameras for vlogging: Panasonic GH5
Panasonic's GH5 has long been a favorite for vloggers, which introduced a new Venus Engine processor to take 4k video at up to 60fps, 10-bit 4:2:2 internal recording without cropping. It features Dual I.S. 2 designed to render sharper and clear imagery, in combination with the sensor-shift image stabilization technology.
Media format: MP4/MOV (H.264/MPEG-4 AVC, H.265/HEVC), AVCHD
Max video bitrate: 150Mbps
Memory storage support: SD Memory Card, SDHC Memory Card, SDXC Memory Card
Still Image Resolution: Live MOS Sensor
Resolution/Frame rate: 4k1080p 60/30/24fps, 1080p 60/30/24fps
Battery: 1860mAh, Approx. 410 images
Connectivity: Wi-Fi, Bluetooth
# Best 4k 60fps smartphone: iPhone 12
Apple iPhone 12 features a 12MP TrueDepth front camera and impressive 12MP wide and ultra-wide cameras at the back, meant to allow you to shoot 4K videos at 60fps, whether they are chilling with your skateboard, vlogging in the streets, or taking underwater at a pool party. It's available for you to edit your 4k 60fps footages, thanks to the A14 Bionic chip.
Media format: HEVC, H.264
Max video bitrate: 110 Mbps
Memory storage support: up to 256GB
Still Image Resolution: 12MP camera
Resolution/Frame rate: 4k 60/30/25/24fps, 1080p 60/30/25fps, 720 30fps, slo-mo 1080p 240/120fps
Battery: 2815 mAh, Up to 15 hours video playback.
Connectivity: Wi-Fi, Bluetooth, 5G
Of course, since the above cameras, the later versionS of GoPro, DJI, and iPhone also shoot 4K 60fps footage easily. Even some cameras like GoPro Hero Black 10 are able to shoot 4K in 120fps.
What conclusion can be drawn from the list of 4k 60fps cameras?
1. 4k 60fps recordings are generally encoded in a computer-intensive HEVC codec. Please make sure your computer is compatible with the new codec standard.
2. 4k at 60fps setting features a higher frame rate and higher video bitrate, averagely ranging between 100Mbps and 150Mbps. So how much storage space does 4k video at 60fps take up?
Here is an equation: File Size = Bitrate (kilobits per second) x duration.
Based on the formula, you can know a 1-minute 4k 60fps video will take up over 1Gb size, which is a huge space log. Consequently, it leads to bigger video files, and longer export and uploading times. See the detailed post about what is the file size in 4K video per minute >>
Part 3. Common Errors with 4k 60fps videos while Playing and sharing
1. 4k 60fps is a huge space hog. As is mentioned above, 4K 60fps video records more data and results in huge file size, which quickly swallows up your device or drive's storage space. You will need to compress 4k 60fps video to a friendly and smaller size first.
2. It's choppy and laggy to play 4k 60fps video on elder PC, Mac, iPhone, iPad, and more. Processing 4K videos is demanding. It asks for modern hardware. Or else, playback or editing 4K video at 60fps or even 30fps will be stuttering, lagging and even lead to software crash. Consequently, it's a must-have to convert 4K 60fps video to a regular 1080p/720p video for smooth playback or editing.
3. Some media players or devices cannot import or recognize 4k 60fps video sometimes and prompt some errors like "codec not supported". 4k 60fps video can be encoded in HEVC, which must your media player or device preinstalled with the codec to fix the compatibility problem. For example, Windows 10 asks you to pay $0.99 for HEVC video extension codec installation. Or you will need to convert HEVC to H.264 for better compatibility.
4. 4k 60fps video stuck uploading. Taking a 4K 60fps video doesn't necessarily mean you can upload it with ease. In general, it is slow to share the huge size video, and the image will be blurry due to inadequate compression of the social media itself.
5. iMovie won't export 4k video at 60fps. iMovie supports editing 4k 60fps clip but it cannot export the 2160p video at 60fps. The highest project resolution setting that you can have is 4k 30fps in iMovie. You have to rely on other video editing software for help.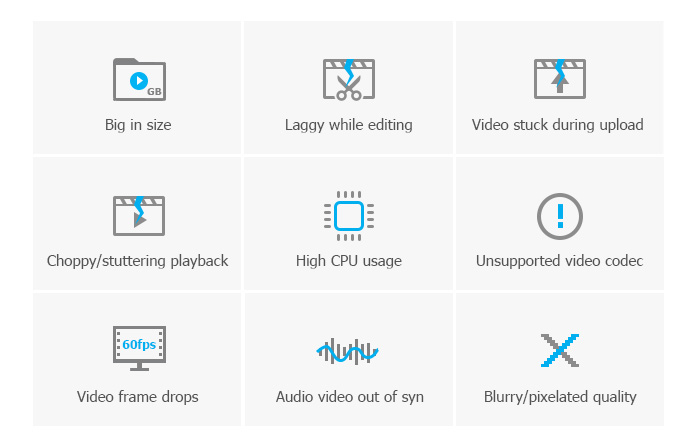 Part 4. Troubleshoot 4K errors: How to Play 4k 60fps Video smoothly?
4k 60fps video produces a huge file size that eats up storage space and lengthens the video uploading processing. The bad compatibility with HEVC, together with higher video resolution and frame rate makes it hardly a seamless experience to play on PC, Mac, TV, mobile, let alone share on YouTube, Whatsapp, or so. But you can fix the video playback error that 4k 60fps brings by following the suggestions.
1. Change power plan to increase system performance. You can open the Run dialog box by pressing Windows + R keys > Input powercfg.cpl and press Enter > choose High Performance under Select a power plan in Power Options window.
2. Update your hardware system to fix 4k 60fps video lag. Here are the recommended settings for playing 4k 60fps video.
GPU: First of all, you need to know that software decoding is CPU intensive. So playing 4k video will be stuttering or choppy, even if you are using i7/Ryzen5 or above. We highly recommend you rely GPU to decode 4k video. To handle the 4k HEVC 10-bit video, you can take advantage of Nvidia's PureVideo VP7 or above, AMD's UVD 6.3 or above, and Intel's QSV. Here are the best graphics cards for 4k 60fps video gaming.
Hard disk space: at least 200GB for a 3-hour 4k 60fps movie.
Video memory and GPU requirement: 6000MHz and 1100MHz respectively.
RAM: 8GB or above
Monitor or projector: 4k supported
HDMI: HDMI 1.4 only supports 4k video. You have to upgrade to HDMI 2.0 or above to output 4k 60fps video.
3. Download a 4k video player that can well handle 4k 60fps video playing, such as 5kplayer.
4. Compress large 4k 60fps video file to smaller 1080p file.
4k video playback requires a high-end hardware system, including CPU, memory, storage, to graphics. If any of them doesn't meet the requirements, you will run into a problem. One feasible way to fix the 4k 60fps video playback error is to convert and compress the 4k video file with a tool such as Free Video Converter. With it, you are allowed to:
Compress large 4k video size by 90% without losing quality visually.
Change 4k video resolution, codec, format, bitrate, frame rate as per your needs.
Finish 4k video conversion at a lightning fast speed.
You can run the 4k video converter on your Windows (10) or Mac. Press the +Video button to load the 4k 60fps video > Choose Mp4 H.264 as the output format. Optionally, you can downscale 4k to 1080p, change the video frame rate from 60fps to 30fps from the gear-shaped icon. Then press RUN button to start conversion. WinX Video Converter automatically enables hardware acceleration to speed up the 4k process. It won't take a long time to finish the 4k video conversion.
Part 5. FAQ about 4k 60fps videos
1. Does YouTube accept frame rates higher than 60fps?
No. YouTube is current capped at 60fps. The frame rates vary based on the content and the target audience. For example, the best frame rate for Makeup tutorials is 60fps while 30fps will deliver a jagged feel. On the other hand, fast-paced movements in any gaming or sports game can be ruined with lower FPS such as 30fps. If you want to avoid the rather choppy experience when playing gaming highlights or montages on YouTube, 4k 60fps will feel right.
2. Which is the best video player for 4k 60fps videos
The best 4k video player shall support hardware acceleration to decode 4k 60fps without exerting pressure on the CPU. It is compatible with the new video/audio codec for 4k video, e.g. HEVC, AV1, H.264, VP9, and more, and play any 4k MP4, MOV, WebM, etc without downloading external video codecs. 5Kplayer, VLC, KMPlayer are some of the reliable video players that can decode 4k 60fps video smoothly. For more detailed 4k video players, please click here.
3. Why 4k 60fps video is stuttering on YouTube?
As is mentioned above, to watch YouTube 4K 60fps videos in all their glory, firstly you need to have a computer with a display capable of managing 3840×2160 (4K) resolution and a GPU powerful enough to export at that detail at 60 frames per second. In addition, you need extremely fast internet connection to ensure smooth 4K 60fps video streaming, preferably 35 Mbps. But if your network is slow, you'd better download the 4K 60fps videos from YouTube for offline playback fluently.