Everything about 4K 30fps - Free Download/Convert/Edit 4K 30fps Video
Summary: Everything you want to know about 4K 30fps, incl. 4K 30fps vs 1080p 60fps vs 4K 60fps, 4K 30fps file size, best 4K 30fps cameras, how to free download 4K 30fps videos from YouTube and convert, edit camcorder 4K 30fps videos.
Best 4K Video Downloader, Converter, and Editor for Windows (10)
WinX HD Video Converter Deluxe ★★★★★ Rating: 5 OS: Windows & Mac
Convert 8K/4K/1080p/720p HD MKV, HEVC, AVCHD, MOD, M2TS, and MP4, AVI, MPEG, WMV, MOV, VOB, FLV, etc. with high quality;
Edit, trim, crop, expand video; add external SRT subtitles to video. Change codec, resolution, frame rate, etc. Make slideshow with music;
Support Intel/Nvidia/AMD hardware acceleration. Lightning fast conversion speed and original output quality. 100% secure and clean.
Part 1: 4K 30fps Brief Introduction
4K: 4K Resolution means that the horizontal pixels of screen display are 4,000 pixels. There are several different kinds of 4K resolutions. In digital television, computer monitors, video games and other consumer media, 4K UHD or UHD-1 is the dominant 4K standard. It has a resolution of 3840 × 2160 pixels (2160p). In the cinema movie and video production industry, Digital Cinema Initiatives (DCI 4K) is the dominant 4K standard. It has a resolution of 4096 × 2160 pixels. YouTube have adopted UHD-1 as their 4K standard.
FPS (Frame Rate): Short for frames per second, consists of a number of consecutive scan images that are displayed on the screen each second. The term applies equally to film and video cameras, computer graphics, and motion capture systems. Frame rate may also be called the frame frequency, or be expressed in hertz.
4K 30fps video is recorded in 4K resolution (3840 × 2160 pixels or 4096 × 2160 pixels) and 30 image frames per second. iPhone 6S/6S Plus or later support recording videos in 4K 30fps.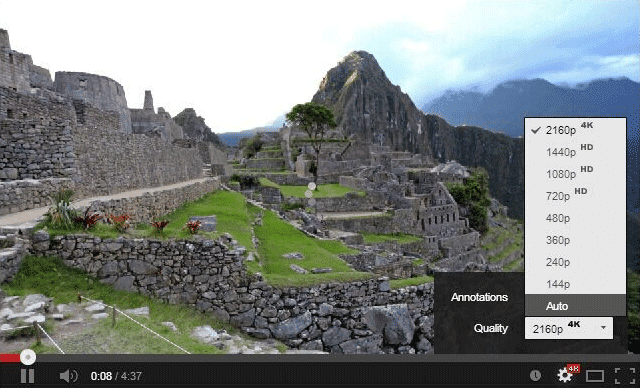 Best 4K 30fps Cameras
There are many 4K cameras which can record 4K 30fps videos. Top 4K 30fps cameras include:
GoPro Hero5 Black, Sony FDR-X3000, GoPro Hero5 Session, Olympus TG-Tracker, Kodak Pixpro SP360, Yi 4K Action Camera, 360fly 4K, Ricoh WG-M2, Garmin Virb Ultra 30, TomTom Bandit Action Camera, Haip Waterproof WiFi Ultra-HD 4K Action Sports Camera, Sony FDR-X1000V 4K Action Cam, AEE S71 4K Sports Camera, HX-A500E-K 4K Action Camera, Kodak SP 360 4K Camera, EZVIZ FIVE PLUS Action Camera, 4K 30fps, F60 4K 30fps 16MP WiFi Action Sports Camera, Elephone REXSO Explorer X Action Camera 4K 30fps HD, Xiaomi Mijia Camera Mini 4K 30fps Action Camera 7 Glass Lens Six-axis, etc.
4K 30fps File Size
If you record a video in 4K resolution at 30fps with your iPhone, depending on the length of the video, below is how much space it will take up:
30 seconds of 4K at 30FPS takes approximately 175MB
1 minute takes up 375MB
5 minutes takes up 1.75GB
10 minutes takes up 3.5GB
30 minutes takes up 10.5GB
Tip: iOS 11 and newer versions use HEVC/H.265 instead of H.264 codec for videos, which will save half the amount of storage space of your device. Therefore, 1 minute 4K 30fps video using HEVC in iOS 11 takes up about 170MB.
Related: 4K Video File Formats Roundup
4K 30fps vs 1080p 60fps vs 4K 60fps
Normally the higher the video resolution is, the larger the video file size is. 4K video is significantly larger than 1080p video. A one minute 1080p HD video at 60fps takes up 200MB of space, while the 4K video at 30fps will take up 375MB of space. The iPhone 8, 8 Plus, and iPhone X also support shooting in 4K in 60fps now. If you turn on HEVC to save your storage, then shooting a 60 seconds video in 4K at 60fps takes up 400MB.
File size is an important thing to consider when deciding whether to shoot at 1080p or 4K. If you want to record something fast-paced like a race or a dance routine, your best bet is to use 1080p 60fps. The higher frame rate will provide a much smoother video and higher quality. As for low light conditions, 1080p is also recommended, since recording in 4K has more pixels but smaller diodes which will affect low-light video recording performance.
Part 2: How to Record, and Edit 4K 30fps Videos
How to Enable 4K Video Recording on iPhone
Since shooting a 1-minute video in 4K at 30fps can consume 300-400 MB of storage when using H.264 codec (170MB using HEVC codec), so unless you have a large storage iPhone like 256GB iPhone, you may not turn on 4K video recording.
To turn on 4K, you can go to iPhone Settings -> Camera -> Record Video -> Tap 4K at 30 fps or 4K at 60 fps to enable 4K.
How to Free Download 4K 30fps Videos from YouTube, etc.
You can find many 4K videos or 4K video games footages on YouTube and many other video sites. If you'd like to download 4K 30fps videos from YouTube for offline playback, you can use WInX YouTube Downloader to accomplish it.
WinX YouTube Downloader is a professional free movie/video/music downloader which enables you to free download any 8K/4K/1080p/720p HD videos, 3D/VR videos/movies from YouTube, Dailymotion, Vimeo and another 1000+ video sites at ultrafast speed. 100% clean and free.
Step 1. Free download, install and launch WinX YouTube Downloader on Windows 10/8/7, etc. and click "+URL" button.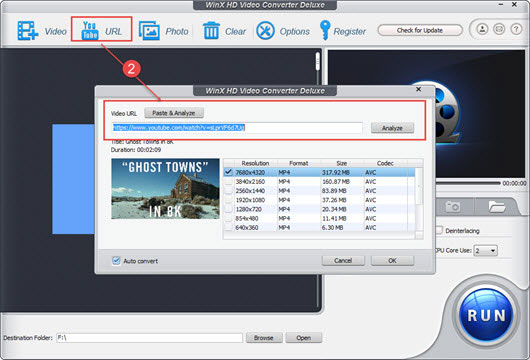 Go to YouTube or other sites to find the 4K 30fps video you'd like to free download to computer, copy and paste the video URL to the address bar and click "Analyze".
Step 2. Choose an output video format/resolution like 4K MP4, 1080p MP4, 720p MP4, etc. and click "OK".
Step 3. Hit "Download" to start free downloading 4K 30fps videos from YouTube and more at fastest speed.
How to Convert and Edit 4K 30fps Videos
If you record some 4K 30fps videos with iPhone or camcorders and want to convert the video format to another or edit/trim a part of the 4K video, you can try WinX HD Video Converter Deluxe.
WinX HD Video Converter Deluxe is the upgrade version of WinX YouTube Downloader. It can not only free download any videos from YouTube, etc., but also convert any 8K/4K/HD/SD videos from one format to another as well as edit, trim, crop, merge, subtitle videos and freely adjust video/audio parameters. Converting 4K to 1080p can be also easily achieved.
It fully supports 4K video transcoding and the conversion speed is ultrafast owing to its Intel QSV and NVENC hardware acceleration tech. Besides, if you record a 4K MKV video (H.264 or H.265 codec), you can use its new "Auto Copy" function to convert MKV to MP4 format in a flash without losing any quality. 100% clean and secure.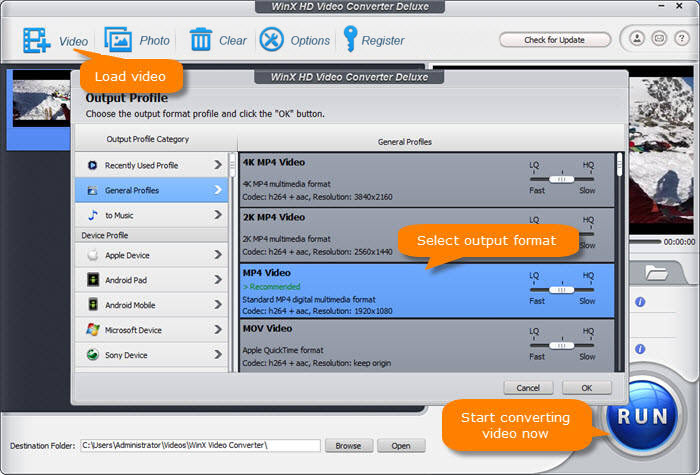 Step 1: Free download, install and run this best 4K video free downloader & converter – WinX HD Video Converter Deluxe – on Windows 10/8/7, etc. Click "+Video" button to load the source 4K 30fps video.
Step 2: Choose an output format from the Output Profile window. Optionally click "Edit" to trim a preferred part of the video, crop unwanted areas of the video, add subtitles to video, etc., or click "Settings" to customize video frame rate, resolution, codec, bit rate, audio codec, sample rate, etc.
Step 3: Click "Browse" to set a folder to save the converted 4K 30fps video, and hit "RUN" to start converting 4K 30fps video by keeping original quality at fastest speed.
Related External Sources from Wiki:
4K resolution: 4K resolution, also called 4K, refers to a horizontal screen display resolution in the order of 4,000 pixels...
Frame rate: Frame rate (expressed in frames per second or fps) is the frequency (rate) at which consecutive images called frames are displayed in an animated display...