Windows 11/10: How to Free Download Windows 10 (32/64 Bit) Full Version
Can I still download Windows 10 full version for free? Yes. See how to free download Windows 10 (32/64 bit) full version.
Since Windows 7 ultimately come to its end on January 14, 2020, one third of Windows 7- computers will have to download Windows 10 and update. However, "1 year free upgrade from Windows 7/8 to Windows 10 expired on July 29, 2016." Does that mean you have to pay at least $139.00 to get Windows 10? Where and how to free download Windows 10 full version? Check this post and learn how to download full Windows 10 and free upgrade from Windows 7 or Windows 8.1 for PC and tablet.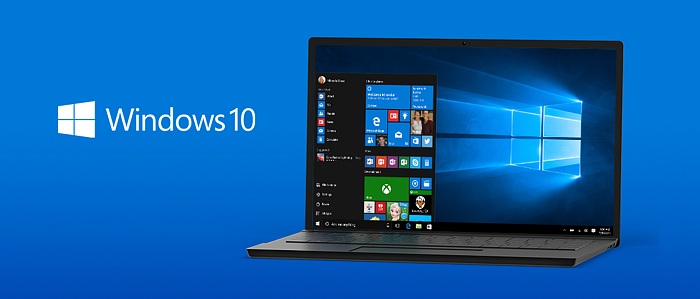 Tip: It is known that DVDs cannot be played on Windows 10 directly since Microsoft has removed Media Center from Windows 10. For those who need to watch DVD movies on Windows 10, try WinX DVD Ripper Platinum, a great DVD ripper/converter to rip/convert any (general and protected) DVDs to MP4, AVI, WMV, FLV etc, to let you play DVD movies on Windows 10 without trouble.
System Requirements for Windows 10 Full Version Free Download
Windows 7/8.1 users are granted a free upgrade with reserving free copy of Windows 10 full version while the other Windows or Mac/Linux users are more likely to free download Windows 10 full version ISO online. If you decide to upgrade after having a full understanding of Windows 10, first check if your system meet the minimum hardware requirements for Windows 10 full version free download.
• Processor: 1 GHz or faster processor or SoC
• RAM: 1 GB for 32-bit or 2 GB for 64-bit
• Space: 16 GB hard disk free for 32-bit OS 20 GB for 64-bit OS
• Graphics card: DirectX 9 or later with WDDM 1.0 driver
• Display: 800x600
If you make sure that there will be no Windows 10 compatibility issues, follow the guides to free download Windows 10 full version.

Free Download Windows 10 Full Version via Download Tool
You can still download Windows 10 full version free from Windows without purchasing a product key.
1. Go to Microsoft download page and click the Download tool now button to get the Media Creation Tool.
2. Run the tool as an administrator and select "Upgrade this PC now" or "Create installation media (USB flash drive, DVD, or ISO file) for another PC" based on your needs. By the second option, it won't ask you to provide a product key.
3. Select media (32/64 bit), the language, architecture, and edition and then follow the instructions to get the full Windows 10 version.
4. To install the setup, you may see an "Activate Windows" screen ask you to enter your product key. Enter your key if you're a licensed You can ignore it and click the "I don't have a product key" link. It will continue the installtion.
Notice: if your Windows 10 is not activated, there will be a few limitations. For example, there will be a watermark on the right bottom corner asking you to activate Windows and you can't personlize your PC. But you can still get all the system updates and use Windows 10 normally.

Free Download Windows 10 Full Version via Windows 10 Reservation [For Windows 7/8.1 Users]
Any new and existing devices running on Windows 7 SP1 and Windows 8.1 Update, including desktop PC, laptop, tablet and Windows Phone 8.1 devices can free upgrade to Windows 10 for one year. Starting at June 1, a 'Get Windows 10' app for users to reserve Windows 10 popped up automatically at taskbar of qualified devices. With this app, the process of Windows 10 download and installation can be much easier. How to reserve Windows 10 free copy?
Notice: You must running Windows 7 SP 1 or Windows 8.1 Update for this reservation.
1. If you have gotten a Windows icon of Get Windows 10 app at the bottom right corner of your screen, tap it to enter app Windows. If not, please install Windows update KB3035583 at first for having this app displayed at system tray and access it later.
2. Instruction of "How this free upgrade works" is shown in app Windows. You can read it to learn more details. Next, click Reserve your free upgrade button.
3. A valid email is required. Enter and confirm your email address.
4. When the upgrade is ready, Windows 10 full version files will be downloaded to PC automatically. Also, you will be notified to schedule the installation.
In addition, the link to cancel reservation is offered in "Get Windows 10" app window for users to change the reservation at any time before installing.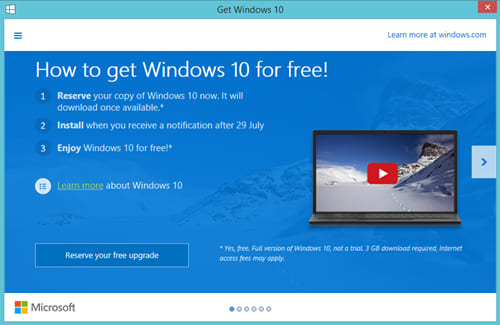 Free Download Windows 10 Full Version Online [For Windows XP/Vista etc, and Other OS Users]
You are not given the chance to free download Windows 10 full version conveniently through the above method if running other OS, for example Windows XP/Vista/RT, Mac OS X, Linux and more. Instead, you can dig out Windows 10 ISO files online via two ways. >> Check how to upgrade Windows XP to Windows 10
1. Enter the keyword "free download Windows 10 full version" on Google and pick out the result which mostly accords with the search term. There are some possibilities. The result contents don't show what you want and your computer may be hacked or virus-infected if you click a risky page.
2. The software download sites are the best place where you can discover Windows full version ISO files (32/64 bit). Open a reliable site, for example Softonic. Input Windows 10 full version on search bar and tap Search button. You can directly download Windows 10 full version if you have found it in result list by tapping Download button or enter the program page to learn more (description, editor reviews) about it and click Download button on this page at last.
Notice: Some sites give different download links/buttons for Windows 10 32 bit and 64 bit. Confirm your system version and click the correct link/button to download.
Best DVD Playback Solution for Windows 10 - WinX DVD Ripper Platinum
• Rip/Convert any homemade or commercial DVDs to MP4, AVI, WMV, etc, on Windows 10 with high-fidelity images and audio at a high speed.
• Convert DVDs to Windows Phone (10/8.1/8), iPhone, iPad, Android, Surface Pro, Xbox, PS3/4 etc, for watching DVD movies on the move.
• Copy DVD to ISO image, VIDEO_TS folder or backup full/main title to a single MPEG2 file for long-time storage.