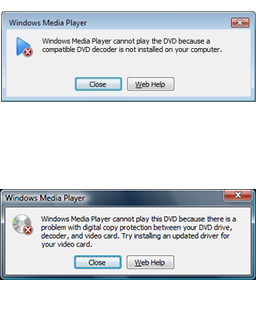 Fix "Windows Media Player cannot play the DVD because a compatible DVD decoder is not installed on your computer"
In this case, if your computer was not equipped with any DVD decoder, please download and install one online, e.g CyberLink DVD, Power DVD. If you already have one, try uninstalling and reinstalling it to see whether this issue is tackled.
>>Free Download DVD Codec for Windows 10 Media Player
Fix "Windows Media cannot play DVD because there is a problem with digital copy protection between your DVD drive, decoder, and video card"
This error message is usually caused by digital copy protection from commercial DVD, like Netflix DVD and rented DVD. As the reminder hints, you can solve it from several aspects:
● Try to find out and troubleshoot computer problems by using "Windows Media Player DVD" troubleshooter under Control Panel -> Troubleshooting -> All Categories (View All).
● Reinstall the old driver, or update DVD/CD-ROM driver, video card driver and DVD decoder from manufacturer's web respectively;
● Remove or change to another (hard/software) decoder. Because some DVDs have requirement on the decoder for normal playback.
Paths to fix "Windows Media Player cannot play DVD video" in other situations
● Adjust Windows display settings by opening Display in Control Panel, and then lower the screen resolution and color quality.
● If the commercial DVDs were previously playable, you can try restoring system to a time before this started.
● If only home-made DVD cannot be played by WMP, maybe the DVD burning software is getting corrupted. It's suggested to uninstall and reinstall the application to check if it helps resolve the issue.
● Sometimes it says discs are empty after system upgrade, it's better to get a third party DVD player software package.
● When you run into circumstance of "Windows Media Player won't play DVD because your computer is running low on memory", please check what are running by either using task manager or performance monitor to see the memory usage of the programs that are running. Quit inessential programs, and then try again.
Play Encrypted DVDs in Windows Media Player or Anywhere Else with No Errors
Even the Windows Media Player won't play DVD trouble is swept away, there're still many stuffs that are unqualified to recognize and play DVDs, especially those encoded with special mechanisms. Thus, digitalizing DVD discs is always a good way. Here comes the strongest and also the 1st tool to support new DVDs - WinX DVD Ripper Platinum.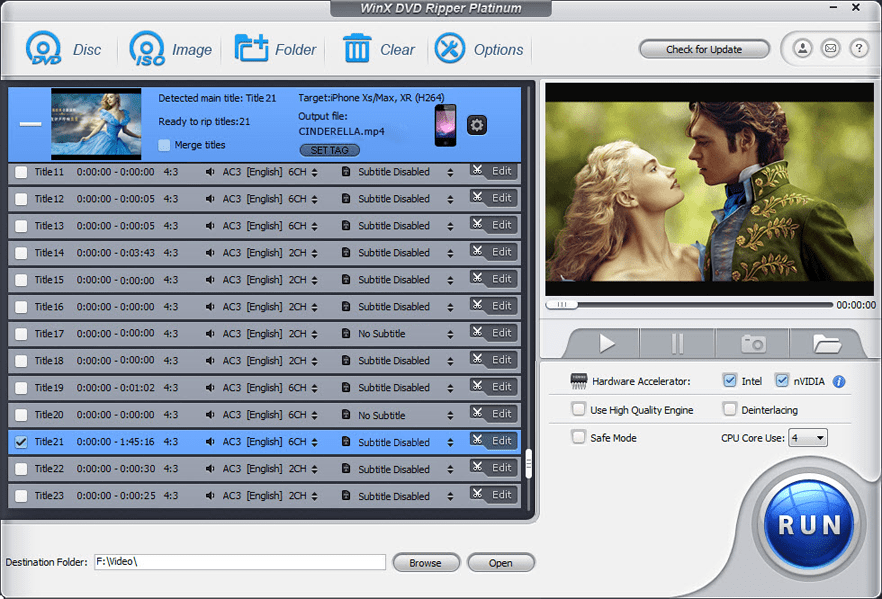 Supported OS: Windows 98, NT, 2000, 2003, XP, Vista, Windows 7, Windows 8, 8.1, Windows 10 (32 & 64 bit).
Supported DVD: All DVDs with common encryptions & advanced Disney DRM (fitness/AV/TV/99-title DVDs included).
Output:
a). iPhone, iPad, Apple TV, iTunes, Android & Windows photos/tabs, PSP etc. 410+ profiles;
b). MP4/H.264, MOV, AVI, WMV, MPEG, AVC, MTS, MP3, etc. 320+ video audio formats;
c). 4 DVD Backup modes to 1:1 clone DVD to ISO image/DVD folder, or copy title to an MPEG.
Steps to rip DVD: Click "DVD Disc" to load DVD into software -> Choose a format or device model according to your need -> Set destination folder, edit video, disable/choose/add subtitle, choose audio channel if necessary -> Tap "Run" to rip DVD with hardware acceleration.