What is Windows Media Player, Windows Media Player Wiki
What is Windows Media Player 10/11/12 for Win 7/8/10, what is Windows Media Player videos supported, and what is commonly use of Windows Media Player?
Before your Windows Media Player 12 download or update (for Windows 8.1/10 and Mac), please get to know the definition of Windows Media Player.
Definition and Functions of Windows Media Player
Windows Media Player (abbreviated WMP) is a proprietary digital file (video/audio/image) player and multimedia library application developed by Microsoft that is used for playing movies, music and viewing images. It is the default media player on the desktops, notebooks, Pocket PC and mobile devices running the Microsoft Windows operating system, say, Windows NT 4.0, Windows 3.0 MM and Windows 3.1, Windows 9x, Windows 2000 to Windows 8.1, Windows CE and Windows Mobile. Editions of Windows Media Player were also once released for Mac OS 8 and 9, Mac OS X and Solaris, but have not been further developed ever since.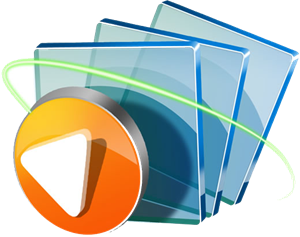 Download 5KPlayer - Best Free Alternative to Windows Media Player
* Play videos, audios, DVDs and radio on Windows XP, 7, 8, 8.1 and 10;
* Play 4K 2160P, 1080p and 720p videos smoothly;
* Support 450+ video audio formats, including MTS, AVCHD, MKV, MOD;
* Act as an AirPlay receiver and sender to stream media;
* Download videos and music from 1000+ online sites. - 100% FREE CLEAN!


In addition to being a media player, Windows Media Player includes the ability to rip music from and copy music to compact discs, burn recordable discs in Audio CD format or as data discs with playlists such as an MP3 CD, synchronize content with a digital audio player (MP3 player) or other mobile devices, and enable users to purchase or rent music from a number of online music stores. And it supports quite a lot of videos natively including MPEG-1, WMV, ASF etc. It can also play AVI files but AVI is a container, which means in order to play these files with WMP, you may need to install additional codecs, such as FFDShow. You can also play MPEG-2 with WMP if you have a codec installed, which is done when you install DVD player software like WinX DVD Player and 5KPlayer.
Availability of Windows Media Player
After knowing about what is Windows Media Player, let's turn to its practicality. Specifically, the previous version, Windows Media Player 11 runs on Windows XP and is included in Windows Vista and Windows Server 2008. The most up-to-date version, Windows Media Player 12, is only available in Windows 7, Windows 8, Windows 8.1, Windows Server 2012, Windows Server 2012 R2 and Windows Server 2008 R2. However, it is not released for Windows RT, and there is no updated Windows Media Player for Windows 10 and Windows 8/8.1 anymore.
Windows Media Player supports not only PC platform, but also Windows Mobile platform. Windows Media Player for Pocket PC was first announced on January 6, 2000, and has been revised on a schedule roughly similar to that of the Windows version. Currently known as "Media Player 10 Mobile", this edition (released in October 2004) closely resembles the capabilities of the Windows version of WMP 10, including playlist capabilities, a media library, album art, WMA Lossless playback, support for DRM-protected media, video playback at 640x480 with stereo sound, and the same Energy Blue interface aesthetics also seen in recent versions of Windows XP Media Center Edition. It also supports synchronization with the desktop version of WMP 10, and additionally supports synchronizing and transcoding of recorded television shows from Windows Media Center.
Video Audio File Types Supported by Windows Media Player
Videos: .bdmv | .evo | .hevc | .mkv | .avi | .flv | .webm | .mp4 | .ts | .m4v | .m4a | .ogm, x265 | h.265 | HEVC | 10bit x264 | x264| h.264 | AVCHD | AVC | DivX | XviD MP4 | MPEG4 | MPEG2 and the like
Audios: .ac3 | .dts | .alac | .flac | .ape | .aac | .ogg | .ofr | .mpc | .3gp, etc.
Note: The playback abilities of H.264 and MPEG-4 Part 2, 3GP, MP4 and MOV, AVCHD (.m2ts and .mts) videos and AAC audio are added in Windows Media Player 12.
For more information, please refer to Windows Media Player Wiki.
Still have trouble about what is Windows Media Player or WMP related questions? Please feel free to Email Us >>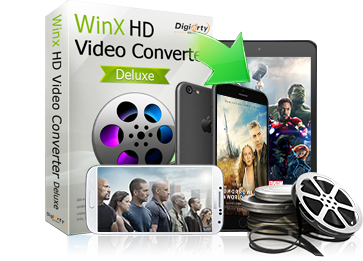 Best Video Converter for Windows – WinX HD Video Converter Deluxe
WinX HD Video Converter Deluxe can make all your video media files playable by Windows Media Player or other players on any of your Microsoft devices, including Windows 10 PC, Surface Pro, WP8 and Xbox. At the same time, it is able to:
• Convert both HD (4K, even 8K UHD) & SD videos to videos or music.
• Convert music videos or movies for playback on PC, Mac, iPhone, iPad, Android, etc.
• Download online videos from YouTube, Facebook, SoundTrack, Dailymotion (1000+ sites).
• Create slideshows from pictures; crop, trim videos and add SRT subtitles.