What Formats are Supported by Windows 10 Media Player?
Widows Media Player natively supports the compression types, file types and video resolutions as follows:
File types supported by WMP:
.bdmv | .evo | .hevc | .mkv | .avi | .flv | .webm | .mp4 | .ts | .m4v | .m4a | .ogm
.ac3 | .dts | .alac | .flac | .ape | .aac | .ogg | .ofr | .mpc | .3gp and many more.
Compression types supported by WMP:
x265 | h.265 | HEVC | 10bit x264 | x264| h.264 | AVCHD | AVC | DivX | XviD
MP4 | MPEG4 | MPEG2 and many more.
Resolutions supported by WMP:
All resolutions up to and including SD 480i, 480p, 576i, 576p, + HD 720i, 720p, 1080i, 1080p, 4K and beyond.
The audio video formats supported by Windows Media Player are somewhat limited, but you can find some Windows Media Player Codecs online (but we recommend you only try installing windows 10 Media Player Codec Pack for example MKV codec for WMP from safe and trustworthy websites).
However, some of the components in such codec packs may have incompatibilities issues, which will cause serious playback errors in the Player and other players, lead to system corruption, and make it difficult for Microsoft to diagnose and troubleshoot.
To avoid such incompatibilities problems that might arouse Windows 10 errors, you have two different ways to choose:
1. Convert Incompatible Videos to Windows 10 Media Player
One of the most feasible solutions to play any media on the new Windows OS is to convert FLV, WebM, MOD, TOD and any other incompatible videos to the media formats supported by Windows 10.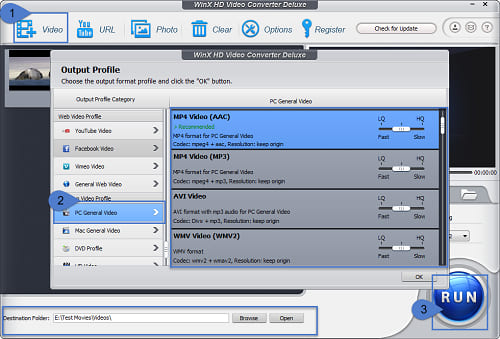 WinX HD Video Converter Deluxe is the most secure and effective Windows 10 video converter to transfer between any video formats. It makes media files more compatible with Windows 10 and become the native Windows 10 videos (e.g. WMV) almost without quality loss.
How to Convert MKV to WMV Windows Media Video on Win 10
How to add MKV and MP4 to "video library" in Windows Media Player 12
How to Convert DVD to WMV for Windows Media Player/VLC Users
No matter what players you are using on your Windows 10 PC or Windows 10 for phone, you can count on the media converter for video conversion. With embedded in 400+ video/audio codecs, it supports all video audio types you can think of, and almost all kinds of video resolutions (including 4K UHD) currently.
With a great many ready-made profiles, you even enables you to convert videos directly to Microsoft Windows Phones, tablets, Surface Pro (3), Xbox (One), Zune, and also Apple TV, iPad, iPhone, iPod, Android devices, Chromecast, etc.