How to Fix Kernel Security Check Failure BSoD or Stop Code on Windows
I bet the dreaded blue screen or blue screen of death is a nightmare for everyone. Unfortunately, the kernel security check failure is one of the culprits of blue screen. The kernel security check failure means that one or several files failed a compatibility and integrity. There are many casues for Windows kernel security check failure, from device driver to computer's RAM, hardware to software. Nevertheless, we'll dive deeper to find out the causes and how to fix kernel security check failure BSoD.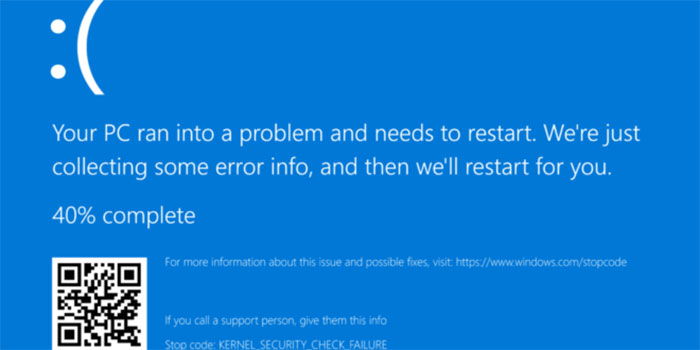 Part 1: What Causes Kernerl Security Check Failure
The outdated drivers can be the most common cause for kernel security check failure BSOD when you updated Windows to a new version.
Mermory problems could give rise to the kernel security check failure blue screen with stop code.
Corrupted Windows system file is another culprit for blue screen of death.
A damaged hard disk will also lead to KERNEL_SECURITY_CHECK_FAILURE error in Windows.
If your computer is packaged with some viruses, you may also get a stop code with blue screen.
Certainly, these are only the most common reasons for KERNEL_SECURITY_CHECK_FAILURE error in Windows 10/8/7. If you're experiencing a blue screen for reasons other than these, let us know and we'll be pleasent to troubleshoot it for you. Now let's check how to fix kernel security check failure BSOD generally.
Part 2: Quick Ways to Fix Kernal Security Check Failure BSOD
1. Run the Driver Verifier Manager
Driver verifier is an excellent tool to check for driver incompatibility. You can type "verifier" in the start menu search box and hit enter, or type "verifier/?" in the command prompt to open it.
Select the "create standard settings" by default and hit Next button. Then you can automatically select unsigned drivers or drivers built for old versions of Windows.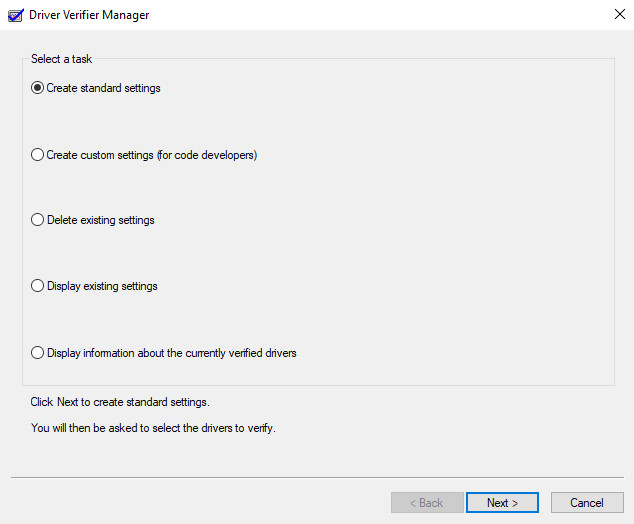 2. Check the RAM via Memory Diagnostic Tool
Mermory disgnostic allows users to identify memory problems and test the RAM on Windows 10/8/7. To open it, you can type "mdsched" in the search box of the start menu. Here, you have two options: "Restart now and check for problems", and "Check for problems the next time I start my computer". Choose according to your needs. If the tool throws up errors, contact your manufacturer since these errors indicate that there is a a problem in the memory chip or RAM.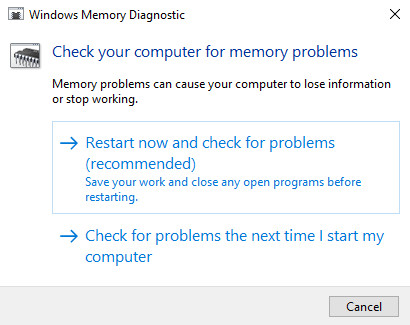 3. Run System File Checker
To make sure the KERNEL_SECURITY_CHECK_FAILURE error is caused by system file or not, you need run system file checker to check whether your system file is corrupted. To do this, you can type "cmd" in the search box of start menu to open your command prompt as administrator, Then type "sfc/scannow" and hit enter. Wait the verification to complete. If there are any problem, it'll replace the corrupted files from the cache during reboot.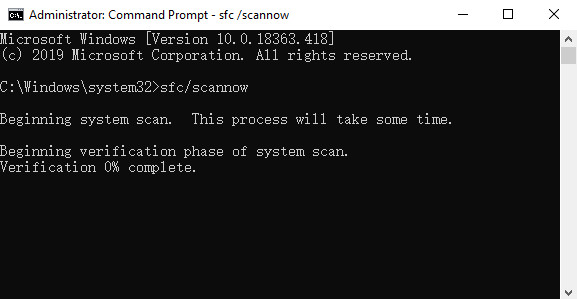 4. Scan Hard Disk
As damaged or corrupted hard disk can also be the reason for kernel security check failure BSOD, scanning the hard disk can help you for the errors or inconsistencies. To do that, run the command "chkdsk /f c:" on your command prompt as administrator. And restart your computer if needed.
Actually, you're recommended to run this check once in a while, as the hard disk error can happen due to improper shutdown, corrupted software, and more.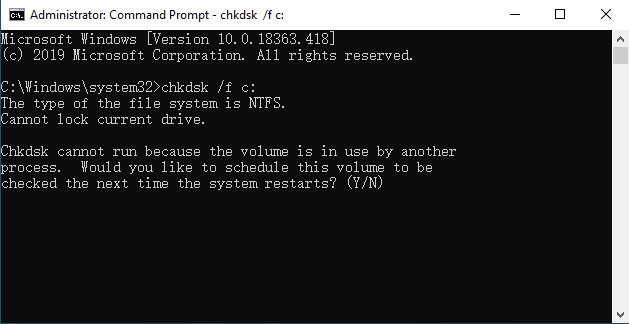 5. Remove the Possible Viruses
If you tried all these fixes, but nothing works. You probably consider that it's a matter of virus or ransomware. You can install the latest Windows updates and run Windows Defender to remove the virus. Of course, you can also turn to a third-party antivirus program to do this. But it's worthy mention that you might also get kenerl security check failure stop code when the third-party antivirus software and Windows Defender are running simultaneously.
Kernel security check failure leads to BSOD with a stop code, but don't get intimidated by it. The problem majorly happens owing to the issues of drivers incompatibility, hard disk damage, memory problems, viruses and so on. Get the root of the kernal security check failure error on Windows and you can troubleshoot it easily by following the above solutions.