Windows 11/10: How to Download and Install Windows 10 on PC or Laptop Easily
Step-by-step Guide to Download and Install Windows 10 on Computer or Laptop
Ever since the unveiling of Windows 10, news and discussions seem to be endless. And attracted by Windows 10 shiny features like smart Cortana digital assistant, sleek Edge browser, the ability to run multiple virtual desktops, the return of Start menu, the capability to stream Xbox games to PCs and so much more, many Microsoft Windows users, especially Windows 8 users plagued by various Windows 8 errors, are eager to download and install Windows 10. If you are the one, why not take a few minutes to learn how to download and install Windows 10 on your computer or laptop here?
Update: Free upgrade to Windows 10 from Windows 7/8 has expired on July 29, 2016.
Must-have Media Software to Play DVDs after Installing Windows 10
DVD playback capability is disabled on Windows 10. To play DVDs on Windows 10, you can use WinX DVD Ripper Platinum to rip any DVDs (Disney DVDs included) to Windows 10 PC, tablets, phones playable formats, like MP4, AVI, WMV, etc.
This article focuses on showing how to download and install Windows 10 on Windows 7/8 computers qualified for free upgrade, so before downloading and installing Windows 10, please make sure:
* You're using genuine copy of either Windows 7 SP1 or Windows 8.1 Update.
* Back up all of your data to a cloud service or an external drive in case of data loss while installing Windows 10.
* You have already reserved your Windows 10 free upgrade.
* Your PC meets the minimum system requirements of Windows 10. (A 1GHz processor or faster; 1GB of RAM for 32-bit machines or 2GB for 64-bit machines; 16GB of hard disk space for 32-bit machines or 20GB for 64-bit machines; A DirectX 9 graphics card or later, with a WDDM 1.0 driver; An 800 x 600 display or better.)
How to Download and Install Windows 10 with Ease?
Here, we will guide you to download and install free Windows 10 upgrade on PC/laptop.
Step 1: Run "Windows Update" and check if your free reserved copy of Windows 10 gets ready for installing on your PC. Microsoft performs Windows 10 upgrade in waves, so not all PCs can install Windows 10 once the new OS is released on July 29. If you get a message saying "We'll let you know when the upgrade is ready to be installed on this PC.", it means that you have to wait for some time to upgrade to Windows 10. But if you want to download and install Windows 10 immediately, you can force it to download Windows 10 update right now. Step 2: When "Windows Update" have Windows 10 update downloaded, you will get the prompt as the picture shows. Click on "Restart now" button on Windows Update screen to begin Windows 10 installation.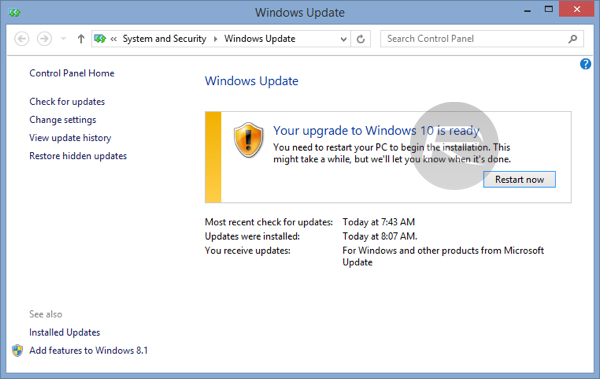 Step 3: Reboot PC and install Windows 10. The installation process is consist of three parts, including copying files, installing features and drivers, and configuring settings. In this step, you can't do anything, but wait for it.
Step 4: When the installation is completed, you can simply follow the on-screen instructions to get access to login screen and enjoy Windows 10.
Above are all of the steps to download and install free Windows 10 upgrade on your computer. (If you got troubles during installation, please check this Windows 10 install problems help page).
Make a Better Experience with Windows 10
Windows 10 does have many wonderful features, but it really disappoints DVD owners due to the removal of Windows Media Center. Microsoft noted that watching DVDs requires separate playback software. If you don't want to apply separate DVD playback software to enjoy DVD movies, ripping DVDs to Windows 10 native supported file formats with WinX DVD Ripper Platinum is a good workaround. This powerful DVD converter is able to
* Rip any homemade or commercial copy-protected DVDs to MP4, AVI, WMV, MOV, M4V, FLV and more formats accepted by Windows 10, Windows 8/7/XP, Mac OS, etc.
* Convert DVDs to Windows mobiles (10/8.1/8), iPhone, iPad, Android, Surface Pro, Xbox, PS3/4 and more devices playable formats for watching DVD movies on the move.
* Copy DVD to ISO image, VIDEO_TS folder or backup full/main title to a single MPEG2 file for long-time storage