[Solved] How to Upgrade Windows XP to Windows 10 Without Losing Files
Windows XP is not qualified for the free update to Windows 10. Is it possible to upgrade my Window XP PC to Windows 10?
Microsoft no longer provides security updates or patches for Windows XP. As we already know Windows 7/8/8.1 users could free upgrade to Windows 10 for the first year, then how about Windows XP users? Windows XP isn't eligible for the free update to Windows 10. How to get Windows 10 and upgrade Windows XP to Windows 10? If you have realized that maybe it's time to upgrade from the old system Windows XP to the new Windows 10 system on your PC or laptop, here's everything you need to know including how to get the copy of Windows 10, the minimum hardware requirements of Windows 10, and how to upgrade to Windows 10 from Windows XP.
Notice: 1 year free upgrade from Windows 7/8 to Windows 10 expired on July 29, 2016. If you missed this free upgrade chance, you need to pay $119.99 for Windows 10 Home or $199.99 for Windows 10 Pro to experience the latest Windows operation system.
Without Windows Media Center, wonder how to play DVDs on Windows 10 now? This No.1 fast DVD ripper enables you to rip any DVD to Windows 10 compatible formats as MP4, AVI, WMV, HEVC and many other formats for easier playback.
Minimum Hardware Requirements for Upgrading to Windows 10
Before upgrading Windows XP to Windows 10, you should first figure out what Windows 10 minimum hardware specifications are:
* Processor: 1GHz or faster processor or SoC
* RAM: 1GB for 32-bit or 2GB for 64-bit
* Hard disk space: 16GB for 32-bit OS or 20GB for 64-bit OS
* Graphics card: DirectX 9 or later with WDDM 1.0 driver
* Display: 800x600 pixels or higher
How to Get Windows 10 for Your Windows XP PC and What It Costs?
As there is no free direct upgrade option available for Windows XP users to upgrade to Windows 10, you have two options to get Windows 10: One is to purchase the Windows 10 license. Windows 10 Home license is $119.99 and the more advanced Windows 10 Pro version is $199.99 (>> Check how to get Windows 10 license key). Another is to adopt the physical installation disc. Please be aware that if you install Windows 10 on Windows XP with this method, you have to do a clean or fresh install which means it will erase everything on your PC hard drive. So before you start the Windows XP to Windows 10 upgrade, you'd better copy all the data you'd like to keep to an external hard drive, USB or cloud service.
How to Upgrade Windows XP to Windows 10?
Step 1: Find the installation disc or license key and enter into Microsoft's Windows 10 download page and click the right version you need. Save the file, create a bootable DVD or USB thumb drive and run setup.exe.
Step 2: Accept the license terms and the installer will download the latest updates.
Step 3: Then, the installer will auto check if your system meets the minimum requirements and if it does, it will show a 'Ready to install' screen. It may also pop up a 'What needs your attention' window explaining any reason why Windows 10 can't be installed and what you can do about it.
Step 4: Click install and your PC will reboot. You'll see a Windows logo, followed by a language selection. The process should work automatically.
Step 5: Finally, Windows 10 will boot, ask you a few questions and then ask you to sign in with your Microsoft ID.
Need to mention that even if you successfully upgrade from Windows XP to Windows 10, it may not run smoothly since the Windows XP PC is such an old machine running quite several years. You may save the money to buy new laptops or PCs which are able to run on Windows 10 with no hassle. Anyway, there are so many PCs or laptops in market, among which some only cost you about $200.
If you meet troubles in the process of upgrading to Windows 10, please refer to Windows 10 install problems help page for a solution.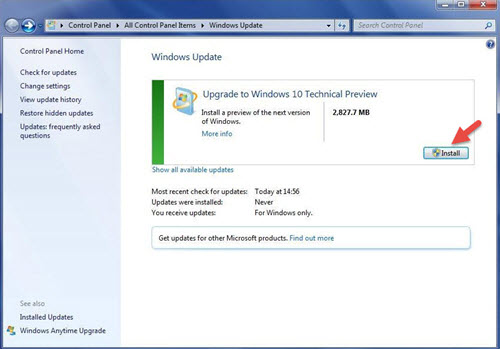 Windows 10 Related Software - WinX DVD Ripper Platinum
Whether you upgrade Windows XP to Windows 10 or not, you deserve this all-in-one DVD rip and backup software which is perfectly compatible with Windows 10/8/8.1/7/Vista/XP, etc. to aid you fast rip any DVD (including latest copy-protected DVDs like Inside Out DVD) to MP4, AVI, WMV, MOV, FLV, MKV, 3GP, devices like iPhone 6S/6, iPad, Android Samsung, etc. for playback with ease. 1:1 backup DVD to ISO/Folder is also at hand.