How to Convert WEBM to MP3 Audio with Online & Desktop Software
In many cases, people want to extract MP3[1] audio from a WebM[2] video downloaded from websites. For example, you may want to get audio tracks from YouTube music videos, lectures, news, etc, or would like to add the dialogue of a .webm movie to your homemade video. Due to the low compatibility of native audio streams Vorbis/Opus accommodated in WebM, it is better to convert WebM to MP3 so that you can quickly share the audio file on mobile, or upload it to your social platform such as Tiktok, Reddit, Instagram, etc.
In this article, we'll show you how to extract audio from WebM video and save as MP3 format with online tools and desktop WebM convreter programs respectively. Now, choose your preferred ways.
Part 1. How to Convert WEBM to MP3 Online for Free
Online Tools to use:
There are many online file conversion tools that allow you to convert WEBM to MP3, for example ZAMZAR, Convertio, and CloudConvert. You can take a look at them below and choose the one that is suitable for your WebM to MP3 converting need.
#1. Zamzar. Zamzar is an easy-to-use online tool that supports a variety of file formats, including video, audio, csv, djvu, doc, eps, pages, numbers, ppt, xml, etc. But it offers free file conversion for any video up to 50 MB. You have to upgrade to a payment plan starting $9 per month if you are working with much larger files.
#2. Convertio. Convertio is a fan favorite as an online converter that boasts a ton of supported formats, whether it is a video, audio, CAD file, or ebook. You can even add WebM files from direct URLs or integrated cloud service such as Google Drive or Dropbox. You are also allowed to tinker with the audio settings while converting WebM to MP3. Likewise, you are bound to encounter file size limit (up to 100mb). But the limit can be overcome by joining its monthly subscription.
#3. CloudConvert. CloudConvert is a German-based conversion site launched in 2021. It boasts 200+ formats. So whether you are finding to convert WebM to MP3, or just a high-quality WebM video converter, Cloudconvert has got you covered. CloudConvert pricing starts at $9 per user if you exceed the 25 free conversions per day.
How-to guide:
How do I convert WebM to MP3 online? Almost all online video converters share the similar workflow: add and upload source file -> choose output format -> hit Convert Now or something to start conversion -> download the resulting file from its website or from an email.
Let's take ZAMZAR as an example.
Step 1. Open ZAMZAR WEBM to MP3.
Step 2. Click "Add Files" to open the WEBM file you want to convert to MP3 audio format.
Step 3. Choose "MP3" as the music format.
Step 4. Hit "Convert Now" to start upload and conversion. You can see a progress bar. Once done, you will see a "Download" button clicking which you should be able to download the MP3 file to your local drive. Please be aware that Zamzar imposes a 50 MB file size limit for each file conversion. If your source WEBM file is larger than 50MB, you will receive a popup like the screenshot below. Click "Create Zamzar Account", and you will see this.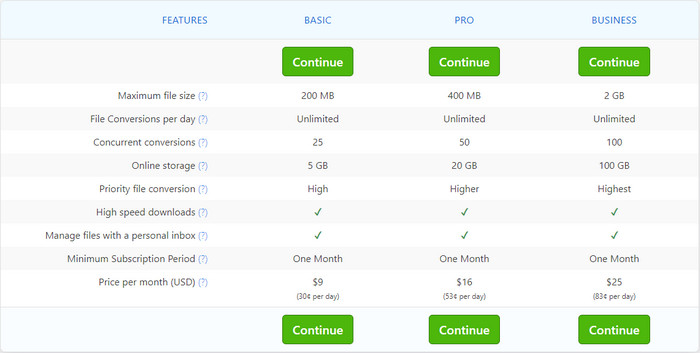 Part 2. How to Convert WEBM to MP3 with Desktop Software
Software to use:
If you are annoyed by the file size limit, ads or potential danger that online tools bring, desktop software is absolutely a good choice for you to convert large WebM video to MP3 audio file safely. Popular desktop-based WebM to MP3 converter includes WinX Video Converter, Handbrake, FFmpeg, and so on. Here we'd like to introduce one of them and how it works for your WebM to MP3 converting need.
Optional Choice: WinX HD Video Converter Deluxe. This program is shared here simple because it is equipped with High Quality Engine, thus the output audio can be preserved in a high even lossless quality. Besides, the support of Hardware Accelerator (Intel QSV, Nvidia CUDA/NVENC, and AMD), Hyper-threading tech and Multi-core enables you to convert large 4K/HD WebM file to MP3 in a flash.
Apart from extracting MP3 audio from WebM video, the tool, embedded with 370+ video/audio codecs, can perform video to video, and video to audio conversion among almost all popular formats, such as WebM to MP4, MP4 to MP3, MKV to MOV, HEVC to H.264, and so on. And, it offers 420+ device profiles enabling users to output fully compatible videos for iPhone, iPad, Android, Xbox, PS4 etc. It also acts as a video downloader, which can free download videos from Facebook, Vimeo, Dailymotion, Vevo and other 1000+ sites. Then you can save the downloaded WebM video as MP3, MP4, 3GP, etc. with no effort at all.
How-to guide:
Step 1. Download and install WinX HD Video Converter Deluxe on your computer. It works with Windows 10/8/7 and macOS (incl. Big Sur).
Step 2. Launch WinX HD Video Converter Deluxe and import WebM video.
For local video: Click "+ Video" button to add the target WebM video. You can add and convert multiple WebM video files at a time.
For online video: If you would like to convert an online HTML5/YouTube WebM video to MP3, please hit "YouTube URL" button. Next, a smaller window pops up. Copy and paste YouTube URL of a video to the address bar. Click "Analyze" to access to video info, title, duration, versions varying from resolution, format, size and code. Select desired WebM version and click "OK".

Tip: "Auto convert" option is checked by default so that the selected WebM video will be automatically added to conversion list. Uncheck "Auto convert" and the video will be downloaded without conversion.
Step 3. Select MP3 as output format. When the Output Profile window appears, click through to "to Music" -> "MP3" and click "OK". WinX HD Video Converter Deluxe also provides other popular audio formats, including AAC, AC3, FLAC, WMA, M4R and more.
Step 4. Browse to set destination folder and click "RUN" button to start converting WebM to MP3.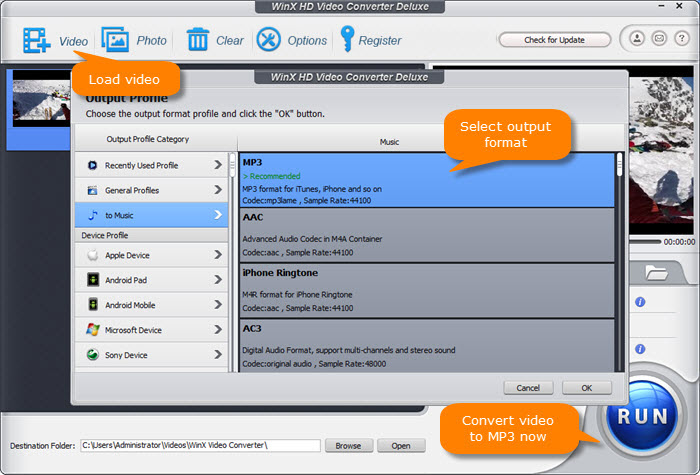 Part 3. Online Tool vs Desktop WebM File Converter
Both video converters and online video converters can convert WebM to MP3. However, there are some differences.
Online WebM to MP3 Converter

Desktop WebM to MP3 Converter

Advantages:

Nothing to install.
Simple and easy to use.
Free.

Advantages:

No weird ads and safe.
No maximum file size limit.
Fast conversion speed.
Many output formats.
Multiple video can be converted at once.
More features provided, such as edit video and download video.

Disdvantages:

Slow to upload and convert video.
There is number of conversion or file size limit.
Batch conversion is not supported.
High likelihood to conversion failure.
A risk of virus infection.

Disdvantages:

Need to download and install.
The converted video may have a watermark.
Can be used only on pc and mac.
Part 4. FAQ about WebM to MP3 Conversion
1. WebM vs MP3, what is the difference?
WebM was created by Google, commonly accommodating audio streams in lossy Vorbis or Opus audio codec. It is initially designed for web and is widely used for HTML5 video streaming sites such as YouTube, Netflix, etc. While MP3 has been the de facto format for lossy audio compression. Unlike the Vorbis or Opus codec, MP3 has been widely acceptable by media player, PC, and mobile. That's why many people urge to convert WebM Vorbis/Opus to MP3 audio file.
2. How to Convert WebM to MP3 with FFmpeg?
FFmpeg is known for its speedy and fully-functional video conversion but many users are intimidated by its complicated commands. But if you dig it further, you will know how much convenience it brings to you. As long as you get the hang of its command line, you will be happy with its converting experience. Here is the example of command lines to extract MP3 from WebM file:
ffmpeg -i input.webm –vn output.mp3
-vn: indicates what we have disabled video recording in output file.
3. Can VLC convert WebM to MP3?
Yes. VLC is not only a world-popular media player but also a video converter. If you are unwilling to download desktop WebM converter further, give VLC a try. Here are the tutorial about how to convert WebM file to MP3 format with VLC.
Once you open VLC media player on your computer, click Media > Convert / Save.
Click +Add… from the Open Media window and load the source WebM file. Tap the button Convert / Save.
In the Convert window, choose Audio - MP3 from the Profile list.
Click Browse to save the destination file, and tap Start to kick off WebM to MP3 conversion.
Click to see how to convert WebM to MP4 with VLC >>
4. Can I convert WebM to MP3 without losing quality?
No. Any conversion involving in audio or video codec change will absolutely result in audio or video degradation. When you convert WebM to MP3, it means you also change the audio codec from Vorbis/Opus or MP3. This will lead to quality loss. However, most of the time the audio quality loss is just unnoticeable. If you want to save audio lossly, you can extract audio from WebM. But don't change the audio codec to MP3 at all.
References:
1. "What Is An MP3 File (And How Do I Open One?)". How-To Geek
2. "About WebM". WebM Project