Download and Install WebM Codec for Easier Video Playback & Editing
You know, WebM is an open media file format designed for the web. It can be encoded with VP8, VP9, AV1 video codecs together with the audio codecs. And it becomes more and more widely used, even Apple is planning to add WebM audio codec support to Safari with iOS 15. However, there are still some media players or video editing software refuse to open the WebM files by default. You have to download and install WebM codec to make your WebM files compatible. Here we'd like to show you how to download and install WebM codec easily.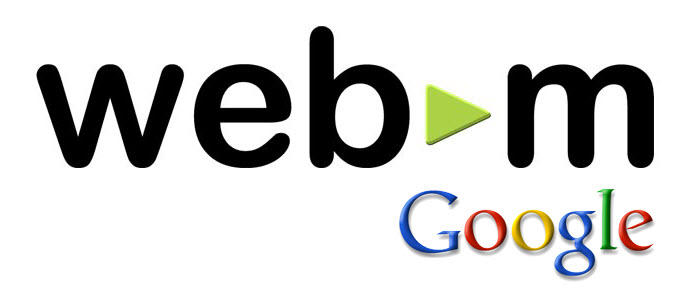 Looking for a Solution to Play WebM Files Encoded in VP8/VP9/AV1 Codec
WinX HD Video Converter Deluxe is an awesome WebM codec media encoder, which encodes WebM videos with fast speed and high qualiy.
Encode videos from other formats to WebM format in VP8, VP9, AV1 video codec and Vorbis and Opus audio codecs.
Support WebM encoding from HD 1080P, 4K, to even 8K quality in HDR.
Decode WebM video to H.264, HEVC, AVI, WMV, M2TS, MPEG-2, FLV, MOV, iPhone, iPad, HDTV, Xbox and 420+ profiles etc.
Part 1. [Updated] WebM Codec Packs Free Download
#1. WebM DirectShow Filters
WebM DirectShow Filters allows you to encode and decode VP8 video, and to create and play WebM files. It's a part of the WebM Project, a collection of tools for creating and publishing content in the WebM format. By installing WebM DirectShow Filters in your Windows or MacOS computer, you're able to render and encode WebM files on the applications based on DrectShow, such as Windows Media Player and more.
#2. Google VP8 (WebM) VFW Video Codec
Google VP8 (WebM) VFW Video Codec is a package available on Windows 10/8/7/XP. It was derived from Xvid Video For Windows drive, and is fully functional. You know,  VP8 is an an open-source technology and developers are free to use it in any application. However, you are only able to play VP8 video inside WebM files are those that support WebM by installing Google VP8 (WebM) VFW Video Codec.
#3. WebM Plugin for Premiere
Many people also complain that they cannot import WebM videos to Premiere Pro. Never mind. By downloading WebM Plugin for Premiere, you're freely to open and edit WebM videos on Premiere. This WebM plugin exposes more advanced VP9 features such as 4:4:4 video sampling and 10-bit or 12-bit pixel buffers. And only the most important encoding parameters have interface controls for minimum clutter. The other dozons of settings can be adjusted by custom arguments text field.
#4. AV1 Codec
Being an open and royalty-free video coding format, AV1 video codec is designed to replace Google's VP9 and compete with H.265, targeting an expected improvement of about 30% over VP9/HEVC with only reasonable increases in encoding and playback complexity. It can be encoded in WebM format for the web as well. For example, YouTube has intergrated AV1 and determines which codec to use with a specific algorithm. Thus, by installing AV1 codec 1.1, you can stream AV1 in HD even its only available for a few videos owing to the high resources requirements and also play AV1 videos on your Windows 10 device.
>> AV1 vs VP9: Which Codec is Better
Part 2. What If WebM Codec Download Not Working on Your Device?
Theoretically speaking, if you download and install WebM codec on your device, you're able to play WebM files freely. However, there are cases that you installed the WebM codec, but your device failed to recognize the WebM video finally. That's because WebM video can be encoded in VP8, VP9, and AV1 codec together with Vorbis and Opus codec. While the downloaded WebM codec is not fully supported for all the possible WebM codecs.
For that, you're suggested to encode WebM video to the codec that the downloaded WebM codec pack supported, or your device compatible formats. WinX HD Video Converter Deluxe could help you decode and encode WebM to the codec or format you desired. Moreover, with it, you can encode any video to VP8 / VP9 WebM, or MP4, MOV, AVI, MKV, HEVC, H.264, FLV, iPhone iPad Android, HDTV, Xbox, PS5/4 etc. Better yet, it delivers super fast speed, up to 47x real-time faster, and reserve high output quality.
Check the easy steps to transcode WebM videos with WinX HD Video Converter Deluxe.
Step 1: Download the WebM converter and launch it. Then drag and drop or click "Add Video" to load your WebM video. You're able to add several videos at once.
Step 2: Choose an output format from the automatically popped up window. There are 420+ preset profiles available for your choice. You are recommended to convert WebM to MP4 because of its wide compatibility.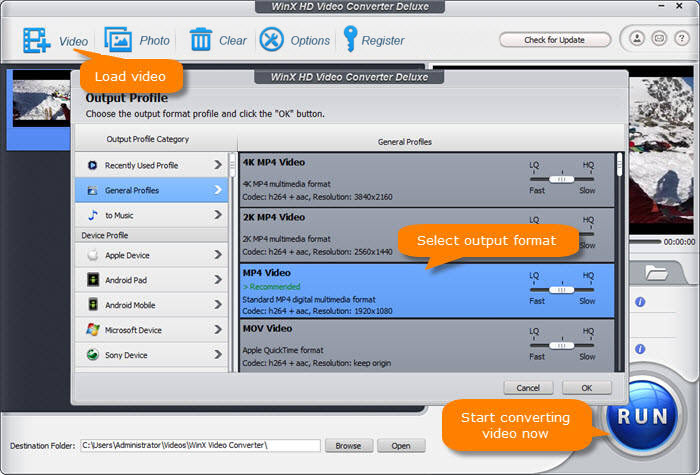 Step 3: Customize your output video if necessary. For example, you can click "Settings " button to adjust video resolution, frame rate, bit rate, aspect ratio, audio etc. Or click "Edit" button to trim your video length or crop the frame size of the video if you need.
Step 4: Click "Browse" button to select an output folder. Then tap "RUN" button to start converting WebM video. It'll be finished with in a very short time with the support of GPU acceleration.