> Resource > Tips > "vlc --reset-config" Solve VLC Errors
"vlc --reset-config" | How to Reset VLC to Default to Fix All VLC Errors
This is a tutorial of how to solve VLC errors by resetting VLC to default with "vlc --reset-config" command lines
Let's see if you ever ran into the following VLC problems:
* VLC keeps crashing or freezing even though you have re-installed it numerous times;
* You messed VLC settings of video, audio, subtitle, UI, etc, but don't know how to reset VLC to default;
* You managed to turn off VLC default GUI, set up your preferred interface with downloaded skin pack and restart, only to find there is no GUI and VLC shows green screen or won't open when playing DVD or video.
Loads of steps are posted online to solve different VLC problems, most of which probably are quite involved for you. Well, there is a master key to fix nearly all VLC errors – easily reset VLC to default with "vlc –reset-config" command lines in cmd on PC or terminal on Mac.
Note: "vlc –reset-config" might not work for the next problems. For VLC error "DVD movies don't playback smooth", ripping DVD to VLC supported file formats with a best DVD ripper software would be the best way out, if VLC fails the ripping. >> How to rip DVD with VLC & Fix "VCL won't Rip DVD" Problem
Best VLC Alternative DVD Ripper Software–

WinX DVD Ripper Platinum
Best DVD ripper compatible with latest Windows 10 and the previous; rip movie DVDs to popular video formats MP4, AVI, WMV, MOV, FLV, etc; convert DVD to iPhone, iPad, Android devices, WP 10, etc; bypass nearly all copy protections at ultra fast speed, incl. RCE, UOP, CSS, Sony ARccOS and even Disney X-project DRM.


What Is "vlc --reset-config"?
Power users may be familiar with VLC command lines/Mac, while others of you may feel like "vlc --reset-config" is by no means the way you will adopt to solve any VLC errors. Actually, it is much easier to solve VLC problems by using command lines like "vlc --reset-config" than following stodgy fixing guides. And most notably, vlc --reset-config can be used on various VLC errors. Read on the next specific solutions.
How to Reset VLC to Default Interface via "vlc --reset-config"?
Q - "I was playing with VLC skins downloaded from gnome-look.org. And now,I think, My VLC is bricked. It shows this error message on terminal: [0x1b15f08] skins2 interface error: no skins found: exiting. I don't wanna reinstall it either."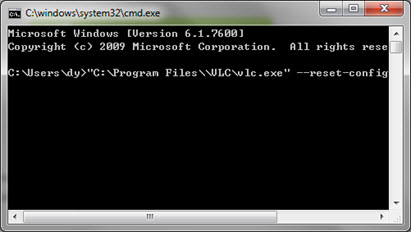 A: If you don't want to uninstall and reinstall VLC, then
1. Open the terminal window on Mac or cmd on Windows -> do "sudo rm ~/.config/vlc/vlcrc" -> close the window -> restart VLC
2. Or go to Start menu -> type in "cmd" in the search box and press "Enter" -> run the command "vlc --reset-config" as "C:\Program Files\VideoLAN\VLC\vlc.exe" --reset-config --reset-plugins-cache vlc://quit
3. Directly add "--reset-config" to VLC shortcut: Right click VLC on your desktop -> click Properties -> then Shrotcut -> add "--reset-config" at the end of the text of Target.
4. If you don't care about the complicated process, instead of "--reset-config", you can reset VLC to default by: open VLC -> go to Tools -> Preferences -> Reset Preferences -> Save -> and then restart VLC. >> VLC setup guide.
Related Searches: VLC 64 Bit Download Free, Download VLC for iOS, Best 5 VLC for Android Alternatives
"vlc --reset-config" can also be used to fix the following VLC errors:
1. Video doesn't scale to full screen view.
2. Your VLC player is not responding at all. You can open it through terminal and VLC works fine, but if you close the terminal, VLC closes automatically.
3. There is no video/audio output when you play videos with VLC. Using "vlc --reset-config" would be the easiest way out.
4. Unable to switch subtitle and audio language in VLC via menu.
5. As to "H.264/AVC or MKV videos files won't play" problem. Exerting "vlc --reset-config" may not work here. Try to fix the broken files (solutions to fix VLC play MKV error) or turn to some great VLC player alternatives, like 5KPlayer.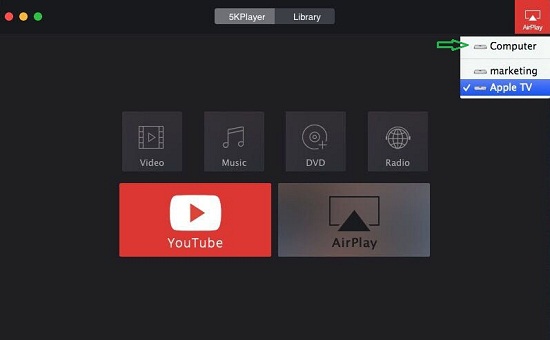 Best Free VLC Player Alternative
5KPlayer, recently rising to fame for being free and coming with multi-functions, should be a best VLC player alternative, if "vlc --reset-config" cannot fix your VLC errors. Surprisingly, 5KPlayer enables its users to play almost all video files (MP4, FLV, MKV, H.264, AVCHD, etc), download and convert online videos from nearly 300 websites (YouTube, Vimeo, etc) and AirPlay video/music among PC, Mac, iPhone, iPad and Apple TV.
How to Stream Video/Audio via AirPlay with 5KPlayer
Free Download 5KPlayer on Windows
Free Download 5KPlayer on Mac
Step 1: Take streaming video from Mac to Apple TV as an example. Make sure the two are connected to the same WiFi.
Step 2: Open this VLC player alternative, start playing videos on Mac, click "AirPlay" button on 5KPlayer and select "Apple TV".
Step 3: Wait seconds and the AirPlay would begin.
Still have trouble about how to reset VLC to default by "vlc --reset-config"? Please feel free to Email Us >>
Best VLC Player Alternative - 5KPlayer
* Play all video audio files like MKV, MP4, AVI, WMV, MOV, MP3, AAC, AC3, FLAC, etc.
* Play any regular and copy-protected DVD discs, ISO image files and DVD folders.

* Free download videos music from 1000+ video sites incl. YouTube, Facebook, etc.
* AirPlay streaming video audio from iOS/PC/Mac to PC/Mac, etc.