Best Video Compression Software to Reduce File Size by up to 90%
What's video compression? Generally speaking, it's a process of encoding a video file in such a way that it consumes less space than the original file and is easier to transmit over the network/Internet. With the advent of 4K video era and the increasing demands for 4K usage, video compression has become an inevitable topic. For that, users are starved for a piece of decent video shrinking software to reduce file size without losing quality.
Top Recommended Video Compression Software (40%~90% Smaller & 98% Quality Reserved)
WinX Video Converter Deluxe - Compress MP4, MKV, MOV, MTS, AVI, iPhone, GoPro, Drone videos to smaller file size for faster uploading to YouTube, Instagram, FB, sending via Email, transferring to mobile devices, and storing in storage devices with less space occupation.
As for the means, it never lets you down! Reduce video (MP4) to HEVC codec with 64% bit rate reduction for 4K resolution, 62% off for 1080p, 56% off for 720p. That's all? Of course not. To further make video smaller, it lets you lower 4K 2160p to 1080p/720p, change CBR to VBR, frame rate 60FPS to 30FPS and cut off clips from video to shorten video length.
High Quality Engine is built to guarantee minimum quality degradation (roughly 2% quality loss) and GPU (Intel QSV/AMD/Nvidia) hardware acceleration is here to make hi-def 8K/4K/2K video compression smooth and fast on your PC without eating up your CPU or crashing laptop.
Part 1: List of Best 3 Video Compression Software
When it comes to shrink video files, you should firstly download video compression software. However, not all video compressors are suitable for you. For novices, a simple-to-operate utility is more suitable for them, while the professionals can choose a relatively complicated and powerful one. Given that, what's the best software to reduce video size?
Firstly, a great video compression tool is decided by many factors, including supported OS, acceptable input sources, support output file formats, compression ratio, output quality, available video audio parameter settings, help and support, usability and stability, speed, etc. Among all these, compression ratio and output quality are undoubtedly two of crucial importance. Taking all the things into consideration, we have picked out 3 best video compressors for PC/Mac.
1. WinX HD Video Converter Deluxe
Input and output (370+ codecs supported! Compress MP4, multi-track MKV, M2TS, AVI, WMV, MOV to HEVC, H264, VP8, WMV... You can make MP4 video even smaller soon since this tool will get updated with latest AV1 codec in its next version. Coming soon!
40%-90% compression ratio. With a combination of intraframe and interframe coding algorithms, as well as advanced entropy encoding, it maximumly reduces (4K 2160p) video size by up to 90% and downsizes video from GB to MB without visual quality loss.
Lower parameters. Higher parameters bring larger size. Properly lower bit rate (CBR to VBR), frame rate 60FPS to 30FPS, 4K to 1080p..
Give your audience video highlights! Enable "Trim" to cut off unnecessary clips to keep the essence as well as shrink your video size!
Fast high quality compression speed. It is able to cut down video size at super fast speed, owing to the unique support for level-3 hardware acceleration. It utilizes Intel QSV, NVIDIA CUDA/NVENC and AMD VCE to boost the speed of decoding and re-encoding.
The High Quality Engine and "Yadif Double Frames" De-interlacing Engine can help keep the best balance between file size and quality.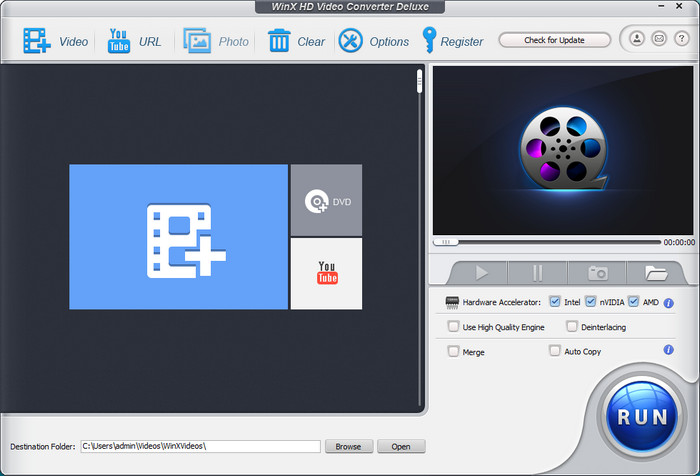 2. HandBrake
Free and clean. HandBrake is an open-source program with regular updates. It is free and safe to use. No adware and the like.
Compatible with multiple platforms. This tool can be used on Windows, Mac, and also Linux.
Read any video you import. HandBrake allows you to load videos in virtually all formats and transcode to MKV or MP4 with H.264, H.265, MPEG-2, MPEG-4, VP8, VP9 and Theora as video encoding format. And there are many premade presets and it permits you to create a new preset based on your own needs.
Provide rich setting options. It makes users have a full control over video dimensions, codec, frame rate, bitrate, quality and so much more. But if you're a beginner, it may be complicated for you.
Hardware acceleration supported. Like WinX HD Video Converter Deluxe, HandBrake also supports Intel, NVIDIA, and AMD hardware acceleration to improve video processing speed.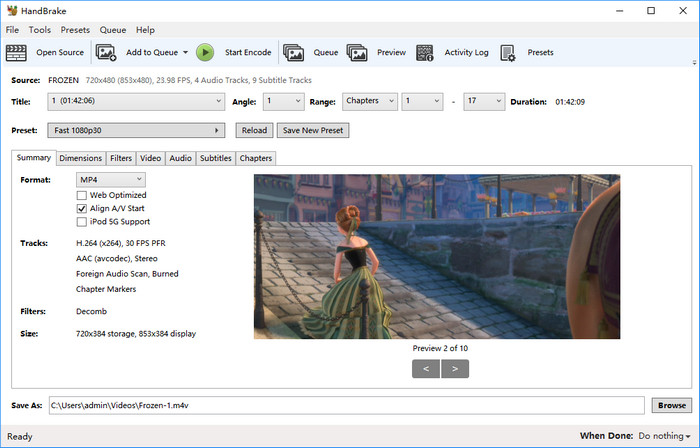 3. Freemake Video Converter
Support a large number of video formats. Freemake Video Converter supports a variety of formats, either popular or rare. It also has profiles for some old-fashioned devices like iPhone 5S and iPad 3.
Allow video audio parameter settings. After you choose an output format, you will find a gear icon which allows you to adjust frame size, frame rate, bitrate, and more to compress video.
Cut video to reduce video size. This is also a good way to shrink video and Freemake comes with such a feature.
Free of charge. Freemake, as its name indicates, is free to use. We can use it to free convert and compress a video. But what we should know is that some features are inaccessible unless we upgrade it. We can find ads which lead us to buy mega pack in a few interfaces.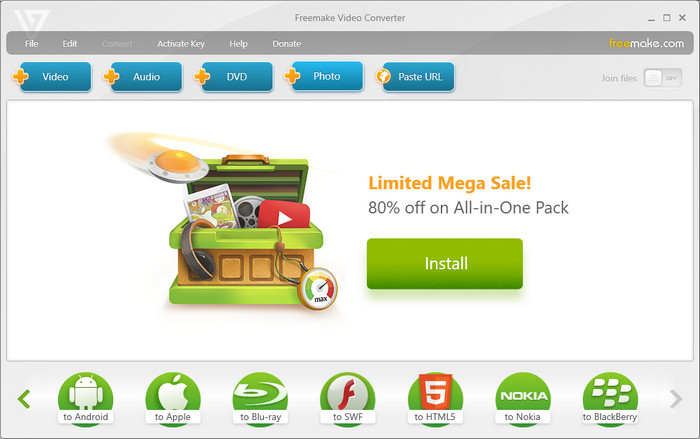 Part 2: How to Compress Video Files with Best HD Video Compression Software?
Free download and install the compression software on PC ( Windows 10, 8.1, 8, 7, XP)
Free download the video compressor on macOS (macOS 11 Big Sur and earlier)
Before you start, you should know that the File Size, Bitrate, Duration, Video Format, Video Bitrate, Audio Format, Audio Bitrate, Video Dimension (Width/Height) will all affect the final video size. You can change any of them to reduce video size.
Step 1. Load (MP4) video
Click + Video to browse and select MP4 videos for compressing. This (MP4) video downscaler enables you to input an entire list of video files for batch shrinking with little effort.
Step 2. Choose output file format
This video shrinker comes with hundreds of output profiles for different compression needs. You can compress videos for email, Whatsapp, other instant messagers, shrink videos for iPhone, iPad, Android, reduce video size to meet the requirements of YouTube, Facebook, convert video from MKV to MP4, etc.
MP4 is the most commonly used output format thanks to its high compression rate, good video quality and wide compatibility.
HEVC/H.265, the successor of H.264 codec, is also available to choose. It can help reduce file size without sacrificing video quality.
To compress videos for uploading on YouTube and the like, you can choose output like FLV from category "Web Video Profile".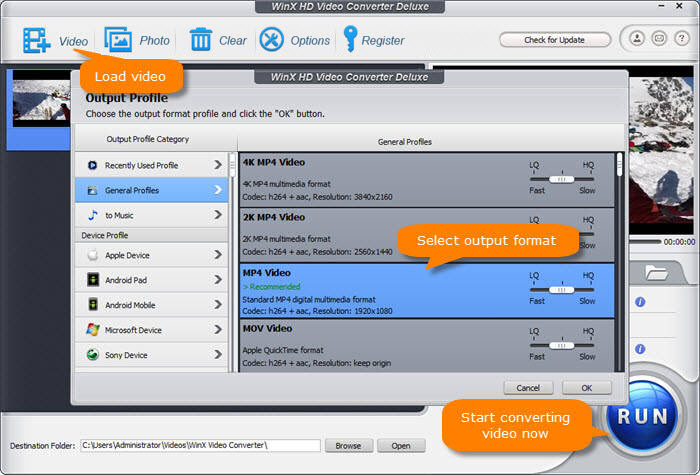 Step 3. Set parameters to compress video.
A video file size is determined by file format, video resolution, bit rate and more. To get a smaller result, you can make use of the compression options provided by it. You can do as follows to make the file size smaller.
Lower the bit rate 20-50% of the default (don't lower it too much). File size = Bit rate x duration, so Bit rate is an important factor of video file size. You can lower the video audio bit rate to reach small files.
Change video resolution. 640 x 480 is a good option, because it is fit for iPhone, iPad, Android mobile, Microsoft device, and video website like YouTube, Facebook, Vimeo and more. By the way, many users also compress 4K to 1080p for flawlessly playback on desktops.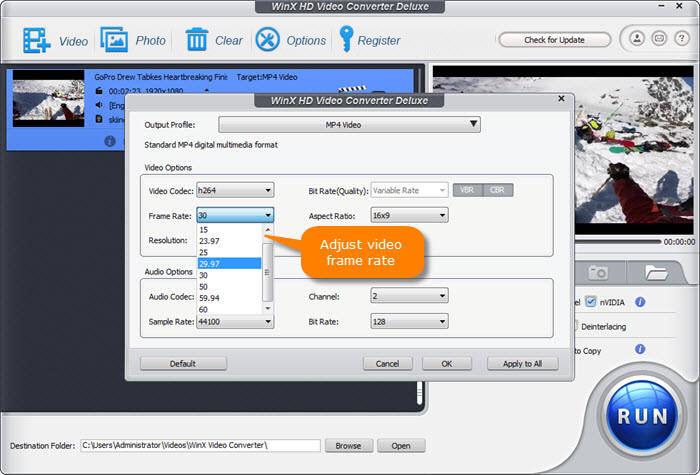 Step 4: Trim and Crop
Make video smaller by trimming. If you only need part of the video, just trim it and get a small video. This video compression software allows you to trim video by setting start time and end time. You can find the Trim option after clicking Edit button.
Resize video by cropping. In front of Trim tab, there's a tab named Crop & Expand. Click that tab, check Enable Crop, and then you can drag the border in preview window or press the up and down arrows of Left, Width, Top, and Height to cut off unwanted area. Step 5. Begin compressing video.
Hit RUN button at the lower right corner of the interface and the tool's compression engine will go into action. You can estimate the left time based on the progress bar.
Part 3: Video Tutorial of How to Compress Video without Losing Quality
Download this all-sided video compressor/converter now!
WinX Video Converter Deluxe can compress any SD/HD/4K UHD/8K videos to MP4, MOV, FLV, and more videos, as well as iPhone 12/Pro, iPad Air 4, iPad 7, Samsung Galaxy S20, Huawei, Google Nexus, Sony Xperia, Windows Phone, Surface Pro, PS3/4/5, Xbox One/360 etc, for a convenient video movie playback, uploading, downloading, or storage. Worry about quality loss? Your concern is redundant after using it!