> Resource > Convert Videos > Video Compression Software
2018 Best Video Compression Software for PC and Mac to Reduce File Size for Any Purposes
The easiest and fastest HD video compression software will be introduced to Windows (10, 8.1, 8, 7, etc.) and Mac users to shrink videos for any purposes.
Video compression software is awfully useful when you need to reduce video file size for uploading online (YouTube, Facebook, etc.), sending to your friends, playing on mobiles, saving space in your storage devices, or other purposes. So, which is the best and easiest video compression software for both the beginners and professionals? Get the answer here. In this article you will get the best video compressor for Windows (10, 8.1, 8, 7, etc.) and Mac OS, and also the step-by-step guide to losslessly compress 4K/HD (MKV, M2TS, AVCHD, MP4, AVI, WMV, MOV, etc.) videos to small files.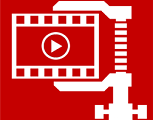 Easy-to-use Video Compress Software for PC and Mac
WinX HD Video Converter Deluxe - Compress or convert HD (MKV, M2TS, H.265/HEVC, AVCHD, MP4, MOV, WMV, FLV, etc.)/4K UHD videos with large size to small files for uploading to YouTube, Facebook, and more websites, transferring to iPhone iPad Android mobiles, and storing in storage devices with less space occupation.


Now jump to:
Best Video Compression Software
How to Compress Videos on PC and Mac?
Best Video Compression Software for Windows (10) and Mac
When it comes to shrink video files, you should firstly download video compression software. However, not all video compressors are suitable for you. For novices, they should choose simple-to-operate video file compression software, while the professionals can choose a relatively complicated one. Moreover, you should judge a video compressor software by many factors, including supported OS, acceptable input source, support output file format/quality, available video audio parameter setting, help and support, usability and stability, video compression speed, etc. Taking all the things into consideration, we have picked out the best video compressor for PC/Mac – WinX HD Video Converter Deluxe.
Why WinX HD Video Converter Deluxe Is the First-class Video Compressor for PC and Mac?
1. Coming with 370+ video audio codecs, it supports virtually all video file formats as the input and output. That is to say, it enables you to compress HD MKV, M2TS, TS, MOD, AVCHD, MP4, AVI, WMV, MOV and more videos to any file formats as you like.
2. Compressing 4K UHD/1080p HD videos is badly easy. Nowadays, it is not so difficult for common people to get 4K content. According to a post "Where to find 4k & HDR Movies and Content" in Rtings.com, we can get UHD content from YouTube, Netflix and so on. Plus, 4K cameras have already come out to help shoot super clear videos. We love those 4K videos, but we need to compress them some day for certain reason. Besides 4K, it can also compress/convert 8K videos.
3. With optimized device presets, it is available to compress videos to iPhone 6S/7/8/X, iPad, Android, Sony, Microsoft and other mobiles directly.
4. It offers all-around video audio parameter settings for video compression, such as, bit rate, frame rate, resolution, sample rate, etc.
5. It is able to compress videos at super fast speed, owing to the support for hardware acceleration. It utilizes Intel QSV and NVIDIA CUDA/NVENC to boost conversion and compression speed maximally.
6. The High Quality Engine can help keep the best balance between file size and video audio quality while compressing video files.
Simply put, WinX HD Video Converter Deluxe meets all the criteria for top video compression software.
People also read: Best MP4 Compressor for Windows 10 - Reduce MP4 on Windows 10 | Best Free Video Compressor for Windows 7 - Compress 8K/4K/HD Videos
How to Compress Video Files with This Best HD Video Compression Software?
Before learning video compression guide, you're supposed to download and install the video compression software on your PC or Mac. It is fully compatible with Windows 10, 8.1, 8, 7, XP, macOS (High) Sierra, Mac OS X 10.11 El Capitan, etc. To compress videos on Mac, please turn to its Mac version – WinX HD Video Converter for Mac.
Step 1. Load the video you want to compress.
After launching this video compressor, you just need to click "+ Video" to browse and select any video file for compressing.
Tips: This video compression software enables you to input an entire list of video files for batch compressing with little effort.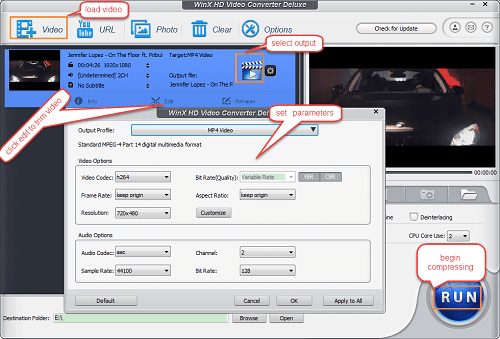 Step 2. Choose output file format for the compressed video.
This video shrinker comes with hundreds of output profiles to satisfy all your compression needs. You can compress videos for playback on iPhone, iPad, Android Samsung Galaxy S8, reduce video size to meet the requirements of YouTube, Facebook, convert video from MKV to MP4, etc.
MP4 is the most commonly used output format thanks to its high compression rate, good video quality and wide compatibility. WinX HD Video Converter offers MP4 format with H.264 video codec and AAC audio codec, the most widely used video audio codecs supported by most devices and players.
HEVC/H.265, the successor of H.264 codec, is also available to choose. It can help reduce file size without sacrificing video quality.
Tips: To compress videos for uploading on YouTube and the like, you can choose output like FLV from category "Web Video Profile".
Step 3. Set parameters to compress video.
A video file size is determined by file format, video resolution, bit rate and more. To get a smaller result, you can make use of the compression options provided by this video compression software. You can do as follows to reduce the file size.
* Lower the bit rate 20-50% of the default. Bit rate is an important factor of video file size. You can lower the video audio bit rate to reach small files.
* Change video resolution. 640 x 480 is a good option, because it is fit for iPhone, iPad, Android mobile, Microsoft device, and video website like YouTube, Facebook, Vimeo and more.
* Move the slidebar of LQ-HQ. You can adjust the slider to lower quality to get a small file, if you don't mind some artifacts in the final compression.
* Compress the video by trimming. If you only need part of the video, just trim it and get a small video. This video compression software allows you to trim video by setting start time and end time. You can find the Trim option after clicking "Edit" button.
Step 4. Begin compressing video.
After pressing "RUN" in the lower right corner of the interface, it will come to the process of video compression. You can estimate the left time based on the progress bar.
Still have trouble on how to use this video compression software, just Mail Us >>

Save big on this all-sided video compressor/converter now!
WinX HD Video Converter Deluxe can convert/compress any SD/HD/4K UHD/8K videos to MP4, MOV, FLV, and more videos, as well as iPhone 8/7/6(S)/ Plus, iPad Air 2/Mini 3/4, Samsung Galaxy S8/S7/Edge, Google Nexus, Sony Xperia, Windows Phone, Surface Pro, PS3/4, Xbox One/360 etc, for a convenient video movie playback/uploading/downloading/storage.
Time-limited special offer begins. It takes $14 OFF the usual price. Purchase benifits include lifetime free upgrade, free tech support and 30-day money back guarantee.