HandBrake Batch Convert Tutorial – How to Batch Decode Videos
HandBrake is widely used to convert videos and rip DVDs on Windows, Mac and Linux. But batch video conversion isn't supported by HandBrake until the release of HandBrake 0.9.5. In the old days, HandBrake users have to load and convert videos one by one. It's really troublesome. Today, we'll show you how to batch convert videos with HandBrake in detail.
Table of Contents
An Easier Way to Batch Convert Video to Format (More than MKV/MP4)?
HandBrake isn't intuitive to batch convert video and sometimes isn't working. So, you may need an easier solution. WinX HD Video Converter Deluxe can make batch video conversion much easier. With this tool, users just need to drag and drop multiple files, choose a premade profile, and hit RUN to start converting videos to MKV, MP4, MOV, AVI, FLV, SWF, WMV, H265, AVCHD, and other formats. More editing features are also available!
For Windows and Mac only. If you are a mobile user, please click here.
Part 1. How to Batch Convert Videos Using HandBrake
HandBrake 0.9.5 or above version is available to scan multiple files at once, but not including multiple VIDEO_TS folders or image files. You're only allowed to convert a batch of video files with certain HandBrake versions. Before batching video conversion, please make sure you are running on HandBrake 0.9.5 or later.
Step 1. Launch HandBrake and click "Folder (Batch Scan)" to select the folder that stores all the video files you want to convert in batch.
That is to say, you should put all videos ready for converting in one folder in advance.
Tips
If you want to use HandBrake to batch convert VIDEO_TS folder, you should click Folder (Batch Scan) to select target VIDEO_TS folder.
If you want to use HandBrake to batch convert titles in a DVD disc, you should insert the disc into DVD drive and select it.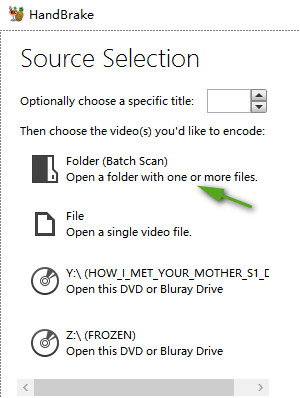 Step 2. Click "Tools-> Preferences", navigate to "Output Files" and click "Browse" to choose a folder for saving output files. After finishing, please click "< Back" to go back to main window. If you don't do as instructed, you will get error message "You must turn on automatic file naming in preferences before you can add to queue" when you try to batch convert.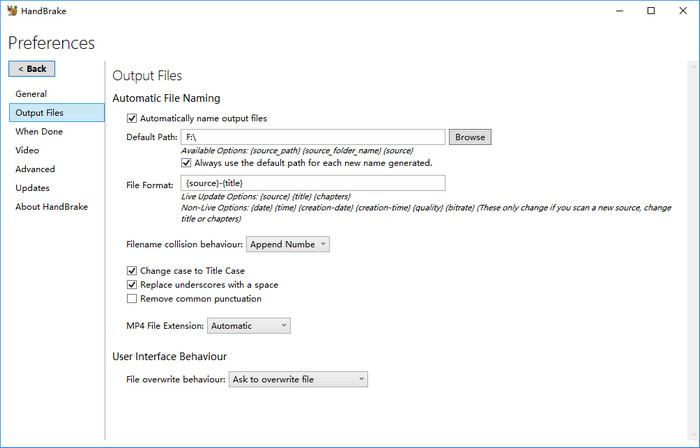 Step 3. Choose output presets after file scanning.
HandBrake already provides some presets for you. Certainly, you are also allowed to set specific output presets manually.
Additionally, you can go to Dimensions, Subtitles, and other tabs to make adjustments based on your own needs.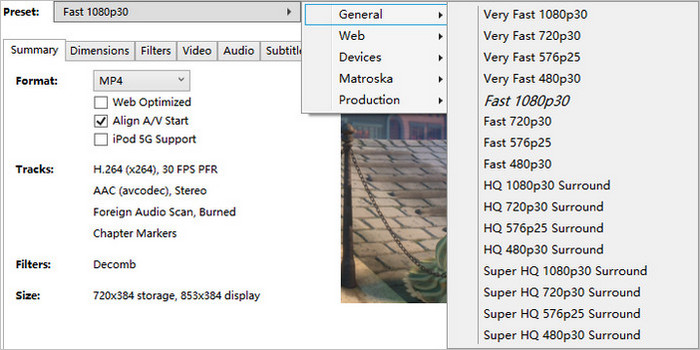 Step 4. Hit the down arrow beside "Add to Queue" and then choose "Add Selection" or "Add All" to add multiple video files to the queue for batch converting on HandBrake. Once added, you will see a number beside "Queue". Step 5. When you click "Queue", you'll notice that there are how many jobs pending for batch conversion. In this step, you can set "When Done", edit certain job or remove a video. If everything is ok, just click "Start Queue" button to begin processing HandBrake batch video converting.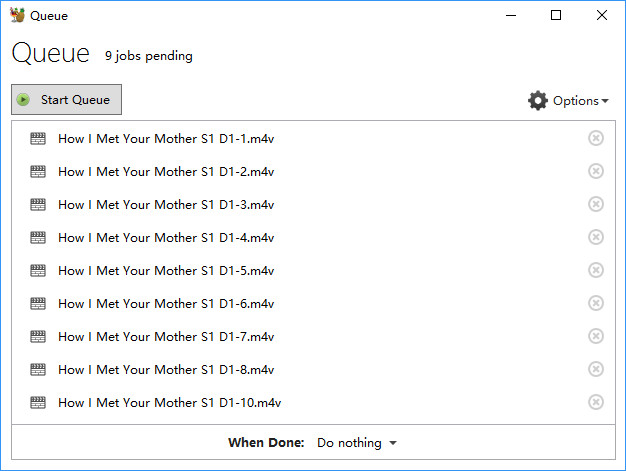 Part 2. Handbrake Batch Convert Errors
However, you may also encounter some troubles while using HandBrake to convert videos in batches, say, unknown errors while adding to queue, sudden crash during batch converting, badly slow video conversion or cannot open the files converted by HandBrake, etc.
Q1:"If I load a folder with 2 or more files to do a batch convert, the program will close/crash, when I start the conversion...Batch convert crashes the program. This started about a month ago, and every update has the same result.
Q2:"As you've discovered, using the queue for large batch jobs is not convenient."
Q3: "I can't use the queue function at all, so it's just not that the error appears. Any other ideas how to fix this? I would be glad if I didn't have to convert my movies one by one."
Recently, one of the most commonly used browsers Chrome will cause Handbrake slow hevc encoding and even crashes. Chrome locks VideoToolBox, the framework empowering HandBrake and other video software to get access to hardware-based encoders and decoders . If HandBrake is unable to invoke this framework, it can only give super slow batch video conversion with high CPU usage.
If you are still struggling with HandBrake a lot, you'd better choose a HandBrake alternative which will not let you Google answers to questions like "how to batch convert", "how to built iPhone presets", "how to fix HandBrake errors" etc.
Part 3. Best HandBrake Alternative to Batch Convert ANY Video
Here is WinX HD Video Converter Deluxe, one of the best HandBrake alternatives. It is highly recommended due to many aspects.
Preferences setting is not required for batch converting;
You don't need to create presets manually, because this batch video converter comes with hundreds of multimedia formats MP4, MKV, AVI ,WMV, MOV, etc. as well as devices profiles including popular iPhone, iPad, Android models, etc;
Besides acting as a video converter, it is also a video editor, free video downloader, and screen/webcam recorder.
Everyone including non-professionals can perform batch converting without any hassle.
Thanks to High Quality Engine, quality of the converted videos will be perfectly maintained to achieve a balance with file size, rooting out errors like Handbrake output file larger than input etc. Compared with HandBrake batch conversion, it delivers faster converting speed due to the support for the world's most advanced level-3 hardware acceleration independent from VideoToolBox. You can enjoy a super smooth performance of batch video conversion with WinX HD Video Converter Deluxe even though other programs or browsers locks VideoToolBox.
Guide to use the HandBrake alternative to batch convert videos
Navigate to Video control and click "+ Video" or drag and drop a dozens of videos into it.
Choose output profile.
Set destination folder by clicking "Browse".
Hit "RUN" to begin converting videos in batch mode.