HandBrake Tutorial: Solve HandBrake A/V out of Sync Error
Handbrake is a popular tool for video/DVD conversion, but sometimes the Handbrake output video and audio is out of sync, just like below:
"I'm trying to use handbrake to copy some DVD discs that I've got. Everything runs normally, but when I open the completed files, the audio is a second or more after the corresponding part of the video. I've searched for things like 'audio sync' and 'lip sync', but I haven't found anything that helps."
Have A/V Desync Issue? Solve it from the Root - DRM Protected DVDs!
HandBrake can NOT rip copyright protected (DRM) DVDs, esp. the latest released DVDs or Sony/Disney DVDs even under the assistance of libdvdcss library. That's the root to cause your output file with AV desync or lip sync error. To fix this error permanently, start with the source - DVD disc. And use a solid DVD ripper to 100% handle encrypted DVDs. Thus, you can avoid AV desync issue or incomplete rips.
Give a shot on WinX DVD Ripper Platinum, best HandBrake alternative to defeat whatever DRM protections from DVD, be it CSS, Region Code 1-6, RCE, UOPs, Sony ARccOS, Disney X-project, etc. so that you can easily rip 99-title DVDs, oversized 75GB disc, bad sector DVD, unplayable/damaged DVD, DVD with fake playlists, workout/AV DVD without video audio out of sync, output file only 4Mb, distorted image...
Why HandBrake Output Video/Audio out of Sync? How to Solve It?
HandBrake audio out of sync issue may happen when users convert DVD to MP4/MKV, or convert videos to MP4/MKV. And the reasons for MP4/MKV audio out of sync problem may lie in following cases:
The decoder/playback device.
Sometimes Windows Media Player acts funny and so does QuickTime when it's choking. Even VLC will hiccup and sometimes go out of sync. You have to understand, H.264 is a CPU intensive codec even in playback. So, try another powerful player like 5KPlayer to see if the audio is still out of the sync with the video from Handbrake.
A system reboot is necessary.
When processing video editing, encoding, or downloading, the system goes all wacky. This has an effect on playback programs, sometimes making the video go out of sync with the audio.
Maybe you're encoding with intense features.
High refs, b-pyramids, 8x8 and even CABAC, can slow down the video behind the audio. Thus, a slower machine is likely to encounter audio out of sync issue.
Are you using Xvid? Then yes, you may have problems then.
Older ASP codecs like DivX and Xvid and the ancient .avi container they use are notorious with A/V sync issues when encoding MPEG-2 content.
Framerate need to be adjusted.
Solution 1. Make sure to use "Constant Framerate".
By default, "Variable Framerate" is checked when you use HandBrake to encode videos or rip DVDs. But that may cause issues with sync, especially when demuxing the file. So specify "Constant Framerate" following Output Settings -> Video -> Framerate(FPS), preview it and see if the video matches the audio.
Solution 2. Change framerate.
Open HandBrake -> load the file with video audio out of sync problem by clicking "Source" and then "Open File" -> press "Video" tab under Output Settings, and then specify a proper framerate from the drop-down list. And then click "Preview" on the navigation bar, and check if the audio out of sync problem has been fixed. If not, try another framerate.
Also check the best Handbrake audio settings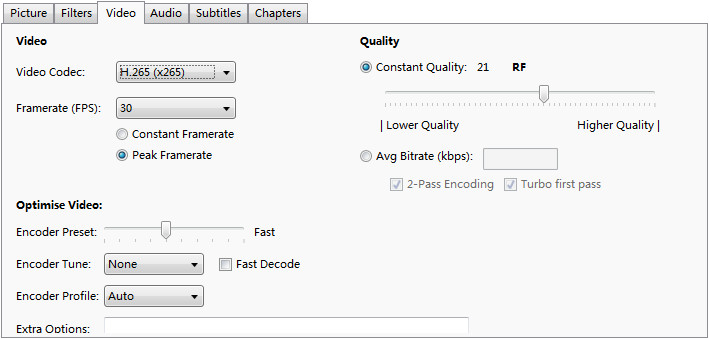 Solution 3. Try HandBrake alternative if all the solutions are not workable.
HandBrake video audio desynchrony problem is possible to be fixed by resetting framerate. However, some users point out that HandBrake output video plays fine on PC, but after being transferred to Android, iPhone or other device, A/V doesn't match up properly again. If this is the case, you can find a HandBrake alternative to solve Handbrake output video/audio out of sync issue.
HandBrake alternative for video conversion - WinX HD Video Converter Deluxe
WinX HD Video Converter Deluxe is a professional yet easy- to-use video converter, specially designed to convert all popular file types to the format/device you desire. You can convert videos to MP4, MKV, AVI, WMV, MOV, FLV, 3GP, iPhone, iPad, Apple TV, Android Samsung, HTC, Google, Amazon, Sony, Microsoft, etc. without audio out of sync with the video issue. No need to set framerate or do other settings. Everything has been optimized. The output video can be smoothly played on any device.