How to Solve HandBrake Stuck at 100%/Stops After 1 Second?
"Handbrake never seems to finish compressing a dvd. It just stays Handbrake Stuck at 100%, eta 000000... but if i try to quit it asks if i would like to cancel encoding, it says there is an error trying to open it when i try to open the file."
Besides HandBrake stuck at 100%, you may also encounter errors like HandBrake reaches 50%, HandBrake finishes 45%, HandBrake freezes around 97-99% complete and HandBrake thinks for 1 second then says 'Queue Finishes'. Actually, HandBrake stuck problem is very common when ripping DVDs or convert heavy files with HandBrake. So, this article will give you a clear context about the reasons and solutions.
Table of Contents
Part 1. Reasons to HandBrake Never Finishes or Stops after 1 Second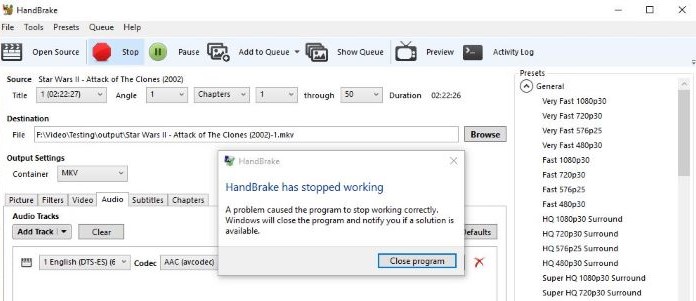 1. From Handbrake developer's own experience, tempered by what have been seeing reported here in the forums, all can say is that the pause is usually associated with particular discs, and that lower-end machines are more likely to be delayed at the end like this. Testing Mac is PowerBook G4 1Ghz with 1GB of memory was delayed often, but PowerMac dual 2Ghz with 2GB of memory rarely is.
2. There have been times when returned to faster machine and found it paused at the end of a conversion, and "top -o cpu" didn't list HandBrake at the top. In this case, all you needed to do was to access the disk where the converted movie was stored, and the process completed. This has happened maybe twice out of hundreds of conversions.
3. Canceling the conversion at the nearly end point is virtually guaranteed to result in a broken file. It's possible to get lucky, but if you've spent hours converting so far, why risk throwing it all away? So, do not stop HandBrake when it stuck at the end conversion immediately.
4. Give Handbrake more time, and it will almost always finish. Handbrake is always thirsty time for ripping DVD and converting videos. That time to wait after passing 100% may be as long as 5 minutes sometimes. It depends on the length of your DVD disc. A 30-minute homemade DVD may say DONE in only a few seconds, while a 2-hour disc could take you 10 minutes or longer.
To sum up, generally, HandBrake really isn't "stuck" at 100% point of conversion, it just isn't displaying the last step(s) it needs to finish before the conversion is complete. But if you can not ensure that Handbrake will take several seconds for DVD scanning and hours to finish the encode, even take minutes to process the final step, and, you can give Handbrake alternative software a try.
Part 2. Solve HandBrake Stuck at 100% When Ripping DVDs
If you have tried the suggestions like "switch to a 1-pass encode", "force quit out of handbrake", "encode to an internal drive", etc. other people put forward in the forums but still have HandBrake stuck errors. You need HandBrake alternative WinX DVD Ripper Platinum to rip DVDs.
WinX DVD Ripper Platinum - Your permanent solution to slove HandBrake freezes at the end of the files or stops encoding early while ripping DVDs. It supports any kinds of DVDs, digitizes DVDs to any format and retains the best quality. Besides, you can finish it even within 5 minutes fast with hardware acceleration enabled.
Step 1: Free download WinX DVD Ripper Platinum and launch it. Then, insert your DVD disc into your internal/external DVD drive.
Step 2: Click "DVD Disc" icon on the main UI to import your disc inserted just now.
Step 3: When the Output Profile window appears, just choose an output format like MP4 you want to save your DVD disc to.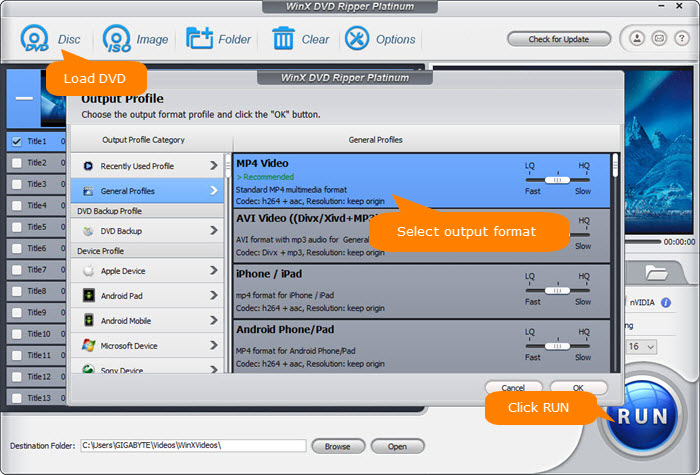 Step 4: Click "Browse" button to specify the output folder path if necessary. Then tap "RUN" button to start ripping DVD now.
Part 3. Solve HandBrake Stuck at 100% When Converting Videos
"Trying to convert a bunch of AVI files into MP4 files to save about 99% on file size, yet Handbrake keeps stalling at 100% and never finishes. Anyone else had this problem, and how can I fix it?"
If you have the same stuck problem when converting videos with HandBrake, WinX Video Converter Deluxe is your go-to solution. It is a 4K video converter capable of transcoding between any formats like MP4, MKV, AVI, FLV, WMV, etc., compress 4K to 1080p, cut and merge clips, download 4K videos, etc.
Step 1: Free download WinX Video Converter Deluxe and launch it on your computer.
Step 2: Click the "+ Video" icon to add the video you want to convert.
Step 3: When the Output Profile window appears, just choose the media format you need.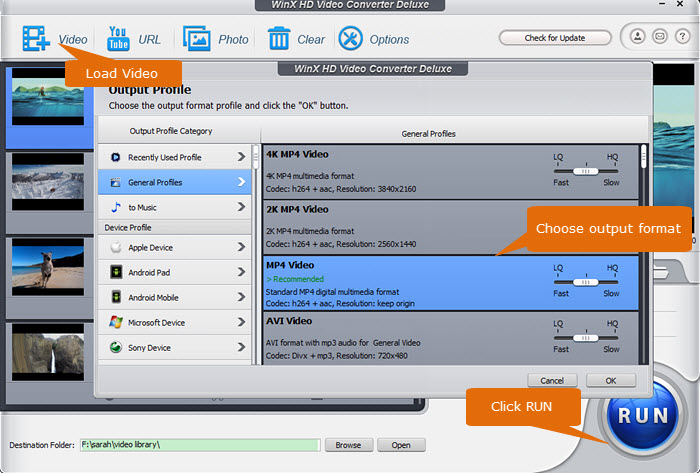 Step 4: Click "Browse" button to choose the destination folder to save your converted file. Then hit "RUN" button to start converting video.