Top 3 Ways to Open and Play WebM Files on PC, Mac, and iPhone
There is a high chance that you will come across WebM files while saving videos from the internet, especially the HD and 4K videos. This video format is popular on YouTube and other streaming platforms, while it is not as famous as MP4, and it is often a puzzle to find a way to open WebM files.
Generally, VLC is the best way to open and play webm file. In addition, you can also rely on Windows Media Player, DivX Player, or take advantages of media codecs. Besides, it is also feasible to play WebM files by converting them to MP4 format. Before learning about how to open WebM files, let's understand what a WebM file is.
Part 1. What Is a WebM File?
A WebM video file is an open, royalty-free alternative to the patented H.264 and H.265. Contrary to popular belief, WebM file is not an audio or video compression format, instead it is a multimedia container format. With a container structure similar to MKV format, WebM incorporates both audio and video data into a single file - even if those elements use different types of encoding. For example, you can have a WebM file that contains AV1, VP9, or VP8 video and something like Vorbis or Opus for audio.
Since WebM is designed for sharing video on the web, files in the format can be embedded in web pages using HTML5 video tag. So it is not surprising to find that YouTube uses WebM record design in its HTML5 player. Modern web browsers like Edge, FireFox and Chrome include built-in support for WebM. However, you cannot open WebM files in Internet Explorer or Safari unless you install an external WebM plug-in. In the following section, you will learn how to play WebM files without any problem.
Part 2. How Can I Open WebM Files?
Because WebM isn't an industry standard but just made for HTML5, not all devices support it - even though support has grown rapidly. You have some options for playing WebM files: using a WebM compatible media player, resorting to proper codecs for the media player you prefer, or directly converting WebM to a more compatible MP4 format. Scroll down.
Option 1. with VLC Media Player.
When it comes to playing WebM files using a media player, VLC is probably the no.1 choice, working with all operating systems - Windows, Mac, iOS, and Android. Without the need for installing anything else, you can directly open and view WebM files on your PC, Mac, iPhone, iPad, etc.
How to open WebM files with VLC?
Step 1. Download VLC media player from VLC official page, APP Store, or Google Store. Beware of going anywhere else, because there are a lot of crapware vendors that offer fake VLC download options. Then install the WebM player on your PC, Mac, iPhone, or Android as per your needs.
Step 2. Launch VLC. To be frank, VLC will include all supported video or audio codecs during the installation, so there isn't any problem playing WebM files.
Step 3. Drag and drop your WebM file to VLC.
Step 4. Click Play. Alternatively, you can right-click the WebM file > Open with > VLC Media Player, and watch it thereafter.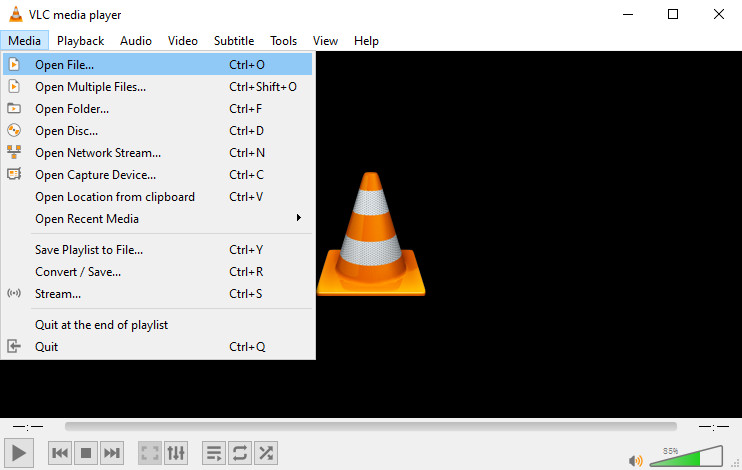 You can also go to Choose another app > VLC Media Player > enable the Always use this app to open .webm files option, in such a way to make VLC your default media player for opening and playing WebM files. Thereafter, you can double-click the source WebM file to have it open directly.
Note: VLC is sometimes mulfunctional. You may find that VLC won't play WebM files, there is no sound while playing WebM videos, or VLC just skipped or became choppy during playback. You can try some other helpful WebM players if VLC problems still exist.
Option 2. Download Codecs for PC and Mac.
If you prefer to use the naively built media player like Windows Media Player or QuickTime, which however doesn't support WebM by default, you will need to install additional codecs for help.
Explanatorily, a codec is a software program that can decompress or compress videos or other digital files. Frankly, almost all media players including VLC rely on media codecs to decode and play media files including WebM. With the media codec installed on your computer, you can therefore play WebM video on your PC or Mac using your favorite media player without format incompatibility problems. Besides, media codecs also enable you to recreate your video or audio file easily.
There are a wealth of free codecs online that you can use for your own purpose. For example, K-Lit Codec Pack and Media Player Codec Pack are two of the famous codec packs.
Note: You need to bear in mind malware or adware may be contained in codec packs and therefore endanger your computer. In the meantime, codec packs generally supporting almost all media files is a double-edge sword, which also means unnecessary media files are included and further steal your hard drive space. It's not advised to download the packs only for opening one WebM file.
Option 3. Convert WebM to MP4.
If you want to open WebM files with specific device or program that doesn't support the format and the above two options don't work for you, you can convert WebM to MP4 or other more widely accepted format by using a video converter tool, either desktop converter or online tool.
Since online tool takes a long time to upload, convert and finish the whole WebM conversion process, especially when the source file is large in size, it is still advised to resort to desktop converters for help, not only can them finish the transcoding task at a fast speed, but also make some edits before you play and share the converted WebM file.
Software like WinX HD Video Converter Deluxe can convert WebM to MP4, AVI, MKV, WMV, MOV, HEVC, and more without an error. Blessed by unique hardware acceleration tech, you can finish the WebM to MP4 conversion with drastically improved speed, without compromising any quality. You can follow the steps to learn to encode WebM video to a more compatible format here.
How to Convert WebM to MP4 or AVI with WinX HD Video Converter Deluxe?
Step 1. Download and install the WebM converter on your computer.
Step 2. Click the + Video button to load WebM file(s). Alternatively, you can drag and drop the file directly into the main interface.
Step 3. Once a preset profile window pops up, just choose a desired format you want to convert to. Profiles range from general PC format, general Mac format, web format, iPhone, iPad, Android, gaming system, etc. Preferably, you can choose MP4 H.264 for the optimal compatibility.
Step 4. Optionally, you can make some tweaks before converting WebM files. The program is built-in with an easy video editor that furnishes you with video trimming, cropping, merging, subtitling, and more.
Step 5. Click Browse to save the converted file in a destination folder and tap RUN to begin converting WebM file to MP4 or AVI, etc. After the conversion, you can open the converted WebM file on your computer, mobile, or any media player.
Related articles: Click more tools to convert WebM to MP4 >>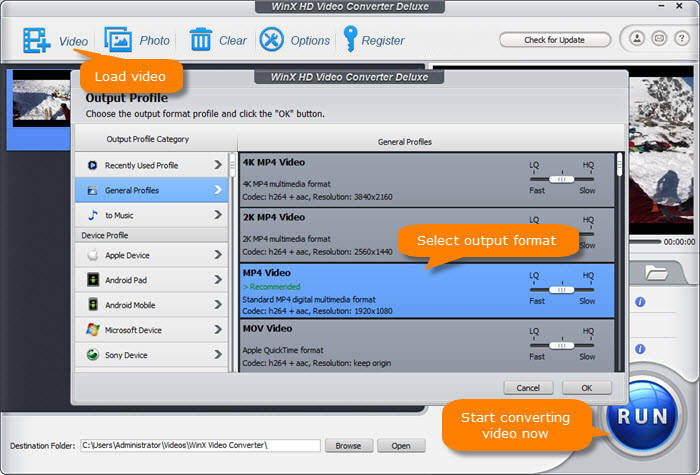 Part 3. Frequently Asked Questions
1. How to Play WebM on iPhone or iPad?
Apple's QuickTime or Safari doesn't have a codec that supports WebM video decoding on iPhone or iPad. You will need a third-party program to save you from your troubles. Except the above mentioned VLC for iOS device, you can also try PlayerXtreme Video Player, a multi-functional and high-performance media player that enables you to play video content in HD quality. Below are the steps about how to play WebM on iPhone or iPad.
Find the WebM file you want to view on iPhone, and open the URL in a new tab.
Tap the Open In link in Safari.
Select Open in PlayerXtreme.
Now you can open and play WebM video on iPhone.
Note: It takes a $3 in-app purchase to for direct URLs in Pro version.
2. How to Play WebM in Chrome or other Browser?
It's easy to watch WebM file in browsers like Chrome or Firefox. On top of that, we are happy to find Apple finally adds WebM video playback support to Safari if you've upgraded to macOS Big Sur 11.3. This means Safari can now play WebM videos on Mac. Here are the steps about how to open webm file in Chrome or other browsers?
Open Google Chrome, Firefox, Microsoft Edge, Opera, or Safari (WebM support is only available on macOS 11.3).
Click Ctrl+O on Windows PC or Cmd+O on macOS to open a file.
Navigate and double-click the WebM file. Your browser will start playing it.
Note: if your browser won't play the WebM file, try to update your browser. Chances of opening WebM files in ancient versions of web browsers are slim. WebM files are playable starting with Chrome 6, Opera 10.6, Firefox 4, and Internet Explorer 9 on account of the WebM for IE plug-in.