How to Free Convert WMV to MOV on Windows/Mac
Windows Media Video (wmv) is a type of compressed video file format developed by Microsoft and commonly used in a variety of Windows-based players. For its small file sizes with good compression, WMV is popular for web and Email video sharing. Therefore, there is a good chance that Mac users will receive and play WMV files on Mac.
However, since Windows Media Player stopped being developed for macOS and the Filp4Mac, an official QuickTime component from Windows to let users play WMV files on Mac QuickTime is not being sold anymore, users can no longer play WMV files on Mac directly. But you can convert WMV to MOV for QuickTime Mac easily.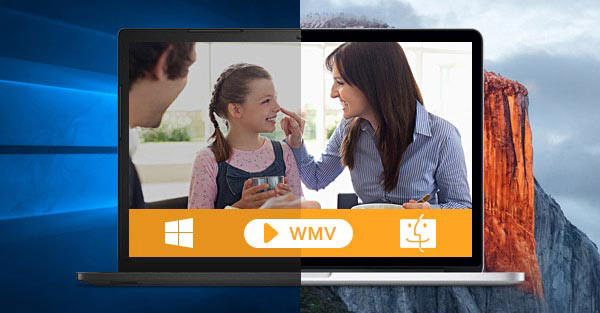 Way 1. Convert WMV to MOV Free using VLC on Windows/macOS
Everyone knows that VLC can play everything on PC, Mac, and other platforms. VLC Player can open and play WMV and MOV video files without DRM. The player also comes with a surprising video conversion feature, allowing you to convert WMV video files to MOV format for QuickTime, Mac, iPhone, iPad, other devices and applications. There are even features to let you adjust the basic video parameters. Here's how you can get started converting WMV videos to MOV using VLC Media Player on Windows (10/11)/macOS.
How do I convert WMV to MOV with VLC?
Step 1: Download and install the software on your computer if you haven't got it. Then run it. Open the Media dropdown list in the menu bar and click Convert / Save.
Step 2: Click the Add button and browse to the WMV files you want to convert. You can click the Add button to load multiple videos if needed. Then click the Convert / Save button. Step 3: Next to Profile, click the Settings icon and under the Encapsulation, select MP4/MOV as the video format.
Step 4: Under Destination click the Browse button and choose a location to save the file, and name the file. Click the Start button and VLC will start to convert WMV to MOV videos.
Related reading: how to convert MOV to MP4 using VLC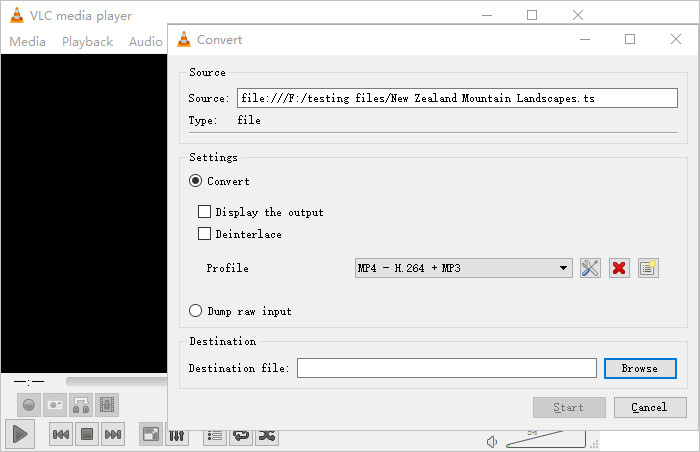 Way 2. Free Convert WMV to MOV using AVC
Any Video Converter Freeware is free for PC and Mac to convert videos and audios among different formats. It supports a wide range of video formats, making it simple to convert WMV video files to QuickTime MOV. There are plenty options to let you trim, crop, rotate, add subtitles, watermark, effects, etc. easily. The only annoying thing is that prompts will constantly pop up asking you to purchase the pro version for more features. Free version outputs converted MOV files from WMV with watermark.
How do I convert WMV to MOV with AVC?
Step 1: Download the free WMV to MOV video converter on your computer. Note that it contains bundled extra software. If you're asked to download extra software during setup, just uncheck the box before selecting Next. Otherwise, it will install something you don't want with Any Video Converter.
Step 2: Run the software and click the Add Video(s) or Add or Drag File(s) button to add the WMV video files you would like to convert.
Step 3: On the right side of the top menu bar, open the output format dropdown menu and select MOV. At the right lower part, adjust the basic video parameters if necessary.
Step 4: After configuring the output MOV video, click on Convert now.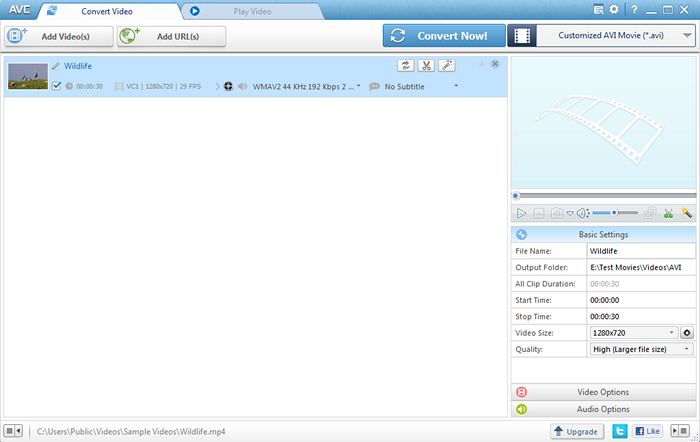 Way 3. Convert WMV to MOV Free Online using CloudConvert
CloudConvert is a useful free online video converter. It supports nearly all audio, video, document, ebook, archive, image, spreadsheet, and presentation formats. If you want to convert WMV to QuickTime MOV without downloading other software on your device, try it. It's among the free online WMV to MOV converters which are able to fine-tune the conversion parameters. To be specific, you can adjust the video & audio parameters, trim the video, and add subtitles. However, online tools have some limits like slower speed, file size limits, no batch conversion, etc.
Other smiliar free online video converters for WMV to MOV conversion: FreeConvert, Convertio, Zamar. Common disadvantages of using online WMV to MOV converters: file size limits(100MB-500MB), slow conversion speed, ads/redirects, and watermark.
How do I convert WMV to MOV with Cloudconvert?
Step 1: Open the WMV to MOV conversion page on CloudConvert, and click the big red Select File button to upload the WMV videos to the site. If supports videos stored locally, from website, or saved in storage services.
Step 2: Once the videos are uploaded, open the Convert to dropdown menu and select MOV as the output format. Beside the selected profile, click the setting button to adjus the video parameters if needed.
Step 3: After the settings, click on Convert to convert the WMV videos to MOV files now. The conversion will take some time based on your internet connection. WMV vs MOV: Difference and Comparison
WMV is a format developed by Windows and can store video, audio, TV episode, movie, etc. WMV files support DRM encryption. The WMV format is one of the most commonly used video formats in Windows and Android. A video file with the .wmv file extension is a Windows Media Video file. There are Windows Media Audio files that includes audio data but no video and have .wma file extension. These files use the WMA extension. WMV files can also be packed into the other container formats such as MKV or AVI. So WMV files can also have .mkv or .avi file extension.
Most video players on Windows such as Windows Media Player, Movies & TV, VLC, KMPlayer, MPlayer, etc. can open and play WMV video files. VLC for macOS can open and play WMV files on Mac computers. Mac users can use Flip4Mac as plug-in to help play WMV on Mac. Converting WMV to MOV format is another good choice for playing and editing WMV files on Mac.
MOV is a video format developed by Apple. MOV format is originally used by Apple's QuickTime. It is saved in the QuickTime File Format (QTFF), a container format from Apple. An MOV file can store audio, video, text on different tracks. Apple devices like iPhones and iPads recoded videos in MOV format (a default video format).
MOV video files are accepted by Apple's devices and applications. However, MOV is tricky to open in Windows and other programs such as Windows Movie Maker, Adobe Premiere Pro. You have to convert MOV video files to MP4 or other friendly formats. MOV videos can be high quality, so the MOV file size may be large.
FAQs Convert WMV Video Files to MOV on Windows/macOS
How do I convert WMV to MOV for free?
You have a few choices when it comes to converting WMV to MOV on Mac. You can use professional video converter such as HD Video Converter Deluxe, Handbrake. There are also lots of online services doing the WMV to MOV conversion job, such as VEED.IO, Convertio, ConvertFiles, to name a few. Media Players like VLC, QuickTime Player can also transcode WMV to MOV on Mac for free with good quality.
Is the WMV the same as MOV?
Both WMV and MOV are video formats that can be encoded with different video and audio codec formats. But they are different. WMV is Microsoft Windows format and is widely accepted by Windows Media Player, Microsoft Movies & TV players, VLC Media Player on Windows and Android mobiles. MOV is developed by Apple and is primarily used by QuickTime. MOV can store high quality video, audio, and effects.
How do I open old WMV files on a Mac?
Though WMV is a Microsoft format compatible with Windows system and applications, you have several ways to open and play WMV video files on a Mac. VLC Media Player and MPlayerX are recommended to play WMV videos on macOS. If your Mac computer has QuickTime player built-in, you can also play WMV videos with third party help - free Flip4Mac plug-in. It also works to transcode WMV video files to MOV format that is friendly with Mac applications.
How to convert WMV to MOV on iTunes?
iTunes doesn't support WMV. You can't use iTunes to convert WMV to MOV format. When you drag and drop WMV video files to iTunes, nothing happens. To import WMV files to iTunes, you have to convert these WMV files to iTunes accepted formats, such as MOV, M4V, and MP4. MOV, M4V and MP4 work perfectly with iTunes and other Mac applications.
How to convert WMV to MOV on Windows 10
HD Video Converter Deluxe is widely used to convert WMV video files to MOV on Windows 10/8/7. The WMV video conversion can be done with a few clicks. Load source video file, choose MOV as output format, click RUN button to start WMV to MOV conversion on Windows 10. Done.