Review: Top 4 AV1 Video Converters
AV1 codec is the first codec that released by the AOM. With it's rapid development, AV1 codec expands fast within the support of various hardware, software and operating systems. YouTube has announced their full implemention footstep and rolled the AV1 codec out since September 15, 2018, so people may have already watched and downloaded AV1 codec encoded video on Youtube.
Issues of Playing and Uploading AV1 Videos
However, according to the feedback, some people have some issues when they handle the videos with AV1 codec. What are the issues?
1. AV1 video has no sounds on TV sometimes.
2. AV1 video is not compatible in iPhone, iPad, Mac and other devices.
3. It requires a lot of time to upload AV1 video.
4. Lags and collapses appear sometimes in uploading.
How to solve this problem? The common and easy solution is to rely on an AV1 video converter to convert AV1 to more compatible codec such as HEVC, because HEVC is with great compatibility with container formats, including MP4, H.265, AVI, WMV, MOV and MKV.
Contents:
Top 4 AV1 Video Converting Software
[Updated] FFmpeg
FFmpeg is a free and open-source command line toolbox that is able to record, convert and stream audio and video. With the release of the latest FFmpeg 4.4, users can now decode AV1 with hardware acceleration based on DXVA2/D3D11VA, Intel QSV, and NVDEC. More than that, the AV1 video converter gains the AV1 encoder ability to let users encode videos from other formats into AV1 via SVT-AV1 encoder or libaom 2.0.1 or higher.
Pros:
- Free and Open resource.
- The ability to encode videos to AV1.
- Hardware-accelerated AV1 decoding support.
Cons:
- Complicated command line.
1. Handbrake:
A free open-source video transcoder. It converts video from nearly any format and is available for multi-platform (Windows, Mac and Linux). It added the feature of Added support for reading AV1 via libdav1d in version (1.3.0). As the AV1 converter, Handbrake supports converting AV1 codec to H.264, H.265 and MPEG-4. Besides, If you want to upload the video on the specific websites or playback it on the certain devices. You can preset your target video on handbrake because it provides abundant options such as specific video settings for YouTube, Vimeo, Android and Apple.
Learn More about HandBrake AV1 Encoding via libdav1d >>
How to:
1. Launch Handbrake and open the main page.
2. Drag your files or folders into this software.
3. It will show the video information and you can do settings of the target video.
4. After all set, click "start Encode" to start.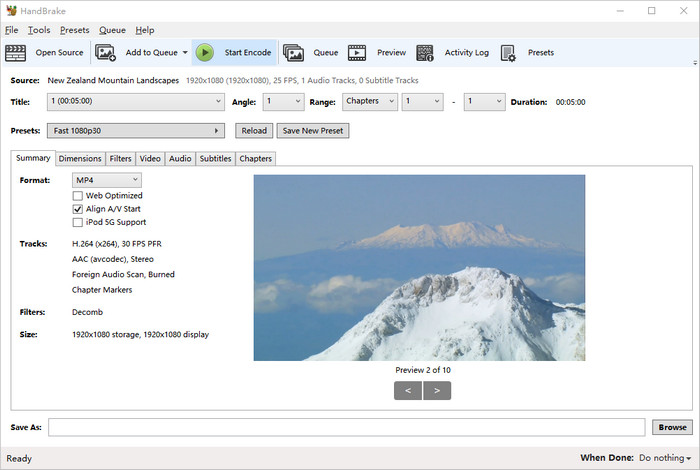 Pros:
- Free and Open resource.
- Converting from AV1 to HEVC is smoothly.
- No ads.
- Rich options of preset.
Cons:
- Slow speed.
- Rough user interface
2. WinX HD Video Converter Deluxe:
It is a professional video software with four main features: convert video, reduce video size cut/merge video and download video. It added AV1 decoding in the latest version. WinX HD Video Converter Deluxe supports AV1 decoding, AV1 video transcoding: AV1 to HEVC, H.264, MEPG4, MOV and WebM. With hardware acceleration, including Intel, nVIDIA and AMD, it has ultra-fast video converting speed. Besides, it supports converting of big files and even 4K videos can be converted without quality loss.
What's more? It owns most outputs among these 4 video software. In other word, if you have strict needs output profile, it will satisfy you. You can watch video on your phone, pad, TV and upload video on YouTube, Facebook, Vimeo and other video websites afterdownloading at ease.
How to:
1. Launch WinX HD Video Converter Deluxe and open the main page.
2. Click the section of "Video" and select the source video.
3. After adding the video, you can set the output video.
4. After all set, click "RUN" button to start conversion.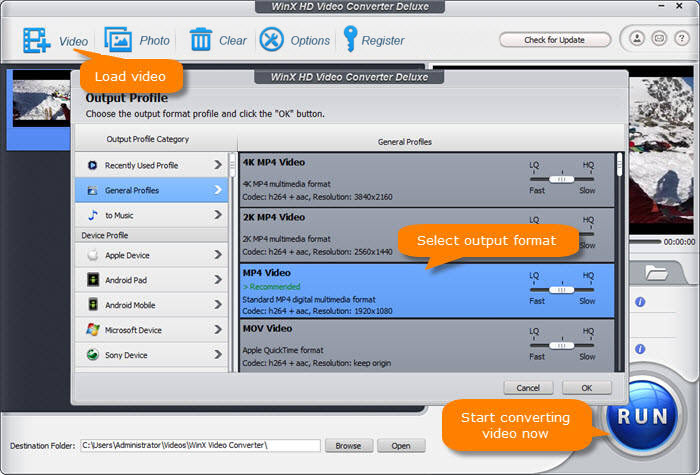 Pros:
- A large number of supported t formats: 370+ inputs and 420 outputs.
- Compatible on any device.
- Very fast conversion speed.
- Free for video under 5 minutes.
- 3-layer speed acceleration.
- Rich options of output profile.
Cons:
- Slow speed.
- Simple edition options of output file edition.
Video Tutorial: How to Enocde AV1 Video Files
A professional video software with three functions: video converter, video downloader and video editor. Wondershare Uniconverter is with great performance in converting video because it also have abundant options for input and output profiles. It supports converting AV1 to MPEG-4, HEVC, H.264. It covers the needs of most requirements of video websites and smart devices.
How to:
1. Launch the Wondershare Uniconverter.
2. Click "add files" to add the video.
3. After the video is loaded, you can set the target parameter.
4. After all set, click "Convert" button to start.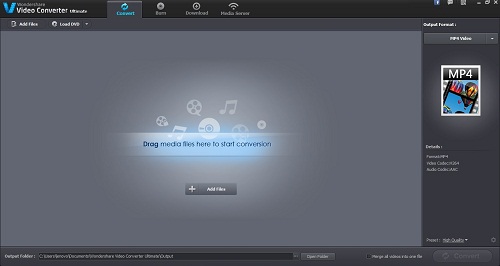 Pros:
- Wide range of video output profile.
- User-friendly interface.
Cons:
- Low conversion speed. - Very expensive for converter service. (Lifetime plan: $55.96 for 1 PC)
4. Convert.io:
An easy-to-use online video converter. It provides 4 channels to upload files. As the online converter, it saves time of downloading other software. Rich input and output profile options are provided.
How to:
1. Visit https://convertio.co/av1-converter/
2. Choose files and add it to the lists.
3. After finishing the setting of target video, start converting.
4. After converting, you need to download the converted files.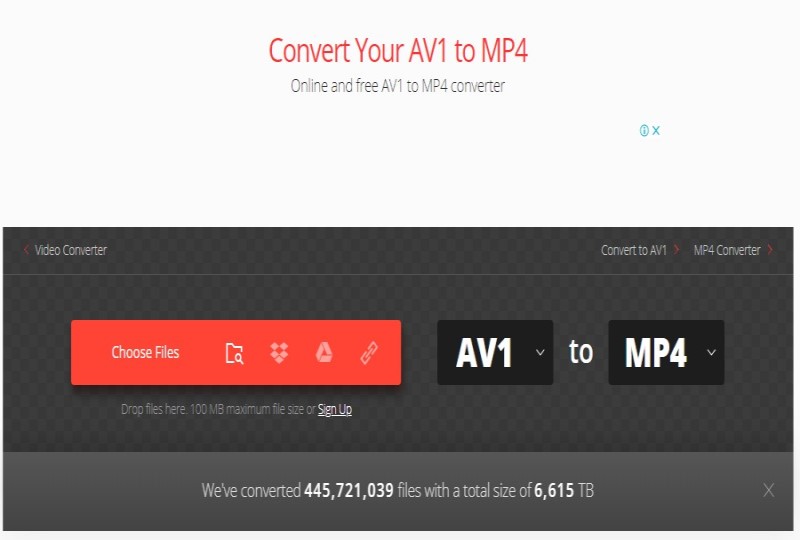 Pros:
- Easy to use
- Save storage.
- No need for downloading software.
- Wide range of supported formats.
Cons:
- Low speed.
- Lags appear sometimes.
- Simple presets of target video
Conclusion: above 4 software are able to convert video of AV1 codec to HEVC and the target video is without loss. But there are differences in the conversion speed and functions.
Comparison - Top 4 AV1 Video Converters
| | | | | |
| --- | --- | --- | --- | --- |
| Features | WinX Video Converter | HandBrake | Wonershare Uniconverter | Convertio.io |
| Input Formats | 370+ (incl. 8K/4K HEVC,) | Most common multimedia files, DVD, Blu-ray | Most common video file formats. | Most common multimedia |
| Output Formats | 420+ (incl. MP4, H.265, AVI, WMV, MOV, MKV, MP3, AAC etc.) | MP4 (M4V) and MKV | 69+ | MP4, WMV, MOV, AVI and other more rare ones |
| Device Profiles | iPhone, iPad, Android, Windows Phone/Tablet, Kindle Fire, TV, Xbox, PS3/4 etc. | Apple, Android, Windows mobile & tablets, Xbox etc. & Available customized presets. | iPhone iPad, iPod, Apple TV, Android (Samsung, Huawei), Sony, Xbox 360, PS4, etc. | iPhone,Windows, Mac, Linux, Android |
| Output Quality | Super | Equal | Equal | Equal |
| Speed | Fast | Equal | Equal | Equal |
| Video edition | Crop, trim, merge, add subtitle, adjust parameters | add subtitle, adjust parameter | add special effects, trim, crop, add subtitles, etc. | Not support |
How to Choose the Appropriate AV1 Video Converter?
It is advised to take speed, input options, output options, output quality and price into account. Also, you can click the title of every software to download.