2023 Best 3 Free DVD Ripper for Linux: Rip DVD on Linux
I have about 200 DVD discs and I want to rip these DVDs on my Linux machine. Is there a DVD ripper available for Linux? It seems that most DVD ripping programs are designed for Mac and Windows operating systems.
If you're in search of DVD ripping software compatible with Linux Debian, Ubuntu, Mint, Fedora, and others, you can check our list of the top three free Linux DVD rippers: HandBrake, VLC Media Player, and MakeMKV. These tools will assist you in ripping DVDs on Linux without cost a penny.
Best Free DVD Rippers for Linux:
No.1 Best Free DVD Ripper for Linux: HandBrake
HandBrake is where's at when it talks about DVD ripping. It is one of the most popular free DVD ripper programs available for multi-platforms, Linux, Windows and macOS. It can process any unprotected DVD or Blu-ray sources such as physical discs, VIDEO_TS folder, ISO image and VOB files. Packing a batch of video/audio encoders – H.265, H.264, MPEG-4, MPEG-2, VP8/9, AAC, MP3, FLAC, Vorbis etc, it enables you to copy DVD to hard drive as MP4, M4V, or MKV. You can also enjoy optimized presets for devices to make the digital copy from DVD completely accepted by your iPhone, iPad, Android etc.
HandBrake prepares a simple process to rip DVD on Linux, loading source > selecting output > starting conversion. On the other hand, advanced settings are included in various tabs for experts to adjust parameters - like frame rate, bit rate, image size (resolution); enable filters – for example, to choose a deinterlace or denoise option to enhance quality; crop/rotate/flip video; add subtitles and so on.
HandBrake is now updated to version 1.6.1. You can download current edition through Ubuntu deb or Flatpack [1] (for 64bit)/QuickSync Plugin Download (64bit) from the official download page: https://handbrake.fr/downloads.php.
Pros:
Open-source and free.
Ease of use.
Offers advanced settings for experienced users.
Supports batch processing.
Cons:
Lack of DVD decryption support.
Limited output formats.
Potential quality loss.
How to rip DVD on Linux with HandBrake
Step 1. Install HandBrake on Linux.
Most Linux distributions, including Ubuntu, typically include a package management tool such as APT. APT is widely used and popular. To install HandBrake on Ubuntu 11 or later, open a terminal and type the following source code:
sudo add-apt-repository ppa:stebbins/handbrake-releases
sudo apt-get update
sudo apt-get install handbrake-gtk
sudo apt-get install ubuntu-restricted-extras
sudo /usr/share/doc/libdvdread4/install-css.sh
Step 2. Open DVD on HandBrake.
Launch Handbrake, click on the "Source" button and select the DVD drive containing the DVD you want to rip.
Handbrake will scan the DVD and display a list of titles or chapters available for ripping.
Step 3. Select the desired title or chapter you want to rip.
Step 4. Choose the output format for the ripped DVD by selecting a preset from the "Preset" drop-down menu. You can choose from various presets based on the desired output format, such as MP4 or MKV.
Optionally, you can customize the output settings by adjusting parameters like video codec, audio codec, resolution, bitrate, and subtitles using the available options in Handbrake.
Step 5. Specify the destination folder where you want to save the ripped DVD file by clicking on the "Browse" button next to the "Destination" field.
Step 6. Click the "Start Encoding" button to begin the DVD ripping process on Linux.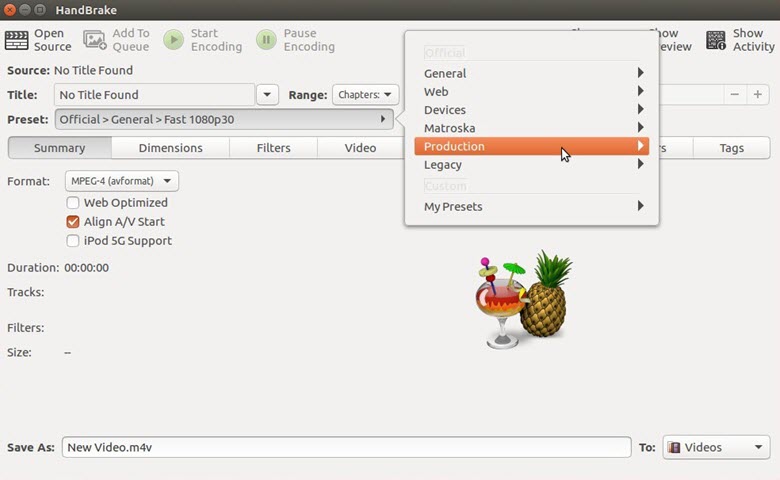 What You May Be Interested In:
How to install libdvdcss for HandBrake to Decrypt DVD >>
Best Handbrake alternative to convert DVDs and videos >>
No.2 Best Free DVD Ripper for Linux: VLC
VLC is known for its power on media playback, in fact, it has DVD ripping capability. If you have installed VLC, there is no need to get another Linux DVD ripper for homemade DVD ripping.
VLC enables you to open a disc or DVD source (VIDEO_TS folder, ISO Image) and convert/save it as a digital file encoded in H.265, H.264, VP8, MPEG-2, WMV and more. It allows you to rip part of a movie/TV show by setting Starting Position (certain titles or chapters) or back up whole DVD video by leaving the settings default. Additionally, you can choose to retain one audio/subtitle track or all tracks. Encoding parameters can be modified as well, such as codec, bitrate, frame rate, resolution and so on.
VLC offers multiple versions for different Linux distributions (Ubuntu, Arch Linux etc.). Download the matching version for your Linux version from here: https://www.videolan.org/vlc/#download.
What we should notice is that: Although libdvdcss is included in VLC helping access unscrambling DVDs encrypted with CSS[2], there's no getting away from the fact that VLC loses the potentiality to handle copy-protected commercial DVDs according to our tests and users' feedbacks.
Pros:
Free to use.
Support a broad range of output formats.
Provides basic customization options.
Cons:
Limited device presets.
Slow DVD ripping speed.
How to rip DVD on Linux with VLC
Step 1. Install VLC on Linux.
Open a terminal window. You can usually find the terminal application in the "Applications" or "System Tools" menu of your Linux distribution.
Update the package lists by running the following command:
sudo apt update
Once the package lists are updated, you can install VLC by running the following command:
sudo apt install vlc
You may be prompted to enter your administrator password to authorize the installation.
The package manager will download and install VLC along with any necessary dependencies. Wait for the installation process to complete. Once installed, you can launch VLC by searching for it in the applications menu or by running the following command in the terminal:
vlc
Step 2. Launch VLC. Go to the "Media" menu and select "Convert/Save".
Step 3. Open DVD.
In the "Open Media" window, switch to the "Disc" tab.
Select the "DVD" option and enter the path or device name of your DVD drive in the "Disc device" field.
Check the "No disc menus" option if you want to skip any DVD menus and go straight to the main content.
If you want to rip a specific title from a multi-title DVD, you can enter the title number in the "Title" field.
Click the "Convert/Save" button at the bottom.
Step 4. In the "Convert" window, select the desired output format from the "Profile" drop-down menu. For example, you can choose "Video - H.264 + MP3 (MP4)" to rip the DVD to an MP4 file with H.264 video codec and MP3 audio codec.
Step 5. Choose the destination and file name for the ripped file by clicking on the "Browse" button next to the "Destination file" field.
Step 6. Click the "Start" button to begin the DVD ripping process on Linux.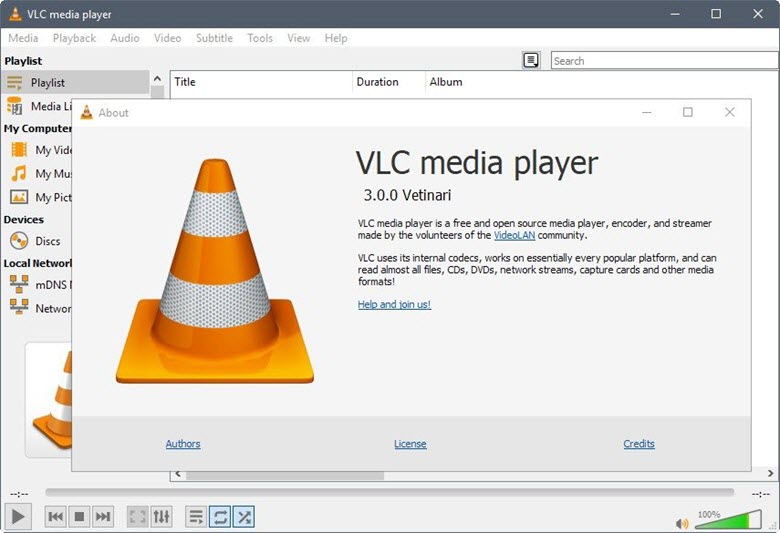 Learn More: How to rip DVD to MP4 with VLC Media Player
No.3 Best Free DVD Ripper for Linux: MakeMKV
MakeMKV is another program collected in our top free Linux DVD rippers list. It offers one-click solution to convert DVDs or ISO images to MKV while preserving all video/audio tracks, meta-information and chapters.
After you load the DVD source, MakeMKV will scan titles and chapters and skip over some titles whose length less than 120 seconds (by default) or a customized number. Then, you just need to select one title (including video, audio, subtitle tracks), set output folder and click Make MKV icon to get a MKV copy from DVD. It rips DVD at a fast speed, about 10 minutes to rip a 2-hour movie.
MakeMKV offers beta version (30-day free trial) to rip DVD and Blu-ray for free. Once the beta phase is ended, you can use DVD ripping capability with no charge but purchase a license for blu-ray disc conversion. It announces supporting encrypted DVDs but it only scans 1 title of my movie: The Avengers and the resulting file is only 15-minute long.
MakeMKV released two binary and source packages of latest version v1.17.5 available for Linux. You can get download files and installation tutorial from here: MakeMKV 1.17.5 for Linux is available.
Pros:
Easy to use.
Preserves original quality.
Fast ripping speed.
Can preserve multiple audio and subtitle tracks.
Cons:
Limited output format: supports MKV only.
Large file size.
Lack of advanced customization options.
Frequent updates required
How to rip DVD on Linux with MakeMKV
Step 1. Download and install MakeMKV.
MakeMKV for Linux is available on this forum page. Just follow the steps outlined in the page to compile and install MakeMKV and all libraries.
Step 2. Open the DVD on MakeMKV.
Insert the DVD you want to rip into your drive.
Launch MakeMKV and select the inserted DVD as the source DVD.
Click the Open DVD disk button to import the DVD.
Step 3. Select the title, audio and subtitle track you want to rip.
Step 4. Set output folder.
Step 5. Click the "Make MKV" button to begin ripping DVD on Linux.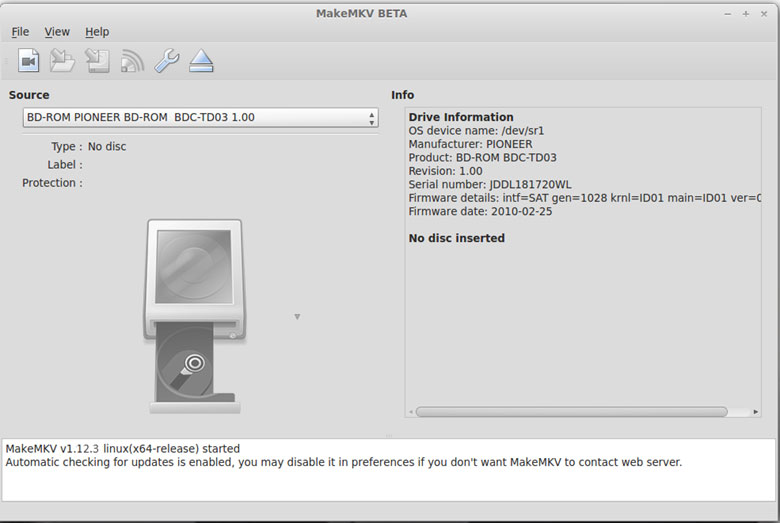 Bottom Line
HandBrake is the most recommended Linux DVD ripper on the list because of its ease of use, wide support of inputs/outputs and rich settings. With combination of media player and DVD ripper, VLC is more versatile. MakeMKV delivers the fastest speed but it supports MKV only. It appears that there is a lack of robust DVD ripping software options specifically designed for Linux. However, you can leverage a Windows compatibility layer for Linux, such as Wine[3], to run a more powerful DVD ripper originally built for Windows on your Linux system.
WinX DVD Ripper Platinum is a good choice, which empowers users to digitize ANY DVD and bypass copy protections – CSS, region code, RCE, Sony ArccOS, Disney DRM or other special schemes. Built-in hundreds of codecs and profiles, it can rip DVD to MP4 (H.264), AVI, MOV, FLV, WebM, iPhone, iPad, Samsung, HuaWei, Xbox, PS5/4, YouTube, Facebook etc, in a few of clicks.
WinX DVD Ripper Platinum also allows you to 1:1 copy DVD to VIDEO_TS folder, ISO image, or single MPEG2 file while retaining most even all video/audio/subtitle tracks.
Full hardware acceleration with support of Intel/NVIDIA/AMD GPUs helps rip DVDs speedily while keeping high quality and cost low CPU usage.
Now, you can download and run this Windows DVD ripper on Linux for ripping all discs in your DVD collection. It also arrives with a Mac version available for Mac OS X 10.6 or later.
Disclaimer: Digiarty Software does not advocate ripping copy-protected DVDs for any commercial purpose and suggests referring to the DVD copyright laws in your countries before doing so.
Related External Source from Wiki:
[1]. Flatpak - Flatpak (formerly xdg-app) is a software utility for software deployment, package management, and application virtualization for Linux desktop computers. It provides a sandbox environment in which users can run applications in isolation from the rest of the system...
[2]. CSS - The Content Scramble System (CSS) is a digital rights management (DRM) and encryption system employed on many commercially produced DVD-Video discs. CSS utilizes a proprietary 40-bit stream cipher algorithm. The system was introduced around 1996 and was first compromised in 1999...
[3]. Wine - Wine (recursive backronym for Wine Is Not an Emulator) is a free and open-source compatibility layer that aims to allow computer programs (application software and computer games) developed for Microsoft Windows to run on Unix-like operating systems...