MX Player in USA: How to Watch MX Player in USA (Outside India)
Most of us know MX Player as the best video player for Android, able to handle any kinds of media files with custom codec downloaded for MX Player. However, what you may have missed is that MX Player is also an on-demand movies and TV shows streaming service in India. It lapped Netflix and Hotstar and became the most popular streaming service with 175 million monthly users. And better yet, it's free, ad-support, with no premium ad-free option.
The biggest problem is that it's only available in India no matter you use it as a single media player or streaming service. How can American users access MX Player?
How to Watch MX Player in USA:
5KPlayer – A Free Alternative to MX Player That's Available in USA and Anywhere
If you're not clinging on access MX Player original movies and TV shows, you can try 5KPlayer - an alternative to MX Player, which is able to play movies, TV shows, series, music, Bollywood and Hollywood movies in MP4, MOV, AVI, FLV, WebM, HEVC, H.264, MPEG-4, VP9 etc. Better yet, it supports to save videos for playing offline.
Part 1. When You Use MX Player as An On-demand Streaming Service
As an on-demand streaming service, MX Player boasts over 150,000 hours of content stacked up in its catalog of different languages, including English, Hindi, Punjabi, Tamil, and Telugu. But it's a pity that MX Player is only available in India. To open MX Player in the United States or anywhere outside India, you'll get a geo-restriction error - "OOPS!!! WE ARE CURRENTLY NOT AVAILABLE IN YOUR REGION." MX Player detects your identity and location through the IP address of your streaming device. It requires an Indian IP address to access the MX Player content. Thus, you need a reliable VPN app to watch MX Player in USA. There are numerous VPNs on the market. We'd like to list some popular choices such as ExpressVPN, Surfshark, PureVPN, and more.
Then follow the quick steps to watch MX Player in USA:
Sign up with a premium VPN providor. Then download the VPN app compatible with your devices. If you've chosen the VPN for Windows, make sure you've also downloaded the MX Player for PC or visit the website via browsers.
Connect to a server in India to change your IP address.
Sign into your account in MX Player.
Now, you're able to select your favorite title and start streaming MX Player without any geo-restrictions.

Notice:
The Indian government has long been at odds with VPNs because they help people access banned sites. Though the government did not enforce a blanket ban on VPNs, it did take the suggestion to strengthen the surveillance and tracking of VPN use, requiring VPNs to store extensive user data for at least five years.
Part 2. When You Use MX Player as A Single Media Player
If you're using MX Player as a single media player, you can also use a VPN to download MX Player for Android or iOS and watch your video or audio files in USA or anywhere outside India. But as a matter of fact, American users don't have to stick with the MX Player for playing media files. At the very beginning, MX Player is served as an alternative of VLC in India since VLC is banned. Now that you can use VLC in the United States, why would you bother to choose MX Player.
Or at the very least, you can choose some other similar media players that are available in USA such as 5KPlayer - a hardware accelerated free multi-media player dedicated in 4K Ultra HD playback.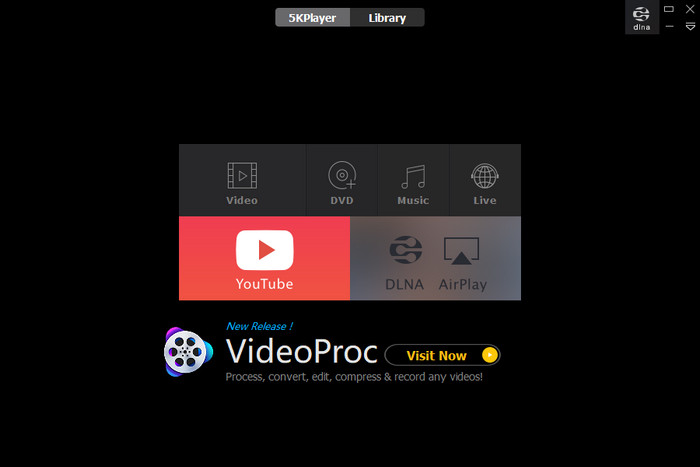 Part 3. FAQs - MX Player in USA
1. Is MX Player available in USA?
No. The MX Player online streaming service is only available in India. Access to the online content is not available outside India.
2. Can I watch MX Player on an iPhone?
Yes, all you need to do is download the MX Player's iOS app from the App Store and you can continue watching your favorite movies, shows, web series, and much morefrom the app on your iPhone.
3. MXPlay is crashing, what should I do?
The troubleshooting tips are different depending on your platform:
For Android:
Clear the app cache (settings>apps/apps management/applications>MXPlay> clear cache) and try again.
Clear the app data (settings>apps/apps management/applications>MXPlay> clear data) and check.
If the issue persists please uninstall and reinstall the App to the latest version and check.
For iOS:
Uninstall and Reinstall the App to the latest version and that should solve the issue.
4. Is MX Player available for PC?
Yes. MX Player official developer has released an MX Player PC version for users who need it. However, this MX Player PC can only be used on Windows 8.1 or higher PC and laptop.