Best FLAC Player for Windows, Mac, iPhone, Android
Speaking of music audio formats, it seems that most people simply don't know FLAC. It is standard practice for them to enjoy or download online music in MP3, for songs marked with MP3 are everywhere. Of course, AAC and WMA have already made a name for themselves as well. But believe it or not, there is still room for FLAC, or rather, for lossless audio codec. This is a FLAC-themed article, mainly focusing on the introduction of FLAC player for Windows, Mac, iPhone and Android, which give you the direct answer to get the best FLAC player to help listen to FLAC music in super high quality.
Can't Play FLAC Music? Converting FLAC to MP3 is Suggested
As FLAC support is added since macOS 10.13 and Windows Media Player 12, you may encounter FLAC not playing error on Mac or Windows. If you have such a headache, you can try to convert FLAC to MP3 with a video converter to play FLAC music with QuickTime and Windows Media Player without errors.
What Is FLAC?
FLAC is an audio codec format, just as MP3/AAC, but featuring lossless compression algorithm. Statistics show that a set of digital audio data is only half the size of the raw file after being compressed in FLAC or it might be much smaller. Most importantly, FLAC can be de decompressed to a completely identical copy of the original file. The problem is FLAC is not supported on all platforms, thus requiring a certain FLAC player.
As we said, FLAC is not so widely supported as MP3. To be specific, FLAC cannot be played back natively on iOS, OS X, Android 3.0 and before, Windows 7 and before, etc, unless you download third-party FLAC playback apps/plug-ins. Windows Media Player and Android phones like Samsung Galaxy started working as your portable FLAC players since Android 3.1 and Windows 10 added native support for FLAC audio codec. In recent year, more and more car devices and home audio system /home media servers are turning themselves into a FLAC player, such as Citroën DS5, Tesla Model S, Sony's High-Res Audio Players, Pioneer, Cambridge Audio, Logitech, Seagate FreeAgent Theater+ HD, HDTV Network Media Player, etc. For your reference, below words are about the best FLAC music player for Windows, Mac, iPhone, and Android respectively, according to our using experience and test.
Part 1. Best FLAC Player for Windows 11/10 – 5KPlayer
Firstly, 5KPlayer is a totally free video music player available in both Windows and Mac computer. As the best FLAC music player for Windows 11/10, it focuses on providing superior audio playback experience. You don't have to install any third-party codecs or plug-ins to play FLAC, APE, MP3, AAC, MIDI, MKA, OGG, PCM, WAV, etc., while get HiFi sounds easily.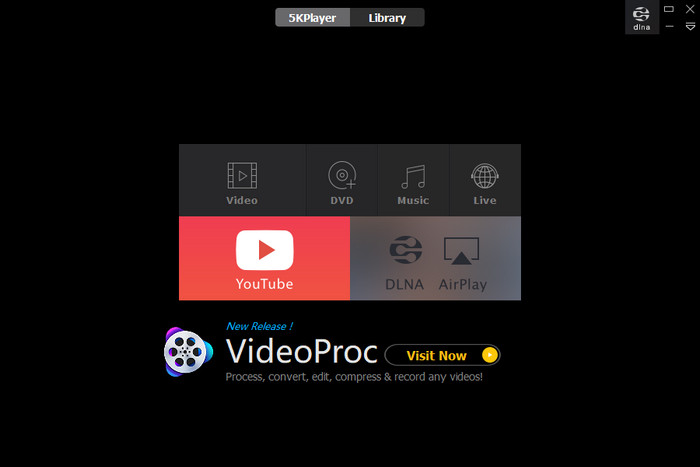 Play FLAC APE MP3 AAC music perfectly.
Support all 4K/5K/1080p videos, DVDs and radio.
Come with built-in AirPlay/DLNA feature for cross-platform video streaming.
Download online videos from YouTube, Dailymotion, Vimeo, etc.
Part 2. Best FLAC Audio Player for Mac – VOX Music Player
VOX Music Player is a powerful and dedicated FLAC music solution only for Mac and iOS devices. To help people enjoy lossless streaming and HD audio, it is designed to be equipped with VOX's Audio Engine to fully utilize a Mac's potential, making it possible for you to play Hi-Res Audio (HD Audio) with up to 24bit/192kHz, at 4 times higher than the standard 44kHz sound resolution. Another feature welcomed by millions users worldwide is its ability to play online FLAC music. For example, you can search and browse music from SoundCloud, and stream any YouTube link on Mac to listen to FLAC music online.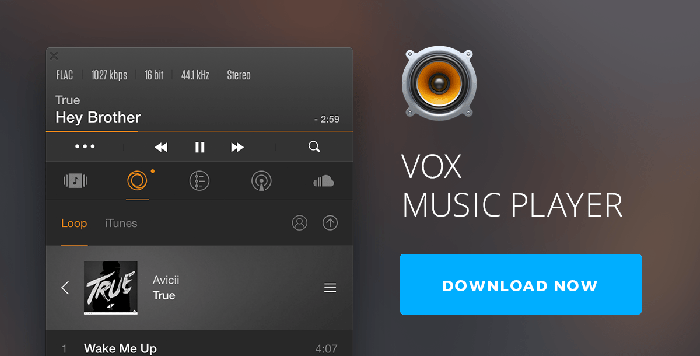 Play FLAC, MP3, CUE, APE and M4A music files.
Deliver Hi-Res music up to 24bit/192kHz.
Support 5.1 multichannel audio playback.
Online music search, browse and play.
Part 3. Best FLAC Audio Player for iPhone – Flacbox
Flacbox is a quite powerful music player with audio equalizer to help people listen to FLAC music and types of MP3, AAC, WAV, etc. soundtracks easily and free. With this music application, besides FLAC, you can open almost any audio file on your iPhone and iPad from cloud storage, home computer, external flash card, etc. Also sync your Music library automatically with connected network accounts or you home computer.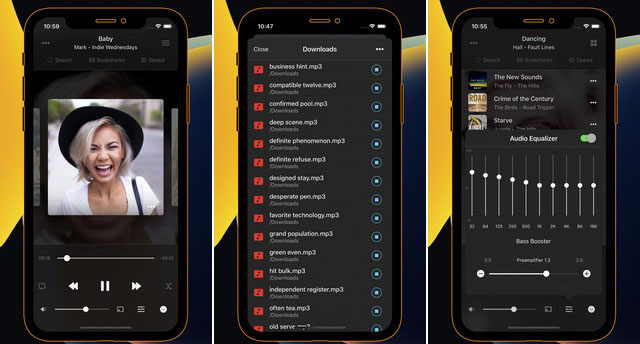 Play FLAC, ALAC, OPUS, MP3, AAC, OGG, M4A, WAV, AIFF, M4R, WMA, etc.
Play music from online storage: Google Drive, Dropbox, OneDrive, Box, MEGA, Yandex.Disk, MediaFire, WebDAV, SMB, MyDrive, pCloud, HiDrive.
Come with built-in audio Equalizer.
Support Google Chromecast, AirPlay, CarPlay, SONOS via AirPlay2.
Customizable settings: ID3 Tags Editor, playback speed control, create playlist, play recent files, bookmark audio, shuffle and repeat mode, sleep timer, album covers, background mode.
Part 4. Best FLAC Player for Android – AIMP
AIMP is a freeware audio player for Android and Windows, which is excellent in playing FLAC, MP3, AAC, etc. common files. With built-in audio equalizer and built-in sound effects, you can have wonderful listening experience. BTW, AIMP can cache, in RAM, the currently played media file, up to 250MB, during playback. Also, AIMP FLAC player can cache up to 60 seconds of internet radio streams into RAM.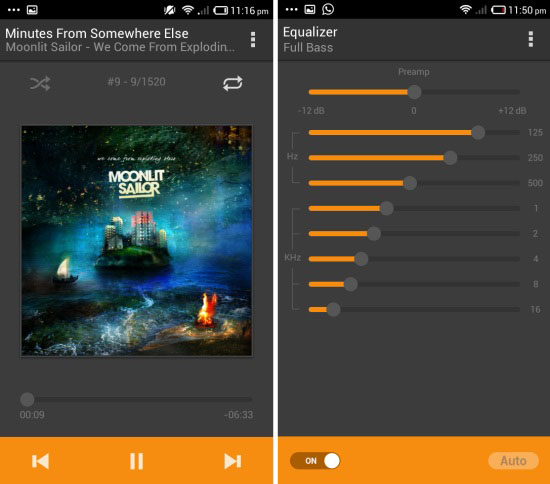 Play MP3, AAC, Dolby AC-3, Ogg Vorbis, Opus, Speex, Windows Media Audio, Apple Lossless, FLAC, WAV, Audio CDs, APE, True Audio; DTS audio, MP1, MP2, Musepack, OptimFROG, WavPack, MIDI, Impulse Tracker, MO3, MOD, MultiTracker Module, S3M, Tom's lossless Audio Kompressor (TAK), and Fasttracker 2 Extended Module.
Bookmark and playback queue creation.
Multiple playlists, one per tab.
Playlist and tag editor.
Support for plug-ins and skins.
Part 5. How to Play FLAC Music on Windows/Mac for Free?
Here we give you an example of how to play FLAC on Windows 10 with 5KPlayer.
Step 1. Preparation
Download 5KPlayer for Windows or 5KPlayer for Mac first and get it installed immediately.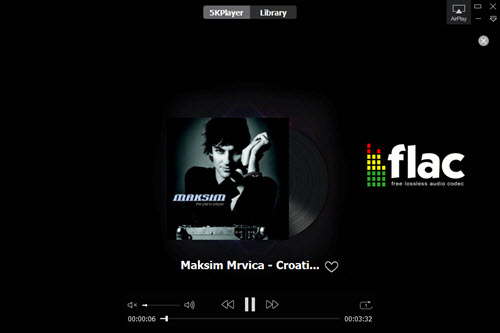 Step 2. Play FLAC songs
Open the free FLAC player and click into the Music module.
Load your local FLAC files by clicking the "+" button or drag and drop the song directly to the main interface.
Double click to play your FLAC music.
Step 3. Change style easily
Switch from "Library" to "5KPlayer" mode.
Right click the interface, choose "Audio", Equalizer Style, and then select the style you like, such as classic, dance, large hall, pop, techno, etc.
Frequently Asked Questions
1. What is the best FALC player?
According to your needs, there are different FLAC players for different devices and platforms. In conclusion, the best FLAC players include 5KPlayer (for Windows), VOX (for Mac), Flacbox (for iPhone) and AIMP (for Android).
2. Can VLC play FLAC files?
Yes. VLC can play FLAC files. As the most popular open-source and powerful video music player, VLC should be the number one choice to play FLAC, AAC, MP3, MP4, MKV, MOV, etc. media files.
3. How can I listen to FALC music?
After choosing a FLAC music player, simply drag and drop your FLAC music files to it to listen to.
4. FLAC vs. MP3/WAV/AAC/APE
Twenty years earlier, while MP3 has prevailed in the world, nobody had heard of FLAC or FLAC player, which had not been created yet back then. No wonder that nearly all devices are MP3 players. But FLAC is not so lucky, which is not a mainstream audio format and accordingly special FLAC player is needed to play FLAC on Windows (10), Mac, iPhone, iPad, etc. It is said that FLAC is better than MP3. Is that true? What are the differences between FLAC and MP3? The following part will elaborate on FLAC vs. MP3/APE. To save your time, you can go get the free FLAC player directly.
FLAC vs. MP3/WAV/AAC: FLAC uses lossless compression algorithm while MP3/WAV/AAC uses a lossy data compression. FLAC can be decompressed without a single data losing, which makes it always sound perfect, while MP3, WAV and AAC discard quality to some extent for space saving and smooth online streaming. However, there are much fewer FLAC players.
FLAC vs. APE: APE stands out for the higher audio compression ratio, while FLAC excels in the compressing and decompressing speed. Suppose the speed is fixed, then the compression ratio will be nearly the same. Besides, FLAC is an open format with no limits on patents and has wider compatibility than APE, which can only be played on Windows.