Can't Play HEVC on PC? 2 Tips to Fix HEVC Playback Error in Windows 10
Summary: How can I view HEVC files in Windows 10/8/7? Get the answer and fixes here.
- I'm trying to play HEVC videos in 4k 60fps filmed with GoPro. But, despite I can hear the sound, I can't see anything. Everything is black.
- When I try to play HEVC video files in Windows Media Player it only plays the sound (HE-AAC audio) and no video. The video is in a (.mkv) container with a single audio track and a (.SRT) subtitle file.
How many of you are trying to play HEVC files on Windows Media Player in Windows 10? Unfortunately, Microsoft removed inbuilt support for HEVC Codec after Fall Creators Update. Users who clean installed this update probably fail to watch HEVC encoded files on Windows 10. Moreover, versions older than Windows 10 have no support of HEVC. That's why you can't view HEVC files on PCs. To get out of this issue, we list 2 available solutions.
Table of Contents
Solution 1. Transcode HEVC to H.264 to Fix HEVC Not Playing Error.
Although HEVC features a high compression ratio delivering high quality at a lower bit rate, its incompatibility with Windows results in playback issue. On the other hand, Windows shows off a good acceptance of H.264, which can support high resolutions (4K/8K). If you want to play HEVC on PC without compromising much quality, it's a good idea to transcode HEVC to H.264 using a HEVC video converter for Windows. Also, you can convert the source video file to some other Windows well supported formats to fix MOV, AVI, WMV, MKV HEVC playback failure caused by format incompatibility issue.
WinX HD Video Converter Deluxe is the helper driving you to transcode HEVC to PC playable video formats with ease. It supports virtually all HEVC videos from iPhone, Android, GoPro, DJI etc. Not importing issue will never happen. Built in 420+ profiles, you can not only decode/encode HEVC to/from other formats, but convert to Windows/iOS/Android devices for movable playback. Taking full advantage of GPU acceleration, it can offer an extremely fast and smooth HEVC transcoding performance.
WinX HD Video Converter Deluxe - Your First Choice to Transcode HEVC
Convert HEVC to MP4, MOV, MKV etc. in H.264 for Windows devices while keeping intact quality.
Ease of use. Encode and decode HEVC video files in only 3 steps.
Advanced parameter adjustments and basic editing tools (trim, merge, crop) are available.
5 times faster to convert 4K HEVC videos with GPU acceleration enabled.
Download and install WinX HD Video Converter Deluxe and follow the tutorial to transcode HEVC.
Step 1. Launch WinX HD Video Converter Deluxe and click +Video button to import the HEVC video that you can't play on PC.
Step 2. After loading the video, Output Profile window appears. Move to PC General Video > AVC Video (codec: h264+aac) > OK.
Step 3. Click Browse button to set a new destination folder if necessary. Then, click RUN button to start transcoding HEVC.
Tip: WinX HD Video Converter Deluxe will automatically detect your GPUs and invoke them to speed up video conversion.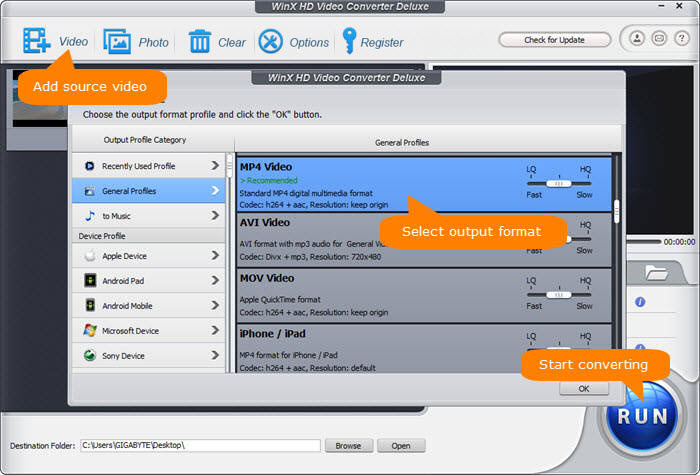 Solution 2. Install HEVC Codec for Windows
Microsoft has released HEVC Video Extensions helping users to play HEVC in any video app on Windows 10. Get this tool in Microsoft Store ($0.99) and check whether not playing issue is fixed.
Well, sometimes, unlucky guys still can't watch HEVC on PC although HEVC Video Extensions is well installed. If so, try some other free HEVC codecs. Media Player Codec Pack, one of the most popular codec packs for Windows, allows you to play HEVC encoded MKV or MP4 files on PC after installation.
HEVC codec is the necessity to play HEVC on PC. In addition, a smooth HEVC playback also depends on your hardware. An underpowered computer probably causes lags or stutters when playing large 4K HEVC files. Therefore, it is highly suggested to convert HEVC videos to H.264 for a better viewing experience on PC.
More about How to Play HEVC Files Smoothly on Windows 10/8/7