Posted by Jack Watt - Contact Author

HEVC/H.265 Encoding Seems Very Slow? How to Make It Faster?

If you are searching for the best solution, click here: The solution most recommended by us [85%]
HEVC, a.k.a H.265, is a successor to H.264 featuring twice compression ratio. It can deliver high video quality at a lower bit rate. It is commonly used as the format of ultra HD and high frame rate video, for example 4K 60fps footage recorded by GoPro, iPhone etc. For it can produce small-sized file, some people would like to encode videos to HEVC for space saving. However, slow HEVC encoding becomes the biggest trouble. Not only popular video transcoders (HandBrake, Adobe Media Encoder) but editors (Premiere Pro) offer a bit poor performance to encode HEVC.
- "When I wanna export 5.7k using HEVC and 100Mbit bitrate with Adobe Media Encoder, first about 10 seconds of rendering are pretty fast. But after 10 seconds preview freezes, encoding slows down extremely, remaining time grow 2-5-10-more hours."
- "I took a 720p 30fps 6mbps 30second video and started to convert it into 256kbps x265 format using HandBrake. Quality was acceptable considering the bitrate, but it took over 1 hour to do complete the task using 1090t @3.6GHz."
HEVC encoding is a CPU-intensive task. If there's an underpowered computer, you will get a super slow speed. What's worse, it costs 100% CPU leading to computer freeze or crash issue. So, how to resolve slow HEVC encoding issue and make the process faster?
Before we go to solution, let us check our hardware out
Since HEVC/H.265 Encoding & decoding will occupy a huge amount of system resource, and only accepted models are able to play HEVC/H.265 video.
For HEVC/H.265 video playback, you better have:
A desktop with Intel 6th Gen core (Skylake) or a better CPU
A desktop with Athlon X4 835 (Carrizo) or a better APU
An Apple device with A9(IPhone 6S) or better processor
A desktop with a discrete video card which better than GTX 960
An Android device which has Qualcomm 610/Helio X20/Kirin 950 or higher processor
A smart TV with Amlogic S905 or Mstar 6A928 or better processor
Solution 1. Enable Hardware Encoding in Software
In order to achieve faster encoding, a lot of video software adds the feature of GPU acceleration. For example, HandBrake utilizes NVIDIA NVENC and Intel QuickSync encoder to speed up HEVC encoding if your computer is equipped with required graphic cards.
Follow the steps and you can get GPU-accelerated HEVC encoding in HandBrake.
Open HandBrake.
Add the video file you try to encode to HEVC.
Select H.265 MKV as the preset.
Change Video Codec to H.265 (Nvidia NVEnc) or H.265 (Intel QSV).
Start encoding.
Although HandBrake offers a faster way to encode HEVC but some users complain that the quality is compromised. Therefore, some users still seek for a better way to speed up HEVC encoding while keeping vivid images.
Solution 2. Use a Better HEVC Hardware-accelerated Encoder
WinX HD Video Converter Deluxe is a powerful program that supports hardware acceleration. It utilizes full GPU acceleration (with the support of Intel/NVIDIA/AMD) to quickly encode, decode and process HEVC videos while CPU is freeing up with low usage for handling other tasks at the same time. And, the video quality will be retained 98% of original.
It builds in hundreds of video/audio codecs. You can encode virtually all video formats (H.264, VP9, MTS, MKV, AVI, WMV, MOV, FLV, 3GP etc.) to HEVC in a few of clicks. It also gives several basic video editing tools to crop or cut video for further compression or later uploading.
Next, follow us to encode HEVC with hardware acceleration in WinX HD Video Converter Deluxe.
Step 1. Launch this hardware-accelerated HEVC encoder and click +Video button to load the source file.
Step 2. After Output Profile window appears, go to General Profiles > HEVC Video (codec: h.265+aac) > OK.
Step 3. Pay attention Hardware Accelerator in the right panel. Check Intel or NVIDIA or both according to your GPUs.
Step 4. Click Browse button to set a destination folder and at last, click RUN button to start HEVC hardware encoding.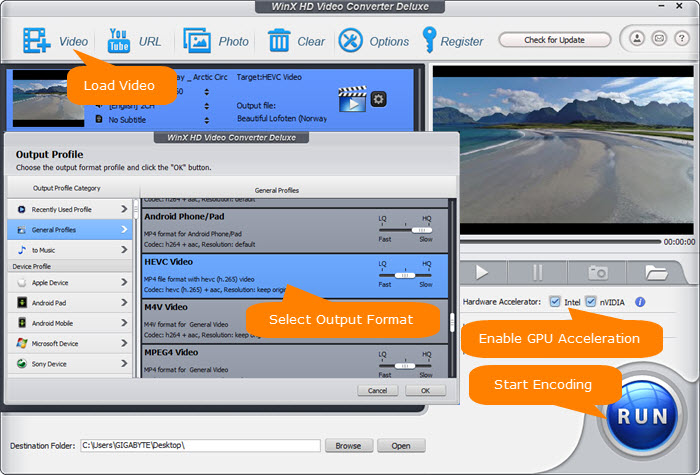 Video Tutorial: How to Play HEVC Video withot Lags and Stuttering