Digitize DVD - Store Thousands of 1:1 Digital Titles in A Hard Drive
During the heyday of DVDs, a high number of movie fans have made a massive investment in physic discs and some are continuing investing for nostalgia reasons. But now many of them are asking one question - "how to convert my DVD collection to digital files?" Since home entertainment is slowly making its way onto portable devices, film buffs are looking for a way to have physic DVDs fit into the digital era. What is the best way to digitize DVD collections? When making digital copies of DVDs, different users want different things:
1. I want to digitise my DVD collection to carry around on my phone/tablet for car trips. I want to keep subtitle tracks and some of the DVDs are UK Region 2 (I live in America, so Region 1).
2. I would like to transfer DVD to digital in MP4 for Apple TV via my own network NAS. I like the program to select subtitles and languages.
3. I have a decent large collection of DVDs (3000+ titles). I now want to convert the DVDs to digital copies to store in my hard drives and remove the piles of DVDs in my living room. I really need a program that can do the DVD digitizing fast, considering the amount of discs...
4. I want a good trade-off between quality and file size. But I am overwhelmed by the amount of settings in Handbrake.
...
Clearly, the most concerned are fast speed, good quality, small size, and decrypting. But disappointed users may have unpleasant experiences:
1. I just started using HandBrake to back up my DVD collection to my external hard drive for safe keeping but it's taking about 2.5-3 hours to rip a signal DVD. Is this normal?
2. I have installed libdvdcss, but handbrake rips only 1 of 3 dvds. Handbrake fails/will not read the other two discs. Tried the lastest version of DVD Shrink, AnyDVD, Nero, and CloneDVD2, but none will work with the movie released by Disney.
3.  I want to move my DVD's onto a ext HD as .MP4. I ran several DVDs and viewed the end product. I get these kinda ghostly like images and studdering. Definitely not the quality I want... 
For whatever requirements regarding digitizing DVDs, we have you covered. Here we have the best way to turn DVD to digital files for NAS, phones, tablets, hard drive, TV, PC, Mac, etc. fast with high quality.
Best Software to Digitize DVD Movies Fast in 1:1 Quality
WinX DVD Ripper Platinum - Convert DVD to digital files 5x faster to transfer tons of physical DVDs to one hard drive.
1. Digitize DVD library in MP4, h.264, HEVC, AVI, MOV, etc. with 98% original quality, or copy DVD to computer in 1:1 ISO image, Video_TS folder, MPG.
2. Freely make digital copies of old & new DVDs with region codes, CSS, RCE, Disney X-project DRM, other protections.
3. Convert discs for any digital devices, incl. hard drives, iPhone, iPad, Android mobiles, Plex, NAS, TVs, PC, Mac, cloud storage, websites, etc.
4. Shrink dozens of physical discs to digital files with 40%-95% smaller file size yet with outstanding quality.
5. Flexibly select subtitles, audio tracks, remove ads, split long homemade DVDs, adjust video settings (aspect ratio, resolutions, etc.)...
6. 5x faster to digitize DVD collections with thousands of titles - Level-3 Hardware Acceleration (Intel QSV & Nvidia Cuda) can make digital copies of DVD main title in 5 minutes only.
Free download WinX DVD Ripper Platinum to digitize DVDs for mobiles, TVs, NAS, travels, etc.
Please DO NOT use WinX DVD Ripper to rip rental DVDs.
For Windows and Mac only. If you are a mobile user, please click here
How to Digitize DVD Collections to MP4 Video Files Easily in Clicks
DVD digitizing requires clicks only. Even tech-savvy users can do it fast and easily. First, free download the DVD digitizing software:


For Windows (Windows 10 and earlier)


For macOS (Mojave and earlier)
Step 1: Load the DVD. Run the software and insert the DVD into the computer. Then click the Disc button to load the DVD info. It will automatically remove any protections and detect the right title of any old or new DVDs. Therefore, you can easily digitize any protected DVDs like region-coded DVDs, Disney movies.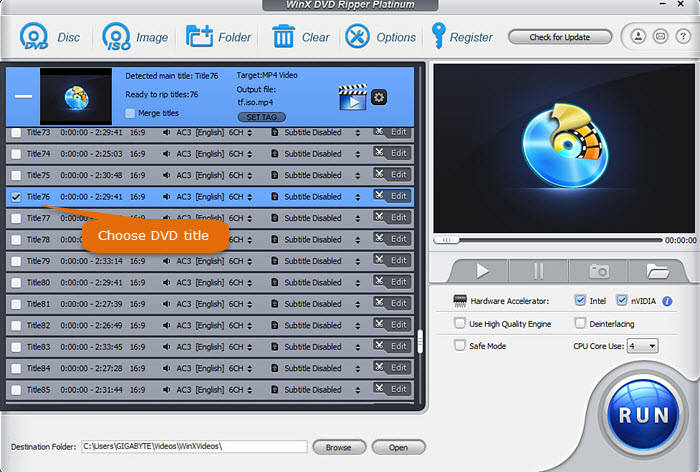 Step 2: Select an output format. Then the software will bring you to the output format window. Select a format you want. If you don't know which is the best video format for archiving home movies, see details below.
1. To save a 100% same digital copy on the hard drive, computer, or other storage devices, DVD to ISO image will retain everything.
2. To digitize DVD collections for easier playback on iDevices, Mac, iTunes, iMovie, other Apple products, MOV or MP4.
3. To convert DVD to digital copy freely for PC, Windows Media Player, Xbox, other Windows-oriented platforms, AVI or MP4.
4. To have the perfect balance between size and quality, select HEVC MP4.
5. To have the widest compatibility with mobiles, players, TV, NAS, Plex, etc., convert DVDs to MP4 format.
6. To get the main movie only and want to convert DVDs fast, backup DVD main title to MPG.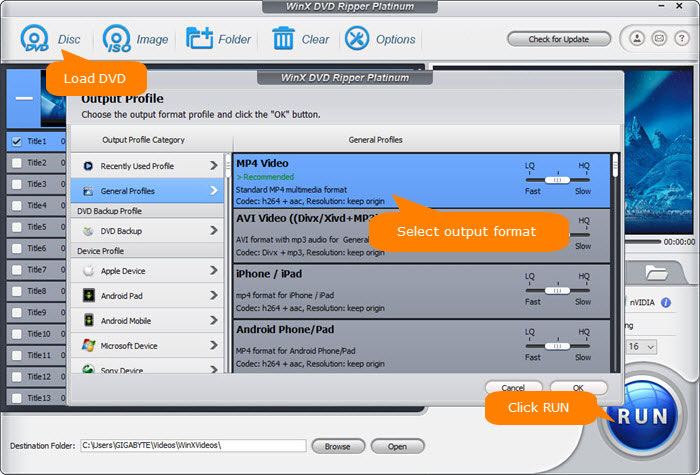 Step 3: Start digitizing DVDs. In this post, we select MP4 as an example to show you how to digitize DVD collection. Then click the RUN button to start to make digital copies of DVDs. The hardware acceleration will speed up the digitizing and finish the task in minutes (its fast speed is the ideal choice for digitizing a large DVD library). After that, you can store the DVDs on the hard drive, transfer the digital copy to mobiles, stream the digitized DVD video on TV, upload DVD to cloud, etc.
Disclaimer: Digiarty Software does not advocate ripping commercial DVDs for any illegal purpose. You're suggested to refer to the DVD copyright laws in your country before doing so.