Does iPhone Play HEVC? How to Play HEVC/H.265 Video on iPhones?
Is It Possible to Play HEVC/H.265 Video on iPhone Natively?
Does iPhone supports HEVC format? Yes. Since Apple released iOS 11 in 2017, HEVC codec is fully supported by newer iPhones. iPhones later than iPhone 7 are able to record and play HEVC videos natively. However, not all the HEVC videos will play on your iPhone. For example, when you view the HEVC videos recorded from GoPro, the HEVC clips may fail to show with messages like "this media isn't loading, you can try again from the media gallery". In this post, we're going to show you how to play HEVC/H.265 videos on iPhone without errors.
Why won't iPhone Play HEVC and how to Fix?
1. High Resolutions. While newer iPhones are able to shoot as well as play 4K videos, the highest iPhone resolution is the iPhone 13 Pro Max at 2778 x 1284, not 4k (4096×2160). On a small screen like iPhone, it doesn't make much sense to play videos in 4K. But videos recorded in 4K and higher resolutions will have trouble to be played on iPhone. That's a reason why some high-resolution HEVC videos won't play on iPhone.
2. Transcoded HEVC videos. It seems that iPhones can't recognize special HEVC videos encoded by some transcoders like HandBrake or FFmpeg. Why? This is often caused by the HEV1/HVC1 subcodec used by the transcoders. According to Apple, the HEVC HEV1 codec is not recommended. If the HEVC video is encoded with the HEV1 codec, you may experience iPhone HEVC playback issues.
3. Corrupted HEVC files. Some HEVC videos may have been partically damaged or corrupted due to incomplete download or other errors.
To get all HEVC 4K/8K videos played on iPhone smoothly, 3-party HEVC player apps for iOS (for example VLC or CnX Player for iPhone) may help. But they may produce other problems, including eating storage on iPhone, app suddenly not working and more. Alternatively, it is strongly suggested to convert HEVC (H.265) to H.264 which is fully compatible with iPhones.
Also learn: How to Play HEVC Content on Android Devices.
How to Flawlessly Play HEVC/H.265 Video on iPhones?
HD Video Converter Deluxe can easily convert 4K HEVC/H.265 to iPhone H.264, MP4, MOV, M4V, etc. Convert and compress 4K/HD HEVC videos in HEV1/HVC1 with HDR, 60fps/120fps, multiple channels & subtitles to iPhone or other iOS devices. Lower 8K/5K/4K HEVC videos to HD for iPhone playback with no visual quality loss. Intel QSV/AMD/Nvidia Nvenc/Cuda hardware acceleration ensures converting HEVC (H.265) to H.264 for iPhone at an extremely fast speed.
Step 1: Download and install the HEVC to iPhone video converter. Then open it. Load the 4K HEVC H.265 file you want to play on iPhone by clicking the + Video button on the top.
Step 2: An output profile window should pop up after the file is loaded. Select General Profiles > MP4 Video at original resolution. Or you can choose Apple Device > and select the model of your iPhone. Then click the OK button to save the output profile and close the window.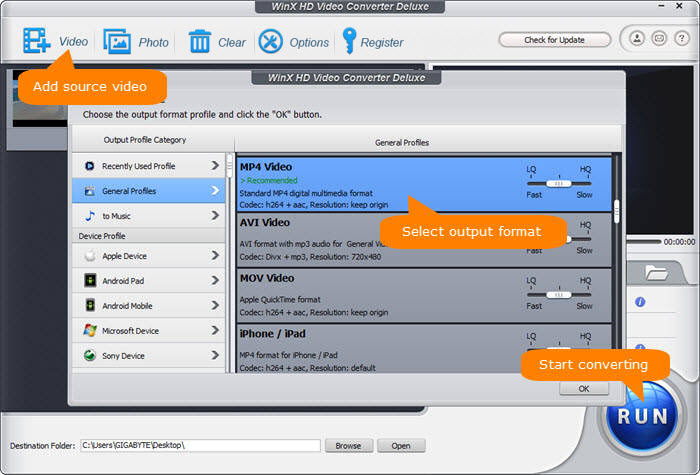 Step 3: If the HEVC videos won't play on iPhone due to higher resolutions, back on the main interface, click the gear button next to the selected output profile. Then you will enter into the paramter window where you can lower the resolution of a high-def HEVC video.
Step 4: Then click the RUN button to start decoding HEVC to H.264 MP4 for iPhone. Minites later, you can sync the converted HEVC video to iPhone for smooth playback.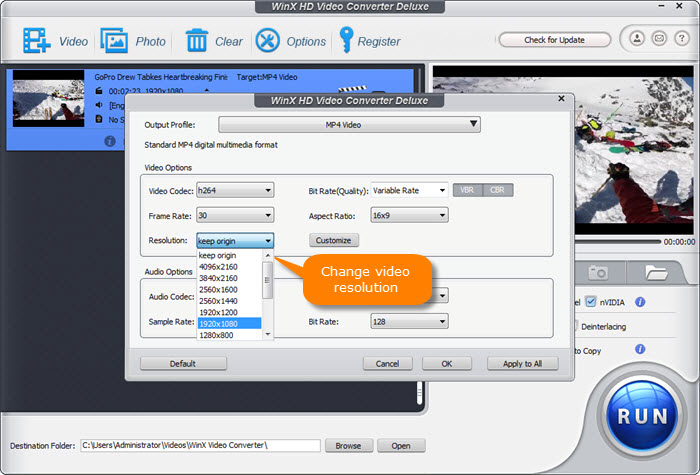 Still have problem about how to convert HEVC/H.265 to H.264 for playing on iPhone? Please feel free to Email Us >>