How to Play HEVC Videos on Android Devices Smoothly
The support of HEVC(H.265) playback on Android is a growing trend. Since Android 5.0, users can decode MP4 and MKV file in HEVC codec flawlessly. However, Some older models will prompt the error message "video codec not supported". And there's still nearly 35% Android mobile devices don't include hardware accelerated HEVC decoding. The player will use the CPU to decode the HEVC video when hardware video decoding and encoding is unavailable, which consumes battery life quickly.
Even on Android 12, which has a compatible media transcoding feature to transcode HEVC videos to AVC for apps on Android, there a many limits. For example, the transcoding is a computationally expensive operation and you will such see a significant deley when playing HEVC videos on Android.  How can you play HEVC files on Android properly? Learn tips here.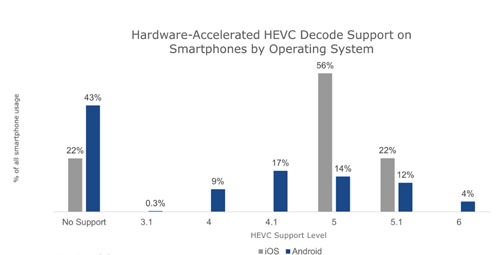 Does Your Android Device Support HEVC Playback?
The minimum requirements for playing HEVC on Android:
Android 5.0 or later (Main Profile Level 3 for mobile devices and Main Profile Level 4.1 for Android TV), Qualcomm® Snapdragon™ 820 series (or equivalent) processors or newer.
Android mobile devices that are able to play HEVC include:
Samsung Galaxy S7/S7 Plus and newer, Galaxy Note 8 and newer, Huawei P9 and newer, HTC U10 and newer, Sony Xperia X and newer, OnePlus 3 and newer, Xiaomi Mi 5 and newer, to name a few.
Most Android devices released before 2016 don't include an HEVC decoding chip and will not play HEVC files well. Some cheap newer devices also lack an HEVC hardware decoding support.
How to Watch HEVC on Android Devices Lack HEVC Support?
You will encounter video artifacts, sync issue, or choppy playback problems when playing HEVC files on Android devices that don't handle HEVC. If you don't have a compatible Android device for HEVC videos, convert your HEVC videos to H.264 codec format accepted by Android. Use WinX HD Video Converter Deluxe, a hardware accelerated video converter. You can convert HEVC content for Android speedily with nearly original quality reserved.
Is There Any Video Player App for Android That Can Play HEVC
Even your Android phone, tablet, or TV can handle HEVC videos well, you'd better choose a player with software HECV decoding ability to play HEVC/H.265 content smoothly. Below is a list of the most popular HEVC player app for Android mobile devices. If you have HEVC content to play on your computer, please refer to top free HEVC video player for PC and Mac.
| | | | |
| --- | --- | --- | --- |
| Media Players | Requires Android | Installs | Rating |
| VLC for Android | varies with devices | 100,000,000+ | 4.4/5.0 |
| MX Player | varies with devices | 500,000,000+ | 4.4/5.0 |
| XPlayer | 4.3 and up | 10,000,000+ | 4.7/5.0 |
| KMPlayer | 4.3 and up | 10,000,000+ | 4.4/5.0 |
| 4K Video Player | 4.1 and up | 100,000+ | 4.6/5.0 |
| CnX Player | 5.0 and up | 100,000+ | 4.3/5.0 |
Troubleshoot HEVC Playback Problem on Android
Which app is used to encode videos to HEVC on Android?
It can be very challenging to encode a video to HEVC on Android or other mobile devices. A program such as WinX HD Video Converter, Handbrake, FFmpeg, is always used on a computer for encoding H.264 or other formats to H.265 codec format.
Why does my HEVC (x265) video consume more battery on Android?
HEVC decoding is CPU intensive, requiring a lot of power, therefore, your battery can drain fast. If your Android device is armed with an HEVC hardware decoder doing the decoding work, your battery can not easily run out.
Why does the x265 file play very choppy/laggy on my Android 10?
Some certain x265 HEVC files play choppy, stutters, or have artifacts on Android TV, Oneplus, Samsung phones, and other Android devices. If your device has no built-in HECV hardware decoder, such a playback issue can occur easily. Try converting HEVC to the H.264 format that is more friendly with Android.
More on HEVC Playback Solutions on Android, iPhone, Computer etc.