How to Free Convert MKV to HEVC Fast with High Quality
MKV is a video container and HEVC is a video compression format. Therefore, sometimes we need to convert MKV from other video codecs like H.264 to HEVC to make the MKV video smaller; while some other times we simply want to change the container from MKV (h.265) to MP4 (HEVC) to make the video more compatible for different platforms. Anyway, no matter what codec is contained in the source video file, you can free convert the MKV to HEVC fast with high quality as per the guide below.
MKV and HEVC
MKV (Matroska) is an open source free container format that can have Selectable subtitle/audio/video streams, Chapter entries, Full metadata (tags), Menus (like DVDs have), etc. The file extension of Matroska video is .mkv. It's able to contain video streams in different codecs, including H.265/HEVC, H.264/MPEG-4 AVC, MPEG-1, MPEG-2, MPEG-4 (A)SP, VC-1/WMV, Real Video, Theora, Microsoft MPEG4 V2, VP8, VP9, MVC.
HEVC (High Efficiency Video Coding) is a compression scheme or standard to improve video quality at the same bit rate or reduce the file size (about 50%) at the same level of video quality. It's a video codec which is included in various video containers. The file extensions of HEVC/H.265 can be .mkv, .mk3d, .mka, .mks of Matroska container; can be .ts, .tsv, .tsa used by ATSC, DVB and Blu-ray disc of MPEG transport stream; also can be .mp4, .3gp, .3g2, .mj2, .dvb, .dcf, .m21 as ISO based media file formats.
That means, when HEVC (x265) is encoded in MKV and MP4 containers, at the same bitrate with the same codec, the video will be the same. What will differ however is what the container supports. MKV will accept almost anything you throw at it, while mp4 has a lot of restrictions on what you can put in it.
How to Convert MKV to HEVC
Part 1: How to Convert H.264/AVC MKV to HEVC/H.265 for Smaller Size & High Quality
As MKV usually has a large file size due to the support for the extra features, multiple audio tracks, and subtitle tracks, converting MKV to HEVC is a good way to save the space.
Free Video Converter, a free MKV to HEVC video converter, can convert HD/4K AVC MKV to MP4 HEVC, or change the underlying MKV codec to HEVC at the lowest possible bit rate without loss in visual quality. The Nvidia, Intel, and AMD GPU acceleration is supported to convert videos from MKV to HEVC at a fast speed. At the meantime, the output file size of the HEVC video is greatly reduced at no visual quality loss.
Step 1: Download, install and open the free MKV to HEVC video converter on your PC or Mac.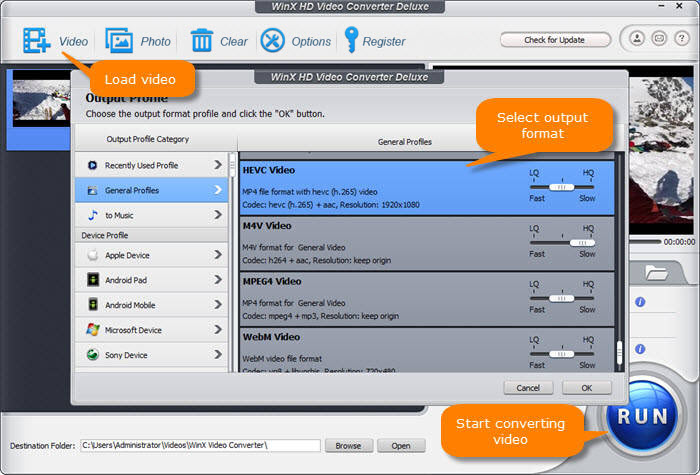 Step 2. Input and load MKV video.
Click "+Video", browse on your computer to find the source MKV (H.264) video file, and click Open to add it to the MKV to HEVC converter.
Step 3. Choose HEVC Video as the output.
Scroll down on the Output Profile window, click PC General Video under Common Video Profile and select HEVC Video (Codec: HEVC + aac), which will transcode MKV H.264 to MKV HEVC video. Click OK.
Step 4. Edit the video.
If necessary, you can tune video audio parameters and make editing. For example, you can adjust the Frame Rate from 23.97 to 25/29.97/30, upscale the resolution from 720p/1080p to 2K/4K like 2560x1440, 4960x2160, 3840x2160, etc, you can add srt subtitle file, cut and trim the video, or merge video clips.
Step 5. Start converting H264 MKV to HEVC MKV.
Set where to save the output file by browse for the Destination Folder, and tap RUN button.
According to the internal tests, the free converter is able to reduce the file size of 4K/HD MKV files by 40%~90%. Below is a size comparison chat of the MKV and HEVC. You can see, the original MKV (AVC codec) video file size is reduced by more than 50%. Part 2: How to Convert MKV HEVC to MP4 H.265 with 100% Original Quality & No Re-encoding
If the original MKV file is encoded with HEVC codec and you simply want to change the MKV container to another format like MP4, this free HEVC converter will help. It's able to convert remux MKV to MP4 HEVC video in 1 minute with the "Auto Copy" feature. The MKV HEVC video will be copied to the MP4 format without re-encoding. Therefore, 100% original quality is reserved and the Max Frame Rate can reach over 1000 fps.
Step 1. Download, install and launch the free MKV to HEVC video converter on your Windows or Mac computer. Step 2. Input source MKV video.
Click "+Video", browse on your computer to add the source MKV (HEVC) video to the MKV converter.
Step 3. Choose HEVC MP4 Video as the output.
Click General Profiles on Output Profile, scroll down and find HEVC Video [MP4 file format with hevc (h.265) video; Codec: hevc (h.265) + aac]. Click OK.
Step 4. Check "Auto Copy".
Check "Auto Copy" option under Deinterlacing on the right of the main interface. "Auto Copy" is an impressive feature to pass through MKV video to MP4 video at superfast speed if the codec keeps the same. Accordingly, it will convert MKV HEVC to MP4 HEVC without re-encoding.
Step 5. Set Destination Folder and RUN.
You can set where to save the output file on your HDD, and click RUN to start converting MKV to MP4 video.