[Updated] 2023 Best HEVC Video Converters for Mac
While Mac has added support for HEVC H.265 for years, you may need to convert HEVC to H.264 as a lot of other video players and devices lack the ability to handle HEVC video. On the other hand, some users may want to encode 4K and high-resolution videos in HEVC for the smaller sizes. With a qualified HEVC video converter for Mac, you can convert videos from/to HEVC on Mac computers flexibly. Here we list the best H.265 video converters for Mac that you can rely on.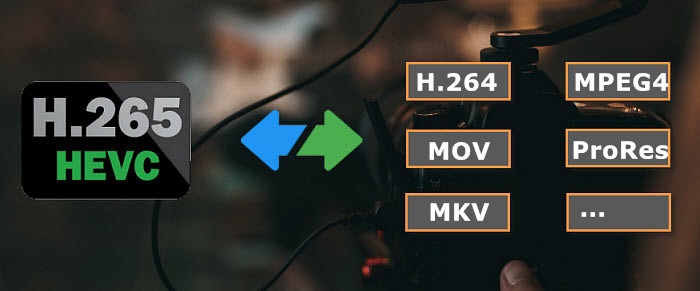 BEST HEVC Converters for Mac:
BEST HEVC Converter for Mac [Easy & Fast]
WinX HD Video Converter for Mac offers the most efficient solution to decode and encode HEVC video on Mac with no effort at all. With 1000+ video/audio codecs and 420+ profiles embedded, it's able to convert HEVC from/to H.264, MPEG4, MOV, M4V, MKV, QT, AVI, WMV, iPhone, iPad, Apple TV, Android, Xbox, Sony PlayStation, etc., with ease.
As converting HEVC is a resource-intensive task, this HEVC converter for Mac address the problem with the support of hardware encoding (Intel QSV, NVIDIA CUDA/NVENC, and AMD), multi-core utility, and Hyper-threading tech. It offers 5x faster HEVC decoding/encoding speed than other converters on the market. You can convert HEVC videos to MP4, or encode 4K/HD to HEVC fast with high or lossless video quality.
How to Decode/Encode HEVC/H.265 Videos on Mac
The HEVC video converter for Mac is available for Mac OS X Snow Leopard to the latest macOS 12 Monterey. With an intuitive interface, even novices can start to convert HEVC videos on Mac instantly. First, free download the HEVC converter on your Mac computer. Right-click the .dmg file and select Open. Then drag this program into the Applications folder.
Step 1- Import the source video file. Open this HEVC converter for Mac and click the  + Video button to import source HEVC videos or other videos you'd like to convert into HEVC. You can also directly drag the file into the program for loading.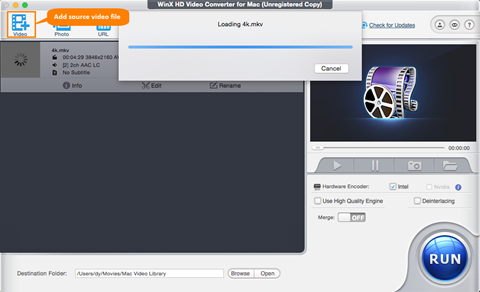 Step 2- Select Output Profile. The Output Profile window will then appear. There are several categories listed in the left column.
1. Decode HEVC to MP4 or other formats. Go to the General Profiles category and select MP4 Video (codec: h264+aac) as output format. You can also pick other formats in this category or other categories (Mobile Video Profile, Web Video Profile etc.,) as the result format.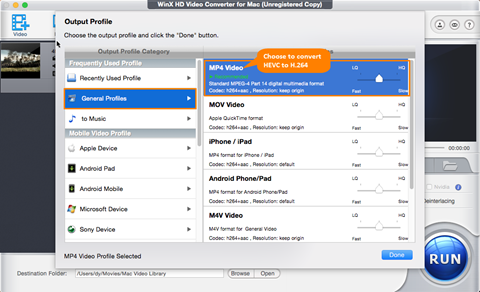 2. Encode videos to HEVC. Scroll down to find the PC General Video category and select HEVC Video (codec: HEVC+aac) as output.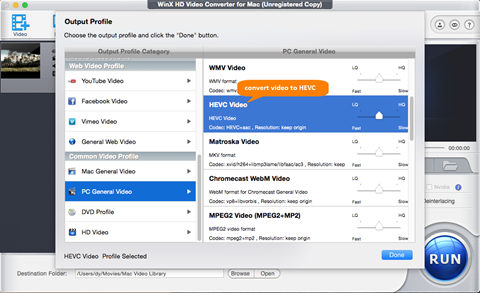 Step 3- Start decoding/encoding HEVC. Browse to set destination folder if necessary. Click the RUN button to start decoding/encoding HEVC videos on Mac. Turn on the Hardware Encoder and quality setting options to speed up the conversion and improve the output quality.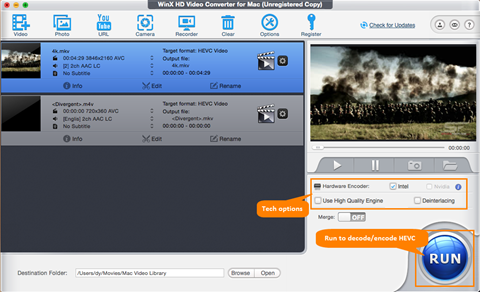 Handbrake
Handbrake is a free HEVC video transcoder for macOS, Windows, and Linux. It's able to open HEVC, MKV, MOV, MP4, and other formats, as well as create videos in MP4, MKV, and Webm encoded with H.265, H.264, VP9/8, etc. It has both software and hardware HEVC H.265 encoders  (AMD VCE, Intel QSV, NVIDIA NVENC) so that users can choose to convert videos to H.265 HEVC on Mac in different speeds, qualities, and file sizes. More than that, there are tons of settings to further customize the converted HEVC videos.
Sum: This free H.265 HEVC video converter for Mac is more suitable for more advanced users for its complicated UI and settings.
Pros:
Handbrake offers a wide range of settings for HEVC converting.
Convert HEVC videos on Mac fast without losing quality.
Cons:
You can only convert HEVC into MP4, MKV, and Webm.
It's a little bit complicated to get started for beginners.
Random errors while changing export settings of the video.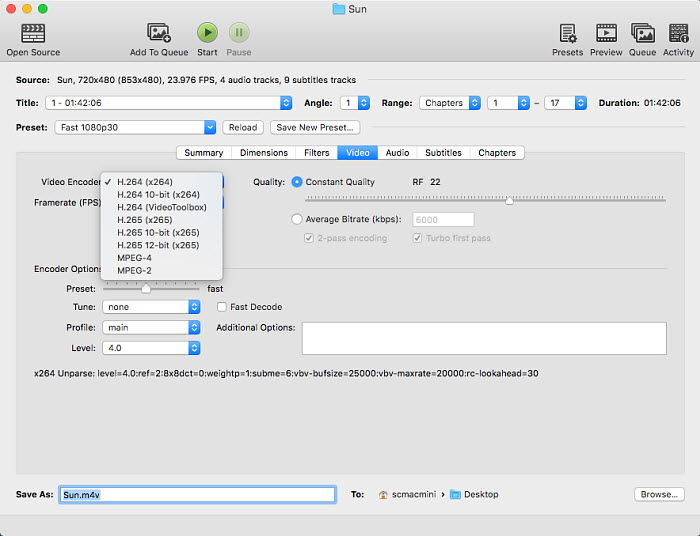 VLC
Many may not realize that VLC can serve as an HEVC H.265 converter for Mac. In fact, VLC can transcode videos into various different formats with codecs like HEVC H.265, H.264, MPEG4, VP9, VP8, etc. So you can use it to decode HEVC videos and encode videos to H.265 on Mac. It offers the ability to adjust the basic video parameters such as codec, aspect ratio, frame rate, resolution, quality, audio channels, sample rate, bitrate, and more. GPU-accelerated decoding is also supported when converting an HEVC video.
Sum: As VLC is not a professional HEVC converter for macOS, it's not a preferred method for those who are discerning about quality, but hopefully it can help someone out in a pinch.
Pros:
Cons:
No GPU acceleration to speed up the HEVC encoding. Therefore, it may take quite some time to convert 4K/HD videos to HEVC on a Mac.
VLC HEVC converting is not stable and errors may occur during the conversion, for example, the converted HEVC files have no video only audio.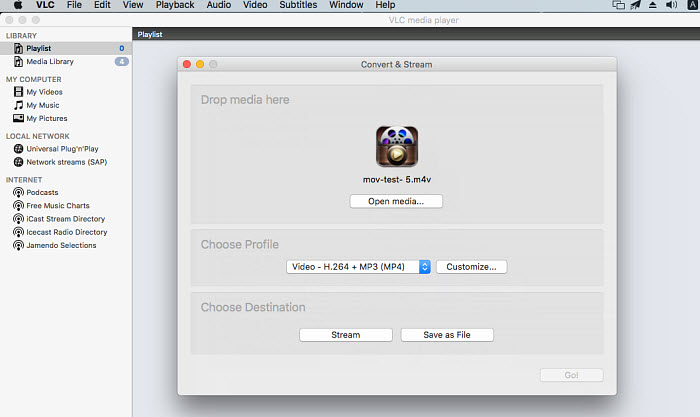 FFmpeg
FFmpeg is a free and open-source collection of libraries and tools to record, convert and stream audio and video. Converting HEVC videos to H.264, or transcoding videos into H.265 on Mac is easy for it. The free HEVC H.265 converter for macOS can handle HEVC(h.265), h.264, VP9, WebM, mpeg-4, AAC, wmv3, ProRes, QuickTime, SWF, and almost all essential codecs. It supports popular media libraries such as libavcodec, libavformat, and libavfilter which offer great flexibility over HEVC H.265 video demuxer, decoder, processer, encoder, muxer choice, and settings.
Sum: Using FFmpeg to convert HEVC files on Mac requires a steep learning curve. It is likely that only advanced users will want to follow this option. If you don't know how to get started, here are the detailed steps to install and use FFmpeg to convert HEVC videos.
Pros:
It supports a wide range of codecs, filters, all major audio/video formats, and a large number of encoders and decoders.
It is an efficient and fast Mac HEVC video and converter. 
Cons:
It's not easy for beginners to use and implement.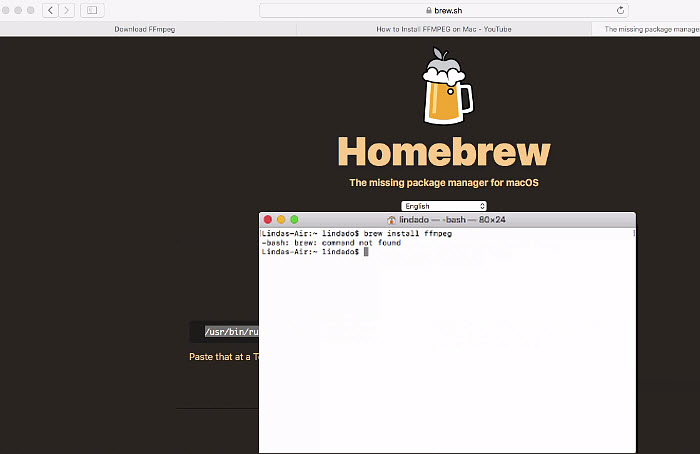 Online HEVC Converters
Search online, you will find many online tools which can help convert HEVC videos from/to MP4, MKV, MOV, AVI, and several others on Mac. For example, there are sites like convertio.co, freefileconvert.com, clipchamp.com (see full online HEVC converters here). You can choose one of them, upload the HEVC videos or other videos you'd like to convert to HEVC, and start to convert immediately. Most of these sites will have limits on the file size or length of the uploaded videos.
Sum: Online converters are the best choice for users who want to convert a few videos now and then and don't want to install extra HEVC video converter software on Mac computers.
Pros:
Online tools are very convenient and most of them are free.
Cons:
There are limits on the file size, video length, etc.
The conversion performance is highly relied on the internet speed, e.g., uploading 4K video can be very slow.
You have no control over the output video. Conclusion: Which is the Best HEVC Converter for Mac?
All the above H.265 converters can help you convert HEVC videos from/to H.264 or others on Mac. But which to choose depends on your source videos and the results you want to get. FFmpeg and Handbrake are very powerful, but both of them can be daunting for non-technical users. To convert HEVC videos on Mac fast and easily, WinX HD Video Converter for Mac is worth a shot.